ABC launched a Facebook app to help remind Once Upon a Time fans ("Oncers") about the story so far and give us a few clues about the story.
Try the "The Untold Stories" app!
"The Untold Stories" starts with Mr. Gold's giving you some clues to find two items: the Genie's lamp and the chipped teacup. Along the way, we see descriptions of characters and basic plot points.
Archie's files jump to 2019
Dr. Archie Hopper's files are left on Mr. Gold's desk in his pawn shop. These files contain observations of several characters, both their Storybrooke profiles and notes about their fairy tale counterparts.
UPDATE: the following dates have been removed, which makes me think that "2019" truly was a typo. Additionally, the writers have expressed that they want the show to be timeless.
Each profile has a date, which reveals an interesting jump.
Ruby—October 12, 2009
Granny—October 13, 2009
Emma Swan—October 19, 2009
Mary-Margaret—October 29, 2009
Regina Mills—October 29, 2009
Ashley—December 2, 2009
Leroy—January 13, 2019
Sidney Glass—January 13, 2019
Unnamed patient—January 13, 2019
Dr. Whale—January 13, 2019
David Nolan—January 13, 2019
Mr. Gold—January 13, 2019
Marco—January 13, 2019
Considering that these notes contain post-curse information, we can infer that the curse was broken in probably spring, 2009. But the jump to 2019 is unexpected and unexplained. It's also interesting that all of these 2019 notes were recorded on the same day, January 13 (which happens to be a Sunday).
This could be a seriously overlooked typo from trying to change "2009" to "2010," or it could be a hint that we'll see a time-jump in Storybrooke.
Who is the unnamed patient?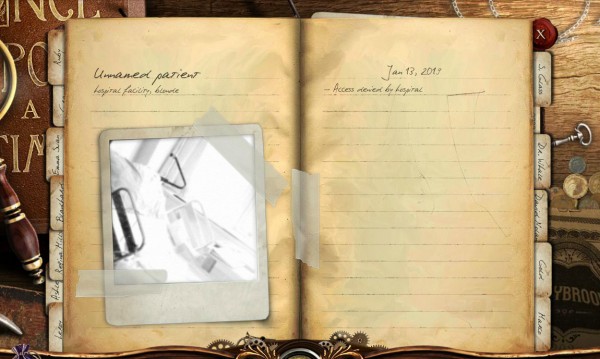 Dr. Hopper's files reference an unnamed patient with the only description as "blonde." This indicates a female ("blonde" is the feminine form of "blond"), but only shows an empty hospital bed.
Looking at the list of names in Archie's files, we notice that Belle is missing. She could be the unnamed patient, or perhaps another blonde fairy tale character we have yet to met.
Rumplestiltskin can "glimpse the future"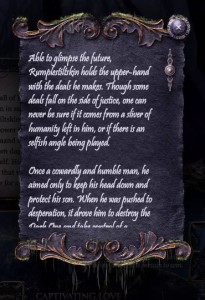 In our Once Upon a Time podcast, we've debated the truth of whether Rumplestiltskin really could see the future.
One alternate explanation was that his predictions for the future were the expected results of his manipulations. To others, this could seem like seeing the future.
But "The Untold Stories" tells us quite clearly that Rumplestiltskin can "glimpse" the future. That seems to imply that he can see some things, but not everything, and not full details.
Hints on Dr. Whale
When ABC announced "The Untold Stories" on the official Once Upon a Time Facebook page, they hint that we may find clues about who Dr. Whale could be.
Check out our new app to uncover untold stories about your favorite characters. You may even find a clue or two about a certain doctor's true identity.
Archie's file on Dr. Whale is vague and sparse:
Dr. Whale, physician
Inflated sense of self
Classic "god complex"
Frames himself as victor in all conflicts
Feels persecuted and misunderstood—paranoid
Who is this man?
Coming scenes
For now, less than half the game is unlocked:
The Pawn Shop
Archie's Files
Prince Charming
Evil Queen
Snow White
Rumplestiltskin
Cinderella
"The Untold Stories" shows some locked places and plenty of future secrets:
The Daily Mirror
Henry's Notebook
4 locked characters in Fairy Tale Land
6 locked missing items
What did you find?
Try "The Untold Stories" yourself and tell us what stands out to you and what you think of these mysteries! Comment here on the blog or post in our Once Upon a Time forums.
"The Untold Stories" requires a desktop computer with Flash Player.
Please reshare this!
Click the social-sharing buttons or retweet this to your followers:
Play "The Untold Stories" on Facebook and find clues about #OnceUponaTime! http://t.co/oVmsjWMy

— ONCE podcast (@ONCEpodcast) September 8, 2012
---
ONCE podcast is the #1 unofficial podcast for ABC's TV show Once Upon a Time. The podcast is hosted by Daniel J. Lewis, his wife Jenny, and Jeremy Laughlin. ONCE podcast was a finalist for best TV/Film podcast in 2012.
For more in-depth reviews, theories, easter eggs, and talk about Once Upon a Time, subscribe to ONCE podcast for free in iTunes or your favorite podcast directory; visit the ONCE podcast website for screenshots, shownotes, and blog posts; and join the Once Upon a Time forums to talk with other fans.