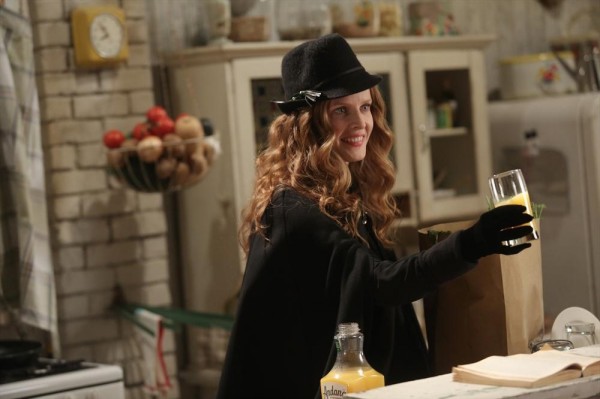 In an attempt to bring Rumplestiltskin back, Neal and Belle did whatever it takes to take him back, even if the price will cost them something very valuable. In the present, Emma and Charming searches for Rumplestiltskin in the woods whereas Regina finally found the man with the lion tattoo.
Podcast: Play in new window | Download | Embed
Neal finds himself back in Storybrooke and yearns for a way to reconnect with his son Henry, whose memories of his father are gone, while also trying to find his own father, Rumplestiltskin, whom he has just learned is alive but missing, and Regina discovers a possible connection with Robin Hood. Meanwhile, in the Fairy Tale Land that was over the past year, agonizing over the death of his father, Neal—with the help of Belle and enchanted candelabra Lumiere—attempts to find a magical solution to bring back Rumplestiltskin from the dead
These are just our first thoughts about this Once Upon a Time episode. We'll share more about "Quiet Minds" in our upcoming full discussion live on Wednesday April 2, at 8:00 p.m. (EDT/GMT-4).
What a way to make us cry again. And again. And again.
[adrotate banner="1″]
Initial Reactions
Here are some of what we initially thought about tonight's episode, in no particular order:
Rumple is fully back. Neal is dead. And Neal is in his head. But even though we're sad that he died, it feels as though the writers are setting up yet again for another flawed death. It was as if Neal was going to open his eyes anytime towards the end.
Rumple seems to have absorbed Neal's personality, making them the same person but when Neal was taken in the hospital, Neal seem to not know where his father was. Their face changing, however, was creepy yet very good.
Kinda funny that Emma and Charming busted Zelena in the bathroom, only to find out that she wasn't there anymore. Thanks to Rumple, however, everyone knows now who the Wicked Witch is.
It was nice that Emma finally told Henry about his father; telling him that he died a hero, which holds true now than when he told her in the first season.
Thank You for Supporting Us!
Steve Johnson (subscriber)
David Neuland (subscriber)
Lisa Slack (subscriber)
You can sponsor an episode or more of ONCE podcast, too! Email Daniel@ONCEpodcast.com if you would like to arrange a corporate sponsorship of our podcast for the upcoming third season.
We finally meet Lumiere but he seem very Oz the great and wonderful like. But poor Lumiere, he only lights up when his candle was being lit.
Regina now knows that Robin Hood is her soulmate! And like the classic Regina, she ran away. Too bad, because it looks as if she was enjoying her time with him just seconds before he saw the lion tattoo. However, you can see now Regina's struggle whether she deserves to have a shot of having her own happy ending with discovering Robin Hood being her soulmate.
One of the flying monkeys was called "The Beautiful One." Who was it?
It was really cool to see Hook and Neal hug before Neal left; it seemed like a father-son bond for when the time they spent together.
Despite Rumple being under Zelena's control, it seemed that he still have some of his memories. On the other hand, Rumple thinks that she was the one who brought him back. Fortunately, he was able to tell Emma who the Wicked Witch is before she take him back to the cage. The last 7 episodes should be good.
It was terrible that Neal is gone for good, which paves way for Hook to have a shot at winning Emma's heart. The way that they remove a major character mid-season, however, was a good way of handling the show; it seemed like they planned and handled it out very well.
It was also cool how the original Dark One was made, well, out of darkness. It was strange, and it could have been done better, but it was very well done.
Remember, these are just our initial reactions regarding tonight's episode so please bear with us if we're a bit all over the place. If you have your own thoughts, feedbacks, or theories regarding tonight's episode, however, send them over to us and join our full discussion of tonight's episode, "Quiet Minds." this Wednesday!
Thank You for the iTunes Reviews!
Your reviews encourage us and help others find the podcast!
Please rate and especially write a review for us on Apple Podcasts.
What did you think?
Email Feedback@ONCEpodcast.com (audio files welcome)
Call (903) 231-2221
Comment on the shownotes
Visit any page on ONCEpodcast.com and click the "Send a voice message" link to record and send a message right from your computer.
Help us out!
Share this post in your social networks
Follow us
On Facebook:
On Twitter:  echo do_shortcode('[twitter follow="ONCEpodcast"]'); ?>
Daniel J. Lewis:  echo do_shortcode('[twitter follow="theDanielJLewis"]'); ?>
Jeremy Laughlin:  echo do_shortcode('[twitter follow="phlegon"]'); ?>
ErinJ:  echo do_shortcode('[twitter follow="erinjcruz"]'); ?>
Hunter Hathaway:  echo do_shortcode('[twitter follow="travelingpixie"]'); ?>
Jacquelyn / RumplesGirl:  echo do_shortcode('[twitter follow="punk_bunny_87"]'); ?>