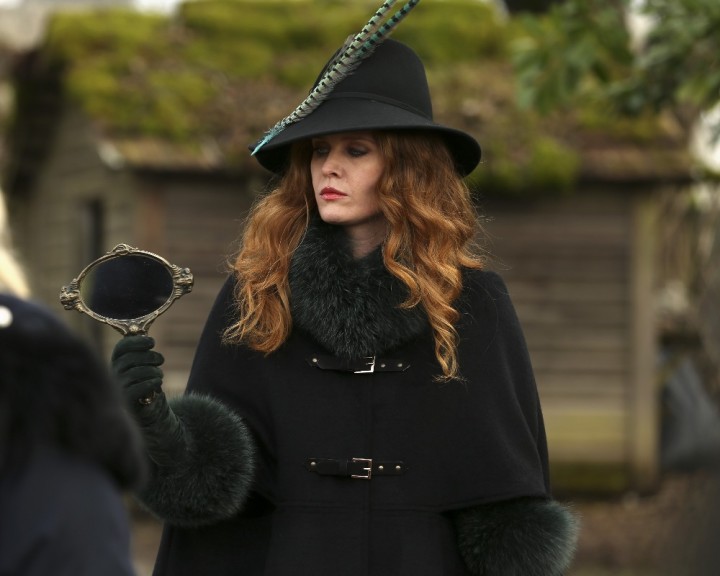 On our initial reactions of the episode "Ruby Slippers", we are talking about Ruby reuniting with the heroes and rescuing her friend, which Zelena trapped in an unbreakable curse; Snow White and David separating again; a possible major continuity error once again, Dorothy and true love, to name a few!
Podcast: Play in new window | Download | Embed
Because Daniel and Jenny clicked the Ruby Slippers three times and went to Vegas for a podcasty purpose, Erin and Jeremy are taking over our Ruby Slippers initial reactions. Furthermore, our full discussion for Ruby Slippers will be on a little different schedule this week, which will be on Friday, April 22 at 8:00 pm USA Eastern Time, instead of Wednesday.
In flashbacks, Ruby and Mulan find themselves in Oz, where they meet Dorothy. After the three witness Zelena's return to Oz, they look for a way to defeat her once and for all. However, Dorothy mysteriously disappears, and Ruby's search for her new friend lands her in the Underworld. Reunited with the heroes, Ruby teams up with Emma, Regina and Snow to continue looking for Dorothy.  Meanwhile, Snow and David struggle with not being able to be with their son, Neal, and devise a plan so that one of them can escape the Underworld.
These are our first thoughts about this Once Upon a Time episode. We'll share more about "Ruby Slippers" in our upcoming full discussion.
Initial Reactions
Remember, these are only our initial reactions regarding tonight's episode so please bear with us if we're a bit all over the place. If you have your own thoughts, feedbacks, or theories regarding tonight's episode, however, send them over to us and join our upcoming full discussion!
Clever title for today's episode, because it's a Ruby-centered episode, and it's about slippers, it's like killing two winged monkey with one stone. This also seemed to be one of the few episodes where the whole episode actually included her as a character and not just standing around looking like Little Red Riding Hood. Plus, it's great to know that she's not dead.
Is it just us or does it seem to be getting easier and easier to transport from world to world nowadays? There were so many options tonight, like the Dark Curse, to get them to Storybrooke. Could this be another major continuity error? But that being said, these slippers are potentially one of the most valuable magical items in all the realms because it can actually get to all the realms, including the Land Without Magic.
We liked that they explained succinctly and, in a way, kind of made sense how Ruby ended up in the Underworld. However, it's a little confusing how Ruby said that she generically used a tracking spell to find Zelena, as well as how it ended up being a twister because she did not have the slippers on. Or did she?
It was interesting that they referred to the sleeping curse that it was an unbreakable curse because Dorothy didn't have anybody. Zelena thought that she found a loophole, but the theme of the show is about hope and that True Love's Kiss can break any curse. For a little while there though, we thought it would be Toto since they were making a deal about Toto, or that the true love of the people collectively could be enough to break the curse. We were also kind of on thin ice with the whole blow a kiss into a bottle thing. Although we've seen True Love being bottled before, which involved hairs, this one involves blowing a kiss into a bottle.
Another thing that we weren't too thrilled about is Snow White and Charming splitting up again! They've split up sometimes within worlds and that's okay, but we didn't like it much when they were in different realms. Plus, in this episode, they didn't say, "I will always find you," which is what they always told each other whenever they have to be separated from each other. Is it a missed opportunity or a dodged cliché? Does Emma still has issues when she says. "your 'other' kid needs to see you" or was she being pretty genuine?
The Underworld seems like a very interesting place and it's cool that we're learning a lot of things about it, like the fact that Hades can just poof people into water and put them in the river without even asking. Do the River of Lost Souls run beneath all of the Underworld, very much like Lake Nostos? And if Hades wanted all the souls stuck in the Underworld and that touching the water does that to people, why wouldn't Hades just set up a giant sprinkler system in the Underworld?
It was interesting how Hook can trade the names on the grave, but it really didn't solve their problem; just transferred it to David. Snow White is a main character on the show so it would definitely be strange to have an episode of the show without Snow White in it. It would be interesting too if there were more stories to tell and they got out of the Underworld before the season finale, however, it seems that they still have a lot of unfinished business there now.
Does Hades know that Snow White is gone and the names were traded now? He seemed to be oblivious of what he said about how it's hard to be a Savior when no one wants the heroes to save them. Can Hook put Hades' name in all three gravestone instead? What would have happened if Snow White and Charming both tried to go?
A lot of sleeping curses in this show are self induce—Snow White, Henry, Charming, and now Belle—only Aurora and Dorothy had it put upon them rather than choosing to do it themselves.
They set Red up really well early in the episode that, by the middle of the episode, we were not surprised that it will be Ruby to be the one to give Dorothy True Love's Kiss. This will also seem like a big moment with Once Upon a Time to have Ruby and Dorothy be the first homosexual couple. It will definitely attract some controversy but everyone needs to remember that no matter how you disagree with them, it's important to treat each other with respect, love and dignity. That aside, it also felt really fast for love. Although we don't really know how long they were together in between spots, it was pretty quick to be considered true love.
Good job on Henry giving them closure on things and writing consciously. It felt much more familiar, with the little bits of information that we've known of how the author writes on the book. He didn't have a lot happening in this episode, but Henry's points can be poignant at some points. He didn't say a lot but when he does, he gets his points across with very little speech.
What do you think about tonight's episode? Send us your thoughts, theories and feedbacks by emailing or giving us a call! You can also fill in the comment section below or simply head over the forum if you've got some theories and spoilers to share and remember, our full discussion for Ruby Slippers will be this coming Friday, April 22 at 8:00 pm USA Eastern Time.
What did you think?
Email Feedback@ONCEpodcast.com (audio files welcome)
Call (903) 231-2221
Comment on the shownotes
Visit any page on ONCEpodcast.com and click the "Send a voice message" link to record and send a message right from your computer.
Help us out!
Share this post in your social networks
Follow us
On Facebook:
On Twitter:  echo do_shortcode('[twitter follow="ONCEpodcast"]'); ?>
Daniel J. Lewis:  echo do_shortcode('[twitter follow="theDanielJLewis"]'); ?>
Jeremy Laughlin:  echo do_shortcode('[twitter follow="phlegon"]'); ?>
ErinJ:  echo do_shortcode('[twitter follow="erinjcruz"]'); ?>
Hunter Hathaway:  echo do_shortcode('[twitter follow="travelingpixie"]'); ?>
Jacquelyn / RumplesGirl:  echo do_shortcode('[twitter follow="punk_bunny_87"]'); ?>