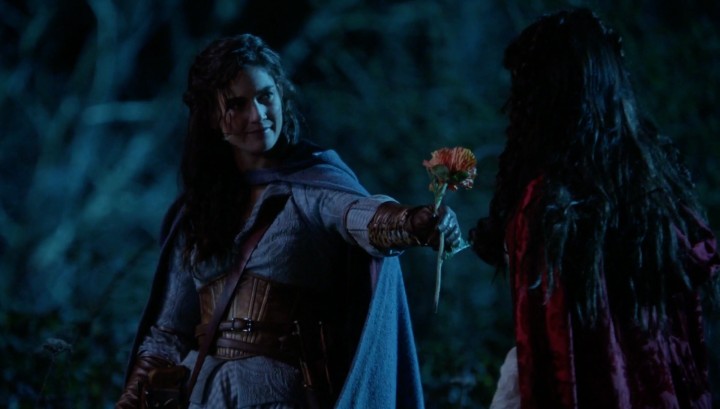 The Cruella syndrome; Zelena drinking with the bookworm; a little new lessons about Greek Mythology; True Love's Kiss; a brand new theory about the finale, and more on our full discussion of Ruby Slippers! Plus, we addressed the elephant in the room that had everyone talking!
Podcast: Play in new window | Download | Embed
This episode was released late due to Daniel's recent business travels.
Daniel's Christian perspective on the relationship controversy
I'll start with addressing the elephant in the room, the 800-pound munchkin, the issue on everyone's mind about this episode and maybe even the sole reason you're listening to this podcast episode. This statement represents my (Daniel J. Lewis's) views, alone, and does not necessarily reflect the views of my cohosts, staff, or affiliates; or those of Disney, ABC Studios, or any of their staff and affiliates.

Once Upon a Time has delved into numerous moral issues, which we have often addressed. These include rape, idolatry, murder, abuse, adultery, fornication, mistreatment of the unborn, and more. They have also addressed positive moral issues, like love, commitment, family, adoption, sanctity of life, forgiveness, and repentance. It has been easy to address such issues because most of the community generally agrees with or respects the opinions we have shared.

When we hosted our discussions of "Quite a Common Fairy," we chose respectful silence on the ambiguous feelings from Mulan. We respect the community and those with deeply held opposing beliefs and thought silence was the best way to maintain that respect. But for being respectfully silent, we received numerous threats, malicious name-calling, hateful personal attacks, and judgmentally ended relationships—all in the name of "tolerance" and for our not saying anything. Today, I know I'm opening myself to another barrage of such attacks.

In the past couple years, we have been open to more discussions about these and other moral issues, even when they have been small asides. Now, homosexuality is core to this episode and has no ambiguity. Eddy Kitsis, Adam Horowitz, Jane Espenson, and the other writers of Once Upon a Time have frequently stated clear agendas, including support for, demonstration of, and a desire to portray homosexuality in a particular way.

It's no secret that I'm a Christian. I build my thinking on the written Word of God, the Bible, which clearly teaches to save sex for marriage, and that marriage was created by God to be between one man and one woman for life. At the same time, the Bible is also quite clear that my own sins of pride, selfishness, lust, anger, and more are rebellion against God's authority, and thus make me equally worthy of God's righteous judgment—just as if I had committed the most heinous crimes we can imagine. It's only by the willing sacrifice of Jesus Christ, and not my own actions, that I can have grace and be given mercy from the eternal punishment I fully deserve. I can't point fingers or "cast stones" because I am just as guilty as everyone else of rebelling against God, our Creator. When a bunch of men wanted to stone a harlot to death, Jesus Himself said, "let he who is without sin cast the first stone." I am not without sin, so I have no right to cast stones of condemnation. In fact, the Bible says Christians are to lovingly judge each other, but leave the unrepentant for God to judge and condemn. It grieves me to see some Christians mess that up and forget the judgment they equally deserve, if not for Christ. So to my fellow Christians, I ask that this not be a time of judgment, boycotting, and abandonment; but that you let your light shine and show the world you belong to Jesus Christ by your love while you seek to be salt, not poison, to the world, reminding ourselves and others that there is hope and salvation in the real-life hero and Savior Jesus Christ.

I have previously avoided sharing opinions on the moments of homosexuality because I couldn't do it appropriately without being totally authentic about my faith, and I didn't feel like our TV-show-fan podcast was a place to be that "preachy," as some might call it.

But the issue is now clearly in the foreground and I know you and the rest of our audience are closely watching us. I would rather be hated for being authentic and vulnerable, than loved for trying to appease others.

Everyone has a set of beliefs that affect how they view the world around them—their worldview. Some people approach subjects merely consistent with their own worldviews, and some people approach subjects with an agenda to make others accept such worldviews.

What bothers me about this episode of Once Upon a Time is not primarily the fact that they had a homosexual relationship. After all, the show is trying to represent all views no matter how much of a minority (except for, interestingly, Christianity) and give everyone a "hero" with whom they can relate, including the small portion of the viewers who have chosen a homosexual lifestyle. But what bothers me is how much the writers went out of their way to tell this story and glorify the relationship seemingly simply to include it as a token item and make it seem normal. If the writers had glorified something against your own worldview, I think you would (and perhaps have been) equally disappointed. Look at how many people lashed out against Once Upon a Time when Neal, an icon of Rumplestiltskin's hope, was killed for the sake of "bold TV."

Jeremy and Jacquelyn are remaining silent on this position at my request because I want to be clear that what I'm saying is my own opinion. So if you wish to initiate a barrage of hateful and intolerant attacks, please do not direct them toward my cohosts, staff, or affiliates. If you want to continue the conversation on this issue, I invite you to email me directly: Daniel@ONCEpodcast.com.

This is the hardest thing I've had to do with this podcast, and it has caused an enormous amount of stress over the past weeks, even while I was traveling for business.

I am still a fan of Once Upon a Time and I must let the writers tell the story their way, with whatever agendas and worldviews they have. I am committed to seeing this podcast through to the end of the show I enjoy.

Thank you for letting me explain. If you wish to continue hearing our in-depth discussions, commentary, and theories we've been delivering for nearly five years, then we'll be happy to have you with us on this journey. But if my views suddenly shatter your respect for us, then I won't be offended if you decide to stop listening, supporting, or being part of our community. Here's a (probably outdated) list of other Once Upon a Time podcasts, but we still welcome anyone to listen to ours.

With this lengthy explanation out of the way, the rest of this episode's discussion will address the facts of the storylines, and not the opinions on homosexuality.
Oz (Past)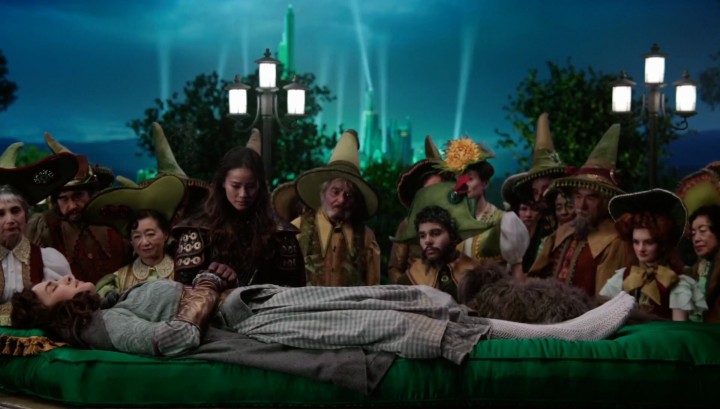 Starting out the past with Ruby and Mulan meeting Dorothy and little Toto for the first time, it's like the writers gave up when they showed that this happened in Oz "Some Time Ago". They must have checked our Timeline, trying to figure out where this could go but gave up and just let us figure it out ourselves. However, it shouldn't be that long ago because Ruby and Mulan met during the present day Camelot arc, and they went off together to find Ruby's pact. So it shouldn't be more than a few weeks at most and maybe not even that. Also, this was released as a sneak peek and originally, it didn't say "Some Time Ago" but "Many Years Ago".
We loved that they made a reference to Oz having a lot of singing, as well as reading a book about Oz. It's not the first time, after all. Back in season 2, David said that he heard about Jefferson in school. Emma also referred to the Mulan movie, but how exactly are these two in Oz?
It was really weird to see Ruby sniffing around while being a human, too. When we saw Granny do it in "Red Handed", she was just walking around instead of sniffing around like Ruby did. Can Ruby smell her pack across realms or did she follow some clues from someone?
They really could have given this a good explanation. The Wicked Witch did have an army of wolves in the Oz book. In OUAT, Zelena could have captured them at some point.

— @TheWatcher
Timeline wise, the tornado that brought Zelena was probably the actual tornado that Regina used when she banished her back to Oz.
As Ruby and Dorothy start their little walk, we liked the reference back to season one when Ruby shared that she ate her boyfriend, which is what she said in the said past episode. Seeing this as the start of their relationship, things just seemed to move along very quickly; they go on this walk, came back to their campfire, and then Dorothy runs away. They had their laughs, but they spent part of that time kind of not too sure about each other. Snow White and Charming had much more time then and ran into each other a lot more after that before a True Love's Kiss could work. It looks like this is becoming a bigger and bigger problem for the show. Hades and Zelena fell in love over a bike ride, and the romantic feelings between Guinevere and Lancelot were almost non-existent.
Dorothy's story is pretty much ripped from the Disney movie, "Return to Oz", wherein Dorothy returns to Kansas very melancholy over leaving Oz and is sent to a mental hospital for electroshock therapy, ending up returning to Oz to battle more foes. There are a lot of euphemisms about this episode. It feels like they were trying too hard to fit things together in this episode, Ruby Slippers, making this relationship work, because if they are going to do a lesbian relationship they seemed to have already set it up.
I don't buy this particular relationship. There was no chemistry and it just feels completely forced. Mulan is rendered completely useless and could be cut out completely without changing the story e.g have Dorothy make the potion and that she needed the poppies hence why she and Ruby went to the field. Basically this was the neon flashing "special episode".

— @PriceofMagic
The Mulan factor is a huge part of why people may not have responded to this episode in a way Adam Horowitz and Eddie Kitsis were hoping. While canon may not mean much to the groups of writers, it may mean a lot to their bosses. For those who are a fan of Mulan and Aurora relationship or who wanted to see Mulan find her happy ending and relationship, those fans were then let down with this episode, too. They did the set up already, but then ending up going for another direction.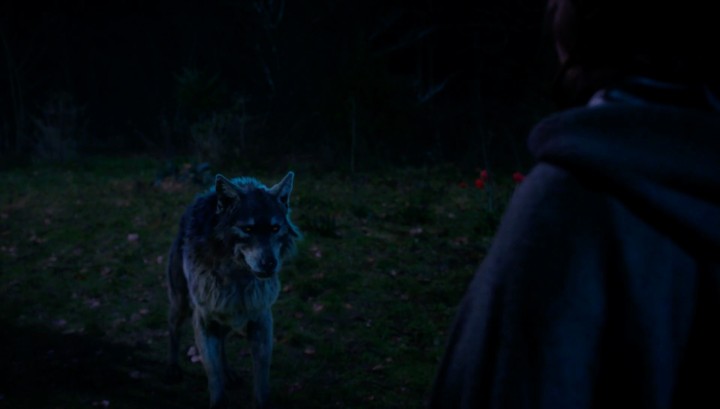 The whole field of poppies scene was just hilarious. because from the poppy to suddenly climbing at the back of Red and running away from the flying monkey, you don't see that everyday.
Thank you for supporting us!
Lisa Slack
David Neuland
Ashley Reid (new hero)
Armando Trujillo (new hero)
32 heroes on Patreon
Oncepodcast.com/sponsor
You can sponsor an episode or more of ONCE podcast, too! Email Daniel@ONCEpodcast.com if you would like to arrange a corporate sponsorship of our podcast for the upcoming third season.
Underworld (Present Day)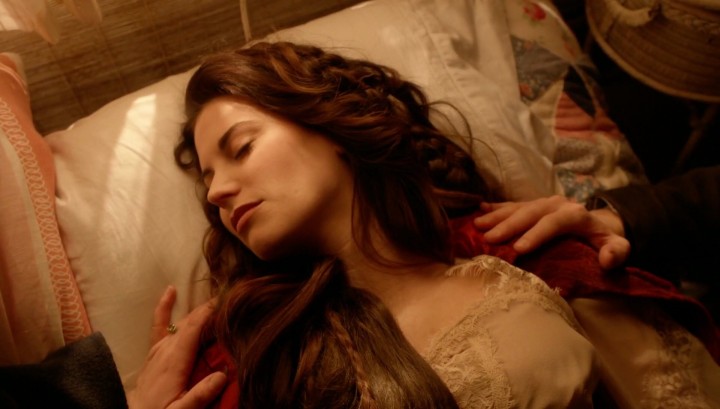 Going back to the present day Underbrooke as they bring Ruby back at the Charming's and how they said that she's breathing, do the dead come to the Underworld not breathing or not appearing to breath? After all, the breath of the living is very valuable in the black market.
Meanwhile, Hades and Zelena was discussing the fact that Ruby has come to town and it seems like Zelena is genuinely interested in not failing again but, at the same time, she also wants to cover up her past and hide the mistakes she's made. She and Regina have seemed to reach very small limited understanding from that conversation in Granny's last week. But is Zelena prepared to leave the Underworld without her baby?
Once you watch the moment when Zelena admitted that she did something to Ruby in its entirety and watch the moment back on the scene doesn't make a whole lot of sense. Zelena said something about what she did to "her", implying Ruby because Ruby is still the subject of conversation with Hades, she didn't do anything to Ruby and she has no idea that Ruby and Dorothy are going to be in a relationship. So why does she even think that she did anything to Ruby and why is she worried about Regina finding out what she did to Ruby?
Across town, Rumplestiltskin and Belle are arguing again and one of the things that they should've argued about is that it's not a loophole; Belle simply never agreed to Hades' contract. It's like the Cruella syndrome, Belle went on and on about how she could've shown Gaston mercy and condemning his soul and darkening hers.
It looks like the show is harming itself in many ways because of all of the news rules and things we're discovering like when Ruby explains how she got to the Underworld—a tracking spell, which took her from one realm to another. Since when does a tracking spell actually take someone?
Cruella and Claude, meanwhile, are destroying the phone booth and we wondered, is that that Claude that Hook killed? In 2×09 "Queen of Hearts," Claude was the body that Hook used to get to Wonderland to be able to bring Cora back. What was his unfinished business? Guarding Belle? At least removing a source of hope is consistent, plus, Cruella admitted that she gets her orders from Hades.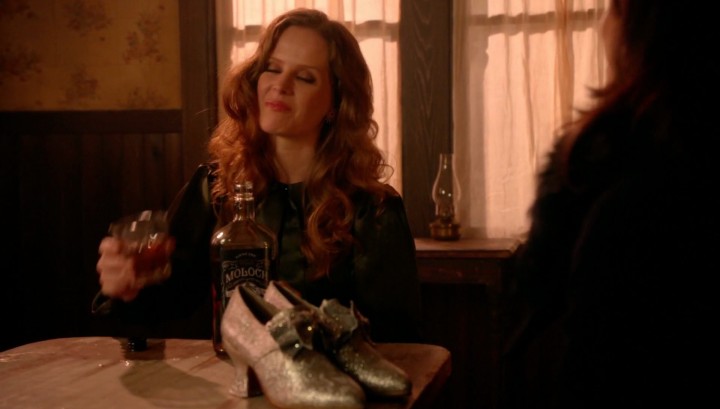 Regina then stopped Zelena from trying to leave the Underworld and we hear that Zelena got the slippers from Ruby or Dorothy and that's how Zelena got to Storybrooke in the first place. When they were in the graveyard, they mentioned something about Hades possibly making a move on Storybrooke, which sounds like a fun final battle between good and evil.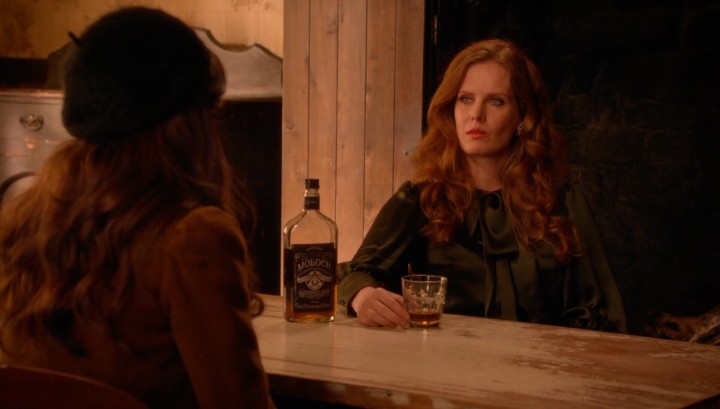 When Zelena was drinking with Belle, she mentioned that she doesn't trust Rumple yet, which makes sense, but at the same time, she can trust Zelena? The woman who killed her husband's first child? And she trusts the Dark Magic Zelena can do, but not Rumple's? That aside, Zelena calls Hades the "Lord of Death", which is false. Hades is only Lord of the Underworld, he is not the Greek God of death. That's Thanatos, son of Nyx (Night) and Erebos (Darkness) and twin brother to Hypnos (sleep). He carried humans off to the Underworld in their sleep.
It's about time that Hook sounded a little more grateful to what everyone was doing since he especially put them in that situation when he and Charming had a heart to heart talk back at the Charmings', but he still doesn't say apologize for almost killing everyone and killing Merlin.
It's fun to see the Blind Witch in any of the episode, and she's gotten more screen time this season than the original episode. We got to see more of her personality, her witty lines, her jokes, a little pokes and jabs at the other characters. Her comment to Ruby about the diner not being hers yet was interesting. Does that mean that when Ruby dies she gets the Diner? What happens when Granny dies? Does she take over Granny's? Or do they get to work at Auntie Em's?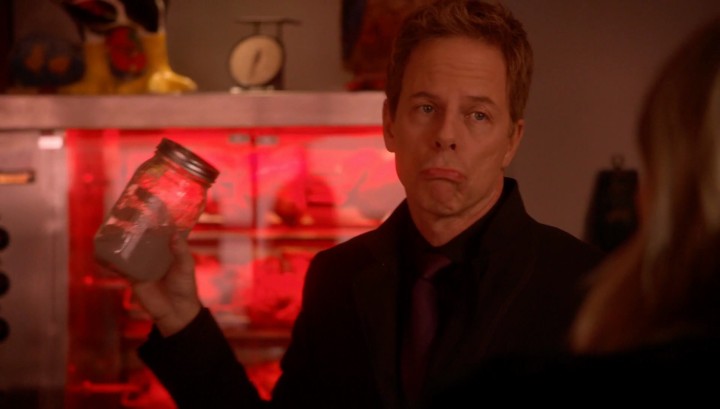 Hades said that they used the water from the River of Souls to poison the soup, which is a little bit of a stretch. However, it was a really neat thing to see that done and it was a very Wizard of Oz thing to do. And that line when they said, "All you need to do is blow a kiss into the bottle" is a great example of what should happen every time they have a dumb magical theory with no experience or documentation. But how will Emma save everyone if no ones wants to be saved by her now?
Meanwhile, Snow and Ruby got to have a heart to heart conversation, which was a really great scene because the writers remembered that Snow and Red have a lot of history. They don't share a lot of screen time together but when they do, you're instantly reminded of everything Snow White and Red Riding Hood went through. Red was really there for Snow when Snow White was struggling with her feelings for Charming, especially when he was about to marry Abigail, and Ruby encouraged Snow to go after him.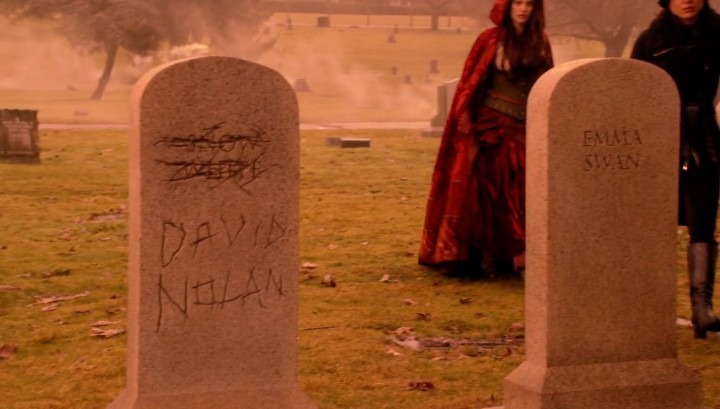 It is true that Hook's hook was enchanted because he was going to have trouble with the chisel, and this week this was a big topic at the forum.
Hook actually never said that Hades enchanted his hook to carve the names. He said that "he enchanted my hand to carve these markings in the first place". Back in the episode "Labor of Love", Hades shows the hook to Emma, and drops it on the ground before leaving. This took place before Hades asked him to chisel names, too. Hook continues to be hookless until Emma saves him in the "Devil's Due", so I'm guessing Emma kept the hook and returned it to him. So I think the enchantment was done to Hook's hand, and that was what gave him the power to carve names, rather than the chisel itself.

— @MatthewPaul
Can it really work? David an Snow literally shared a heart, technically, it shouldn't really work. It was also said that the rule in the Underworld is "a life for a life" so do they get Hook home? He's technically dead, after all. Will they kill Charming or sacrifice himself so that her daughter can be with the man she loves? It was a powerful goodbye, but we didn't hear them say, "I will always find you", which is what they always say to each other.
Why won't Hook just carve three villains and swap them out like Blackbeard, Bo Peep and King George? We don't really care about them anyway, so why not just put them in the Underworld?
Back at Zelena's home when she and Hades have drinks together, they mentioned the sleeping curse and said that it require someone to take it willingly? Snow had to choose to eat the apple; David had to choose to prick his finger no the spindle; we don't really know what happened to Aurora, but we do know that she deliberately took the Sleeping Curse to protect her people, however, in Enter the Dragon, she said that she didn't take it at all but was done upon her. So, how did it work on Dorothy?
This is also where remembering everything he said at the Diner is important. He talked a lot about hope and keeping the people from having hope and all his reasons for why he did what he did, but what he told Zelena is that he did it all for her.
It is really hard to tell if they are really falling in love or if one or both of them is playing the other one. If they are really falling in love their relationship is doomed to failure; villains don't get happy endings. As hard as it is to believe, I think Zelena might be supporting the heroes; becoming a double agent. Although she did not seem confident when talking to Belle, she might be planning to try to get Hades to cancel the contract (or at least change it). Perhaps Zelena is Hades' weakness in the sense that he will let his guard down around her and allow her to learn his true weakness that she can then relay back to the heroes. Zelena's concern about disappointing Regina and not being able to see her baby could help explain her motivation in becoming a double agent. Not trusting Hades and wanting to get her baby away from him might also be a part of it. If Hades is playing Zelena it is probably to get her to kiss him and break the curse on his heart so that he can escape from the Underworld with his power intact and allow him to go seek his revenge on his brother Zeus. Ruby pointed out that true love is a two way street, so for the curse to be broken either Hades and Zelena must truly love another, or Hades needs to find a loophole – which he's been shown to be good at.

— Gareth Grey
Why did Belle choose her father instead of Rumple to wake her? They have got things going on, regardless of the Dark One stuff, so where did this requirement come from? And do they not remember the burning red room? Is there now going to have a version of that for the baby? Did she ever stop to think what it will do to the baby? What if it killed the baby? How does this "halt" the growth of the baby?
I have a question, If Rumple wakes Belle up with TLK does that necessarily mean he has to give up his darkness? Can't he give her TLK and just wake her up from her curse while remaining the dark one? Are they saying he is not capable of true love because he is the dark one? Rumple has tried true love's kiss a couple of times now on Belle with no luck (Season 2 in the hospital and the Lacey episodes) but I always thought that was because Belle did not know who she was and therefore did not share true love with Rumple while having no memories of Belle. At that time it was not even mentioned that if he gave Belle TLK he would no longer be the dark one. The other question would be is the show saying that Belle no longer has true love with Rumple because he is now the dark one again? I did not think true love could come and go like this, either you have true love or you don't.

— @AKA
Will it ultimately still be Rumple to give her a True Love's Kiss?
Belle said in 5A, that True Love's Kiss didn't work after that initial time, because it was no longer a curse as long as they want it. Belle knows that she can't have any future with him as the dark one, and that she needs to protect her baby. Belle will only awaken now, if Rumple is finally willing to choose her, over his power. To wake her, he must become powerless! We both know that her father won't wake her up. And no one else has proven that they even care about Belle as a friend. It has to be Rumple, as a non-dark one.

— Meredith Pechta
But this was a bad idea because it stops her character development (and screentime, which may have been part of the decision-making here–Emilie DID need some maternity leave). They've set it up so both needed to bend to make this work… and now they're back to All or Nothing for Rumple. This is leading to exactly that choice–he'll have to choose Belle or Power once and for all. And while I'm excited about that… I think it's problematic that she's still making ultimatums and not growing as a person until she's woken now.

— @Keb
Rumple and the audience are assuming that he'll lose all of his powers with True Love's Kiss, but what if that isn't necessarily the case? Another possibility is that instead of destroying the darkness and his powers, it converts the darkness into light. After all, we know that the Dark One's power is sourced from the Holy Grail just like Merlin's. It was not darkness originally, but became darkness once Nimue crushed Vortigan's heart and tainted her magic. So maybe Rumple would become the Light One, as shown in Season 4's finale, and this could even "cleave" him from the dagger. The Dark One willingly ready to lose his powers to save their loved one could be the ultimate test of selflessness.

— @MatthewPaul
If this happens, it will help keep things they've established through the seasons.
Ruby then goes back to Oz and Snow also made it back to Storybrooke and one thing that we got in all of these is that there was one other possible person who could have given Dorothy True Love's Kiss—Toto.
What did you think about Ruby Slippers? Did we miss anything? What are your thoughts about Ruby and Dorothy's relationship? Head over the forum and discuss Kansas and Wolfie!
What did you think?
Help us out!
Follow us
Spoilers