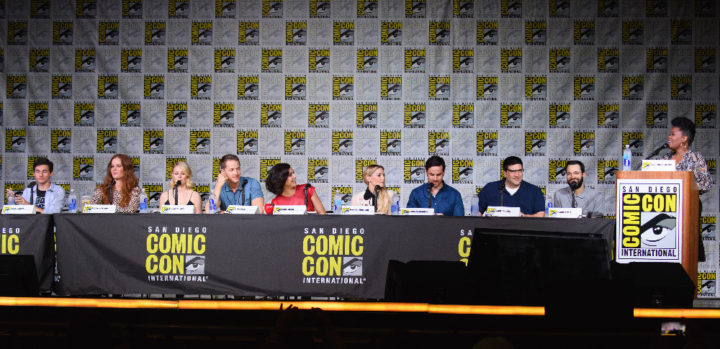 San Diego Comic Con has just finished so we've got a ton of stuff to share with you since season 5 ended, as well as stuff that we've got from the recently concluded annual convention. And since the new season is just about 2 months away from now, we've also gathered a motherload of spoilers about the upcoming new season. As of the recording of our San Diego Comic Con 2016 Review and Season 6 Spoilers episode, the filming for Once Upon a Time season 6 has already begun and we have found a lot of shots; things that don't make sense just yet so, for now, we are going to try and speculate what they all mean.
Podcast: Play in new window | Download | Embed
Filling in for Daniel for today will be Jacqueline and Hunter, as Daniel and wife Jenny had a death in the extended family; we are sending our thoughts and prayers towards Daniel and their family.
Non-Spoiler San Diego Comic Con 2016 Review
The first big news from the panel was the premier date, which is on Sunday, September 25, at 8pm. However, the big change would be how the story is going to be told. Instead of a two-arc split like seasons 3, 4 and 5, the format for season 6 will be more like season 1 and 2, which means that instead of having 11 straight episodes and 3 months hiatus, this time viewers are going to have to pay attention as to when the next episode is going to air. That being said, this means that we no longer will get two separate storylines. This time, Once Upon a Time season 6 will be an extended story over the course of 22 episodes.
This year's panel was a lot more subdued than it was back in between seasons 1 and 2, and even seasons 2 and 3. Everyone was also present except for Ginnifer Goodwin and Robert Carlyle and, for the third year in a row, Yvette Nicole Brown hosted the panel, who is known to be a huge fan of the show.
During the panel, Emilie de Ravin said that Belle liked both the dark and light sides of Rumplestiltskin, which we saw quite a bit in season 5. But going from one tricky relationships to another, at the end of season 5, there was a shot of a wedding dress in between Emma and Hook, to which everyone theorized that it was a foreshadowing of the pair getting married some time in season 6. However, both Adam Horowitz and Eddy Kitsis did say that fans are reading too much into the window. Plus, the said dress has always been there whenever they are shooting in Steveston. Still, the shot seemed so intentional that, if they do get married at the end of season 6, it might not have been planned since season 5.
The panel for Once Upon a Time started with a wonderful trailer showing the Evil Queen. The Evil Queen is a force to be reckon with this upcoming season and we really liked the video that they showed. It was really beautiful, with all the wonderful clips that we have seen before and everything that the Evil Queen has done since season 1. The trailer was also accompanied with a beautiful score and soundtrack that shows that the Evil Queen is probably going to be one of the bigger antagonists that they have to face in season 6.
What does hope mean for Kitsis and Horowitz? In the wake of Robin Hood's death at the end of season 5, people were kind of questioning what hope means for them, to which Eddy Kitsis answered, "the definition of hope is that things will get better." Adam Horowitz agreed, assuring the fans that although things may be rough when a character dies, that doesn't mean they can't get better. But with the Evil Queen coming back, it probably might not get better until the very end. As for Hook, there might not be a consequence for him coming back from the dead. It was also asked if Zeus could interfere in other situations, but there doesn't seem to have any definitive answers.
During the  panel, they also showed one of the clips from the season 5 DVD that's coming out, and that is of Cruella DeVil and Mordred, who is a figure in Arthurian mythology, which was played by Buffy: the Vampire Slayer alum, James Marsden. It was a short, funny clip with Cruella in the bar where Liam worked, which will be longer in the DVD. In another news, Hot Topic is releasing an exclusive line of Once Upon a Time merchandise, including apparel, a necklace with a little dagger, a chipped cup, a mug with Hook's hook as the handle, plus a Captain Hook costume, a necklace with the story book, a bow and arrow, a purse, and the FunKo Pop dolls, to name a few.
One of the fun things with the panel was how the cast revealed they got the part on the show. Lana Parrilla told a funny story of how her agent gave the news to her by calling her and asking for Regina, to which she initially said was a wrong the number. Rebecca Mader, on the other hand, said yes when she was asked to be part of the show, without even knowing what part she will play just yet.
What did you think?
Email Feedback@ONCEpodcast.com (audio files welcome)
Call (903) 231-2221
Comment on the shownotes
Visit any page on ONCEpodcast.com and click the "Send a voice message" link to record and send a message right from your computer.
Help us out!
Share this post in your social networks
Follow us
On Facebook:
On Twitter:  echo do_shortcode('[twitter follow="ONCEpodcast"]'); ?>
Daniel J. Lewis:  echo do_shortcode('[twitter follow="theDanielJLewis"]'); ?>
Jeremy Laughlin:  echo do_shortcode('[twitter follow="phlegon"]'); ?>
ErinJ:  echo do_shortcode('[twitter follow="erinjcruz"]'); ?>
Hunter Hathaway:  echo do_shortcode('[twitter follow="travelingpixie"]'); ?>
Jacquelyn / RumplesGirl:  echo do_shortcode('[twitter follow="punk_bunny_87"]'); ?>
San Diego Comic Con 2016 Spoilers
How will Regina be different from the Evil Queen? Lana Parrilla said that Regina will not be losing her sass, but the Evil Queen is "pure evil." She also added that Emma and Regina had become friends over the years, and that Emma is not trying to kill Regina anymore, but how will the Evil Queen feel about Emma? Is she going to go after Emma?
In season 6, we will also get to know more about Hook's past and his many secrets. There were some questions about the Olympian crystal and if it could really obliterate a person. Did it really do what Hades said it did? Both Adam and Eddy said that they didn't know whether Hades was lying or not; we should probably not trust the Lord of the Underworld. A lot of people took this to mean that there might be hope for Robin Hood, but Horowitz later clarified that Robin Hood is, in fact, very dead but they choose to believe that Hades lied about his soul not moving on and that Robin's soul did move on to the better place because he was a good person.
The biggest news from the panel was probably the clip that they showed towards the end. Just like season 1 and 3B, the clip began with a man riding on a horse. For season 6, Aladdin is one of the newest characters that will be coming to Once Upon a Time. In the clip that they showed during the panel, the scene opened with a man on a horse riding towards a hut in the middle of nowhere, a flying carpet in the shadows, and someone shooting a magical red light at the man on the horse. Due to Naveen Andrews' previous commitment, who played Jafar in Once Upon a Time in Wonderland, with Sense8, the role had to be recast and given to Oded Fehr. However, Horowitz clarified that he will be the same Jafar that we have seen from Wonderland. But how will it fit to Wonderland's storyline and how will they explain the changes in his appearance, especially since Jafar had an unfortunate fate by the end of Wonderland?
There were a lot of interviews following the panel from San Diego Comic Con and during the cast's interview with TV Line, it was revealed that Hook and Emma will still have some obstacles on the next season. Regina and Zelena's relationship will still be complicated, and Henry and Violet are still dating. Jennifer Morrison also did say that season 6 is a very introspective season, and that it's really about people looking inside themselves and having to deal with darkness.
Once Upon a Time Season 6 Spoilers
The premier episode for season 6 is entitled "The Savior", written by Eddy Kitsis and Adam Horowitz. We've also already got a script tease, shared by Adam Horowitz via Twitter, and it's a one line from Snow White. Furthermore, 6×01 will pick up right after season 5 finale, "Only You" & "An Untold Story."
The first sneak peek from "The Savior" starts off with a man on the horse, with a flying carpet following behind him, with someone shooting red bolts of light at the man on the horse. As the man on the horse arrives at the hut in the middle of nowhere, who was seen carrying a very iconic staff, the man, who turned out to be Jafar, asks that he need to see the Savior. The Savior, who appeared weak and shaky, was apparently Aladdin. Post Comic Con, it has been said that while Emma is the Savior doesn't mean that there weren't others. It was also revealed that for season 6, we will be getting Savior mythology, very much like how we learned about the Dark One mythology in season 5.
In the clip, Jafar said that Saviors don't get happy endings. Does that mean that Emma won't either? Did Aladdin lose something to make him look weak and shaky? Does he have magic? Where is Jasmine?
Prior to Comic Con, they put out casting calls for Sinbad and Scheherezade, but a lot of fans already it they were for Jasmine and Aladdin. For Sinbad, they sought a thirty-something Middle Eastern Arabic or Northern African male to play a roguishly charming and quick-witted hero who knows the power of kindness but as of late has lost his ability to lead his people. Cast alongside that is for Scheherezade, who is envisioned as a regal Middle Eastern Arabic beauty who never backs down from a good fight, and can go toe to toe with even the toughest of adversaries. For the role of Sinbad, who was later revealed as actually Aladdin, Deniz Akdeniz, a Turkish-Australian actor known for his stint in Graceland. As for Jasmine, however, Karen David was cast, who was well-known as Izzy in Galavant.
Roughly two weeks before Comic Con, the filming for season 6 started and we've already got quite a couple of behind the scenes shots of Ginny Goodwin, Josh Dallas, Jennifer Morrison, Rebecca Mader and Jared Gilmore have all been seen on set on various points. We've also seen Sam Witwer and Hank Harris on set as Jekyll and Hyde.
One of the weird things from the filming shots that we got was that Emma had a sword-fight with a hooded figure. Is it the Evil Queen under the hood? Lana Parrilla did an Ask Lana recently on Facebook and she did talk about how she was sword-fight training. Obviously, Emma doesn't die, but it did seem that she was hurt badly. Is the sword been tainted with Jekyll's serum?
There was also a shot of Snow White and Regina at Regina's vault talking, as well as an Emma and Hook scene, and a shot of Hook giving Snow White a sword. Emilie de Ravin was also seen on set recently. Is she getting out of the box sooner rather later? Furthermore, there were also some shots of Regina and Hyde walking together. Is it actually Regina or the Evil Queen impersonating Regina? Finally, we got to see Hyde get hit by a car.
Returning for 6×01 is Raphael Sbarge as Dr. Archie Hopper, as well as Pongo, but this time, the town therapist will be having a new client. Who could it be? Jekyll? Emma? Other pictures from "The Savior" were of Hook and Charming arresting Hyde, and a conversation between Emma and Hyde. Does Hyde know something about Savior mythology that Emma doesn't know yet? Does he know Aladdin?
6×02, meanwhile, is entitled "A Bitter Draught" written by Andrew Chambliss and Dana Horgan. Appearing in at least one episode of season 6, Craig Horner was cast as the Count of Monte Cristo. Although the details on what he will be doing are being kept under wraps. The Count's introduction comes in the wake of the show introducing the Land of Untold Story. He has already been seen on set wearing a brown clothing and a neck scarf, with his hair pulled back.
Emilie de Ravin and Colin O'Donoghue were also seen filming on the docks for 6×02. What is Belle doing in the docks with Captain Hook? Emilie de Ravin, Robert Carlyle and True Blood alum Giles Matthey, who will play Morpheus, were also seen filming indoors. Recently, there was a casting call for Morpheus, who is Greek God of Dreams, described as an old soul in a young body, someone who is equally good at reading people as he is and hiding his own agenda.
For episode 6×03, "The Other Shoe" written by Jane Espenson and Jerome Schwartz, Jessy Schram will be reprising her role as Cinderella/Ashley. For this episode, we will explore more on her friendship with Snow White, which we have seen briefly in previous episodes. No word yet, though, if her prince is coming back as well.
Jeffrey Kaiser, who played Dopey since season 1, announced on Twitter that he left the show, and there hasn't been an announcement whether he is going to be replaced. On a happier news, though, Rumple and Belle are going on an adventure together in season 6. Eddy Kitsis did remind that she is in Pandora's Box, is under the Sleeping Curse and as the season 6 premiers, will be made clear that Rumple did get the box back as part of the deal with Mr. Hyde. As for where the information Hyde deliver in return to rouse Belle from her slumber will lead the couple, that will leave a mystery that will be shown in season 6. Adam Horowitz also later added that the focus at the start of season 6 is how he gets her out of the box and wake her.
The new poster for season 6 has also already been revealed recently, which is a photo of the Evil Queen with a bolt of lightning, splitting the apple in half into two different segments—the iconic red apple on the first half, and another which is a black version of the apple.
Did we miss anything from San Diego Comic Con 2016? Share them all below in the comment section! Do you have any season 6 spoilers to share, or want to know more about what's to come next season? Head over to the forums and let us know what you've found out!