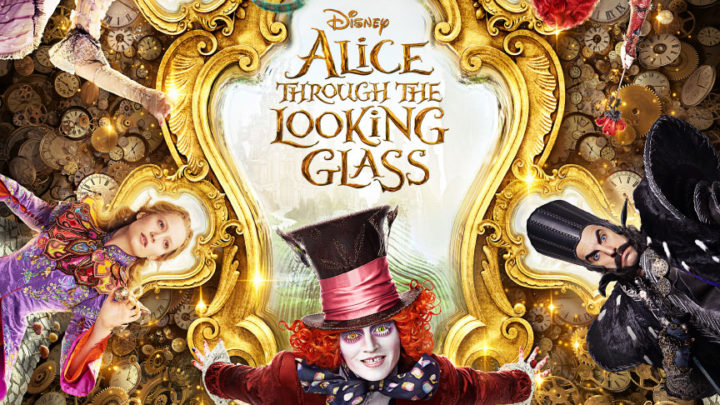 We've been fortunate to see an early screening for Alice Through the Looking Glass very recently and are ready to share with you our thoughts about this sequel to the 2010's live action Disney film, Alice in Wonderland. But because the movie is still showing in theaters at the time of this recording, the first portion of this Alice Through the Looking Glass movie review will be spoiler-free.
Podcast: Play in new window | Download | Embed
Spoiler-free Alice Through the Looking Glass Movie Review
We really enjoyed it. It was so much fun to watch; the style of the costumes, everything. Tim Burton is great at doing fairy tale land sort of stuff because of all of the visual thrills and his attention to detail in certain things; the magical way that he has of pulling out acting from characters and telling a story in a really fun way; Johnny Depp certainly makes it a lot of fun, too!
We liked the grungy type of costumes, too! As big fans of the first Alice in Wonderland movie, Alice Through the Looking Glass was a little bit better. However, although Alice Through the Looking Glass is a lot of fun, its prequel tied in with the original Alice in Wonderland story more; there was something special seeing an Alice who forgot who she was come back to Wonderland and re-experience Wonderland. But now, here in Alice Through the Looking Glass, Alice knows exactly who she is and what Wonderland is all about. It's fun, but just a little bit below from the first one.
One of our favorite parts of this movie was getting to see the backstories of most of the Wonderland characters. One of the things that Alice said that we liked was when she said "you know my thoughts on that word" in response to someone saying "that's impossible", which seems like a recurring theme in this live action film; what's possible and impossible. A couple of the other recurring themes in Alice Through the Looking Glass are womanly strength, and it's empowering to many women that they don't only have to fit into some kind of mold but if they have visions for certain things, there are ways to do that. Family was also a big part of this in multiple realms, so to speak; making peace with each other through acceptance and forgiveness.
The music was great. The acting, the characters, the visuals are really fun. A lot of good humor in it, the things that you want to probably re-watch, as well as the puns about time. On the other hand, one of the little more sobering things is at the end of the credits, it says "In loving memory of Alan Rickman," who plays Absolem, the Caterpillar and was known for portraying the role of Severus Snape in the Harry Potter movies. Apparently, Alice Through the Looking Glass was one of, if not Rickman's last movies that he ever did.
One thing that we noticed while watching Alice Through the Looking Glass was the cat in Alice's home. Was it Dinah? In the cartoon, in the beginning, before Alice fell through the rabbit hole, she has a cat named Dinah and she's singing to her. The cat didn't really appear anytime else except for when Alice woke up again, but it was a fun little detail that she had a cat in this 2016 live action version.
Alice Through the Looking Glass is certainly a fun, family-friendly movie. Although there are some moments of tension, peril, and some stuff that might seem a little scary near the end where some things happened to some people that looked kind of scary for younger kids, it's a very fun movie that we recommend, especially for Once Upon a Time fans because it's the continuation of Alice in Wonderland.
Alice Through the Looking Glass Movie Spoilers
The story of this sequel wraps around the search for the Hatter's family, which seems impossible. Time travel is involved with 'Through the Looking Glass' and they did a good job with it. What's cool about the way they did it is Time, as you could tell from the trailer, is a person, which spurs a lot of fun puns about time. There's a moment when time has stopped at the Hatter's tea party and all the time puns were being thrown around was hilarious. One of the things that they did well with time travel is how they told the story, which makes Alice Through the Looking Glass both a prequel and a sequel. Technically, it's a sequel to the previous Tim Burton Alice in Wonderland movie, but it also gives us a little bit of prequel because Alice goes back in time so she gets to see some of the things that happen, including why is the Red Queen angry at the White Queen. Another thing that we love is seeing why is it one minute until tea time, which was because when Time travelled through time, he trapped the Hatter and those at the tea party.
One thing that we loved that Time pointed out is the rule of time, which was you can't change the past but you can certainly learn from it, which is very true; no one can change their past no matter how they tried. We also loved that the movie starts out right where it left off in the first movie. In the first Alice in Wonderland movie, Alice was last seen on the boat just starting her new career with her father's shipping company. This movie, on the other hand, starts out a couple of years later. The scene opens on board Alice's late father's ship called The Wonder with her as the captain. She was a really good captain, too! The crew was pretty compliant, so she must've proven herself to them over the years. She thinks outside the box and it was probably because of what happened in the previous Tim Burton Alice in Wonderland movie; how it changed her perception and realized she doesn't have to conform to the society. Alice definitely knew who she was in this movie.
The way they cast Time was really fun, and the way that they animated him was amazing. With all the moving gears and parts, and even the way he walk was kind of mechanical. Time, who was kind of ditsy, also has a "me-shaped" door. It was certainly corny to have time be a person but they made it even more fun by making him part of the comic relief, among the other characters as well. We also loved when he got impatient with Alice and sped time up to make her talk faster.
We liked the tender moments between Alice and her mother. Seeing them mutually respect each other and in the end, when Alice comes back from Wonderland. That was a process at the beginning of the movie, her mother was unsure of Alice's goals but by the end, lets her daughter do whatever she wants and even supports her.
We loved how they incorporated Hamish into this movie and how they made him Alice's rival. Hamish, who proposed to Alice in the last movie, has got a paunch and more facial hair in this movie compared to the first Alice in Wonderland movie, yet still looks, sounds, and moves just as clumsy. It was very fitting that he would become Alice's rival.
One of our favorite lines in the movie was said by Time, which was "Your Head is looking wary wary big today." We loved seeing backstories such as how the Red Queen fell out with her sister, how she came to hate her sister, and how she got her big head. And because her big head kind of resulted from hate, we expected a little bit near the end of the movie that there would be something where, when the reconcile, that her head would shrink back down because she was finally feeling loved.
When we saw Alice wake up in the institution with her mother there, our first thought was that her mother had her admitted, but it was Hamish. We thought that they might show that Alice is actually crazy and that there is no Wonderland, because they cut so quickly from her walking through a mirror and in an instant, she was in the insane asylum, but no. There was also a little bit in that insane asylum that was very reminiscent of Once Upon a Time in Wonderland. In fact, some of the trailers made it seem a lot more connected than it was, but no. Here, they talked about Alice suffering from female hysteria and that they were going to give her a treatment that would make her better.
It was really funny that the queen sisters' enmity started over a jam tart, and how that ties in with the original Alice's Adventures in Wonderland story, too. We also loved meeting the Hatter's family. We loved that his Dad was so serious. The young Tweedles, the young Hatter, the young Bayard, the young March Hare, and the young teapot mouse. It was also nice seeing the Knave of Hearts making an appearance in the movie, his remains, at least. So if you haven't seen Alice Through the Looking Glass yet, definitely go back and watch the first Alice in Wonderland from Tim Burton and Disney to understand some of these things much better.
One of our favorite quotes from Time was something that he said at the very end, "They say that time is a friend to no one. I shall never forget you, Alice. Don't come back." It made us wonder, is this Time the time for all realms? Although here in Alice in Wonderland they made it seem like there's simply Wonderland and our world, not like there are multiple magical realms. We also got the impression that time only controls, manipulates and manages Wonderland time.
It was really funny that the mirror to Wonderland was in Hamish's house. Alice kept having to go back to Hamish's house to go back to Wonderland, and they had no idea, thinking that she was crazy that she kept crawling in all the furnitures, yelling about the atmosphere.
Should a Oncer see this movie? Absolutely! If you had the chance to see the movie, what did you think of it? Share us your thoughts about Alice Through the Looking Glass by filling in the comment section below!
What did you think?
Email Feedback@ONCEpodcast.com (audio files welcome)
Call (903) 231-2221
Comment on the shownotes
Visit any page on ONCEpodcast.com and click the "Send a voice message" link to record and send a message right from your computer.
Help us out!
Share this post in your social networks
Follow us
On Facebook:
On Twitter:  echo do_shortcode('[twitter follow="ONCEpodcast"]'); ?>
Daniel J. Lewis:  echo do_shortcode('[twitter follow="theDanielJLewis"]'); ?>
Jeremy Laughlin:  echo do_shortcode('[twitter follow="phlegon"]'); ?>
ErinJ:  echo do_shortcode('[twitter follow="erinjcruz"]'); ?>
Hunter Hathaway:  echo do_shortcode('[twitter follow="travelingpixie"]'); ?>
Jacquelyn / RumplesGirl:  echo do_shortcode('[twitter follow="punk_bunny_87"]'); ?>