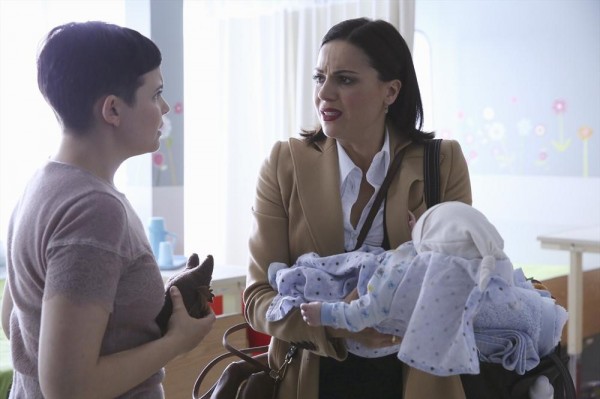 Podcast: Play in new window | Download | Embed
As Henry's life hangs in the balance, both his mother attempted to save the truest believer, making sure that Pan will never get into full power. Eleven years ago, however, Regina filled a hole in her heart by adopting a baby that Mr. Gold procured for her.
While Henry's life hangs in the balance, the race is on to stop Pan from gaining full magical powers from the heart of the truest believer. Meanwhile, in Storybrooke of the past, Regina decides to fill a void in her life and, with Mr. Gold's help, sets out to adopt a baby.
These are just our first thoughts about this Once Upon a Time episode. We'll share more about "Save Henry" in our upcoming full discussion live on Wednesday, December 4, 2013, at 8:00 p.m. (EST/GMT-5).
Initial Reactions
We're going to be a little bit out of place today so please bear with us. However, you can join our full discussion this Wednesday, December 4 but for now, take a look at what we thought of tonight's episode as you listen to the podcast.
This episode kinda flew by a bit quickly and although the pacing was a bit too quick, it definitely is interesting; they so quickly got Henry's heart back; got Rumple out of the box a little too quickly.
The blood magic thing was still a bit confusing, and getting Rumple out of the box was a bit unexpected. What did the shimmering mean, after Emma hurt Pan (before he flew out of the Skull Rock)?
We love the flashbacks in this episode, more than what happened in Neverland. It was nice to see Storybrooke again, as well as what happened in the first season, even the Pilot episode! It was also great to see Regina's struggle as a mother; it was neat to see her act (as a new mother to baby Henry).
It was also nice to see the rest of the characters we've known — Dr. Whale, Archie Hopper, Granny, Sidney Glass, even if it's just his voice; they even made another reference to Ruby!
Speaking of the Shadow, now that the Jolly Roger and the Shadow are pretty much together now, how do we call it? It may seem a bit out there but hey, Regina got the Shadow to stick in the sail, which allowed them to go back home to Storybrooke.
Regina did some magic to protect Henry's heart from being ripped again, but it was clever of Pan to try and rip Henry's shadow out. But what would it do had he succeeded?
On the other hand, how come Regina's preservation spell have a time limit? Was it the keeping him alive thing that caused the time limit, or did she simply just don't have enough ingredients to preserve Henry's body longer like what she did with Daniel?
Were Snow and Charming able to get water from the Spring? They didn't showed it tonight.
Thank You for Supporting Us!
David Neuland (subscriber)
Dena81 (subscriber)
Lisa Slack (subscriber)
Julia Portela (subscriber)
You can sponsor an episode or more of ONCE podcast, too! Email Daniel@ONCEpodcast.com if you would like to arrange a corporate sponsorship of our podcast for the upcoming third season.
It was nice to see Regina be a mother to Henry. Love is a choice and despite her troubles and fears, the kind of love she has for Henry was admirable. It seemed that Regina finally found her prince in Henry and true happiness, despite being a Queen herself.
How did Mary Margaret silenced a crying baby Henry? Was it because they shared a bloodline, a connection? Or was it because she had a taste of being a mother herself? It was definitely cool to see Regina pour her love to someone else, allowing for that hole in her heart to be filled. Great character development for Regina/the Evil Queen.
Okay, we were wrong about theorizing that August had something to do with Henry's procuring.
Is Henry's body the one inside Pandora's box? How did the switch happened? Did Pan's magic went to Henry or was it only their personality that switched? Why is Pan ripping Henry's shadow? What else is there to ripping shadows off a person than we already know?
Are they really heading home to Storybrooke? What does Pan want with Storybrooke? Now that he possesses Henry's body, is Pan out of being a prisoner to Neverland? What about Rumple's shadow and his dagger? Where is it now? Will he get it back?
To be considered for inclusion for the full discussion, send us your feedback and theories by emailing us using the details below. You can also join our forum or put a comment below to share your thoughts regarding tonight's episode.
Thank You for the iTunes Reviews!
Your reviews encourage us and help others find the podcast!
Please rate and especially write a review for us on Apple Podcasts.
What did you think?
Email Feedback@ONCEpodcast.com (audio files welcome)
Call (903) 231-2221
Comment on the shownotes
Visit any page on ONCEpodcast.com and click the "Send a voice message" link to record and send a message right from your computer.
Help us out!
Share this post in your social networks
Follow us
On Facebook:
On Twitter:  echo do_shortcode('[twitter follow="ONCEpodcast"]'); ?>
Daniel J. Lewis:  echo do_shortcode('[twitter follow="theDanielJLewis"]'); ?>
Jeremy Laughlin:  echo do_shortcode('[twitter follow="phlegon"]'); ?>
ErinJ:  echo do_shortcode('[twitter follow="erinjcruz"]'); ?>
Hunter Hathaway:  echo do_shortcode('[twitter follow="travelingpixie"]'); ?>
Jacquelyn / RumplesGirl:  echo do_shortcode('[twitter follow="punk_bunny_87"]'); ?>