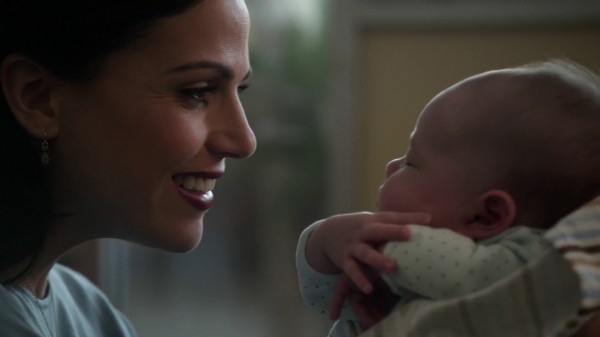 Podcast: Play in new window | Download | Embed
Eleven years ago, Mr. Gold helped Regina fill a hole in her heart by helping her to find her Prince. And now that Peter Pan has the heart of the truest believer, how will Emma and Regina get their son back? Will they ever?
Enchanted Forest
It was cool to see the Enchanted Forest again, especially to see be reminded of the stuff that happen in the first and second episode. It was even cool to see Lana Parrilla back in her Evil Queen attire, as well as her mannerisms and mood.
Rumple told the Evil Queen that he was waiting. Waiting for what, exactly?
Rumple told the Evil Queen that enacting the curse will fill hole in her heart, but it was actually Maleficent who told her first of that. She said that enacting the curse will leave a void in her heart that she will never be able to fill.
It was strange to see the shadow in the title card and hardly see the shadow in the whole episode. Will this be the last time we will see of the Shadow?
Thank You for the iTunes Reviews!
AshleyMarieTee from the USA
Your reviews encourage us and help others find the podcast!
Please rate and especially write a review for us on Apple Podcasts.
Storybrooke
We've seen plenty of cool stuff in Storybrooke, starting with Archie Hopper visiting Regina. It seems that this happened 18 years after Owen stepped into Regina's life. When Regina told Archie that she feels nothing, it reminded us of what Graham, Cora and Will (the Knave of Heart from Once Upon a Time in Wonderland) felt. Does the hole just got bigger and bigger ever since she enacted the curse, leaving her feeling a hole, an emptiness in her heart?
Regina came to Mr. Gold to help her adopt a baby for her. Mr. Gold acted so knowing, but it seemed that he is unaware that he is under a curse, not knowing the history and what his history was. However, Mr. Gold said that he was kind of expecting Regina to come to him. Does he remember their conversation when the Evil Queen came to him before the curse fully took place?
Mr. Gold told Regina that Henry was placed with a family in Boston, the same place Emma grew up. Was Henry placed with Mr. Raskin as well? Who was the family that was supposed to take Henry? Was the "family" whose adoption fell through the Darling brothers? Mr. Gold also emphasized that he "spoke" with the adoption agency in Boston. Who else aside from Regina and Mr. Gold can make contact with the outside world?
In Boston, Regina said that she is on her third-term as a Mayor of Storybrooke; sounded like it has been between 8-12 years since. Furthermore, we learned from this episode that Regina CAN leave Storybrooke. Is she the only one who was part of the curse that can leave? Probably because she was the one who casted the curse, just like Henry can leave because he wasn't a part of the curse?
Constant crying makes women want to cry, too, just like how Regina was with Henry when they were at Granny's. Granny suggested for Regina to tell a story to calm him down. What story was Regina about to tell? Also, noticed how baby Henry throw up just as Regina starts her story with "Once Upon a Time…"
Granny also said that Ruby's issues started late. Ruby's issues, as we know, were some sort of rebellion as Granny saw it now, but that we know the actual history.
Dr. Whale suggested 10 CCs of maternal love, as well as to do tests on Henry, hoping it will revealed something strange. We got to hear Sidney Glass's voice again! This time, Regina called in favors because she knows he would do anything for her.
When Regina found out that Henry could be the son of the savior, she went back to Gold and accused him. However, everything Gold said is consistent with the fact that he doesn't know who he is right now. On the other hand, even if Gold didn't remember the past as much as he did when Emma showed up, he might have remembered what Regina said about Henry's mother even after she forgot.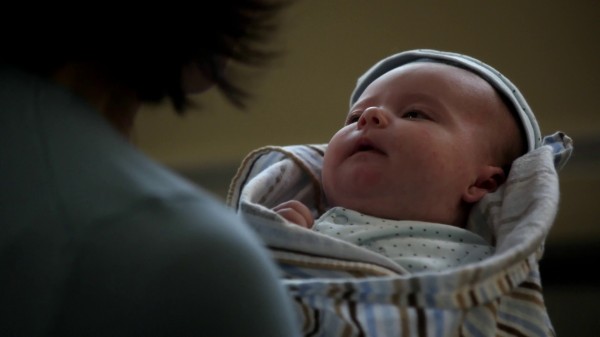 Did you notice in the scene where Regina returned Henry to the adoption agency, the outfit he was wearing featured a picture of a bus? Probably a reference to Henry's bus trip to Boston in the pilot! I'm away from home on business or I would send a screenshot, but I assume you can get one.

— Timespacer
If the Darling brothers was also looking forward to adopting Henry, does that mean that Henry need not grow up in order to have the heart of the truest believer? Was he born with it? John and Michael wanted to take him right then, after all.
In addition, the adoption agency told Regina that another family — John and Michael as it turns out — was already in line had Regina decided to give Henry back. How can the adoption agency give the baby to two brothers who are from another country at best and have no legit background? Were they posing as a couple? In line with this, it seemed that Pan knew exactly what Henry was going to be even before this and was already trying to get Henry for himself.
Fate seemed to be the word of this episode. Archie Hopper even told Regina, "If you keep worrying about the future, you'll never enjoy the present."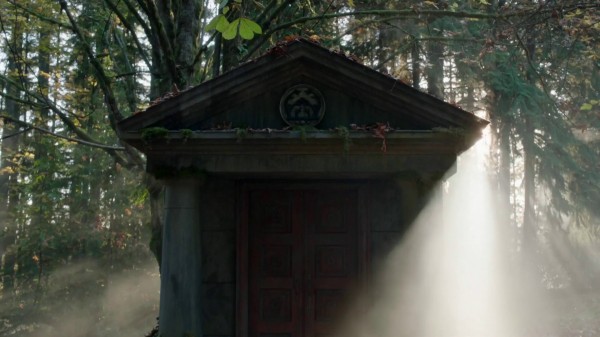 It was great to see Regina's vault again! It was even greater to see Regina's good mother side; it was admirable to see her put her son's sake above her worries. While in the end she still said something that sounded a bit selfish, it was evident that her being a mother to Henry really is stronger than her dark heart.
The story she told Henry was so cute! And despite she has to sacrificed her father to enact the revenge, she thanked her father. Down at her vault, Regina created an ancient of potion of forgetting, allowing her to forget all her fears, worries and troubles (about Henry's birth mother, perhaps?) and after she drank (the potion), it disappears. It seemed that the potion of forgetting that Regina drank when Henry was a baby protected her years later from the Thinking Tree's power; she was speaking of love for her son rather than all the regrets she should've felt for everything that she did.
Thank You for Supporting Us!
David Neuland (subscriber)
Lisa Slack (subscriber)
Julia Portela (subscriber)
Laura Silva (subscriber)
LaurieAnne (subscriber)
You can sponsor an episode or more of ONCE podcast, too! Email Daniel@ONCEpodcast.com if you would like to arrange a corporate sponsorship of our podcast for the upcoming third season.
Neverland
Could this be the last time we'll see of Neverland? Anyway, it was great that we move forward faster than we are used to with the show. The fast-paced episodes is turning out to be really great for this season.
After its December 15th Winter finale, we are on for a long, grueling break. However, there are still 12 more episodes to look forward to for the third season. What else is in store for us?
Now that Pan has Henry's heart, it looks like Pan doesn't need pixie dust to fly anymore. How did the pixie dust flowers die? Is he responsible for the pixie dust dying out? Can he bring it back?
Regina told Emma, "All I have is Henry and I'm not about to lose him because he's everything." Henry does seem everything to Regina.
Why is Felix so loyal to Peter Pan? Parker Croft, the actor who plays Felix, really is doing a great job portraying a unique character like Felix.
It was admirable how Snow accepts that she'll be staying in Neverland with David and still wanting to spend her last time with her daughter by going with her and Regina to the Thinking Tree.
Pan said that the Thinking Tree is where his own big moment happened. He also said that the tree protects him. Did Pan created the tree by not having regret when he was given power? It was great to see how Regina embraced who she is — the Evil Queen — as what Emma told her to do, allowing them to get away from the tree's vines.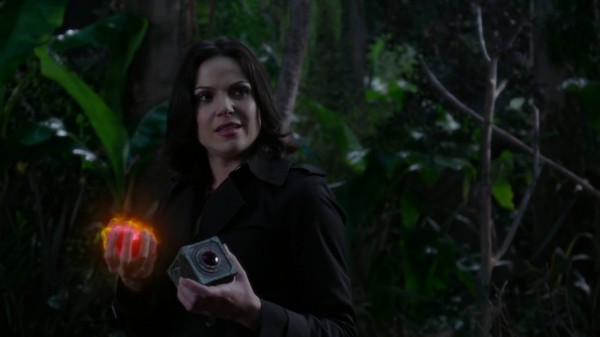 Regina was able to rip Pan's heart. If Regina got Henry's heart, where is Peter Pan's own heart? Henry's heart also looks different than most. Is it because he is the truest believer?
Neal freed his father off Pandora's Box, and it seemed like the potential end is the family being together. However, someone needs to pay the cost in some form of a tragedy.
How could Rumpelstiltskin sense that his father was on board? What were Pan's plans for taking Henry's shadow? Is Pan trying to take the shadow and absorb it, to make it part of him?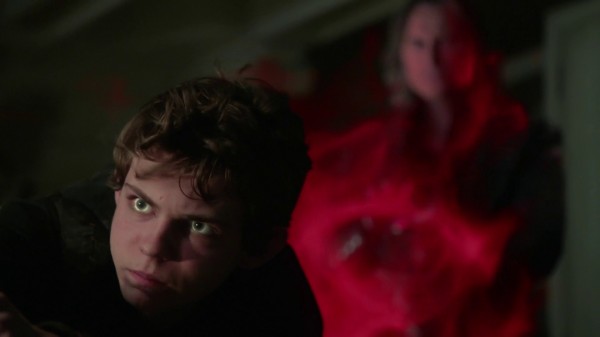 As Rumple opened the Pandora's Box, sucking Pan in, both Pan and Henry's eyes flashes.
I keep watching the scene over and over and it looks to me that Pan was just as much shocked as Henry was to have switched places. The Dark one will always look out for himself and as such the boy will still be his undoing so I think the dark one cause the switch-a-roo to happen.  Pan's magic was weakening and without Henry's Heart really couldn't perform magic which makes this theory at least have a foot hold.

Great episodes the last two weeks so glad this season was not all Lost … pun intended.

— Troy In Chicago
(Cohost of Under the Dome Radio)
Did the Dark One switch Pan and Henry? Did he meant to do it or was it merely an accident? Is Peter Pan (inside Henry's body) actually the young boy the seer was referring to? Neal finally trust his father, is Rumple ready to taint that trust again? And how come Regina, or the others, didn't hear or sensed that Pan could be in the Jolly Roger?
Did Pan planned to switch bodies and rip Henry's shadow all along? Or was it simply last minute? Furthermore, Rumpelstiltskin said that "Blood magic works both ways." What could that mean? Where did Pandora's Box come from?
David praised Emma how a great leader she was, perhaps a foreshadowing of her future role? If Snow is to have another baby, is Emma going to be the next ruler?
Now that we are moving away from Neverland and is set to go back to Storybrooke, will it be the last time we will see of the island? Felix and Pan did want to stay in the island, after all.
What does Pan wanted in Storybrooke? He went extremes such as abandoning his son, capture the heart of the truest believer so he can stay in Neverland, so what does he want with Storybrooke then? Is he more interested with magic?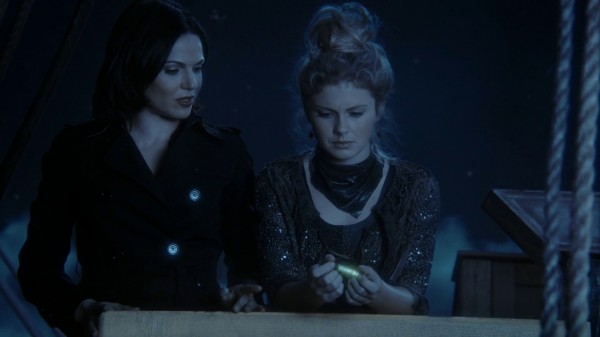 In the end, Wendy handed Tink a bottle of pixie dust, the last bit of pixie dust from the last flower.
I would like to share two thoughts about this episode. I was reminded of Lost when Regina was saying to Pan that she had no regrets about the things that she has done because it brought her to Henry. This reminds me when Eko is confessing to his "brother" that he was not sorry for killing men because he protected his brother.

I also theorize that Tink is going to give the pixie dust that Wendy gave her to Blue. I think that this could redeem herself and she could maybe get her wings back.

Love to hear your thoughts!

— Maddi
Will it help get Tink's wings back? How are they going to save Heny? Will they ever? Send us your comments and theories by filling in the comment section below or join us in the forum and share your thoughts with fellow Oncers regarding the Save Henry episode!
What did you think?
Email Feedback@ONCEpodcast.com (audio files welcome)
Call (903) 231-2221
Comment on the shownotes
Visit any page on ONCEpodcast.com and click the "Send a voice message" link to record and send a message right from your computer.
Help us out!
Share this post in your social networks
Follow us
On Facebook:
On Twitter:  echo do_shortcode('[twitter follow="ONCEpodcast"]'); ?>
Daniel J. Lewis:  echo do_shortcode('[twitter follow="theDanielJLewis"]'); ?>
Jeremy Laughlin:  echo do_shortcode('[twitter follow="phlegon"]'); ?>
ErinJ:  echo do_shortcode('[twitter follow="erinjcruz"]'); ?>
Hunter Hathaway:  echo do_shortcode('[twitter follow="travelingpixie"]'); ?>
Jacquelyn / RumplesGirl:  echo do_shortcode('[twitter follow="punk_bunny_87"]'); ?>
Spoilers
Episode 10 synopsis
Promo breakdown
Casting news
Casting call
Spoilerguide interview
New episode title