Podcast: Play in new window | Download | Embed
Our 100th episode! Bae goes to London and Neverland. Tamara and Greg have Regina. We discuss this and so much more in the first half of the season 2 finale, "Second Star to the Right."
London
Bae came straight from Enchanted Forest to London through the bean hole, which is the FIRST TIME we've seen someone on the other side of the hole.
Big Ben was at either 11:55 or 3:– or –:15
In one version, the lost boys were other boys from Kensington Gardens.
Could Baelfire be Peter Pan?
Before this episode aired, Phee had predicted Baelfire would come through the portal to Kensington Gardens, where a statue of Peter Pan is located in real life. I noted that is also the setting of J.M. Barrie's novel "Peter Pan in Kensington Gardens," in which a runaway infant Peter lives amongst the fairies, who eventually take him to Neverland. It's no coincidence that young Baelfire's first destination was also Kensington Gardens. That alone is very convincing evidence that Baelfire eventually becomes Peter Pan. Also, Wendy said that the Shadow came to the Darling residence at the same time Baelfire arrived there, which is not a coincidence either.

Slurpeez108
Bae was in our world for 6 months before finding the Darlings' home. He was also familiar with the workhouses. (Oliver Twist maybe?) Bae had been hiding with Wendy for a few weeks before he was discovered.
Wendy said the shadow came to the Darlings around the same time that Bae had.
Magic
Did the magic bean hole punch an opening in the magical barrier between the magical world and our world? Was this the first time magic crossed over?
This is kind of a crazy theory, but when I heard that the shadow was only looking for boys, I thought what if Rumple had this whole island orchastrated to find Bae.

It reminded me of when King Herod ordered all the babies two years and under to be killed because Jesus was the prophesided king. Except for Rumple is looking for his son so he is ordering the shadow to collect all the boys in our land around the age of 14.

Rumple wouldn't have found Bae because he was with Hook. If Hook found out that Bae was Rumple's son, he wouldn't have let Rumple find him.

Just a crazy idea!

Belle
[From the ONCE podcast forum]
The writers said that magic followed Bae through the vortex.
While K&H have said that both Bae and the shadow showed up at Wendy's at exactly the same time they did not say that it followed Bae through the vortex at the same time. Only that magic followed him through. That could have been 6 months later.

Maybe Bae finally telling Wendy his name was Bae, out loud, triggered the shadow to seek him out in that home. It's a good parallel to the real Rumpelstiltskin tale, where they find out his name when he sings it out loud around a fire.

Gosh, Rumple as the real, behind the scenes, leader of the Lost Boys. What fun!

The Golden Key
[From the ONCE podcast forum]
Maybe Bae changed his name to Neal to not attract magical attention. Is that the reason why August typed out "I know you're Baelfire?", as to not attract more attention to Neal?
The Shadow
The shadow can "change it's shape and fly and travel between worlds… because it has magic." Could the shadow be a wraith?
In "Peter and Wendy," a novel written by J. M. Barrie, Peter even tried to prevent everyone from returning home. He flew ahead of the Jolly Roger during its journey back to London so he could bar the Darlings' nursery window in order to trick Wendy into believing that her mother no longer wanted her or had forgotten all about her…Obviously, Peter ultimately chose to do the right thing, but I still think the idea of a dark shadow of Peter Pan luring kids to Neverland and holding them prisoner fits better than a heroic Peter Pan fighting for the right of the Lost Boys to return home to their families.

Diana
The shadow had probably been visiting the Darlings for a while, as they knew the shadow to be friendly and fun. Also, the shadow was able to communicate to the Darlings.
The shadow was quick to take Wendy to Neverland.
Time works differently between Neverland and our world., Wendy was gone for just one night, but it felt much longer. Hook had been there for a couple hundred years, so maybe it felt like a few Hundred years.
Neal's strong reaction against Rumple turning him back to a 14 year old is probably reasonable if he had been in Neverland as a 14 year old for hundreds of years.
Timeline
Diana says that time is parallel in EF and SB, based on what we say in present-day FTL
Enchanted Forest and Storybrooke are parallel, as proven when Aurora and Henry agreed to meet back in the burning room after 2 hours.
We know from the episode, "An Apple Red as Blood" that Jefferson's hat can be focused to travel through time and space. I'm wondering if the magic beans can do the same… or if they randomly spit a person out at any time in another world.

Hope Mullinax
We think that magic beans bring people to parallel times.
Did Rumple target the curse to land around the same TIME as Bae?
In "The Return," Rumple said, "I just want you to know, that ever since you left, ever since you crossed the barriers of time and space, in every waking moment… I've been looking for you." Even though time is parallel in SB and in the EF, the bean simply created an opening in the fabric of space-time, which happened to be 19th-century London. And that's really the only way to explain the timeline in my opinion. Bae then went to Neverland, where there is no time, and therefore didn't age for another 100  years until he returned to Earth.

Slurpeez108
Rumple has been guided by his foresights, so knowing that he would find his son probably meant he didn't need to design the curse to land around the same time.
The island has no grownups, minus the Indians and the Mermaids. Could Ariel (the Little Mermaid) be in Neverland with all the other mermaids?
John Darling had glasses and an umbrella, just like the Disney version.
When Bae and the shadow passed Big Ben, the clock was set to 8:15.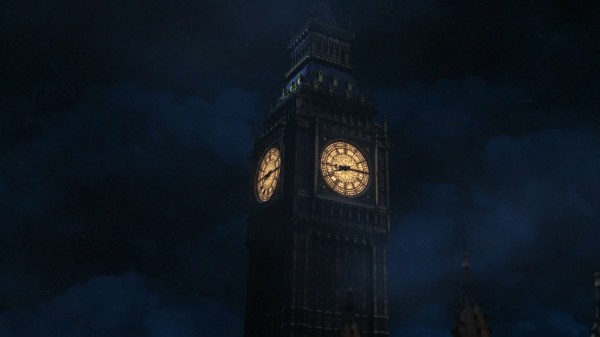 Captain Hook
Both Captain Hook and Smee were both in Neverland and picked up Bae.
Events that happened between "The Return" and "The Crocodile" are about 7 months or so after Bae went through the bean hole.
Had Hook ever been to Neverland before?
Hook and Bae meeting in Neverland makes me wonder if Bae knows Rumple killed his mother. I think he doesn't. The only thing worse than his father breaking his deal and abandoning him would be knowing that he might have been reunited with his mother if it weren't for his father…
I think Hook knows, because he seems smart enough to connect the dots between Bae, Rumple and Mila (assuming, of course, that Bae is the one who tells him about the dagger that can defeat the dark one). If Hook didn't reveal this information to Bae, it makes me wonder if he's holding onto it for some purpose.

John
Hook may know Bae is the son of Milah.
My theory is that Bealfire, when he went to Neverland, bonded with the Lost Boys, and eventually saved them from the shadow. He did so by binding the shadow to himself… In effect, the shadow became his, and he, in a sense, became Peter Pan. That way he was able to leave Neverland and able to take the children home.

Ziera
Jenny theorizes that Bae will introduce himself to Hook as Peter and that Bae will save the Lost Boys defeat the shadow, thus becoming Peter Pan.
When Hook had talked to Emma about the Lost Boys in "Tallahassee," it seemed that he might have had compassion for Lost Boys.
The window in the Darlings' nursery had a ship on it.
Wendy called it Neverland because the boys were never allowed to leave.
The reason for Neal being a crook could be because he grew up around Pirates?
We don't know how Neal got to our world again, but maybe the curse took him from Neverland too.
Thank you for supporting us!
David Neuland (subscriber)

DJ Firewolf (subscriber)
Christina Haley AKA FireAnnIce
You can sponsor an episode or more of ONCE podcast, too!
Storybrooke
Mr. Gold
Gold was angry at Dr. Whale, "You stared at her, and I know how you think." Tsk tsk, Dr. Whale.
Even Mr. Gold knows that Neal still cares for Emma. He mentions to Neal that the marriage to Tamara would never work.
Neal doesn't care about his father, he's only in SB for Henry.
Though spending several hundred years looking for his son, Gold has been spending most of this time with Lacey. Gold's stuck between Lacey & magic VS. Neal & no magic, and is probably still addicted to his love for magic.
Searching for the Beans
The Charmings are a family, even with the age "similarity." David and Emma moment was perfect and not weird. AWW!
The Props department apparently couldn't afford a real plant.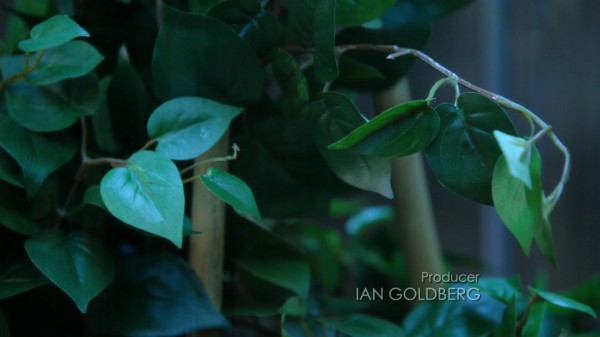 Tamara and Greg are truly partners in crime. They even have multiple phases to their plan.
Tamara said she would send the trigger back with "all the data we've collected so far" to the field office. How did she do this? Is it physically or does Tamara mean information?
Torturing Regina
Hook wanted to capture Regina but didn't want to deal with the torturing of Regina.
Tamara kind of reminds me of Paladins, if you saw the movie jumper the Paladins were an old religious organization that tracked down and killed the 'jumpers' who had this sort of special power. Maybe Tamara is a part of an old organization that tries to keep magic out of our world. The Paladins in Jumper used to electrocute people just like Tamara does. Owen may have joined with them because of what happened to his father.

Omar
[Sent on March 26, 2013]
Regina continued to lie about Kurt Flynn, possibly because she knew Greg would want to kill her.
LOST EASTER EGG: McCutcheon whiskey in Mr. Gold's shop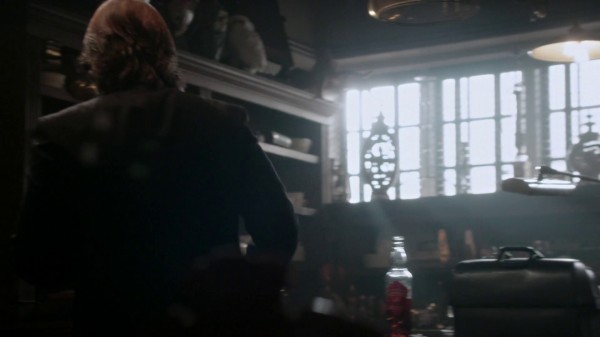 Rumple has one of Regina's bottled tears. My theory is that he got this when Regina was an infant in the as-of-yet-untold Part 2 to the Cora/Rumplestiltskin backstory.

Isabelle
Rumple and Lacey
Lacey realizes that Rumple really can do magic. Rumple gives Lacey a necklace, which is the same necklace that Belle had a dream about in "The Crocodile."
Lacey is very interested in being immortal. Is Lacey lusting after the powers of the Dark One? Will she be a new young Cora? Gold seemed willing to make Lacey immortal, but he wouldn't do this for Smee.
Lacey is convincing Gold to not let anything stand in his way, especially with the prophecy. Now that Neal's gone, there is nothing standing in his way.
Neal and Emma
Emma guilt tripped Neal about Tallahassee. They do seem to make up.
How did Tamara know that Emma and Neal suspected her on the beach? Bug/Tracking device on Neal? Hidden camera in their room?
Tamara avoided lying to Emma. Did she know Emma's ability? Did Tamara bug Emma?
Tamara and Greg
Tamara calls it unholy and wants to "cleans the world of it", which possibly connects them to a religious group?
Greg mentions the organization is everywhere. Is there a spy in Storybrooke?
Greg called some people believers who know that magic doesn't belong in this world. Wendy Darling also uses that term about Bae.
Greg says they have gotten rid of magic before and that Storybrooke wasn't the first time magic has crossed over. What happened? Was Dorothy from the Wizard of Oz involved?
Tamara might have her own music theme.
What is the home office?
I have been listening to your most recent initial reactions podcast for "Second Star to the Right" and I love the idea that Wendy could have set up The Home Office. I thought it might interest you to know that here in the UK, The Home Office is a real department responsible for:
-Immigration (magic coming in and out),
-Security (could have been set up to ward off the shadow), and
-Threats to Law and Order (Wendy could've only seen dark magic as unholy).
I think that Wendy could have started a mission to find her world's lost children, who have had their families ripped apart by this dark shadow and possible other dark beings.

Emma
If Wendy returned to Neverland in search of Bae, she wouldn't age, and could still be alive in the present day. She could have made it her life mission to "kill magic," because she sees the way it can do such damage. Then, it's plausible that she's somehow connected to Tamara, Greg and the Home Office.

Ariel
Wendy may still be alive.
During the scene with Rumple & Lacey, Rumple said someone was preventing him from getting rid of the boy who would be his undoing (whom he thinks is Henry). If he believes that Neal is dead, there is NOTHING holding him back any longer. So Henry's life could now be in very grave danger.

Jackie
Are the bones really Kurts? Greg is sure convinced they are.
Tamara hears back from the home office that they have to move on the next phase. How does the home office know about the trigger, and how do they know already? The next phase was a planned destruction of Storybrooke.
Victor used his science to try and save lives. Greg and Tamara are using science to destroy life. I would love to see Victor confront them about this.

Hope Mullinax
Is Dr. Whale a spy? He did want to go back to his brother.
Now that Tamara and Greg have the trigger, it seems that Emma, Snow and Charming are all relying on just Regina. Regina said that there is no way to stop the failsafe, but what if Regina (the Evil Queen), Rumple (the Dark One), and Emma (source of Good Magic) [and/or probably the Blue Fairy] worked together? Wouldn't their combined powers be enough to stop it, or at the very least, lessen its effects?

Dance Empress
Daniel wants Storybrooke to be blown off the map.
Neal's fate
Cora told Aurora that when a wraith consumes a soul, it travels to another world. When Neal went through the portal, he was mortally wounded and between life and death, so he could have ended up in the same place as Philip's soul did.

Chris
I don't think Neal is dead, and I think he made it to Neverland again. Because of the "never aging" quality that this land holds, his gunshot wound might be easier to fix.

Jed Anderson
Did Tamara send Neal to the Home Office through the bean portal? There are 2 more.
Lost Easter Eggs
Neal hanging onto Emma (and Rumple holding on to Bae) is similar to a Lost couple.

Mary Juncker
I like the theory about Wendy Darling starting the group to destroy magic. After thinking about this and how it relates to the TV show "Lost":
– Darma could have been derived from Darling. Either marriage or joint venture.
– The Shadow could have been tranformed or had offspring to become the Smoke Monster on the island.
– The island also had two immortals, Jacob and the Man in black.
– There is magic there.

Pete Rodgers
Same music that played when Emma was losing Neal was the same as when she thought she was losing Henry.
CONGRATULATIONS TO LANA PARRILLA (Regina Mills) ON HER RECENT ENGAGEMENT!
Thank you for the Apple Podcasts reviews!
Tige_wells: "Please give us regular episodes during the summer break." [We will!]
Your reviews encourage us and help others find the podcast!
Please rate and especially write a review for us on Apple Podcasts.
Preorder season-two DVD/Blu-ray set!
You can now preorder the complete second season of Once Upon a Time on Amazon.com! For a limited time, save $10 off the DVD set and $15 off the Blu-ray set!
Preorder the second season today!
Join us for the LIVE podcast!
Initial reactions on Sundays at 9:15 p.m. (EDT/GMT-4)—right after the Eastern and Central episode airing.
Full discussion, feedback, and live calls on Wednesdays at 8:30 p.m. (EDT/GMT-4).
On these days, visit ONCEpodcast.com/live to watch and chat live.
What did you think?
Email Feedback@ONCEpodcast.com (audio files welcome)
Call (903) 231-2221
Comment on the shownotes
Visit any page on ONCEpodcast.com and click the "Send a voice message" link to record and send a message right from your computer.
Help us out!
Share this post in your social networks
Follow us
On Facebook:
On Twitter:  echo do_shortcode('[twitter follow="ONCEpodcast"]'); ?>
Daniel J. Lewis:  echo do_shortcode('[twitter follow="theDanielJLewis"]'); ?>
Jeremy Laughlin:  echo do_shortcode('[twitter follow="phlegon"]'); ?>
ErinJ:  echo do_shortcode('[twitter follow="erinjcruz"]'); ?>
Hunter Hathaway:  echo do_shortcode('[twitter follow="travelingpixie"]'); ?>
Jacquelyn / RumplesGirl:  echo do_shortcode('[twitter follow="punk_bunny_87"]'); ?>
Spoilers
Episode 22 synopsis
Breakdown of released clip
Who will be in the finale
Congratulations Lana Parrilla