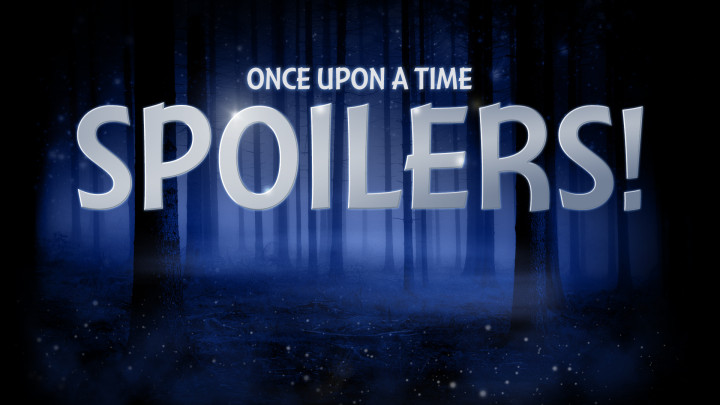 Episode press release, episode trailer, promotional photos, some casting news, plus one episode still that might have just confirmed a heartbreaking theory about RumBelle's fate. All these plus episode titles and casting news in our spoilers-only podcast for 7×04 "Beauty."
Podcast: Play in new window | Download | Embed
It's Halloween in Hyperion Heights and Victoria forces Ivy to take Lucy trick-or-treating. Meanwhile, Tilly appears to be waking up from the curse and is intent on leading Weaver to the truth – but not if Victoria can help it. In a flashback, Rumple and Belle seek the answer to a prophecy that could cement their happy ending.
"Beauty" was written by Dana Horgan & Leah Fong and directed by Mick Garris, with guest stars including Emilie De Ravin as Belle, Giles Matthey as Gideon, Rose Reynolds as Tilly/Alice and Adelaide Kane as Drizella/Ivy.
Promo for 7×04 "Beauty" was short but tells a lot, starting off with Weaver down the street and Lucy trick-or-treating as skeleton. Tilly, meanwhile was seen as a white rabbit, hiding off Victoria's backseat and scaring her off with a "boo." This leads to Victoria saying that Tilly needs to be locked up. We also see her as a passenger in Weaver's car and throws it into a different direction, causing the car to spin out. Then we flashed to Belle and Rumplestiltskin living in some land and if pay close enough attention, the house that is behind them is very distinct and completely modeled from the movie "Up." Back in Hyperion Heights, Tilly pulls a gun on Weaver and when Weaver asked what she's doing, she said that he was the one who told her to.
Is Weaver awake? ABC only originally shared 4 photos for 7×04 "Beauty", with Ivy seating behind her desk with a smile in her face, talking to Jacinda. Another image shows Victoria looking disgusted while holding the dirty book bag. TV Guide, on the other hand, released a few other episode stills of Belle and Rumple together in what looked like another realm and Belle is looking quite old with gray hair, wearing a white granny nightgown, confirming a theory that Belle is going to die of old age. They are probably going to show a flashback of Rumple and Belle's life together showing them having a happily ever after and living side by side raising Gideon, and possibly raising Alice as well if the theory is correct that she is Rumple and Belle's baby and finally, a high probability of Belle's death in the episode. In another photo, Rumple, Belle and Gideon were seen together in a family hug.
The other part of the theory is a little bit dark and in line with Rumplestiltskin. There's a theory that Rumple's motivation this season is he's trying to reunite with Belle in the after life but because he might still be the Dark One, he can't die because the only was he can die is by using the Dark One dagger on him. Will he realize that he has to live for his children? At least Belle won't be killed… horribly.
Adam Horowitz shared a script tease of Belle and Mr. Gold talking about taking a picture. On another note, there was a tweet that has been deleted that Sara Tomko, who played Tiger Lily in season 6, is returning but whether she will play the same character is unclear. Yael Yurman has also been cast to join this season and rumor has it that she is going to portray the role of young Anastasia.
As for episode titles, 7×11, which is more likely going to be the mid-season finale, is called "Secret Garden" will be written by Eddy Kitsis and Adam Horowitz.
Did we miss any spoilers for the upcoming episode, "Beauty"? Share your theories and spoilers in the spoiler section of our forum!
What did you think?
Email Feedback@ONCEpodcast.com (audio files welcome)
Call (903) 231-2221
Comment on the shownotes
Visit any page on ONCEpodcast.com and click the "Send a voice message" link to record and send a message right from your computer.
Help us out!
Share this post in your social networks
Follow us
On Facebook:
On Twitter:  echo do_shortcode('[twitter follow="ONCEpodcast"]'); ?>
Daniel J. Lewis:  echo do_shortcode('[twitter follow="theDanielJLewis"]'); ?>
Jeremy Laughlin:  echo do_shortcode('[twitter follow="phlegon"]'); ?>
ErinJ:  echo do_shortcode('[twitter follow="erinjcruz"]'); ?>
Hunter Hathaway:  echo do_shortcode('[twitter follow="travelingpixie"]'); ?>
Jacquelyn / RumplesGirl:  echo do_shortcode('[twitter follow="punk_bunny_87"]'); ?>