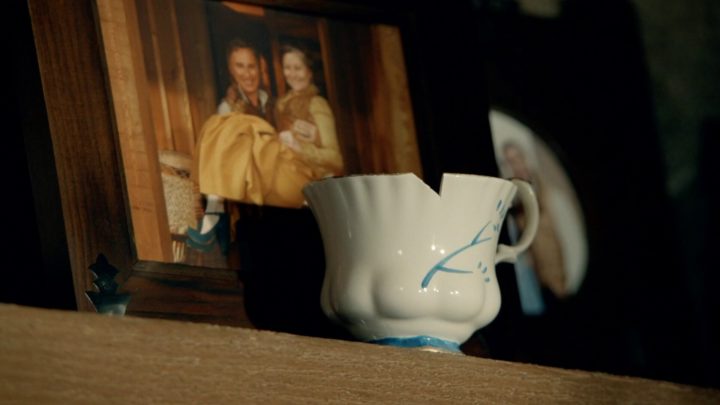 Who is the Guardian? Is Ivy trying to steal Henry from Jacinda? A theory on these plus a lengthy conversation about RumBelle's bittersweet ending in this Once UPon a Time full-discussion podcast about "Beauty" sponsored by Creation Entertainment.
Podcast: Play in new window | Download | Embed
So much of the episode "Beauty" was so much from the Disney Pixar's movie "Up;" best episode of the season so far.
As a Rumbeller, just wanted to say I loved this episode! We've been waiting for 7 yrs for happiness and we got it! Loved how the teacup has the power to transport between realms. I wonder if Tilly dropping the teacup rather than her shooting Weaver is what caused him to remember.

Thanks for a great podcast.

— Andrea T from Los Angeles, CA
After seeing this episode, I felt I HAD to write in because….it was JUST SO GOOD. I was on team "let it die" after last season, and wasn't planning on watching the reboot, but I have. I really loved seeing Rumple and Belle's story play out. I loved that Rumple was finally happy without magic, that he, Belle, and Gideon lived a full life together, and the concept that letting his true love go was the first step in being able to free himself from the dagger forever. I cried. And finally…RUMPLE IS AWAKE!!! Thank you Once writers for not dragging it out forever!

I'm also really liking Alice's personality. The actress is doing a great job. Was she ever in Dr Who? If not, I think she'd make an amazing companion.

This episode is my favorite of this season so far. I hope they wrap up a few more stories bc it was so satisfying!!!

— Marci Smith
I loved this episode! I feel the show really nailed it with the story of Belle and Rumpel's journeys together. The "Up" setting was wonderful and reminded me how much I love the beginning of that movie.

I like the new series ("spin off") and appreciate how the creators have reimagined the stories. I actually like the parallels to the first season; it is a way for fans of the show to connect to the new location and characters. It is hard for many of us to let Snow, Charming, and Emma go. The familiarity of the original show is helpful to make a transition to something different. I believe they got it right.

Great job on a wonderful podcast; thanks for continuing to bring us fans terrific discussions and information about our beloved show.

— Debbie Behling
This episode was a really good episode. I know there was already an Espensode this season, but this one could have been it. The dialogue between Rumbelle was so good. Such a good farewell.

— Lindsay
"Beauty" reminded me what I miss about the good parts of what ONCE can be when it has its amazing moments as a show.

Much to my pleasant surprise, this was one of the most well-acted (especially Robert Carlyle, Emilie De Ravin, and Andrew J. West), well-developed stories, and well-executed episodes.

It was moving, sad, and still left you wondering what happens to the current characters.

— Keeper of Squid Ink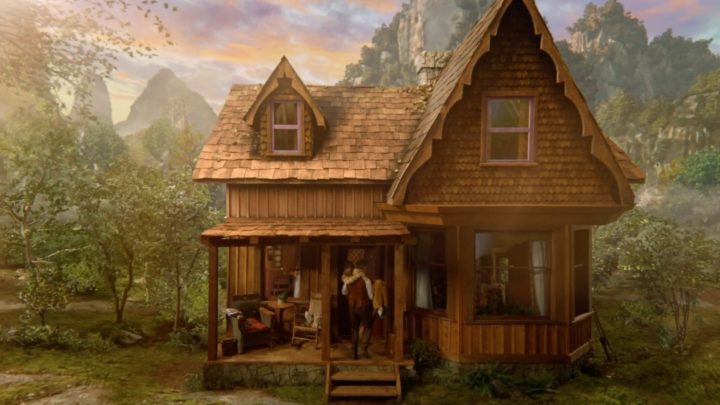 I actually really enjoyed this episode and I'm not usually a Rumbelle fan. I love that Rumbelle took on the Carl and Ellie story from Up. It was such a beautiful end to their story like the first 10 minutes of up. Rumbelle even built a house just like the house from UP and the location even looks like paradise falls from UP. Alice kinda reminds me of Russell from UP. It's only a perfect story because Belle was Rumple's greatest adventure and now he has to find a new adventure. Alice is going to help Rumple on his new adventure. I also love this story because in Up, Mr. Frederickson was forced out of his home by big real estate guys to make huge apartments. This is kinda Victoria's MO.

— Jessica
Overall, we liked both parts of it, not just the RumBelle part of the episode. The symbolism of the storylines was a smart move on the writer's part. In so many ways, this episode is better than most episodes. The cinematography is better and the dialogues were strong enough to carry the scene. There's just so much to love and cry over the episode. There's the basic Hyperion Heights curse, finding Lucy, cleaving Rumple from the dagger, and while there wasn't some mechanical twist except from the end, they managed to make it more about the characters and if they could do that more often, perhaps we could enjoy the ride more over and over.
RumBelle's Happy Ending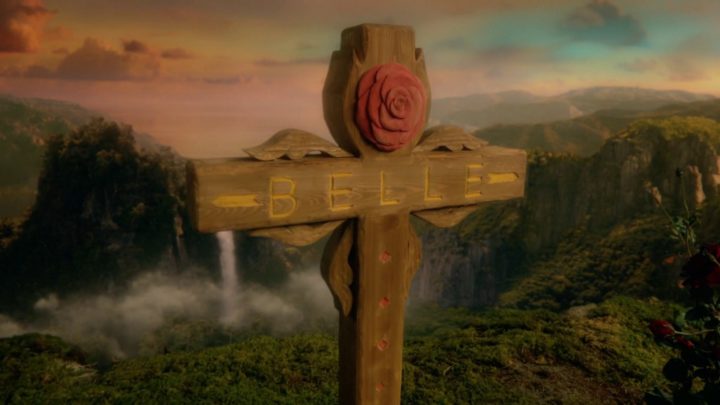 This is the happy ending we wanted for them. We've seen Emma and Hook begin their happy beginning last season, and now we've seen Rumplestiltskin and Belle's happy ending. And now, in Hyperion Heights, it seems that Rumple is actually a victim; he's simply just a man now who simply wants to be reunited with Belle. Add the fact that he didn't even use the dagger for many things including building their house was a huge step up from the Rumplestiltskin we've previously known.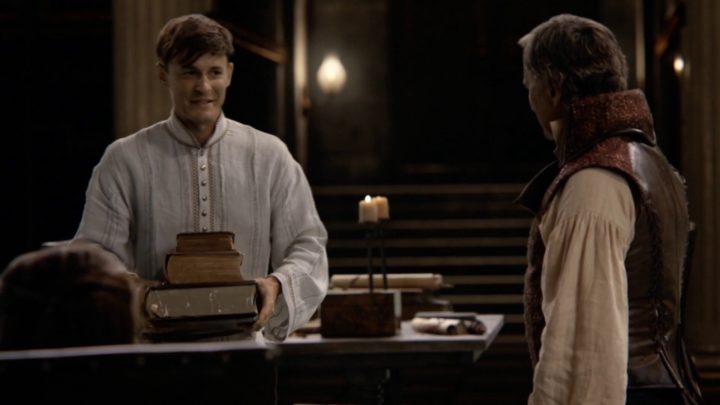 It was also great to see Gideon again. To see him a loving son with a loving parents, being accepted into college and without all the baggage of what he did in the last season was a real treat. However, how did Gideon ever visit if an eternity here could be like the blink of an eye back home? It was also a cool moment when Rumple decided to drop the dagger into the river, even though it didn't work. It wasn't just cleaving himself of the dagger or to not be controlled by the dagger but because he want to live a single life with her and die with her. It was a funny moment that a Polaroid camera was sitting at the Gold's home when they were living in the edge of realms, which makes sense because it could be the only camera that would work in another realm.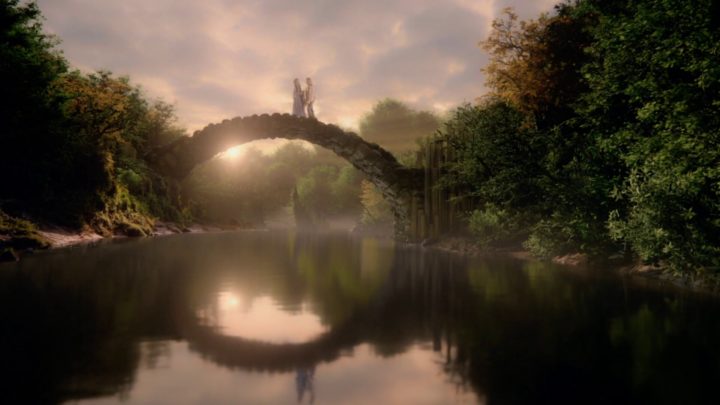 They said that there is a Guardian that could cleave Rumplestiltskin from the Dark One power without him having to die. Was Rumple actually the one who was prophesized to wield both dark and light magic, or was it the Guardian? Who is the Guardian? Alice?
I wonder if the Guardian is the woman that Victoria Belfry has trapped in the tower condos we saw in Episode 3. If this woman is so powerful that she could possibly bring back the dead, then she is probably powerful enough to take the Dark One darkness out of Rumple.

— Andrea T from Los Angeles, CA
Or was it the woman in the tower? Furthermore, where is the Dark One dagger in Hyperion Heights? Does someone have it? Did Rumple have it with him?
The main problem with this episode, on the other hand, was long did they live as a family before they went on an adventure to the edge of realms?
The Guardian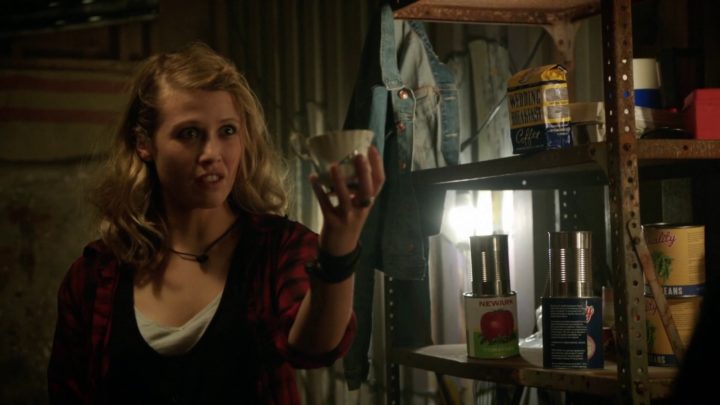 As far as the curse goes, he clearly have foresight of it despite still being a victim of the curse since he asked Tilly to remind him who he is through the chipped cup. This also makes sense especially if Tilly is the Guardian. Moreover, Tilly is the most interesting character this season so far. This Alice is like Alice, the white rabbit and the Mad Hatter all rolled into one, but why is it that she can be fully awake if not for her pills but not everyone else?
That moment seeing her opening up about taking her pills and getting her heart broken upon seeing her pills on the sandwich is a great step into her character's growth. But how did she know that he was going to remember when she showed him the chipped cup? Does Rumple knew that the curse was coming but he had nothing to do with it?
Best "Dearie" ever, and it seemed like it was his test to her because he said it deliberately to Victoria, which she just brushed off. Does this mean that Victoria's actually not awake? Does Victoria not know who Weaver really is? Is that why Weaver acts much like the Rumplestiltskin we know because Victoria doesn't have a clue about who he really is? After all, she doesn't even know who Weaver is until she saw Tilly's backpack.
What kind of arrangement did Rumple make with Victoria? Did he ask to have a good life as well, similar to how he asked the Evil Queen back in season one to give him a good life.
Creation Entertainment will have another Once Upon a Time convention this November 3-5 in Burbank, CA. Visit Creation Entertainment's website for more information on how you can buy your tickets and get to hang out with some of the cast including Lana Parrilla, Colin O'Donoghue, Jennifer Morrison, Rebecca Mader and Emilie de Ravin!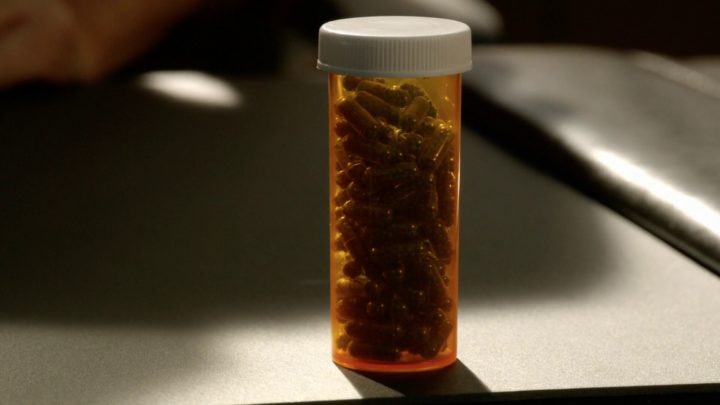 Is there more to "Victoria's pills" or is she really just being really conniving?
… this episode had some clues that Alice is WishHook's daughter. It wasn't a coincidence that when Weaver and Rogers were talking about Tilly then Weaver mentions that Rodgers has been on the case of the "Lost Girl." Then there was the obvious chess piece. So who's the vengeful witch that locked her up? Do you think it's another Queen of Hearts; obviously not *whispers* Cora?

— Lindsay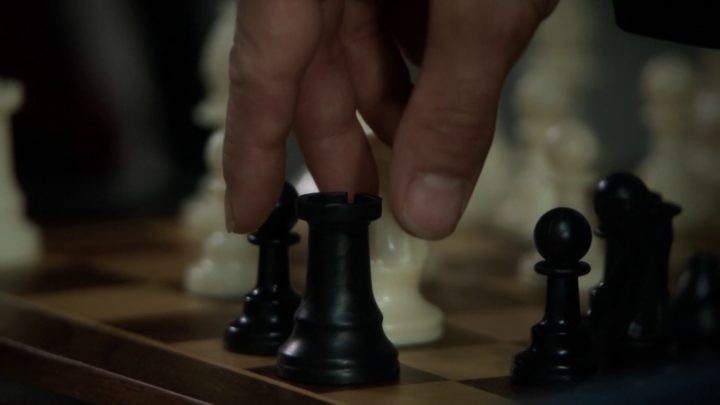 Back in 7×02 "A Pirate's Life," WishHook said he has her Rook and she has his Knight, and in this episode, Hook played a black rook against a white knight. Does this make Tilly the daughter Wish Realm Hook has been look for? Or is she Belle in some form?
Alice said that the reason Victoria Belfry wanted them separated was because when they're together they will remember. Back in season one, True Love's Kiss and Emma deciding to stay started weakening the original Dark Curse. Here in Hyperion Heights, however, the only thing we saw weakening the curse was the flowers blooming. Also back in the first season, Henry was pretty sure that Regina was capable of doing something evil, whereas Lucy seemed lighter to Victoria, even giving her a pot of flower that started blooming in the community gardens.
Poisoned Ivy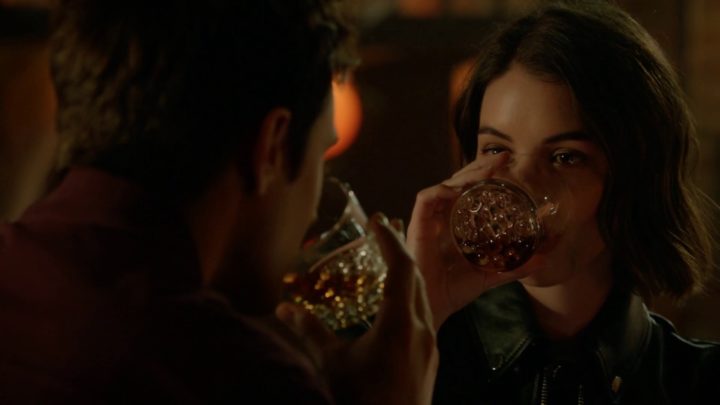 Ivy had some great lines in this episode, albeit her seeming a little too desperate seeking her mother's approval. Was it intentional not taking her eyes off Henry? What's going on with Ivy and Henry in the drinks? Is she trying to steal Henry from Jacinda? What if Drizella was actually the one who cast the curse? Is she even capable of it? What if she's so eager for her mother's approval, she discovers the curse to raise Anastasia back from the dead to make her mother happy, without really fully knowing what she's doing?
Back in season 3, it was Zelena who cast the curse and tried to play the part of being curse along with everyone else until she was found out. Why was this curse even necessary at all? That being said, they are still pretty straight forward this season compared to the previous seasons.
What did you think about the episode? Did we miss anything from 7×04 "Beauty"? Share your thoughts using the comment section below or simply head over the forum to share not only your thoughts about this episode, but also the theories you have about the upcoming episodes!
What did you think?
Email Feedback@ONCEpodcast.com (audio files welcome)
Call (903) 231-2221
Comment on the shownotes
Visit any page on ONCEpodcast.com and click the "Send a voice message" link to record and send a message right from your computer.
Help us out!
Share this post in your social networks
Follow us
On Facebook:
On Twitter:  echo do_shortcode('[twitter follow="ONCEpodcast"]'); ?>
Daniel J. Lewis:  echo do_shortcode('[twitter follow="theDanielJLewis"]'); ?>
Jeremy Laughlin:  echo do_shortcode('[twitter follow="phlegon"]'); ?>
ErinJ:  echo do_shortcode('[twitter follow="erinjcruz"]'); ?>
Hunter Hathaway:  echo do_shortcode('[twitter follow="travelingpixie"]'); ?>
Jacquelyn / RumplesGirl:  echo do_shortcode('[twitter follow="punk_bunny_87"]'); ?>