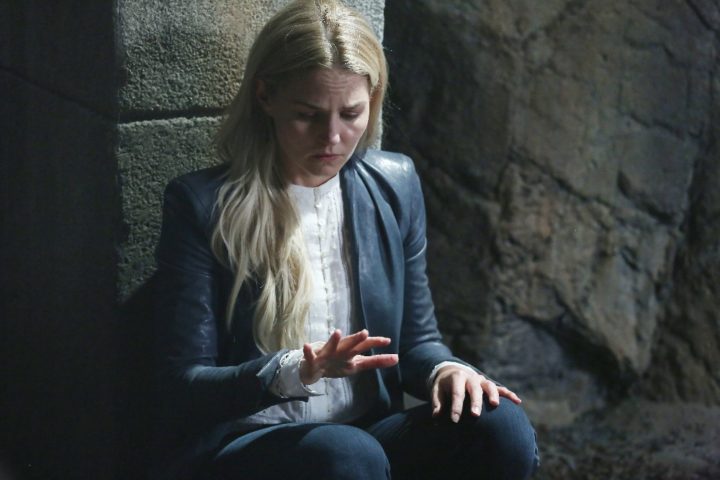 We just watched the episode "Street Rats" and we want to share with you our initial reactions about this episode, talking about Emma's price of magic, the Evil Queen version of Archie, the diamond in the rough, and more! We're going to be all over the place and may not get everything right, so we want your feedback for our upcoming full discussion this coming Wednesday.
Podcast: Play in new window | Download | Embed
In a flashback to Agrabah, Princess Jasmine recruits Aladdin to help her recover a secret weapon capable of breaking Jafar's hold on the Sultan and saving the city from ruin. Their quest takes them to the Cave of Wonders where Aladdin's fate is revealed. In Storybrooke, the Evil Queen tricks Hook and the Charmings and forces Emma to reveal her secret in an effort to divide the family. While the Evil Queen pampers Zelena, elsewhere in town, Regina and our heroes scramble to learn what became of Aladdin.
These are our first thoughts about this Once Upon a Time episode. We'll share more about "Street Rats" in our upcoming full discussion (usually live on Wednesdays at 7:00 p.m., USA Eastern Time).
Initial Reactions
Remember, these are only our initial reactions regarding tonight's episode so please bear with us if we're a bit all over the place. If you have your own thoughts, feedbacks, or theories regarding tonight's episode, however, send them over to us and join our upcoming full discussion!
Although this episode have some really cool stuff, some of it are not so great. It's one of those episodes that sets up a lot of things, maybe resolved a couple of things; there were some really good moments but there are a couple of eye-rolls, as well. We got to learn more about Jafar and Aladdin's history and it feels like Jasmine said their kingdom is in trouble, which means that Jafar is still being a menace to their kingdom, which kind of kills the idea that Jafar is the Oracle.
We're not liking so much that they're bringing this storyline back and not really acknowledging that whole chunk that they know that the ONCErs know about from watching Once Upon a Time in Wonderland. The way it could easily be reconciled is, for one thing, the events that happened in Agrabah happened after the events in Once Upon a Time in Wonderland, or they happened in a different place in Agrabah. Agrabah is an entire country, not only a city, and in this episode, they specifically said the "Capital of Agrabah," so it could have its own Sultan, not the Sultan that is Jafar's father, but maybe this is a different Sultan, with different family and location. Or, even simply, this happened much after the events in Once Upon a Time in Wonderland and this is a new Sultan, and the events in Wonderland have already passed where Jafar has found a way out of this situation at the end of Once Upon a Time in Wonderland and is now out seeking revenge.
Is the Oracle really dead or was it simply just a bait? After all, they don't seem to even follow the rules of "dead is dead" anymore. Jafar referred to the red bird, Iago, as "an oracle of sorts," and that makes us think of the Oracle who uses a bird staff and the connections there, we really want to see our theory that the Oracle has been Jafar this whole time proved to be correct, and that this whole thing just happened was all fake. After all, it looks like what affected the Oracle was the poison from the Agrabah viper, and where would the poison come from? Jafar would obviously know how that poison looks because he's from there; the Evil Queen has seen it but she doesn't have the poison, although she could simply do something magical on her own to make it look like that kind of death.
And it seemed that the Evil Queen really wants to know Emma's vision is. Why does she want to know so badly? Is she looking for a way to defeat Emma, or is she just trying to stir the pot and trying to make them fight, distracted and weak so she can carry out her task?
What we don't really like in this episode is the diamond in the rough that causes someone to become a Savior. That, for us, makes Once Upon a Time's magic lose some of its magic, because the original magic came from the chalice and it came through Merlin and with the whole thing with the Dark Ones; the reason that Emma is the Savior is because, in a way, Rumplestiltskin made her the Savior of the curse by taking the True Love potion and put a drop on it as the way to make her the key to breaking the Dark Curse, thus making her a Savior, as explained in the season 1 finale, A Land Without Magic. But since then, they've really taking the Savior label and applied it to so much more than only that original thing. In fact, in the very beginning, Henry told Emma that she will be the one to bring back the happy endings, but it seemed like that was because she will be the one to break the curse. Now we learn that there are multiple Saviors and this diamond in the rough thing that makes someone the Savior for their land. Aladdin didn't even have to do anything brave to get it, just a good thief, which seems to be a common trade among Saviors.
How do you define someone a Savior? Is it simply someone who saves a group of people? Emma was destined to be the Savior to save Storybrooke, bring back the happy endings, because she was the one to break the curse whereas Aladdin was not destined. He, and anyone could have chosen to try to defeat Jafar with or without the help of magic. Would they have been the Savior then? It seems like this diamond in the rough thing didn't make him the Savior, but it's kind of the way they're putting it.
Getting to see Raphael Sbarge play Archie but as the Evil Queen version of Archie must be fun for him to get to, in a way be the Evil Queen for the day. He may have gotten his PhD from the curse, but he takes his job seriously so it was a little disappointing that Archie would betray his confidentiality as a therapist like that. That being said, it was nice that the cat is out of the bag and that Emma's family knows about her visions. Usually, the family bonding gets cut out from the episode are the heartfelt family moments with the Charmings so it was great to see mother-daughter conversation between Snow White and Emma, and later on with Emma and Henry. In a way, we're thankful that the Evil Queen propelled them into that.
However, because of this, Hook seems to not trust Emma and he is keeping those scissors from himself. Hook probably wants to keep those scissors, not because he sees Emma as a threat, but as a way that he can save Emma if she's not willing to save herself. Even though he is very cold in this episode to her, he has the best intentions at heart.
It does seem a little bit familiar with how Emma treated Hook when he was the Dark One but he didn't know it. She was kind of keeping the secret from him to protect him. Maybe that's partially what's motivating Hook, but they agreed; no more secrets, but now it was Hook who's keeping a secret.
We were a little surprised that they haven't been talking this season about the price of magic, even though they've been flashing back to season 1 where the very common phrase is, "All magic comes with a price." Is the dark figure Emma's price of magic? She's using magic freely now and not really paying attention to its consequences that we know has always been there. Is the consequence somehow manifesting through this cloaked figure in her visions? After all, Emma has been using her magic freely and seemingly without a price.
What did you think about this episode? Anything else to share about "Street Rats?" Do you have any theories to share? Let us know what you think is going on! How does this connect things together? Share all of your feedback with us and join us this coming Wednesday for our full discussion, or simply head over the forum to share your favorite and least favorite moments, as well as other topics relating to "Street Rats."
What did you think?
Email Feedback@ONCEpodcast.com (audio files welcome)
Call (903) 231-2221
Comment on the shownotes
Visit any page on ONCEpodcast.com and click the "Send a voice message" link to record and send a message right from your computer.
Help us out!
Share this post in your social networks
Follow us
On Facebook:
On Twitter:  echo do_shortcode('[twitter follow="ONCEpodcast"]'); ?>
Daniel J. Lewis:  echo do_shortcode('[twitter follow="theDanielJLewis"]'); ?>
Jeremy Laughlin:  echo do_shortcode('[twitter follow="phlegon"]'); ?>
ErinJ:  echo do_shortcode('[twitter follow="erinjcruz"]'); ?>
Hunter Hathaway:  echo do_shortcode('[twitter follow="travelingpixie"]'); ?>
Jacquelyn / RumplesGirl:  echo do_shortcode('[twitter follow="punk_bunny_87"]'); ?>