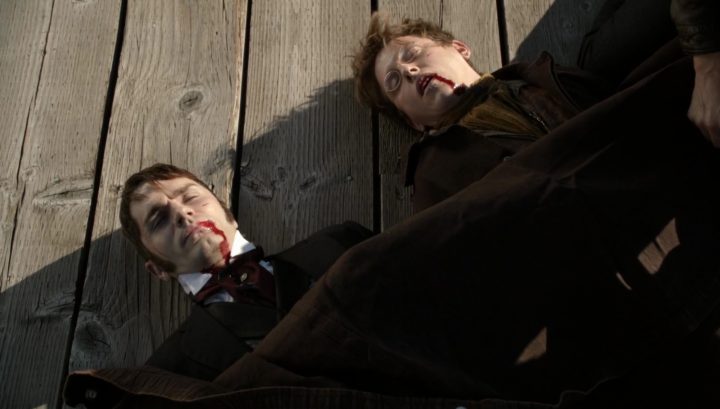 On our full discussion of the episode "Strange Case," we talked about the strange case of Dr. Jekyll and Mr. Hyde in Fictional London, as well as everything that happened in present day Storybrooke including the Beast and his Belle and Regina's fate, to name a few! Plus, an in-depth discussion about the failed princess and the creepy girl that is the Oracle.
Podcast: Play in new window | Download | Embed
Even after watching the episode again, this is still the best episode in a while. It was well-written and well-constructed, and didn't seem like there were any major leaps that didn't make sense. Plus, they brought conclusion to the Jekyll and Hyde story much quickly than we expected they would!
Fictional London (Flashback)
Just before the ball, we see what looks like London. One is the Victorian fictional London, which is connected to the Enchanted Forest, and the one that we saw in Once Upon a Time in Wonderland, but this is one in "Strange Case" is definitely fictional London, as opposed to the one where Baelfire ended up. There's even a slight difference from this episode to the one in 2×21 "Second Star to the Right"; looked very similar but the Fictional London has a big dome.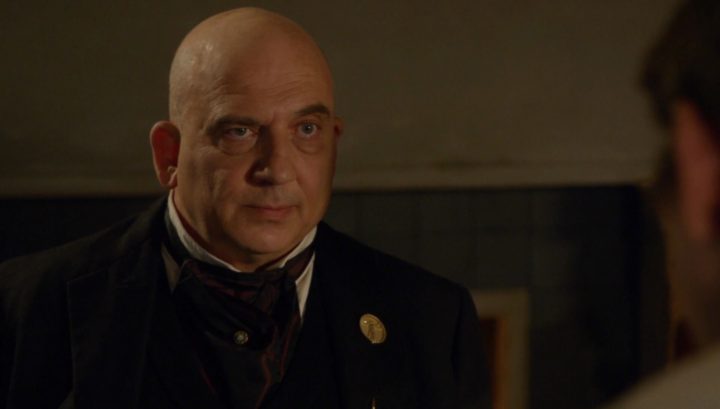 This is also the London where Dr. Lydgate was seeing Alice, which makes a lot of sense for Dr. Lydgate to be a little interested to this potion from Dr. Jekyll. Remember, this is the same doctor that we know who saw Alice and wanted to give Alice some special medical treatments to make her forget everything she went through in Wonderland.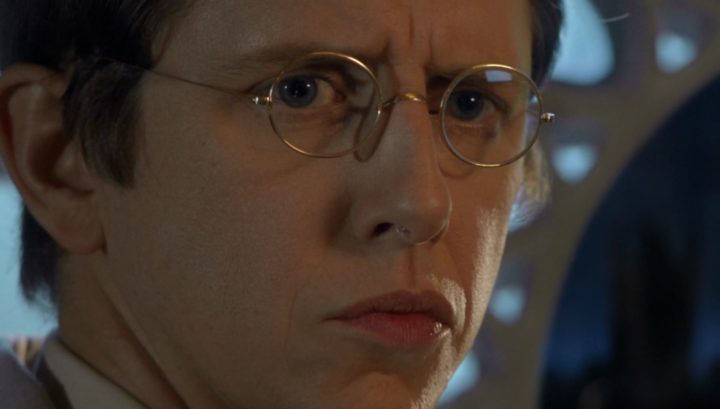 We loved that it took a little bit of magic for Rumple to get the serum to actually work. Did Jekyll really do anything that worked? Did he create the one that split him? After all, he is the mastermind on all of these and he did fix Zelena's wand.
It was also here that Rumplestiltskin first started to get involved with the Jekyll and Hyde's storyline, and the whole motivation was later revealed that he wanted to use this serum to remove himself of what he feels like are the weak parts of himself. But when it didn't work when Hyde could still love, Rumple then realized that all of his experiment was a failure.
We also get a nice explanation at the ball about how Hyde got his name, which is the parts of a man that Jekyll wants to hide from the world. It was clever and better than how Ella was named "Cinderella."
In this episode the writers said Hyde was named for what jekyll hides from the world. I looked up the meaning of Mr. Jekyll and it means "I kill." This makes it more poignant that Hyde was trying to show that it was Jekyll was the evil one and that he was the one who actually killed Mary even accidentally.

— Jessica Frey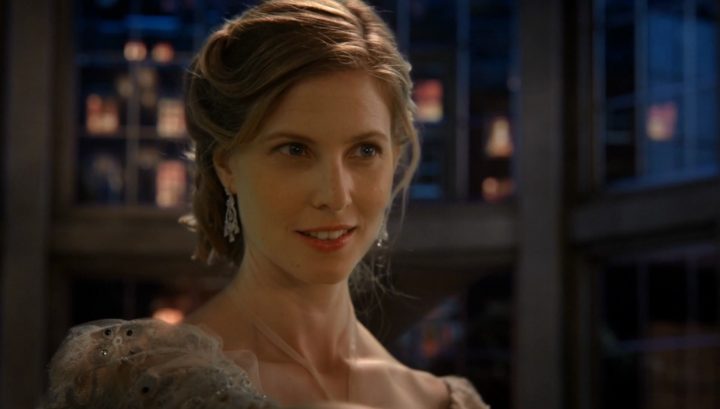 At the ball, Mary seemed perplexed, attracted and interested to Hyde. To her he seemed charming and dangerous. It didn't end well for her but it seemed that she liked it. Re-watching the scene where Jekyll wakes up next to Mary in bed, her death scene felt a little bit too forced. The writing of this episode is very good, but the direction is not quite as good.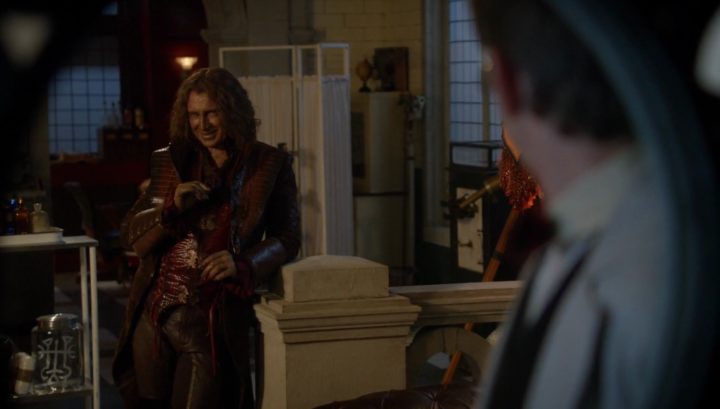 When Hyde then runs back to his lab, he could have probably become Jekyll again and tell that Hyde was the one who pushed Mary off the window, but then Rumple took the necklace and sent Jekyll to the Land of Untold Stories. Is this really the end of Jekyll and Hyde's storyline?
After knowing Jekyll and Hyde's story, this makes us want to go back again and see as to why Hyde hated Jekyll, since he had a real reason to hate him. Rumplestiltskin said that Hyde is the same as Jekyll, but smarter and stronger. On the other hand, Regina has the Evil Queen side, which seemed to apply the same thing in the sense that the Evil Queen is smarter and stronger than Regina is.
Present Day Storybrooke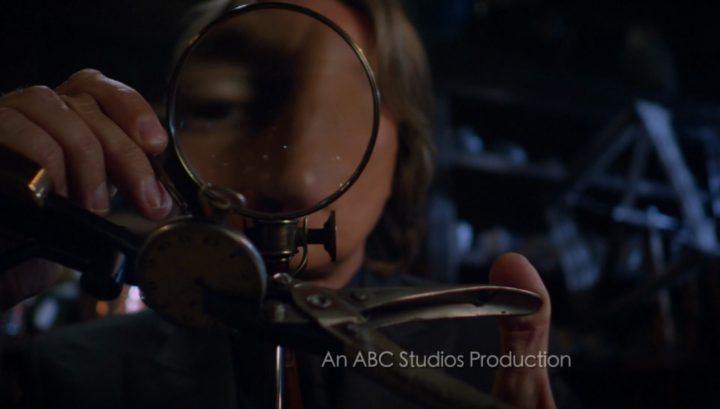 Starting out the present with Rumple working on a pocket watch. What's with the clock? There were other clocks on his workbench. Rumple doesn't do random thing. Is he trying to turn back the clock and fix things?
In this interaction with the Evil Queen and Hyde, they reminded us that Rumple can't kill Hyde, much like Regina can't kill the Evil Queen, but he still can be restrained and harmed. This means that Regina is completely safe going against the Evil Queen. After all, if she kills Regina, she will be killing herself in the process. But what untold stories does Rumple not want to play out?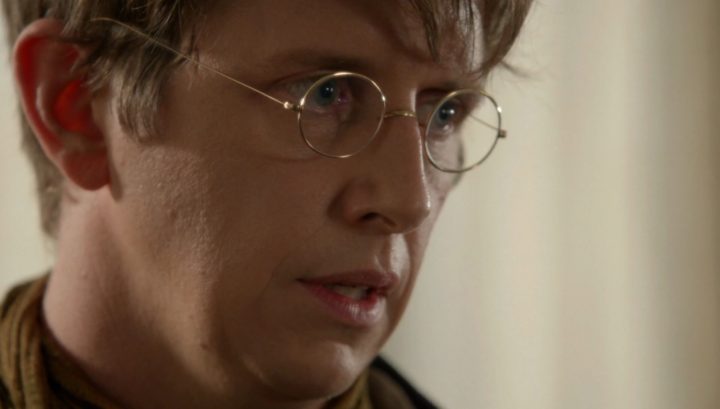 Back at Emma's, while Charming is making pancakes for his daughter, they mentioned "back to normal" twice. Meanwhile, Jekyll's face, when they said that Hyde must be defeated, almost said something like, "Hyde isn't the one who needs to be defeated." Furthermore, Jekyll made a horrible mistake, but does this make him a villain?
Will Belle ever thank Rumple for locking her in a cage? Why did he block only Hyde out? Why not block everyone out? If Rumple had been smart, he could have cast a blood magic.
Between the cage and what he says at the end of this episode, I think Rumple is headed for a quick (possibly semi-heroic) death as the only possible way to redeem him.

— Jacquelyn
We looked into the name "Shirin", which is the name Jasmine uses in Storybrooke, and found out that "Long after her death Shirin became an important heroine of Persian literature, as a model of a faithful lover and wife," which could mean that Jasmine might be a villain. Then again, Shirin means "sweet" in Persian, whereas Jasmine means "flower."
Back at Jekyll's garage in Storybrooke, we loved that Regina said, "It's always out of one prison and into another with her." Hyde also said that the Evil Queen cast a Beckoning spell, which we've never heard before. How does it work? Was it like the Dark One dagger, where we hear whispers when the dagger is calling to the Dark One?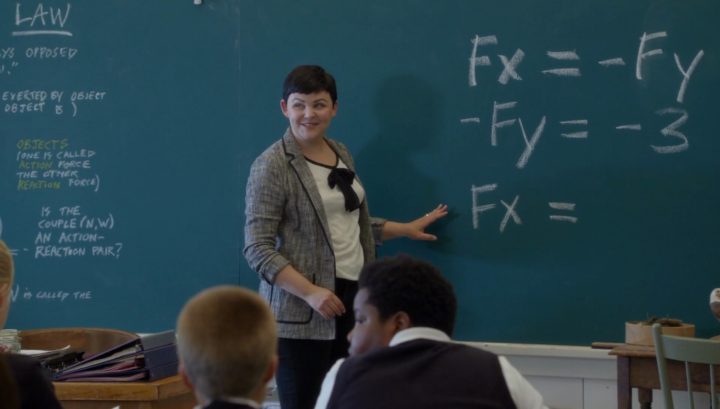 Snow White is back to teaching now in school, but the school scenes are the part of the episode that seems out of place. How did they separate the Storybrooke kids and the Land of Untold Stories kids by grade? During her lesson, she said that for every action, there is an equal and opposite reaction. Is this actually the core plot line of the season?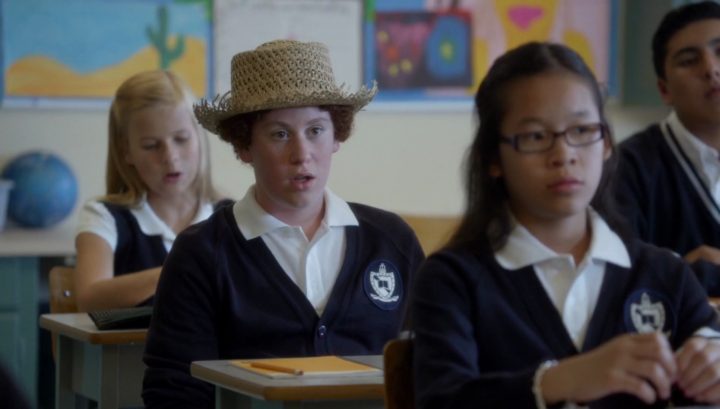 And what's a kid with a straw hat doing in a classroom? Was that Tom Sawyer?
Jekyll should have known by now that Hyde manipulates Jekyll very effectively. We've seen it before that Jekyll is not aware of what Hyde does when they transition back and forth, but to some degree, Hyde remembers who he is/was. This is also the second time that Rumple pointed out that he will be thanked someday, this time saying it to Regina about not killing the Evil Queen.
Why didn't they just poison the tip of the arrow? How can they not detect that the serum was a fake?
Back at school, we did get a little bit more of Jasmine's storyline when she shared the story about the failed princess, and two people were referenced but not named. The kingdom she came from, which we all know is Agrabah; the princess, which was later revealed in the episode, turned out to be her; the second person who was not named, was the threat. Who was that threat? Probably Jafar, but what if Jasmine isn't a hero? What if she didn't simply escape being a hero, what if the whole "embracing-who-she-should-have-been" thing is a darkness sort of thing, and she was deceived into thinking she was to embrace the darkness in order to save her land from Aladdin? Maybe she looks to Aladdin as the villain.
Why couldn't they use blood magic to block magic out? It would have been perfect and logical, and Rumple could have prevented both Jekyll and Hyde from entering Hook's ship.
Hyde taking the dagger was a nice twist. It could be preventable, but it was a nice twist that we didn't see coming; it played two things that have been established basically in the beginning, rather than some new spell or stipulation.
Back at the Jolly Roger, during this whole battle that ensues when Jekyll is in the process of being killed, Hyde said that there's one more story to be played out, it seems that he was about to have Rumple kill Belle. This also sets us up that killing the original is the only way to kill the evil side. It is also nice to learn that separating yourself from darkness does not remove the capacity for evil.
Does this mean that Regina really has to die? After all, Jekyll is no longer available to make another serum.
It strikes me as completely bizarre that not one of these characters has thought of the idea of reintegrating Regina's dark side. They need to head over to Storybrooke library and check out some books on psychology. But seriously, Snow's always going on about "being who you really are" and we went through a whole arc where Emma learned to accept the magical part of herself. You'd think they'd be able to extrapolate these lessons to Regina's dark side.

— sciencevsmagic
Perhaps Regina will realize that she doesn't have to die and that she should just learn to integrate her dark side?
The issue comes with the notion that because Jekyll is the original, he is more real than his inner "beast." This rings as wholly antithetical to what the show has been setting up if not just this season than all series long. You cannot escape who you are. You are both proper and not; you are strong and weak; you are potent and impotent. Jekyll isn't the original anything; he's the face presented to the world because his world and its views dictate that a man must be a certain thing; you cannot be both, even though we have ample evidence that men in his world are, hence the little tangent about Dr. Lydgate and the pretty pretty assistant. Men (and women!) are both, neither is original, neither is more real and neither has claim to being over the other. So when, in Storybrooke, Jekyll is impaled and Hyde also dies as a result, it's hard not to feel like the show is missing its own themes in favor of drumming up some manufactured drama and tension for the much beloved Mayor Regina Mills. In order to kill the Evil Queen, Regina must die! But, like with Jekyll and Hyde, that fails to take into consideration the fact that Regina is the Evil Queen, will always be the Evil Queen, and she—the person she is now—does not have primacy on identity. This is doubly true when you consider that Regina we know now isn't even really "original Regina" who was a stable princess, scared of her mother, a passive agent under a tyrant who simply wanted to be free. The Regina we see now, the one claiming she has to die, has been through a lifetime's worth of heartache, drama, and conflict–most of which happened as her tenure as the Evil Queen! Sticking with Regina, she's a multi-faceted, multi-personality person. She is a mother and a queen and a stepmother and a witch and a mayor and a daughter and a sister. Regina is all of these things and neither of them take the lead over the other. For example: if Henry were in danger and Regina had to use magic to save him, is that her mother side or her witch side? Or is she both while being all the other aspects in my list.

— Jacquelyn
There are parts of our history that we wish we could remove; plenty of regrets, but we don't embrace those things. Those things are not part of us today, but they helped shape us today. With Regina, it's not that she needs to embrace the darkness, but that she needs to embrace her entire being; she has a bad part of her but she is a different person now because of all those horrible things that she's done in the past.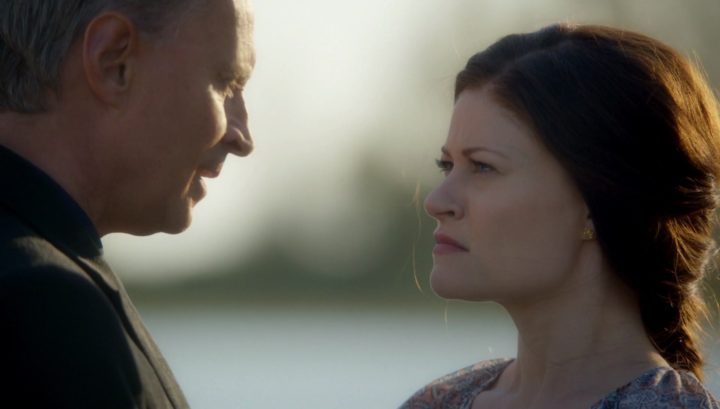 Rumple told Belle that he was looking for the serum because he wanted to remove love and what he considered weakness from himself. He says that he's doing this all for his wife because he loves her, but in this case, Rumple is being even worse than Zelena, Pirate Hook, Cora, and Cruella. He's not misguided, he's doing these things out of selfishness so that his wife will love her back. It was chilling listening to him, but it's also a good character development if this is they're sticking to this course for him. And as much as we love to see him redeemed, it doesn't look like he still has the capacity to change and learn the lesson.
I don't think we've ever before seen outright hatred from either of them, directed at the other. Belle's been frustrated and disappointed with him, and Rumpel has lashed out in frustration over his own confused feelings, but even though I've felt for a while that the relationship is past the point where it could work, it's always seemed that they had genuine affection and concern for each other's well being. That confrontation on the dock was the first time they've seemed like enemies rather than tragic lovers.

— Gautheria
I as well as so many fans are sick and tired of this continuous back and forth with the darkness. Like Jeremy said in Swan Song (5X11) podcast (#episode 225) that the Dark One arc should've just ended after that, No  need for more Dark Ones or for them to go back to that. It feels like repetitive, lazy writing!! Bobby Carlyle is a fantastic actor and deserves so much better than what he's been given these past few seasons. But I feel like there's no more going back for him, I feel like Jacqueline's theory will turn to be true and Rumple will end up dying, sacrificing himself for Belle and little Morfetus who I suspect will be named Adam, which was the Beast's real name and might also be Mr. Gold's Storybook name.

— Claudio Cristovao
This is probably going to be the unpopular view but I am going to defend Rumple here.  Should he have locked her on the boat and taken away her free will, Nope, but he also knows Belle pretty well. She is impulsive, naive, and has a major hero complex issue so I can understand why he did it. We like to say that Belle has not just herself to think about now, but so does Rumple. That is his unborn child she is carrying and he was doing what he thought was best to protect Belle and the baby from Hyde. Hyde and EQ told him directly that they were going after Belle so Rumple did what he thought would protect both of them.

— AKA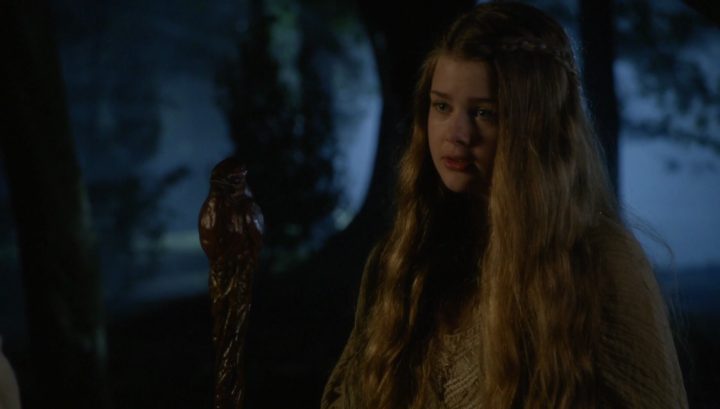 We need another villain now that Jekyll and Hyde have been defeated, and this stuff with Jasmine and the Oracle is a new interesting story unfolding. But what will be the continuing storyline this season? Is he the hooded figure in Emma's vision? Maybe that battle that we see in Emma's vision is the final battle that Rumple said back in season, which will also be his final battle?
Even if Jasmine feels the need to conceal her identity, she doesn't seem nefarious at all. Jasmine asks the oracle about her mission, but that seemed to be finding Aladdin. Did she asked her to find Aladdin? The Oracle also said that she will always be by Jasmine's side. Is she a friend or foe?
I'm not sure about Jasmine being a villain, though…maybe I'm just biased, but what if Jafar, disguised as the Oracle, has tricked her into helping him find Aladdin by promising to help them in some way? Possibly to escape Aladdin's fate in his untold story. This would be similar to how Jafar disguised himself and tricked Aladdin into helping him retrieve the lamp from the Cave of Wonders in the original Disney film.

— Chelsea
Is Jasmine being tricked by Jafar, disguised as the Oracle? When in the timeline does all these take place? Was it before or after everything that happens in Wonderland?
Thank you for the podcast reviews!
Harrypottersanna said in iTunes Sweden, "I can't believe I didn't find this podcast until after season 5. During this hiatus i've listened to all episodes from number one and I love it! Up here in northern Sweden I don't know any oncers and I always felt a bit alone in my obsession but now I feel like I have friends. You guys have given me the best laughs this summer. Thank you! I never thought I would feel this about a podcast again after the Harry potter podcast 'Pottercast.' Now I'm super excited to be able to experience season 6 with you! Love from Sweden!"
Your reviews encourage us and help others find the podcast!
Please rate and especially write a review for us on Apple Podcasts.
What did you think about "Strange Case?" Do you have any theories about the next episodes? Share them all over the comment section below or head over the forum where you can find theories, spoilers, and other discussions about the upcoming episodes!
What did you think?
Help us out!
Follow us
Spoilers