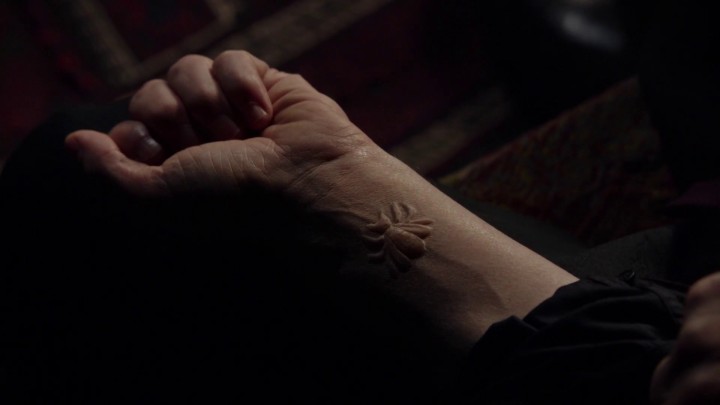 For our full discussion of the winter finale, Swan Song, we chose a couple of scenes that stood out to us, including the battle against snuffing out the light. Why is the dagger still calling Emma when its other half had already been destroyed? Are there still darkness left inside of her? How did Regina knew that he was Hook's father to begin with? What happened to little Liam? We've also chosen to talk about baby Pistachio, Merida and the rest of the Camelot crew! Will their story continue on the second half of the season? And finally, we discussed what kind of men Rumplestiltskin and Hook really are, as well as the difference between the Underworld and Hell.
Podcast: Play in new window | Download | Embed
We've got the whole gang here to talk about the mid-season finale, Swan Song, which is maybe the most irritating episode of Once Upon a Time ever. There were bad episodes, either because it's stupid, pointless or filler, but this is probably the most frustrating episode so far. We are fans of the show, but this episode and our conversation might be a little bit more negative than usual because many of the fans have also been negative against the episode, as well, so please don't think we're attacking the show. That being said, we do have some cool stuff to talk about, as well.
The battle against snuffing out the light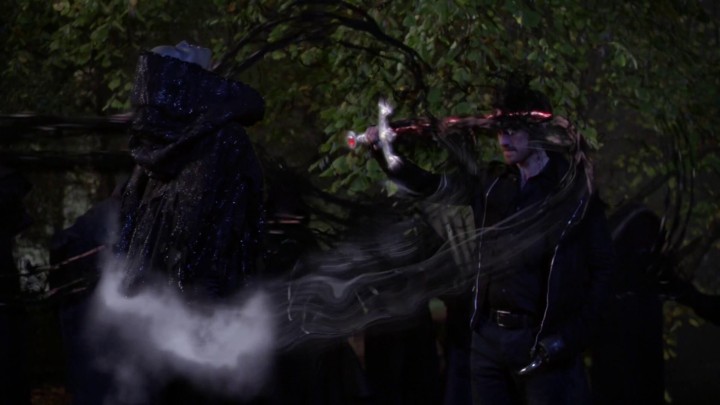 The thing that was seemingly the premise of this whole first half of the season was the battle against snuffing out the light, which we thought was going to be the final battle that was predicted in episode 1, Pilot. We knew that this was all building to snuffing out the light, but we weren't going to have an idea what that will look like, what was going to happen.
The last episode, Broken Heart, seemed unsupervised. It was a major fork in the road for a lot of pieces of this story, and that this episode felt, in certain ways, like they were trying to correct some mistakes made in that single episode. Most of Hook's insane rage was in Broken Heart, and a lot of things that set up for this week that felt course-corrected back from was from the last episode before the Winter Finale. Perhaps it didn't quite have the stamp of approval before it was put out? It felt as though the writers could have used more input before the episode has been made.
In some ways, this season is very similar to season 2, where they had it going in a certain direction, but changed it in the middle of their plans, quickly wrapping up loose ends, tie up things and go on a completely different direction. Even in season 4, there were arcs that spread across the hiatus instead of it just being two different arcs. Although there were some that, there were also arcs that are spread over that that started not in the mid-season finale, but in the middle of the first half of the season. Here, however, there is nothing like that to carry us over, and it seemed they decided to quickly wrap up some of the loose ends so that we can go to the Underworld, except Arthur and Guinevere, and Merida's stories; why they kept the Camelot people around and kept Merida from having a final scene.
Looking back earlier in the season, and how snuffing out the light was described then, what was described as then was that Emma's loved ones were holding her back from really embracing the darkness to its full extent. And then, in this episode, the Dark Ones only attacked Emma's loved ones; it was very pointed who they marked. One of the big problems is that the way those high stakes play out is that it feels so inconsistent with the mythology of the show where we spent time trying to figure out how something happened instead of being intrigued and interested in these high stakes finale that they are setting us up with.
With the idea that when one person kills the Dark One with the dagger, the darkness transfers into that person and that person will become the Dark One, each of those dead people was not just inherently Dark One by birth. Wherever they might be, they shouldn't be a Dark One anymore. The one thing that is still consistent, however, is how Emma can still hear the dagger calling to her because she was the only former Dark One that is still alive. Why is the dagger still calling Emma when its other half had already been destroyed? Are there still darkness left inside of her?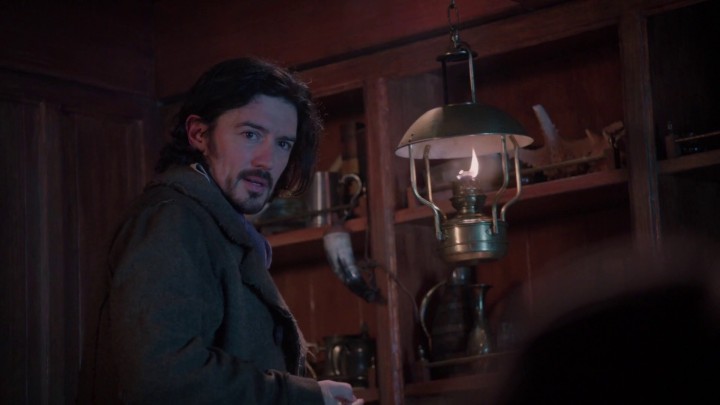 It was cool to get to meet Hook's father but it was disappointing that he wasn't anything that we have hoped for; Rumple's father wanted adventure, Hook's father wanted freedom. We would've liked to see him more tortured, especially when he was talking to young Killian. He should have this internal conflict about how it's a compliment from his son, but it's not one he should be willing to accept and none of that come across.
It was listed in the press release that Hook's father was named Brennan Jones, meaning brave, little raven or teardrop. What happened to little Liam, Killian's half-brother? Someone from the forum did theorized and shared that Liam is short for William. Is it possible that Liam is actually Will?
Hook's father mentioned that he was put under the sleeping curse. Is Brennan Jones connected to Aurora? Is he, perhaps, Aurora's father? How did he even hear her nurse?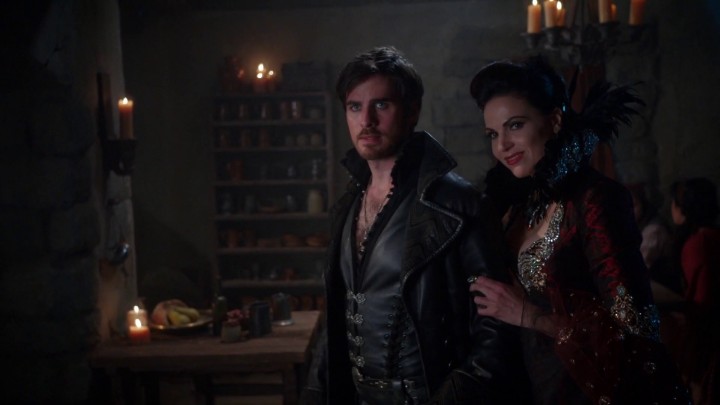 One thing that we liked about Hook's father's storyline is that he kept talking about what kind of man are you going to be. We liked that it talked about choice that we all have over and over again, which ultimately led to Hook's choice to not succumb to the darkness and sacrifice himself. It was true to the show; very much about darkness ends them but it doesn't make somebody dark, it's the choices that you make with that darkness. We liked that recurring statement and how Hook made a decision in the end, but how did Regina knew that he was Hook's father to begin with? Did she research Hook and discovered that he has a father who abandoned him? Or did he simply ask Sidney Glass about Hook?
I like the fact that Regina gave Hook a test before she sent him to kill Cora even though it's quite clear that she sent him straight away in 2×09 Queen of Hearts.  Did they completely dip this episode in Squid Ink or what?  When could this have taken place at all?  There is no way this could have happened according to the events back in season two when Hook went to Wonderland to kill Cora.  I'm sorry, but how can you forget such an important detail?  This is quite aggravating and disappointing, but I extend them grace and love and I forgive them for this transgression. Okay, now I'm being funny, but I hope in the future if they plan to reference anything that has already happened in previous seasons that they cover EVERY SINGLE detail because this doesn't align with canon or the timeline at all.

— DeAndre Williams
Even for this story and what happened in this episode, the whole flashback learning about Hook's father is neat, but it was completely unnecessary. We would have rather they fit in more to make this episode to make more sense in Storybrooke rather than give us a flashback. We get where they were trying to go with the flashback, but it also felt more than just rushed, it felt plugged in. Initially, Hook actually showed more compassion and struggle in flashbacks than we've seen in Storybrooke.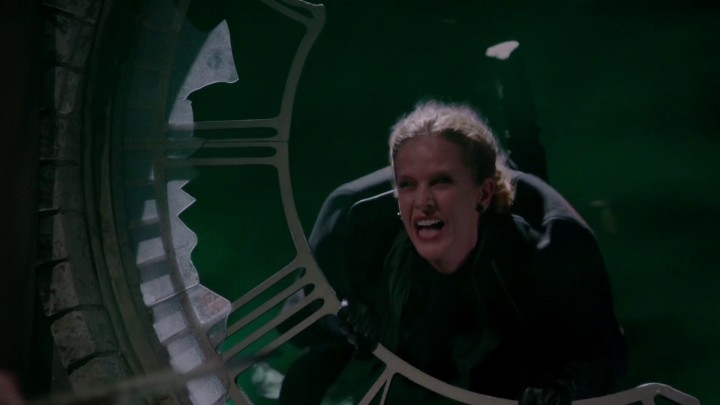 The Zelena portion of this episode was probably one of our favorite stuff, but it seems a little inconsistent to what happened the week before. Last week, there was even a fraction of a moment that Zelena wants the unconditional love of her child, even shedding a single tear when she first held baby Pistachio. But suddenly, in Swan Song, she decided she wants take the baby and raise her wicked.
When Zelena got sucked out of the clock-tower by a tornado, she said, "I'm not done. You will see me again!" Will we? They gave us the exact location of where Regina sent her—Oz—but one thing that bothers us is that Regina was able to wield the wand. The reason why she couldn't wield it in Dark Swan was because she has gone soft, as per Hook. Now, though, Regina said that it was because she didn't believe in herself then. Was that just Hook talking, and that all Regina really needs is to believe in herself?
Camelot Crew and Merida
While of all of this is happening, what was left out of was the Camelot crew and Merida. Where are Arthur, Guinevere, Merida and the rest of the Camelot crew now? What happened to them? Does Arthur still plans to turn Storybrooke as the new Camelot? Will we see them again on the second half of the season?
Arthur and Guinevere, and all of Camelot actually, are just kind of hanging out in Storybrooke now, Also, they never addressed the issue with Arthur controlling Guinevere. Since there also seems to be a side story with Lancelot, I don't feel like the Camelot story was wrapped up. Also, where is Merida? I would like to see more of her, and since she is still kind of seeking revenge against Arthur, that really needs to be addressed still to finish up her story.

Also, are we really done with the subplot of Merlin's apprentice, and Henry being the Author? I really thought that would be brought up sometime this half of the season, but it didn't really come up ever except when Henry told Violet that he was a writer. I know he broke the magic quill, but I feel like that was too big of a plot point to just have it be done.

— Jessica Olsen
If Arthur is in jail, what is Guinevere doing? Is she still under control of the sands of Avalon? Is Henry still the author? Is Merida still planning to seek revenge against Arthur? Did they all get sent to Forgotten Character Island? Will we get another episode like the ones they did back in season 3 when they showed what happened in Storybrooke while the core characters were in Neverland? What kind of flashbacks will we see?
Hook and Emma's Change to Good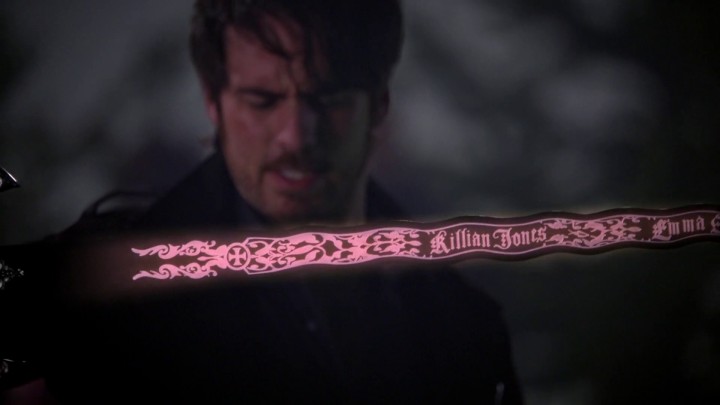 The quick flip for Hook going back to good was a bit too fast. If there had been more struggle from him during Broken Heart with him going back and forth instead of hating Emma and not wanting revenge, it would have been more understandable. Either they're inconsistent with how Dark Oneness works, or that that's who he really is; he really just doesn't truly loved Emma or anything.
I don't think Hook's a hero. This isn't heroism. It's realizing you made errors and almost let a whole group of people die but in the last second changed your mind. That's not being a hero. It's "hail mary pass of consciousness".

— Nevermore
Was Hook a hero? He sacrificed his life to save everyone, but not before all the things he did that led to that point. Was the Killian that Emma knew really died in Camelot? Did all the darkness just made Hook's bad side come out stronger? With Rumplestiltskin and Belle when he became the Dark One, he was never as cruel and emotionally damaging to her as Hook was to Emma; he let her go, didn't get mad at her for the little things like Hook did to Emma.
I personally thought this episode was really good, but of course you are all entitled to your own opinions. It's important to know that I almost never cry when watching tv (they should cast me as the devil on ouat) but "The Quarterback" (from Glee) and this episode of Once made me sob. Once Upon a Time is never going to have a perfectly solid plot (squid ink!), and I agree that they probably had to rush the second half of this season's arc in order to fit all this into 11 episodes. Even though Killian's death isn't permanent I don't think that took away from the magnitude of his death, because they showed the aftermath of his death. They showed the morticians removing his corpse and Emma clinging to his body and that freaking hit me hard. Like I was 90% sure that Killian was going to die in this episode, but for me that doesn't change how sad it is. I might be in the minority here, but I wanted Rumpel to be the dark one again. He is the villain, he is the Grant Ward [Agents of SHIELD reference] of Once, and his relationship with Belle is toxic and always has been. All in all, I did like this, and I tried to see the episode the way the authors were trying to convey it.

— Ellie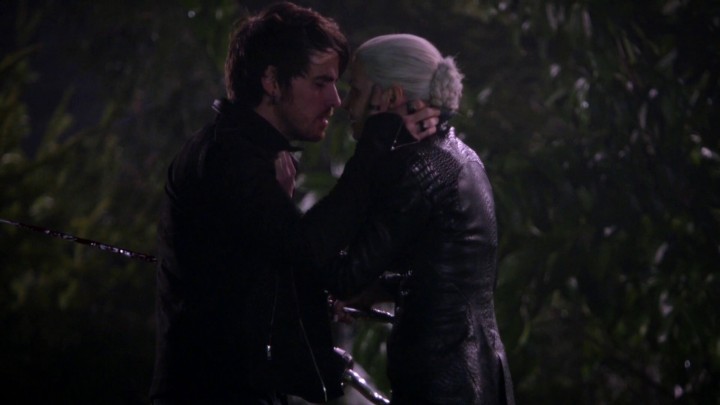 They could've stopped the episode with Emma having to kill Hook. In a story they try to convey, the episode will gain more respect over some in time. The acting is amazing; how Jennifer Morrison was clinging and crying over the person she loves one more time, she did it so well, as well as the aftermath.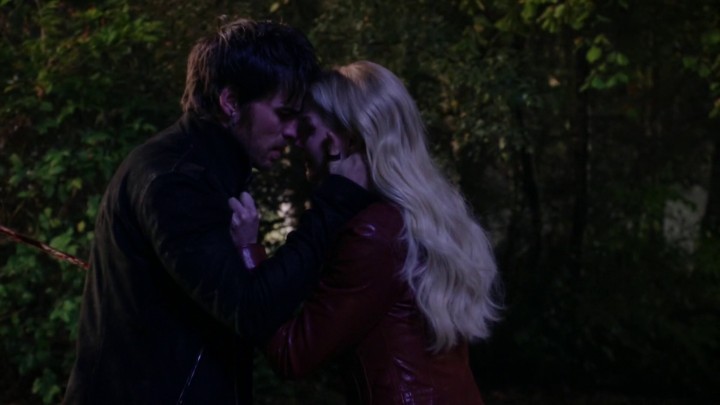 Why did Emma had her red leather jacket on? She wasn't wearing it back in the season 4 finale.
If they just stopped the episode with Emma sad and crying, as well as Belle bringing back with Rumple, it would have been a nice and happy ending, even if it was still sad.
Dark One Rumple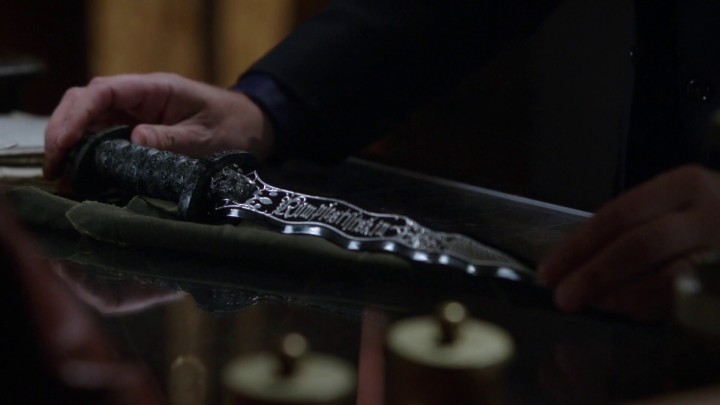 In a way, it was a little bit of relief to think that we no longer can or need to hope for Rumple's redemption because he just made himself unredeemable. He keeps going back to his nasty habits, proving that he is going to stay as the Dark One and he will do that at the cost of anything except for maybe Belle.
Did Rumple actually want Belle to leave because he knew he'd get his power back? He got the idea right after, when Emma came to him. When did he enchant the blade? The way Robert Carlyle plays the Dark One is amazing. It's entertaining, menacing, dark, and all kinds of awesomeness, and now we know that it's going to continue and not only in flashbacks. It's just seems that the Dark One is a pillar of a foundation of the plot of the entire series as being the one who cast the curse. Plus, we've now seen the Dark One defeated twice, but not really. Is defeating the Dark One going to be as trivial as casting the curse was? Was it going to be satisfying? What is the end game? Despite the loopholes, however, loopholes are what makes the story move forward.
Could this be their move to make him the one who can wield it for good instead, somehow? If Belle gets pregnant, will it be enough for Rumplestiltskin to decide for himself to go on a road to redemption for good for his child? Will they incorporate Emilie De Ravin's pregnancy into the show?
Nobody, NOBODY wanted this to happen. They went as dark as they could with Rumple all last Season, to the point where his heart was dying. Then they go through all the trouble of making Rumple a hero this half of the Season, only to backpeddal completely? What we fans really wanted was to see Rumple's character continue to develop without magic as a crutch. Making him the Dark One again undones all of that completely. To add salt to the wounds, Belle takes him back JUST before it was revealed he reverted back. Not to mention, wasn't the entire point of this storyarc to destroy the Dark One once and for all? The only "good reason" I could think of for all of this is if the writers want Rumple to willingly give up his powers the next time around. But is that what the writers honestly want to do? We all fear they really did this because they prefer writing Rumple as a villain, and would prefer to continue going that route.

— @MatthewPaul
Rumplestiltskin was said to be the hero with the purest heart but now has all the combined powers of the Dark Ones. Does that mean that his heart turns to black again?
Why didn't they just use the hat to suck out the darkness from Hook and the others? Can the hat not hold all the darkness? How does Rumple have the dagger if the Excalibur disintegrated? We literally saw it crumble into nothingness, so why did he create a dagger when it was the very thing he wants to be cleaved off back in season 4?
This is the opposite of 3A. Rumple was so accepting of being the Dark One, using it as a means to an end to find Henry. Then, realizing that he has to save everyone, he chose the heroic way out and killed his father to save his family. Now, having had the heroic way out by getting Belle out of town and giving "Excalibur" to Emma and Regina, he decided to undo that by, again, giving into the Darkness. This was sloppy, idiotic storytelling that, as much as it caught me off guard, it had me screaming (and laughing) in anger. I mean, I wanted Rumple to be the Dark One again, but not willingly. If we had seen him be forced upon that darkness again and, as had been foreshadowed with Emma and Merlin, use it for good, I could've dealt with that. But not this. Not this mockery of a fairy tale.

— @Corbin
Why didn't he get taken to the vault of the Dark One? Is it because he has been a Dark One before?
I don't get what the show's creators are trying to do with Rumplestiltskin, apparently he was reformed, apparently he had a good clean heart, apparently he was a hero and then you have him "find" a loophole (that he easily did by sprinkling a potion in the sword) and have all his and more powers restored?  ALL this trouble just to get Rumplestiltskin back where he started is a colossal waste of time.  Just like Alcide Herveux from True Blood said "People don't change, they just find new ways to lie" seem to apply here.  What's the whole point?  I just need Rumple to die, PERMANENTLY, at the end of season 5 (if indeed this would be Once last season) because that's the only way to do justice to the plot and to the show viewers.

— Francisco Casals
Will Rumple end up sacrificing himself to send everyone back home in Storybrooke?
I really hate what Rumple is doing again.  But in a way, it was inevitable.  Rumple could have killed Hook in the duel and taken back his powers then.  But he chose not to, because he assumed that Belle would take him back.  Then she rejected him.  Then the threat of the dark ones came.  Rumple was marked, and apparently he did go to the underworld during his death, which was at least three months long.

After Belle rejected him, and he sent her away, he figured that he was going to die and be sent back to Purgatory.  So he did what Emma did.  He save a life by getting the curse back.  It was underhanded and cruel, but I do believe that Hook still had to die to send the dark ones away.  Rumple's current sin is resuming his relationship with Belle with her assuming that he's still powerless.  That's just as bad as pretending that she had the real dagger.

After everything he's put her through, he's still under the impression that an enormous lie is best for his marriage.  If they are writing Emilie De Ravin's pregnancy into the show, I'm hoping that it will start him thinking about his mistakes with Bae as well as Belle, and he'll confess to her what has occurred.  I don't want her to find out on her own this time.  He needs to confess or he will prove completely that he's learned absolutely nothing from the events of Season Four.

— Meredith
Rumple said that he was in the Underworld, however, back in season 3, he instead got sent back to the vault of the Dark One. And does that mean that Emma will keep quiet about Rumplestiltskin being the Dark One again just because he helped her get to the Underworld?
Thank you for the podcast reviews!
jon the elder from USA said, "I've had a up and down relationship with OUAT the TV show (lots of down lately unfortunately), but I always love listening to Daniel and Jeremy especially when they bring in morals and Christianity which is a perspective I rarely hear on a TV podcast."
H+R from Sweden said, "To put this into OUAT terms i feel like this podcast is my dagger, there have been times i hate it, times when i love it but no matter how many times i try to get rid of this addiction it calls me back every week. … So if you want to know crazy theories, mind blowing and super geeky "once" facts or just to relive the once upon a time episode in a funny way then go follow this podcast! Do it, do it, do it NOW!"
lyrradonaer from USA said, "This is an awesome podcast-especially the spoilers and gossip! You can't find a group that is more efficient and particular about everything once. … Hunter and Jacquelyn are the best!"
SilverShuffler from USA, "… My favorite part of listening to this podcast is hearing people who represent my worldview talk about Once Upon a Time. That representation has brought some joy back to watching the show–especially when I know offensive things are on the horizon. I also enjoy the speculation with a caveat–it can be "frustrating" listening to spec from people who don't look at spoilers. Although, the spoiler free policy does make their stumbling upon a correct theory more special. … I wish I would have discovered this podcast long before midway through Season 5. … Even if I have to quit the show, I may still listen because this is a rare find!
Your reviews encourage us and help others find the podcast!
Please rate and especially write a review for us on Apple Podcasts.
The Underworld and rescuing Hook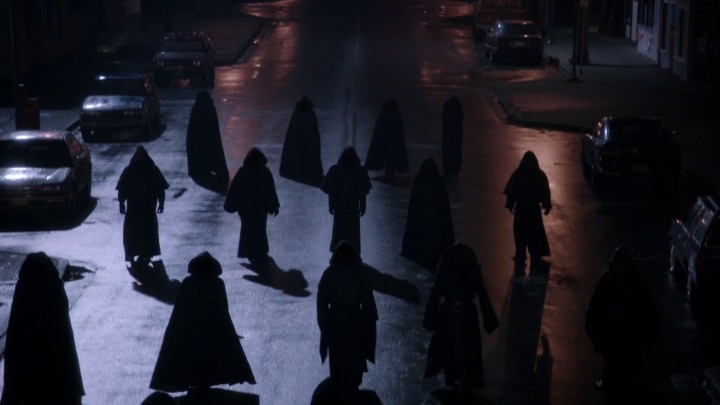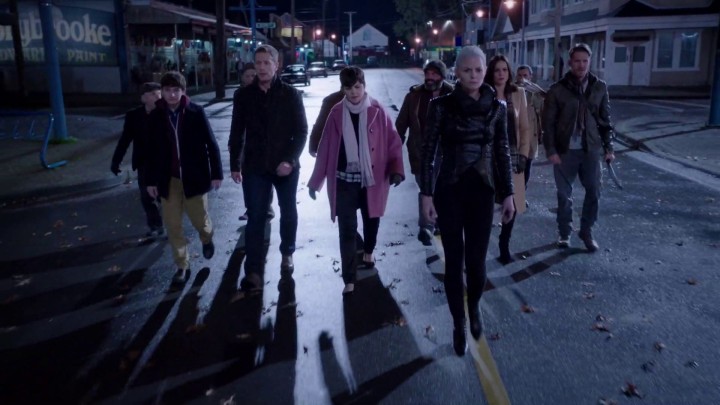 When all the Dark Ones were walking down the street, there were about 17 of them, and there were about 21 in the lake. If the rule is one for one, who else did they mark aside from the six dwarves, Mary Margaret, David, Regina, Robin Hood, Rumple and Henry?
If they bring back Hook ,who are they going to leave there? Do we even know if Emma's heart can be removed from her body? Cora could not rip out back in the episode, Queen of Hearts, can she remove it herself if she wants to take it  out?
It makes ZERO sense why Emma has to go to the Underworld to get Hook back. Her plan is to split her heart and share half of it with Hook. Yet, as we saw with Snow and Charming, Regina shoved half of Snow's heart into Charming's lifeless body; there was no need to retrieve Charming's soul from the Underworld in order to resurrect him. Aside from plot-driven reasons, why does Emma need to descend to the Underworld to retrieve Hook's soul when all she had to do was split her heart in half and shove it into Hook's corpse, which she had right there in SB? Moreover, getting back Hook's immaterial soul (or whatever) makes NO sense either, because her heart is a physical substance which needs to be put into a physical vessel; putting a physical heart into a non-physical spirit makes no sense.

— @Slurpeez
If Emma all needs to do is split her heart in half, why the need to go to the Underworld, then?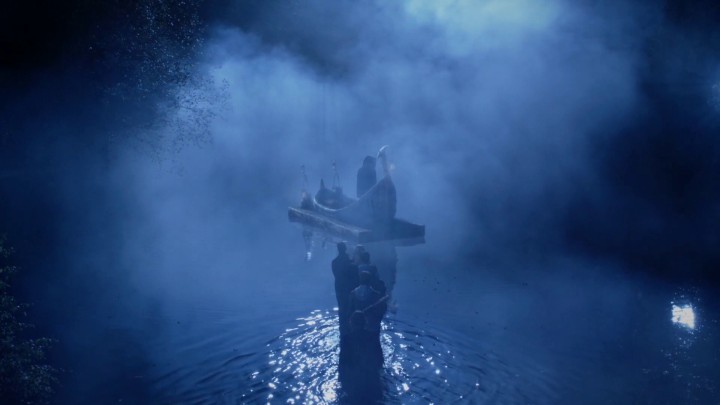 What is the difference between the Underworld and Hell? Regina told Rumple that there are a couple of people waiting for them in hell who will not be pleased to see them, is the Underworld the end place for everyone, regardless of what they've done? What is the Underworld going to look like?
I knew that the underworld was going to come up when we were shown Charon. Specifically, because Charon is a part of Greek Mythology like Hercules. So, it seems that the second half of the season will involve Hercules who also traveled to the underworld to rescue his love, Meg. Of course, Hercules became a demi-god in doing so, and I don't think they are going to do that with Emma, but at the same time, who knows? The writers don't exactly have limits to the goofy directions they'll take this show. Ultimately, Hercules was willing to sacrifice himself (as per your definition of Savior?) to save Meg, and was granted godhood in response to that sacrifice. Emma could be on the same path. She could become the next Sorcerer maybe?

— Robert
Will Emma become fully a Savior after coming up from the Underworld? Can she defeat death?
Is anyone else tired of half a season pretending to be a full season? Look at how amazing OUAT in Wonderland was.. Surprise! You CAN stay in one realm/world/story for a WHILE and have it be awesome. Everything needs to be more fleshed out. So many of these characters that are being introduced are forgettable. If the writers don't care enough about them to make them real to us, why should we (or would we) care? Where are the twists with who they really are? When Peter Pan turned out to be Rumple's father, that was the most epic moment of the entire series IMO. Are all these new people just fillers? Do any of them actually mean anything to the story as a whole?

— Marci Smith
Stories go through progressive creations. They grow up, they change, you could see this in other TV shows such as Smallville, and Heroes, to name a few. Once Upon a Time is the same way, where it's grown beyond the point of we're trying to figure out who these people are. We would like to go back into something like that, but it can be very difficult when you've already answered those questions.
It can be done, but Once Upon a Time in Wonderland only  had 13 episodes. Then again, with the way the show is going now, it sometimes feel, because they are trying to tell all of those emotional backstory in just one episode, you lose so much of the heart and more episodes now are all about plot. It feels as though the character spend more time talking about the plot to each other in order to make the audience understand what is going on, but they never actually get to have human conversations, which is what we're missing a lot from looking back at season 1.
What do you think about the first half of season 5? Were you satisfied with how Swan Song ended? Were you excited for season 5B? Tell us what you think by filling in the comment section below or by joining us over the forum!
Once Upon a Time will be back for the second half of the fifth season on Sunday, March 6.
What did you think?
Email Feedback@ONCEpodcast.com (audio files welcome)
Call (903) 231-2221
Comment on the shownotes
Visit any page on ONCEpodcast.com and click the "Send a voice message" link to record and send a message right from your computer.
Help us out!
Share this post in your social networks
Follow us
On Facebook:
On Twitter:  echo do_shortcode('[twitter follow="ONCEpodcast"]'); ?>
Daniel J. Lewis:  echo do_shortcode('[twitter follow="theDanielJLewis"]'); ?>
Jeremy Laughlin:  echo do_shortcode('[twitter follow="phlegon"]'); ?>
ErinJ:  echo do_shortcode('[twitter follow="erinjcruz"]'); ?>
Hunter Hathaway:  echo do_shortcode('[twitter follow="travelingpixie"]'); ?>
Jacquelyn / RumplesGirl:  echo do_shortcode('[twitter follow="punk_bunny_87"]'); ?>