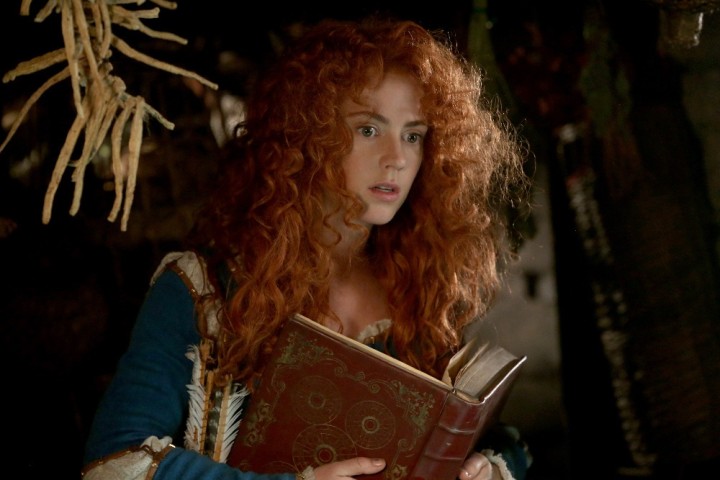 In order to remind Rumplestiltskin what he has to fight for, Emma ordered Merida to put an arrow to Belle's heart. Meanwhile, six weeks ago in Camelot, Merida brought Belle along to a dangerous journey to change her brother's fate and prove to the United Clans of DunBroch that they mess with the wrong queen.
Podcast: Play in new window | Download | Embed
We just finished watching "The Bear and the Bow" so our thoughts are going to be a bit all over the place but we will be back for our full discussion this coming Wednesday after doing some more research, taking screenshots, as well as re-watching the episode and your feedbacks, of course!
In a Camelot flashback, a chance encounter with Merlin, David, Hook and Belle gives Merida new hope in her quest to save her brothers from the usurping clans of DunBroch. Unwilling to leave anything up to fate, Merida brings Belle along on a dangerous journey that culminates with an invaluable lesson in bravery. In Storybrooke, Regina, Mary Margaret and David discover the spell that would allow one of Merlin's chosen to communicate with him, but when Arthur fails to reach the missing sorcerer the heroes grow suspicious. Meanwhile, Emma commands Merida to kill Belle in hopes of forcing Mr. Gold's heroic transformation. With Merida unable to disobey Emma's orders.
These are our first thoughts about this Once Upon a Time episode. We'll share more about "The Bear and the Bow" in our upcoming full discussion (usually live on Wednesdays at 7:00 p.m., USA Eastern Time).
Initial Reactions
This episode seemed a little bit of a slower pace setting things up but we got to see Rumplestiltskin be the hero. Glad to see Merida have her heart back, but Emma looked like she enjoyed putting it back a little too harshly a little too much. She also made a classic mistake of someone who's losing their footing who's trying to sound like they're still in control.
It surprised us a little bit that Rumple did end up being the hero to pull up the sword in the stone. It seemed like, right at that moment when he called Belle, that he was going to let her take it because in this episode, Belle looks more like a hero than Rumple. However, they were looking for the "purest", "blank-slate" hero. On the other hand, it seemed that Belle's special ability has always been that she can always see the man behind the beast all along, and now she can even see the hero in Mr. Gold.
There were some beautiful RumBelle moments in this episode, but there's also some sad moments, especially their conversation by the elevator. Where does Rumple and Belle stands exactly? Belle sure seems attached to Rumple still, holding on to the Enchanted Rose, but then she went and said that Rumple is not her sweetheart anymore. That being said, we liked the direction that Belle and Rumple went by the end of the episode, even though it may not seem a resolution just yet. It was also nice seeing Rumple apologize to Belle.
Is Rumplestiltskin going to stop being a coward now? He did say to Emma that she made her a hero, is his discourage really is now gone?
We also liked getting to see the Witch's cabin in DunBroch from the movie, Brave. It looked exactly like the one in its animated counterpart, including the potions. Even Merlin's voicemail, it was probably something that they got the idea from the movie Brave. Even the leaders of the clans looked a lot like the ones we have seen from the movie; the paintings, the outfits.
Nice arrow shot by Merida! We were expecting to see Merida do something kind of shot like that. It was done very nicely.
Seeing that something happened to Merlin that seems to have been done by the Dark One makes us think that, perhaps, Emma just started going crazy back in the Enchanted Forest. It looks like something big is coming. What is she going to do? Was Merlin's message actually from the time period that they thought it was? Merlin didn't mention any name except Nimue. They could easily have been before Merlin was turned into a tree.
It was cool to see another character from an Arthurian legend in Nimue, and to see what is going to be her role in all of these. How might she be able to defeat the Dark One? Why is she the last hope when Merlin isn't? Nimue, as we have theorized from our last episode, Dreamcatcher, might be that first Dark One we saw. According to the show, Merlin destroyed the woman he loves because of the Dark One. Although Merlin has never said the name of his love, we theorized it was going to be Nimue, the same person who became the one behind the mask.
We liked how it was Henry who got to be the one to receive Merlin's voicemail. It was too bad that he didn't get to actually speak to Merlin, was Henry actually necessary to do that? But, Arthur is no hero and now the Storybrooke people know that he can't be trusted. Good thing he didn't know magical toadstools don't burn.
It was a little disappointing to see how they communicated with Merlin, that it didn't look the same as how he communicated with the Apprentice the first time we heard of him. It would have made a total sense if that's how they communicated with him, instead of this whole Star Wars looking thing. We expected to hear him, not see him.
Merlin said that the fate of everyone Emma loves rests on her leaving the Excalibur alone. The more we think about it, the more we think that Emma got the Excalibur back in Camelot six weeks ago and then something there caused her to bring everyone to Storybrooke if she was the one who caused it. That being said, we liked how there's still a big black hole on that part of the story. It's something to discover and uncover and keep us interested in what's going on.
Merida said that Arthur took her wisp and it made us wonder, is he collecting wisps for specific reasons? Change his fate, perhaps?
Submit your Once Upon a Time costume photo in our contest for a chance to win great prizes!
Remember, these are only our initial reactions regarding tonight's episode so please bear with us if we're a bit all over the place. However, if you have your own thoughts, feedbacks, or theories regarding tonight's episode, The Bear and the Bow, send them over to us and join our upcoming full discussion!
What did you think?
Email Feedback@ONCEpodcast.com (audio files welcome)
Call (903) 231-2221
Comment on the shownotes
Visit any page on ONCEpodcast.com and click the "Send a voice message" link to record and send a message right from your computer.
Help us out!
Share this post in your social networks
Follow us
On Facebook:
On Twitter:  echo do_shortcode('[twitter follow="ONCEpodcast"]'); ?>
Daniel J. Lewis:  echo do_shortcode('[twitter follow="theDanielJLewis"]'); ?>
Jeremy Laughlin:  echo do_shortcode('[twitter follow="phlegon"]'); ?>
ErinJ:  echo do_shortcode('[twitter follow="erinjcruz"]'); ?>
Hunter Hathaway:  echo do_shortcode('[twitter follow="travelingpixie"]'); ?>
Jacquelyn / RumplesGirl:  echo do_shortcode('[twitter follow="punk_bunny_87"]'); ?>