Six weeks ago in Camelot, Merida led the clever one on a dangerous adventure to save her brother's fate. Doesn't changing one's own fate means that she's controlling what her fate would be? Back at the present, however, Rumplestiltskin led Belle away from their quivered friend, who was tasked by the Dark Swan to put an arrow to her heart. But who is Nimue? Is she really the only person who can help defeat the Dark One? Listen to our full discussion of the episode, The Bear and the Bow as we talk about all these questions and rave about Clan DunBroch!
Podcast: Play in new window | Download | Embed
Camelot (Six Weeks Ago)
Why are they breaking out Lancelot, other than that he's a good guy? Because he's been unjustly imprisoned and they need him as an ally against Arthur? Besides, they sort of land him in there, too. Belle, primarily her hair, looks so different in this episode. Probably to help distinguish the Belle from six weeks ago with Merida from the one at present in Storybrooke.
One of the things that is interesting to learn from this is that Merlin has been in the tree for 1,000 years or so, as per Hook. However, Merlin himself said "millennia", which is the plural form of the word, millennium. Has he been in the tree more than a thousand years? It's also clear than Merlin can see "bits and pieces" of the future, which sounded a lot like Rumplestiltskin. Who enchanted the prison bars, and how can magic change over time? Was it created with a spell or does it exist as a spell?
Belle, by the way, was pretty good with her books. She really did know where to turn the page to help Merlin break the prison. But in an effort to get help by Belle, Merida has to knock Belle out. How long does it take for Belle and Merida's company to realize that they are not  behind them anymore? How did they not hear Merida hit Belle in the head? Why didn't just Merida ask Belle for help?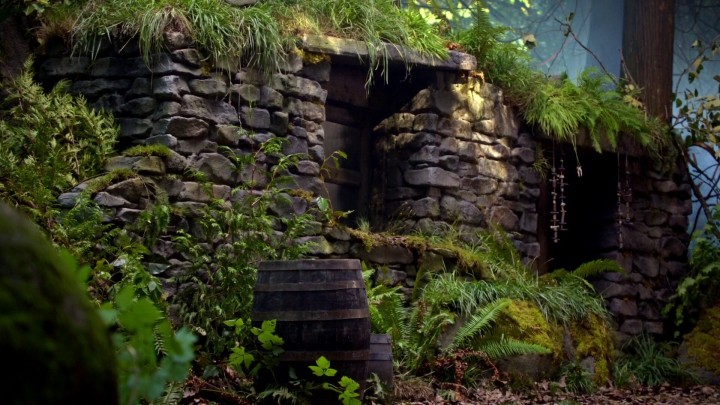 As they go to the shores of DunBroch, one of the things that stood out to us was how bad things tend to happen when you tell someone they don't deserve something. It clearly sums up Merida's story in Brave. Furthermore, the Witch's hut looked a lot like the one from the Brave movie itself. The layout of the room was very similar to the ones from the movie; Everything was in there except all the bear-themed wood carvings. Then again, Merida did buy everything from the witch's hut in its animated counterpart.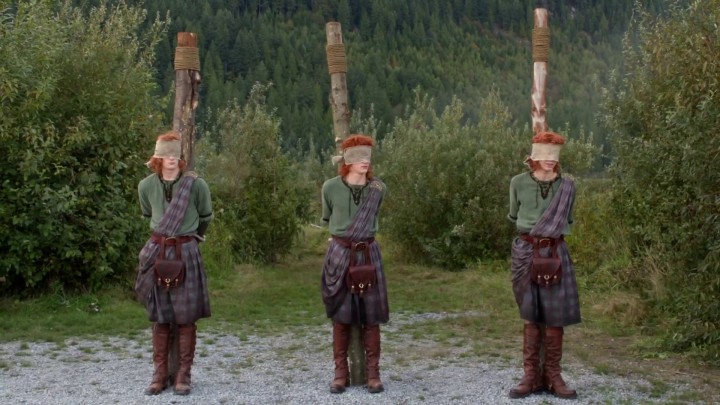 How old are Merida's brothers in here supposed to be?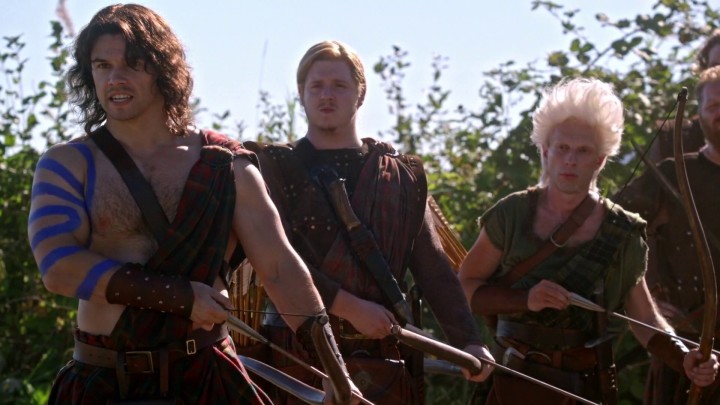 It was nice seeing Macintosh, MacGuffin, and Dingwall, the sons of the clan leaders of  DunBroch, looking very much like the ones from the movie, as well. Merida's story about her father was such as heart-wrecking story. It makes sense why she feels how she feels. When she said that she missed, did Merida mean that she hit her father? Ironic how Merida learned the act of mercy from the Dark Swan, since she seemed very heroic in this particular scene.
It was neat to see Merida and Belle get into an adventure together, which reminds us of the adventure she had with Mulan to find the Yaoguai, as well as when she went to speak with the rock trolls with Anna.
Fate, by definition, means something that is beyond a person's control. However, Belle said that Merida don't need magic to change her fate, but doesn't changing one's own fate means that she's controlling what her fate would be?
Back at Granny's, Emma finally realizes that Merlin was the same man that talked to her back when she was a little girl and stole the Apollo bars in the theatre. So basically, the prophecy was unnecessary, unless Merlin never knew that he would be freed by Emma. After all, he can see "bits and pieces" of the future.
Storybrooke (Present)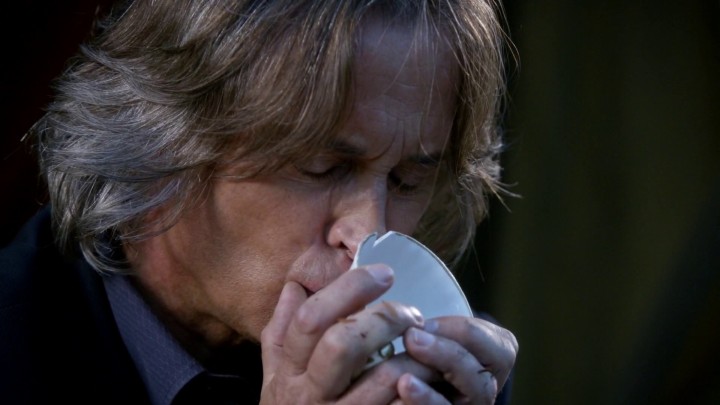 Starting out the present at the Mayor's office as they talk about finally using the mushroom to communicate with Merlin. Is Belle really comparing Emma to Rumplestiltskin right now? Aside from what she did to Henry, Emma hasn't done anything so far. Also, why didn't they think of going to Henry first before seeking Arthur?
Meanwhile, Rumple is tied up and has to break Chip to escape. Rumple fixed it before but because he has no magic to fix it again, guess it's going to stay broken now? In the library, it was a tender RumBelle moment but Belle seems a bit disinterested when Rumple was talking to Belle how her voice kept him alive. Can Emma tell when Rumple and Belle got into Mr. Gold's shop and poofed Merida outside so she can shoot Belle?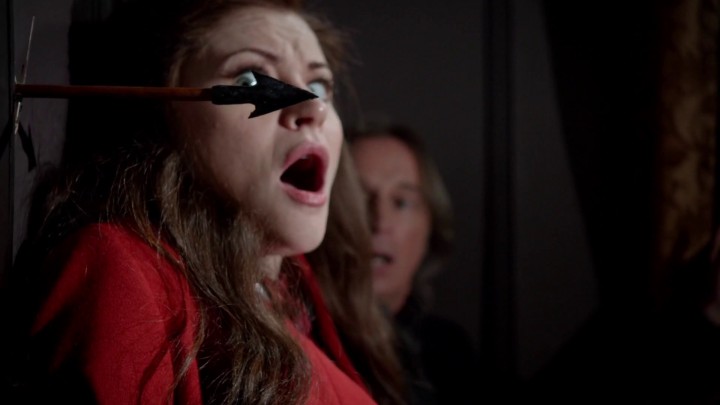 At Mr. Gold's shop, Rumple found the anti-transformational powder. It was terrifying to see Merida so serious at killing Belle. In fact, she did pull the arrow back and shoot the arrow at Belle but it hit the mirror. You could even see the terror in Belle for one moment, when she looked at Rumple. In this scene, Belle saved herself, but why did it have to be Rumple to save the day? Of all the women on the show, Belle may not be the most physical fighter, but she uses other means to fight back.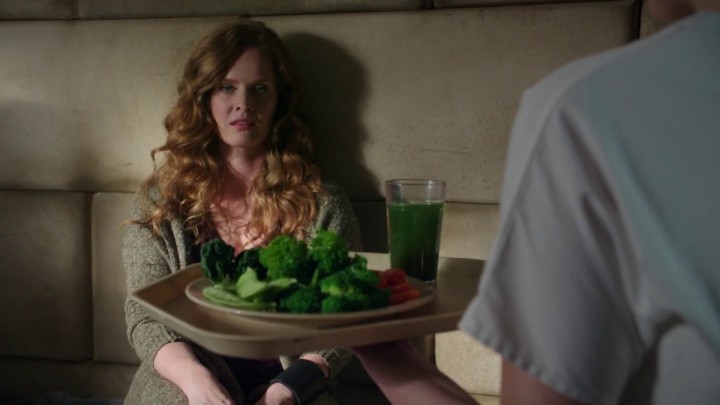 Apparently, the patient with the mop does talk. Something that stood out to us when Emma talked to Zelena was how Emma told her that Zelena will need an ally, like some battle is coming. But what?
There was a moment when Zelena said that even some things can't be forgiven, and Emma disagreeing makes us think that she is good again, or still is good. Even Henry said that the Emma that he knows is still in there somewhere. But will Emma try to take Zelena's baby to use as leverage to get her to help now that she knows how important the baby is to her?
Does that mean that making deals come with being the Dark One?
While this is happening, the others were down in Regina's vault and them trying to get Arthur to communicate with Merlin. Arthur, on the other hand, seemed like he's probably finished with all thoughts of Merlin, ready to build a new Camelot in Storybrooke. Where is Lancelot? He's clearly not in Storybrooke, so where is he?
Our Once Upon a Time costume contest is still on-going! Dress up as your favorite character from the show, take a picture and send it over to us for a chance to win some great stuff!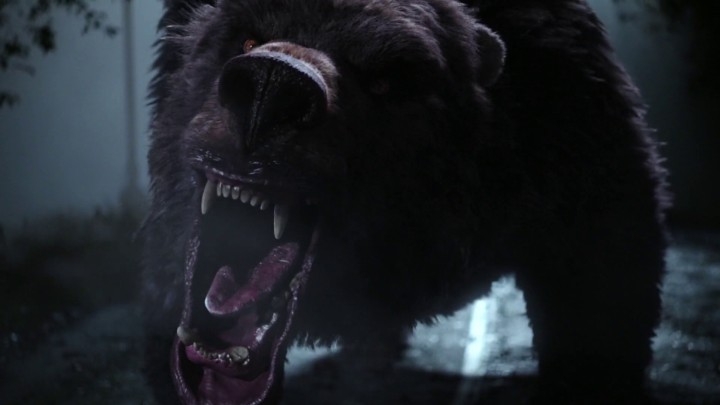 So if Rumple crossed the town line using the anti-transformational powder, could they use it on Dopey to turn him back? Before Belle walked away, it was good to hear Rumple reference what happened in the past, what the seer told him in the episode Manhattan, to show history.
After he crossed the town line then attacks Bearida. But if a real bear took one swipe at Rumple, he would be dead. However, this magical bear took one swipe and just fell down, didn't even hit his head hard enough that he didn't have perfect aim still. Also, does Merida taking the anti-transformational powder mean that she can now safely cross the town line without turning into a tree herself? How long does the anti-transformational lasts? Is Merida's storyline over? It doesn't seem like there's still more reason for her to stick around.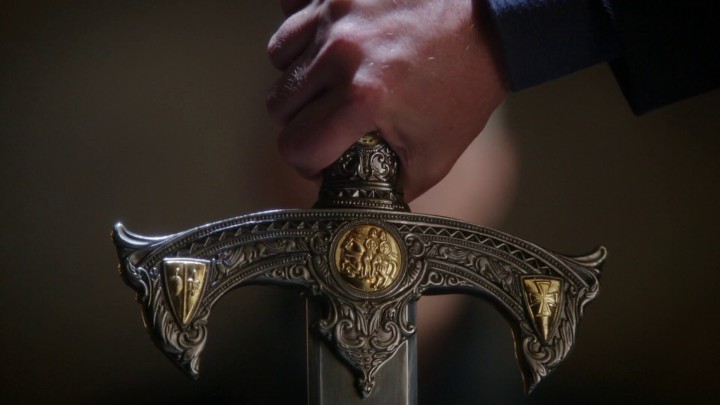 Apparently, Rumple needs to do only one heroic thing to become the hero that Emma needs to pull the Excalibur from the stone. It was also nice to finally hear Gold admit that almost everything he did should've been different. Then again, didn't we hear him say that before? Does Rumple being a blank slate mean that it could be for real this time?
it would have been cool to see Rumple magically transformed into wearing a hero's armor. Why did he give the Excalibur to Emma instead of just using it against the Emma? Has Emma tried pulling the sword from the stone in the past? Is this what Merlin was talking about? His warning to Emma about not pulling the sword out of the stone, because Emma didn't take it out herself? Did Emma try to pull it out in Camelot?
Gold said that he is Emma's biggest opposition now. Unless Nimue was the first Dark One, Rumple is probably the only person to have survived being a Dark One.  Does that also mean that he knows how to defeat a Dark One? He sure knows how a Dark One think.
For all the talk of bravery and female empowerment in Merida's quest to save her brothers and claim her rightful place as Queen, this episode really missed the mark. The Dark Swan has been seeking a person with a good heart and soul of a hero, so she comes up with this twisted plan to turn Gold into a hero. However, there was always a person whose actions were already that of a hero. We saw it in the flashbacks and in the present. That person was Belle. It was Belle who showed Merida the right way to reclaim her throne. It was Belle who tried to save Gold by forcing him to face his fears. It was Belle who faced her own fears by refusing to leave town with Gold. Belle also tried to reach Merida while she was a bear threatening to tear Belle apart. Yet all of this was overlooked for the sake of forcing the hero status onto Gold in some sort of twisted attempt at redemption for a man who at this point hasn't deserved it yet.

— Aleana Harris
Can Arthur still pull the Excalibur now if Rumple hadn't tried? Emma said that the town is filled with heroes, who else can pull the sword from the stone aside side from Rumple?
Finally, everyone has figured out that Arthur is seating in a throne of lies. It was also nice to see Henry's authorship come into play by allowing him to be the one to receive Merlin's voicemail.
I looked up Nimue from Arthurian legend on several different sites and they all said similar things. They say that she was one of two Ladies of the Lake (which would work since it seems Charming already killed one of them) and also that she has ties to raising Lancelot and being Merlin's apprentice, which I found interesting. In most of the versions, Merlin falls in love with her and she basically leads him on until she feels like she's learned everything she can from him and then traps him in a cave or tree.

The Wikipedia article on "Lady of the Lake" says "Different writers and copyists give the Arthurian character the name Nimue, Viviane, Vivien, Elaine, Ninianne, Nivian, Nyneve, or Evienne, among other variations." It then continues with her backstory, which fits pretty well with what we've seen in Merlin's backstory so far: "…Viviane learns her magic from Merlin, who becomes enamored of her. She refuses to give him her love until he has taught her all his secrets, after which she uses her power to trap him either in the trunk of a tree or beneath a stone, depending on the story and author. Though Merlin, through his power of foresight knows beforehand that this will happen, he is unable to counteract Viviane because of the "truth" this ability of foresight holds. He decides to do nothing for his situation other than to continue to teach her his secrets until she takes the opportunity to entrap and entomb him in a tree, a stone or a cave."

It would fit really well if she were the Dark One that trapped him in the tree, especially if that message was made by Merlin before he was trapped. He never used Emma's name, which makes me believe (like Jeremy) that he's not even talking about Emma when he says the Dark One found him. I'm really interested to see where they go with this!

— Jessica Olsen
Apparently, Nimue is the only person who can help defeat the Dark One? During our initial reactions of The Bear and the Bow, we questioned whether Merlin's voicemail happened in the past before he turned into a tree, or six weeks ago in Camelot. Who is Nimue?
What if Dr. Doom!Dark One is the untethered Darkness taken corporeal form? Rumpel warned Belle that she doesn't want to be around the Dark One when no one else is home, as his heart was going black, and he was dying. Also, in "The Miller's Daughter," when Rumpel was dying, the name on the dagger was fading away, which led to Cora changing her plan to trying to become the next Dark One. And, if she knew what would happen, maybe only Merlin can control the untethered Darkness, due to being the Sorcerer? Even she could have feared the untethered Darkness!

— Jiminy's Journal
Is Merlin the only one who can actually control the untethered darkness? Or is Emma strong enough to control it herself. After all, there is a swan that can be seen in this illustration of the Lady of the Lake from 1903.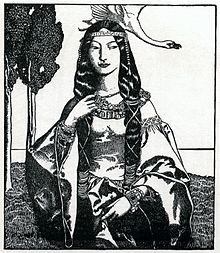 Did we miss anything from the episode The Bear and the Bow? Do you have any theories for the next episodes? Share it with us using the comment section below or by heading over the forum!
What did you think?
Help us out!
Follow us
Spoilers