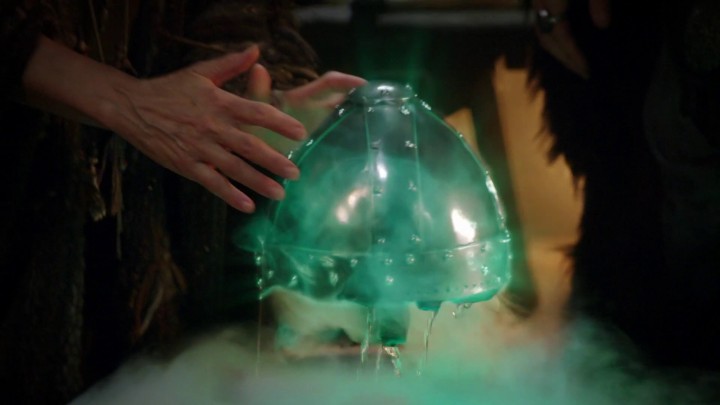 In a failed attempt to pit the Dark Swan and Merlin against each other, Zelena traveled in another land with King Arthur to help him finish his pitiful quest to restore his precious Excalibur and fulfill his destiny as Camelot's King. Meanwhile, Merida must return the one that glistens like the sun to the Witch or her entire kingdom and her subjects will live out the rest of their lives as bears. In DunBroch of the past, on the other hand, King Fergus hired a soldier to tutor his daughter in the art of war, while showing her the most important thing she needs to have to fight. Join us as we share our full discussion of the second part of the two-hour episode, The Bear King.
Podcast: Play in new window | Download | Embed
Even though The Bear King wasn't as exciting as the episode it followed, Birth, it was quite a fun episode. It was a let down after an episode like Birth; putting these two completely different episodes right next to each other on the same night did make it harder to enjoy it fully. It have does a little bit of continuation a couple of weeks ago with Camelot storyline, but not that much. However, it was nice that they put this story even if it seemed more like a stand-alone episode that didn't move the story a lot.
Had they not done this episode, how would they have tied in the fact that Arthur killed King Fergus? It may have still been revealed through a conversation, which Merida already sort of explained in the past episodes, but it was still cool for them to show it. Furthermore, the way that this episode gives us some more story to this story is very fitting to Once Upon a Time. Plus, it was also nice that we got some answers that we didn't know we already have, like what happened to Mulan or where Ruby was all this time?
DunBroch (Several Years Earlier)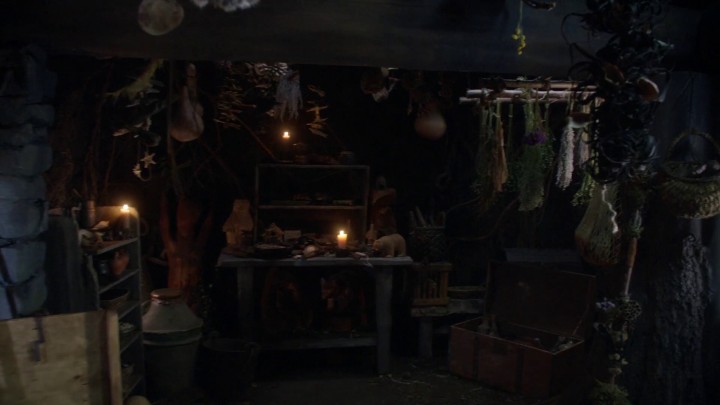 If you don't know Brave, the witch that King Fergus visited at the beginning of the episode was known for being indirect with her magic. It was surprising that King Fergus would go to the witch, but this time we noticed that there are more bear carvings in the witch's hut, which weren't there before. In addition to this, it was also a great casting and hair job for the witch. From her hair, to the way she acts, she does looked like the one from the Disney Pixar's animated counterpart.
One of the things that bothered us with this episode was learning that Camelot was invading and/or attacking DunBroch. There could be that King Fergus misinterpreted information from his spies because at this time, Arthur was looking for the missing piece to the Excalibur. Also, fortunately because of this episode, we learned that Camelot is located geographically to the south of DunBroch.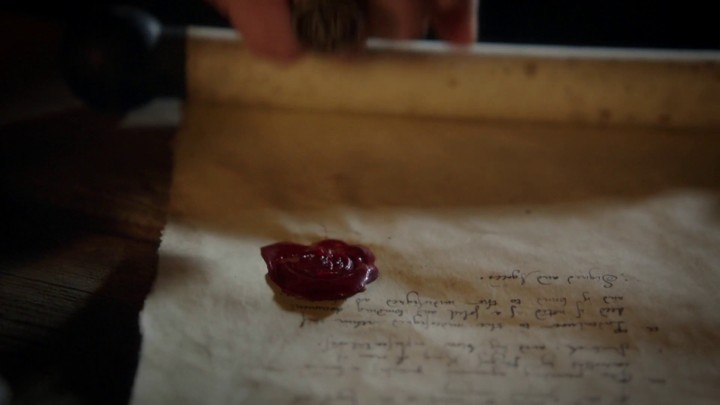 It seems that Fergus never knew what the helm is supposed to do. He just wanted a way to win and ensure the future of his kingdom. It's another "IOU" for magic in this episode, and the last time we saw something like that was when Emma brought back Ashley back to Storybrooke for Rumplestiltskin. However, when the witch was talking about how the deal was struck, we briefly wondered if she was a Dark One as well.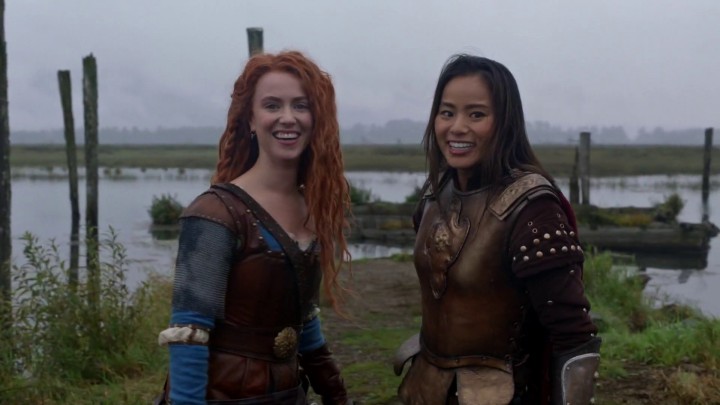 When Merida meets Mulan and they had the little battle, what was funny about Mulan this time was she was smiling a lot more than when she was with Phillip and Aurora. Considering the last time that they had a typo on screen regarding timeline, The Bear King is also another episode with a sort of confusing timeline. Does the war in DunBroch happened before the curse? Were Camelot and DunBroch not part of the Dark Curse?
Mulan does point out that Merida should learn from her father and we see him rallying the troops and he's wearing a helm, a regular one, which is very similar to the magical helm that King Fergus got from the Witch. That being said, it was probably the real magical helm that he was holding as he was pondering at the coast. Was that when he threw the helm into the sea? Why did he throw it away? Did he realize that turning into a magical solution wasn't the right thing to do?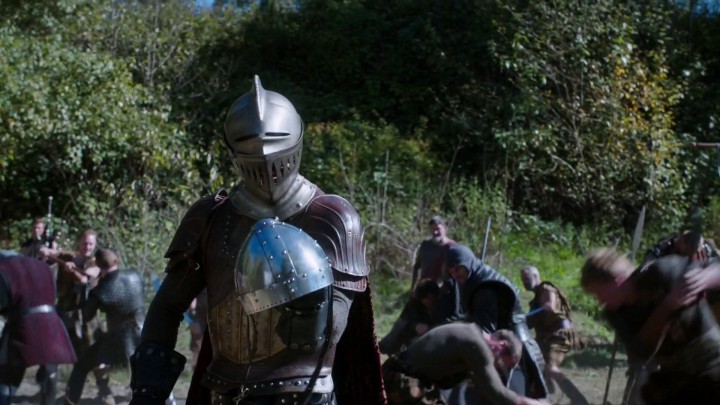 As we come to the battle scene, we still have some issues as to the fact that they are battling; Arthur and his troops weren't wearing a Camelot crest in their chests, so were these Arthur's soldiers or did he sneak in another's army, joined their ranks just so he could not be identified? Did they come actually intending to have a battle? Who was really the aggressor, DunBroch or Camelot?
Camelot (Present)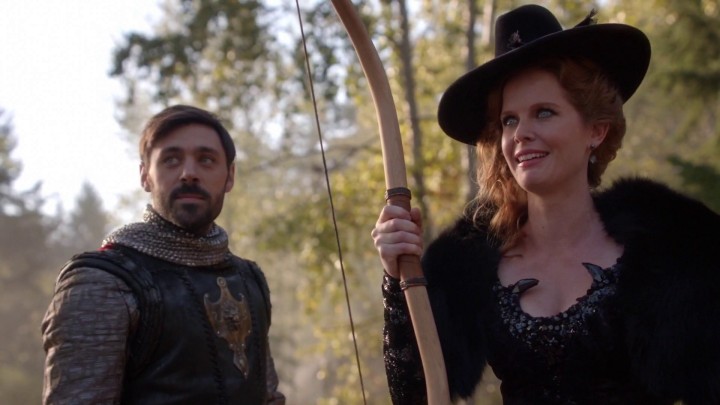 In Camelot, we picked up right where we left off with Arthur trying to get Merlin to kill the Charming's, with Zelena poofing him back to his castle. When they arrived, Arthur said that he wanted to destroy Regina, when he suddenly remembered of the magical helm so he can make his kingdom do his bidding no matter the outcome. Why does he need the magical helm? Did his troops start doubting they could fight the Dark One? It actually makes sense, Arthur relies on "microwave oven" magic tricks to get out of doing the hard work, and not in the heartwarming way.
Jumping off with Mulan collecting money, who is essentially has become as bounty hunter. Clearly, her heart was broken. That being said, it was a bit strange that Mulan is no longer after honor, only money. What happened to her and being with Robin Hood and his merrymen, who is all about honor?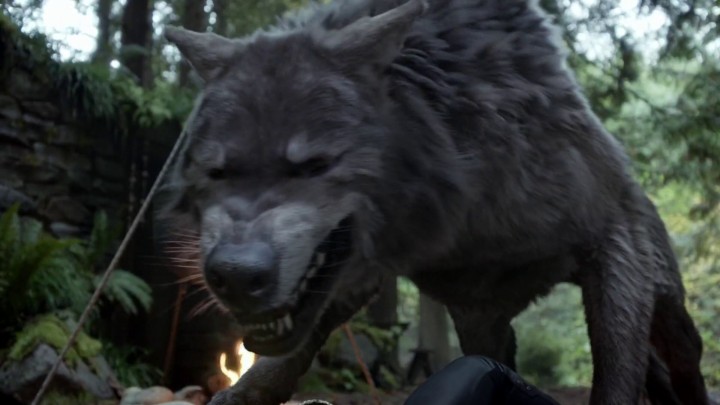 When Arthur does visit the Witch's cabin was when we got to see Ruby in her wolf form, and in our forum, several people immediately recognized Ruby. Why did the Witch keep Ruby a wolf as a pet? Did she find Ruby when she was in wolf form?
As Merida and Mulan revisited the battlefield, it was a nice detail that there was still a skeleton lying up against the rock somewhere in the background. How did Mulan know that someone was poofing in? Is she really just that good? Zelena thought it was a neat little trick.
Somehow, amid the discussion, Arthur says the helm is the only way he'll get his knights to stand up to Merlin and the Dark One. Were the sands of Avalon just not doing it for him anymore?
Aside from sensing that Zelena was about to poof in, Mulan also knew somehow that Ruby wasn't really a wolf. Does she have some kind of magical six sense? Or did she simply learn a few tricks along the way?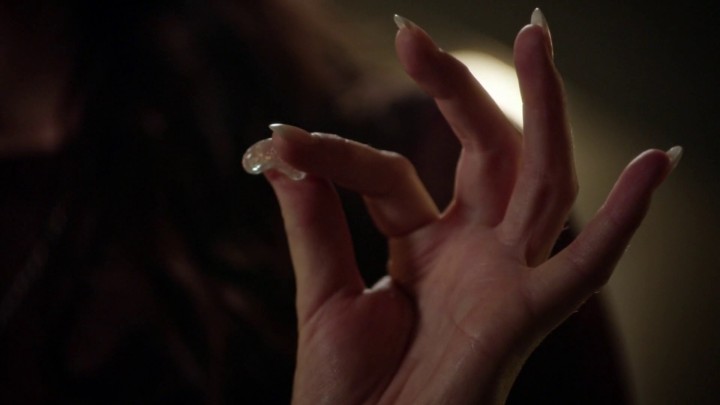 Although Ruby's explanation for why we haven't seen her in quite a while was a bit of retcon, it kind of fit with Ruby's character. We've seen her struggle with fitting in all throughout the seasons, even when she wanted to find her Lemur was because she didn't feel like she didn't fit in. However, it was a bit selfish of her to take the bean all by herself and not take or ask someone else with her back in the Enchanted Forest. Does this mean that Tiny is out there trying to grow more beans? Does this imply that there can be a spare of magical beans for when they need them in the future?
When they do finally find the helm and have the ensuing fight, we learned that Arthur was looking for the dagger and he was apparently going to any kingdoms with magic. Is this the way that he went into all kingdoms, by attacking them, coming unannounced and trying to take their magic away by force in search of the dagger? Did Arthur know back then what the helm was supposed to do or did he just learn about it from King Fergus? It seemed as if he's achieved something great right when he picked it up.
Where did Arthur get the idea what the helm was supposed to do when the Witch has just created it for King Fergus? Did the Witch just recycled magic when she gave the helm to King Fergus, and Arthur simply realized about it during the battle?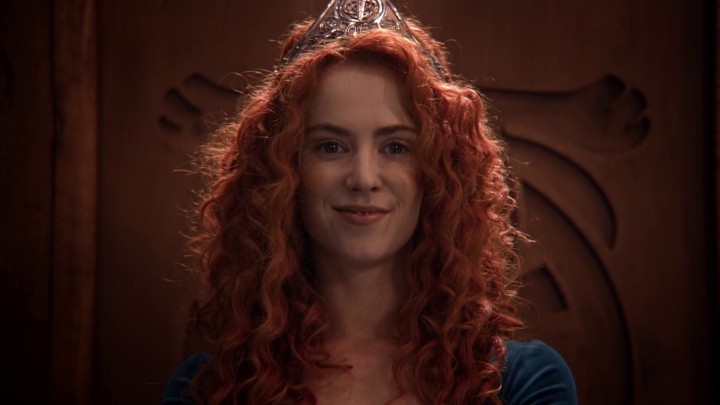 Eventually, Merida does get crowned Queen, clarifying that she was not the Queen yet when the season started, just the acting Queen. This just means that in Storybrooke, she is actually a Queen, although she probably doesn't remember this, let alone any of what's happened a few weeks ago in Camelot. Does Merida remember anything? The way she's interacted with Emma and the Dark One, and the way that Merida interacted with Belle, looked like she doesn't have her memory either.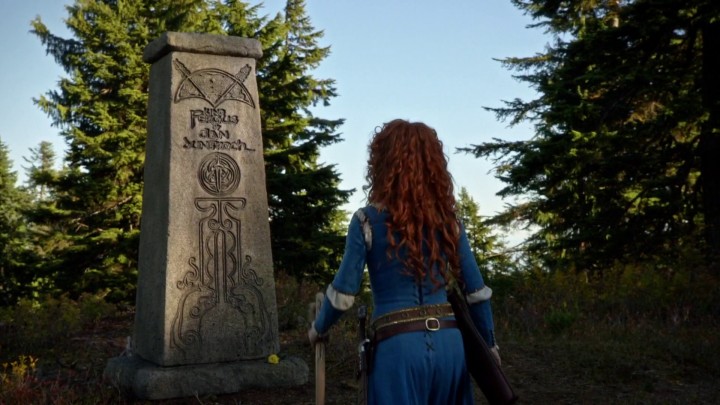 We didn't find anything interesting on the legend of Seonaidh but the talking to the dead potion added for this episode not necessarily tie in with story. But did we just see a little goodbye and possibly the last with Mulan and Ruby again? Now that we know that they are leaving with a purpose, will we see them again? Will Mulan find another love, now that she's found her honor again? Will we see Merida again, now that she's seeking revenge and justice on Arthur?
Thank you for the podcast reviews!
Hannah_of_Nottingham from UK said, "This is such a great podcast. I have been listening for several years now and still rush to download it after each episode airs. The format is a perfect mix …. It's interesting and insightful, yet humorous and heartwarming too. It's got me through some very dark days. I love the in jokes and the way each initial reaction podcast finishes with a punchline relating to that week's episode. I can never wait to reach the end of the show just to hear what it is! So thanks to all the presenters for doing such a wonderful job. I hope both the podcast and the TV show continue for a long time to come."
Your reviews encourage us and help others find the podcast!
Please rate and especially write a review for us on Apple Podcasts.
What do you think about the episode, The Bear King? Have you got any theories on the next episodes? Head over the forum and share your thoughts or sound them all off using the comment section below!
What did you think?
Email Feedback@ONCEpodcast.com (audio files welcome)
Call (903) 231-2221
Comment on the shownotes
Visit any page on ONCEpodcast.com and click the "Send a voice message" link to record and send a message right from your computer.
Help us out!
Share this post in your social networks
Follow us
On Facebook:
On Twitter:  echo do_shortcode('[twitter follow="ONCEpodcast"]'); ?>
Daniel J. Lewis:  echo do_shortcode('[twitter follow="theDanielJLewis"]'); ?>
Jeremy Laughlin:  echo do_shortcode('[twitter follow="phlegon"]'); ?>
ErinJ:  echo do_shortcode('[twitter follow="erinjcruz"]'); ?>
Hunter Hathaway:  echo do_shortcode('[twitter follow="travelingpixie"]'); ?>
Jacquelyn / RumplesGirl:  echo do_shortcode('[twitter follow="punk_bunny_87"]'); ?>