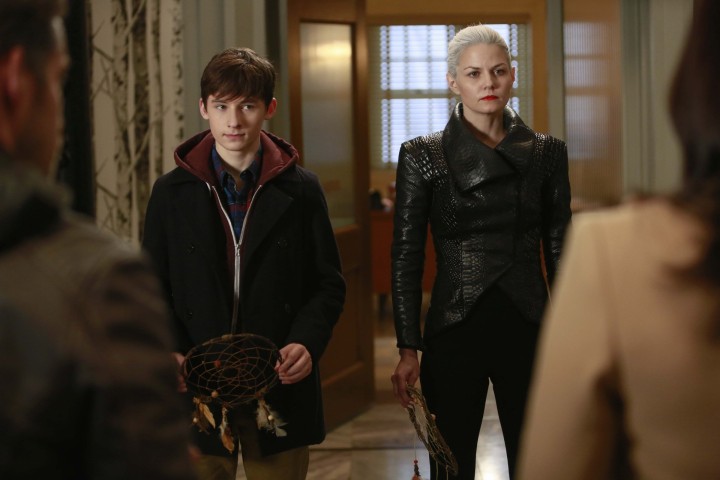 After Hook becomes the Dark One, Emma tries to untether the darkness out of them by going to those they love, not knowing that for Hook, she is nothing more than a pretty blonde distraction, and she will never hold him back from getting what he want. Back at present, however, Operation Cobra part 2 is on as they try to clean up Emma's mess and figure out what Captain Dark One is up to. Join us as we share our initial reactions of the episode, Broken Heart.
Podcast: Play in new window | Download | Embed
It looks like this is going to be one of those episodes that, as we re-watch it, some things will make more sense as to why they did certain things and will connect more. Some people thinks that something seemed quite inconsistent, while at the same time, we think some were consistent. That being said, we did generally liked this episode.
In a Camelot flashback, Hook becomes a Dark One and his lust for revenge against Rumplestiltskin is reignited. When Emma and Hook disagree about their best course of action, the final pieces of the puzzle are revealed as events in Camelot catch up to the present and we witness a charged confrontation between the forces of light and dark that sends our heroes on a collision course with destiny. Meanwhile, in Storybrooke, Hook's centuries old lust for revenge against Gold puts both of their fates in jeopardy while Emma's love faces the ultimate test as she tries to convince Hook to turn away from the darkness before she, Mary Margaret, David and Regina embark on a new mission as an unsuspected evil is released.
These are our first thoughts about this Once Upon a Time episode. We'll share more about "Broken Heart" in our upcoming full discussion (usually live on Wednesdays at 7:00 p.m., USA Eastern Time).
Initial Reactions
Remember, these are only our initial reactions regarding tonight's episode so please bear with us if we're a bit all over the place. If you have your own thoughts, feedbacks, or theories regarding tonight's episode, however, send them over to us and join our upcoming full discussion!
There's so many things to be said because of the end, but we'll see how that unfolds. Apparently, Rumplestiltskin is the only person to have been brought back from the dead, according to the Once Upon a Time mythology, but what time exactly were they referring to? They've always said that you can't bring someone back from the dead. What was the rose under the glass if he was dead? Were they talking about when he killed himself along with Peter Pan back in season 3?
Now, all of the Dark Ones are back and alive in Storybrooke. Are they going to actually show that many interesting Dark Ones or just a bunch blank faces with glowing eyes that all looked the same? Although we kinda liked seeing the Dark Ones, it's super creepy and too difficult, too contradictory. Is Nimue gone from the Dark One's heads now that she's finally in Storybrooke in the flesh? And with the Dark Ones now in Storybrooke, will the Underworld be the realm that we are going to next?
Is Dark One Hook going to be the villain for the second part of the season? Is he even saveable at this point because of everything that's brought him to this point, and now what he's doing on his revenge rampage? The curse of being a Dark One is different for every person and with Hook, now that he is essentially intoxicated with dark magic, that wild revenge side of him is now taking control.
Hook said in this episode that he wants to hurt Emma, if that wasn't already in there, that has to be inconsistent. If it's consistent, then it was already in there and he's not really a redeemed character, which means that something's wrong and broken, either with the plot or with the character itself.
If he's going after revenge on Emma, it looks like Hook would let the whole world burn at this point. Hook killed Merlin without blinking essentially, planned to do that from the beginning as soon as he heard Emma lied to him, seemed like he's overreacting to any kind of bad thing that someone does to him and wants to seek revenge on them on a level of a five-year old. Moreover, Emma was totally right, though, he said that he was going to be worse, so he should have understood why she would not tell him. How does removing his memory make him normal?
One thing that is quite unclear in this episode was that Rumplestiltskin was cut. Either by Hook's hook or by the Excalibur, but the way that he's acting it seems that it might be the Excalibur, especially with what Hook said when he cut Rumple did sound like it came from the Excalibur. So now that Rumple might be poisoned with the Excalibur and dying could really put a strange strain on things. Will Rumplestiltskin become the Dark One again? Will he have to kill Hook and become the Dark One again?
When they first said 'loophole', we were there for some quite a loop, but revealing about Nimue was not exactly as big a loophole as we expected. For a time there, we thought they were going to cast the curse without the heart of the thing you love most. It was a stretch, and it would've been less of a stretch if they had brought Nimue from the Underworld in Camelot and had her do it, then took her over and hid her in Storybrooke; Convoluted, but less of a stretch.
On the other hand, we really did like the way that we got to see this curse coming. Unlike the previous curses, we got to see this curse coming from the perspective of multiple locations; we saw Merida just within the borders, enough that she was captured by the curse; the curse coming into Camelot; the curse start at Granny's. However, although it was implied that it was, was it the same Dark Curse?
We were right about the Dark One being called by Merlin during his little voicemail message, but we didn't realize that he was in Granny's; we thought that he was in his tower.
Now that all Underworld has broken loose, it sure going to be an interesting finale come next Sunday. What do you think about tonight's episode? Send in your theories or share them all out either by heading over to the forum or filling in the comment section below and join us this Wednesday for our full discussion of "Broken Heart."
What did you think?
Email Feedback@ONCEpodcast.com (audio files welcome)
Call (903) 231-2221
Comment on the shownotes
Visit any page on ONCEpodcast.com and click the "Send a voice message" link to record and send a message right from your computer.
Help us out!
Share this post in your social networks
Follow us
On Facebook:
On Twitter:  echo do_shortcode('[twitter follow="ONCEpodcast"]'); ?>
Daniel J. Lewis:  echo do_shortcode('[twitter follow="theDanielJLewis"]'); ?>
Jeremy Laughlin:  echo do_shortcode('[twitter follow="phlegon"]'); ?>
ErinJ:  echo do_shortcode('[twitter follow="erinjcruz"]'); ?>
Hunter Hathaway:  echo do_shortcode('[twitter follow="travelingpixie"]'); ?>
Jacquelyn / RumplesGirl:  echo do_shortcode('[twitter follow="punk_bunny_87"]'); ?>