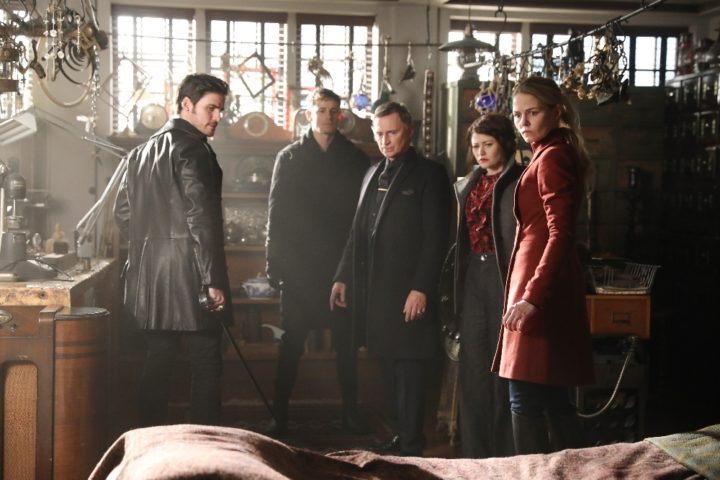 The Dark Curse, Saviors, prophecies, and all the heroes in this episode on our initial reaction of "The Black Fairy."
Podcast: Play in new window | Download | Embed
Only two weeks left before the finale so we hope you'll join us for our season finale party! RSVP and come watch the two-hour season finale with us on May 14!
In flashback, after Rumple's mother, Fiona, learns from his fairy godmother that his destiny is prophesized, she does everything in her power to keep it from happening. Ultimately, Fiona will have to make a decision that will change the course of both their lives forever. Meanwhile in Storybrooke, Rumple faces a similar dilemma.
These are our first thoughts about this Once Upon a Time episode. We'll share more about "The Black Fairy" in our upcoming full discussion (usually live on Wednesdays at 7:00 p.m., USA Eastern Time).
Initial Reactions
Remember, these are only our initial reactions regarding tonight's episode so please bear with us if we're a bit all over the place. If you have your own thoughts, feedbacks, or theories regarding tonight's episode, however, send them over to us and join our upcoming full discussion!
What a good episode! There were so much going on in this episode, which we'll dig into more in-depth when we have our full-discussion on Wednesday. The big thing that stood out to us in this episode is that it felt like they were going in the direction of yet, again, the Black Fairy is just a misunderstood villain and all she wants is love. However, that's not quite the direction they're taking it and we liked it. This episode had many twists like an Indian handshake.
Once Upon a Time is a show that likes to play with prophecy and we liked that they've true to the fact that if you know a prophecy, it doesn't come to pass in a way that you think it's going to. That being said, the prophecy is really weird, as well. It's a self-fulfilling prophecy. The prophecy given is what causes to eventually take place and be fulfilled; it's creating the situation it's prophesied, which is the same as in the episode "Manhattan" when the Seer told Rumplestiltskin the prophecy and that made him take the action to carry out the prophecy. In this episode, the prophecy was Rumplestiltskin would be the Savior and would then destroy Fiona, who eventually became the Black Fairy. However, he was cut off from his destiny so that prophecy is completely stopped when his own mother used the Shears of Destiny on him. Does this mean that Rumple is no longer the Savior destined to defeat the Black Fairy?
It was cool to see how this is why she created the Dark Curse; to protect Rumplestiltskin. On the other hand, it would have been cool to see the origin of the Dark Curse to be more menacing than this. It was kind of disappointing to discover that the reason why this horrible, terrible no-good bad curse was created was because of her love for her son. And her use of a Fairy God Mother's heart to enact the curse? Does that mean that if you take the heart of a God Mother and starts crushing it, it turns you into a black fairy? Tiger Lily being Rumplestiltskin's Fairy God Mother, however, is unexpected.
We liked how they brought it back to how evil isn't born it's made, which is exactly what happened in this episode. Sometimes, in Once Upon a Time, it seems they are trying to imply that evil is made by other people having an impact on individuals. However, in this circumstance, evil was made of its own accord; she made those choice for herself, made herself evil. Although she has different motivations in mind other than pure evil and did have the intentions of saving her son, she made her choices for herself. It was nice how they showed the different sides of the grey area of that statement that we've known since season 1. Is Rumplestiltskin tricking her mother or is he really going to help his mother kill the new Savior?
In season 5, they said that someone would be able to wield both light and dark magic, but because of the shears of darkness, it prohibits him to wield light magic. Is that still going to see happen? Perhaps all the back and forth with Rumple demonstrates that it could still happen since he was born with it.
There are a lot of good quotes about the Savior in this episode. It reminded us of Harry Potter and how they were looking for the wrong baby—Neville and Harry, as well as the massacre of the innocents where King Herod asked to kill babies, making sure to kill the one destined to kill his son. And if Rumple isn't no longer destined to kill the Black Fairy, does the prophecy transfer to the next person in charge? What is Rumplestiltskin the Savior of? What even is a Savior? Emma was the Savior of Dark Curse, what is Rumplestiltskin saving them from?
Who's also one of the heroes in this episode? Zelena crashing her car right into the Black Fairy and her driving philosophy. Seeing Regina teach Zelena how to drive is a lot of fun, too. It was a really sweet moment between them, although Regina is crazy if she thinks Zelena can get Henry out of Storybrooke before this battle. It was interesting and if this leads to season 7, does that mean Henry might get sent to Forgotten Character Island with Zelena, while Regina either can't leave town or sacrifices herself.
It would be weird if the series didn't end but Henry was gone. What with everything that happened in this scene and Henry and Hook's endearing moment at the end, this episode had it all. It was also nice seeing Malcolm again being a loving husband. Not exactly a loving father, but it now made sense why Malcolm turned to be bitter and selfish and wants to push his son away, and want to turn into Peter Pan later on.
There were so many emotional strings pulled into this episode; anger, sadness, hope. We liked how Emma and Rumple bonded in the dream world. Emma's character has grown leaps and bounds since season 1, but we might still see her battle in the finale. Who will officiate the wedding, though? Blue Fairy? Speaking of the Blue Fairy, it was a bit disappointing how she was underused in this episode. That said, she just woke up and still magicless.
What did you think about this episode? Send in your feedback and theories about the episode "The Black Fairy" and join us this coming Wednesday for our full discussion!
What did you think?
Email Feedback@ONCEpodcast.com (audio files welcome)
Call (903) 231-2221
Comment on the shownotes
Visit any page on ONCEpodcast.com and click the "Send a voice message" link to record and send a message right from your computer.
Help us out!
Share this post in your social networks
Follow us
On Facebook:
On Twitter:  echo do_shortcode('[twitter follow="ONCEpodcast"]'); ?>
Daniel J. Lewis:  echo do_shortcode('[twitter follow="theDanielJLewis"]'); ?>
Jeremy Laughlin:  echo do_shortcode('[twitter follow="phlegon"]'); ?>
ErinJ:  echo do_shortcode('[twitter follow="erinjcruz"]'); ?>
Hunter Hathaway:  echo do_shortcode('[twitter follow="travelingpixie"]'); ?>
Jacquelyn / RumplesGirl:  echo do_shortcode('[twitter follow="punk_bunny_87"]'); ?>