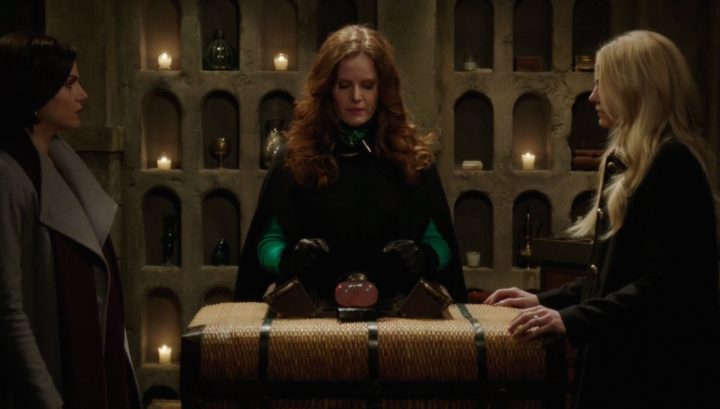 Sibling rivalry, the new tacos, magical mcguffin in the shape of the crimson heart, and Henry authoring. Or at least trying to. Plus! Why is the Black Fairy more afraid of the secret the Blue Fairy has against her being discovered than she is of the wand? All these and more on our "Where Bluebirds Fly" full discussion!
Podcast: Play in new window | Download | Embed
Written by Brigitte Hales who also co-wrote "Sisters"—the flashback prequel—and "Dark Waters" and David H. Goodman, the music in this episode, "Where Bluebirds Fly", is really good. The title of the episode, on the other hand, was taken from the phrase in the song "Over the Rainbow" which was written for the 1939 movie The Wizard of Oz.
Oz (Past)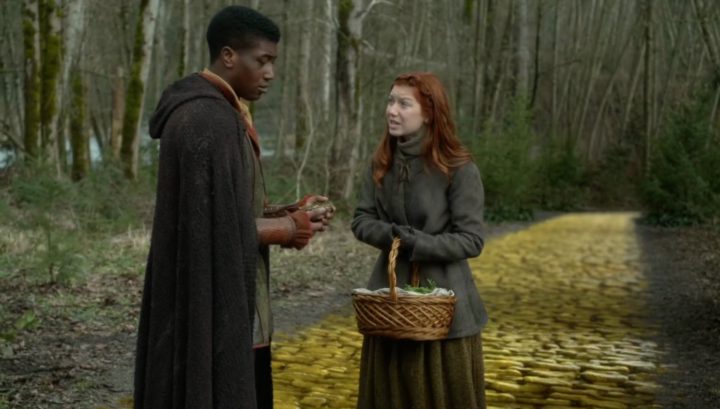 As Erin pointed our during our "Where Bluebirds Fly" initial reactions, Stanum, Zelena's friend was actually taken from the word "stannum", which actually means "tin." But aside from being the tin man, Stanum is also a Winkie from the original books. The Winkie Country, which was located East in OZ, was rich in Tin. It didn't have such interesting origin story but he is still part of the original books.
When Zelena was having her lonely meal, they mentioned that it was the Wicked Witch of the North who cursed Stanum to turn into Tin. Back in the episode "Kansas" we've learned about the different witches in Oz; Glinda was the witch from the South, who represents love, North represents wisdom, East was courage, and West was supposed to represent the most elusive of all, innocence. On the other hand, it was in the episode "A Curious Thing" where Glinda was banished by Zelena to the Enchanted Forest. Furthermore, Wicked Witch of the East rules over the Munchkins, and the Wicked Witch of the West rules over the Winkies. Then there are the Good Witch of the North (Locasta or Tattypoo) with Glinda (the Good Witch of the South), who is later revealed to be the most powerful of the four, although later Oz books reveal that the Wicked Witch of the West was so powerful, even Glinda feared her.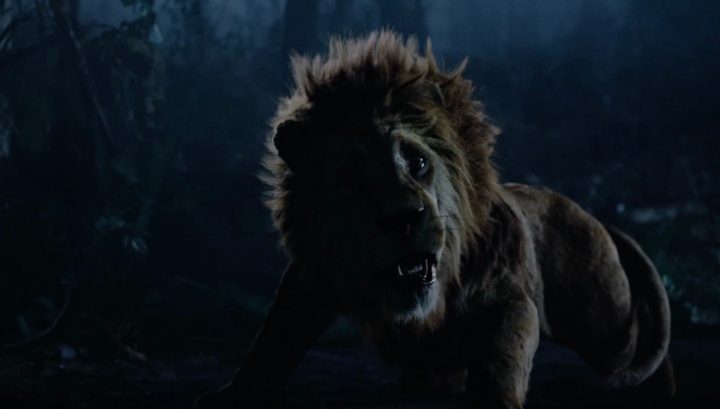 Although the lion was fun to see, his characterization was rather squishy. Was he supposed to be the monster that was guarding the crimson heart that Stanum referred to?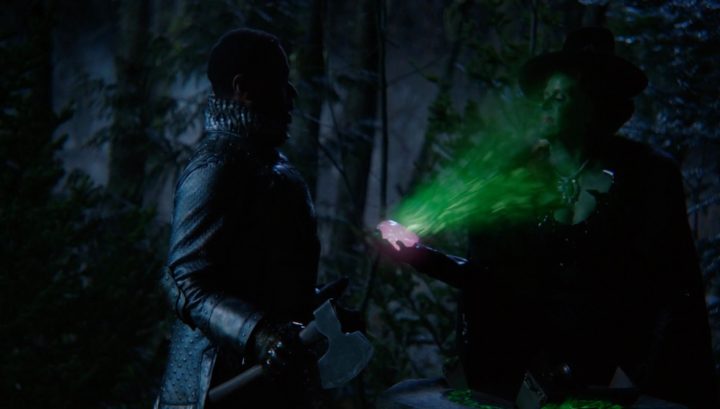 The whole point of the flashback was to introduce us to the crimson heart. However, the episode would've been find even without the flashback and by them using other object. That said, what does Stanum want the crimson heart for? Did Stanum really set Zelena up?
Stanum seems like a pretty solid dude.

I actually think he had a thing for Zelena….but just didn't have the heart to tell her.  He's probably been out of the dating game so long that now he's a little rusty. He probably would have gotten that heart if he'd worked up the courage to axe her out.

— TheWatcher
Storybrooke (Present)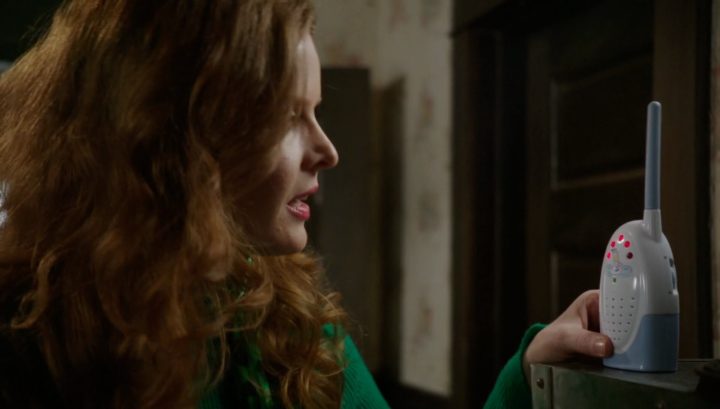 Moving on to the present, Zelena is back at her farmhouse, bottle-warming and being wicked again. When the Black Fairy likes the new-baby smell, what does she mean? Does she work with the Blind Witch, who eats children with either butter or gravy. It was odd how everyone was talking about the Final Battle, but wasn't it something that just happened and not planned? What exactly will the final battle look like? Plus, the fact that they are talking to each other about the final battle is worrisome. We don't have any clear idea of the Black Fairy's motivation. She literally has stated her motivation is to start the finale battle, which feels as lazy as when Henry writes "Emma wins the final battle." That being said, at least this episode answers a couple of questions: Henry can't just write Emma into victory, as well as why doesn't Emma or someone else just go up to the Black Fairy and defeat her right then?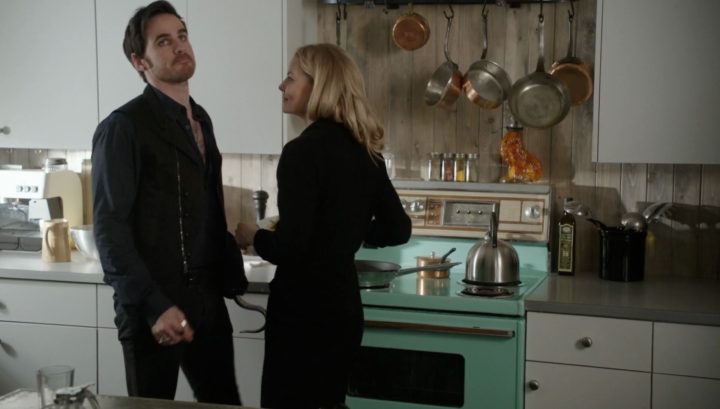 As awkward as pancakes becoming the new tacos is, it was funny seeing Snow White coming in to Emma and Hook making pancakes this time, since back in season 2, it was her daughter who walked in on her and David making tacos.
This whole episode really is developing Zelena's character a whole lot and finally getting to see her character mature as a person. From the beginning of this episode and was well-illustrated at the Sheriff's station, Zelena is on the good guys' side, although not a team-player because she still believes that she's the best and more powerful than anyone else. But to see her giving that up and finally deciding to be a team-player is a big step towards Zelena's character development. Plus, to see Regina and Zelena bicker but also make up by the end of the episode is nice even though they still seemed like ten-year-old sisters fighting with each other. Even though it wasn't an amazing episode, it wasn't horrible either. It was a good episode that nicely moved along the story and developed the sisters' relationship along the way.
What's up with Emma's clothing? Was it a nod to her flower tattoo? We've already seen backstories of her red leather jacket and the yellow bug, will we see a backstory of her flower tattoo, too?
In the same scene, Regina mentioned that she wanted to try a locator spell on the wand and try to find the remaining pieces.
When I saw that this episode was taking place in Oz I thought for sure they would find the second piece of the wand there. The fact that they didn't makes me think that my original theory of world-searching for the other half is wrong. They must have something else in mind. Perhaps the wand fragment was turned into something else or somehow hidden within a living being.

— Gareth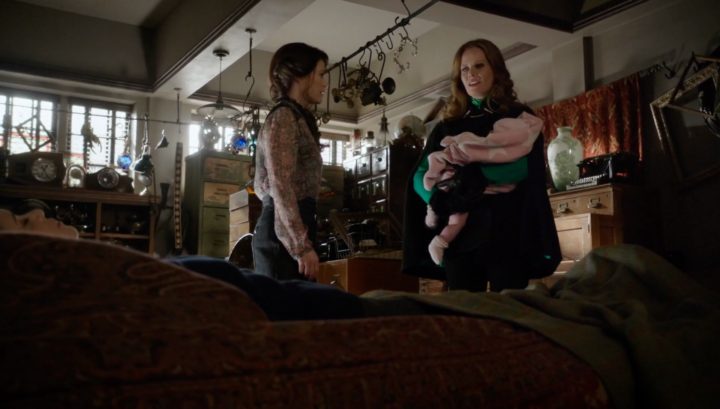 At Mr. Gold's shop, it was nice that Rumplestiltskin explains to Belle that Gideon is being controlled by the Black Fairy so openly. Belle, on the other hand, was the town's free babysitter.
Is there a connection to baby Robin being put in a basket and baby Zelena being put in the basket in 3×18 "Bleeding Through?" We checked back into the episode and turns out, it wasn't the same bassinet as the one Cora put baby Zelena in.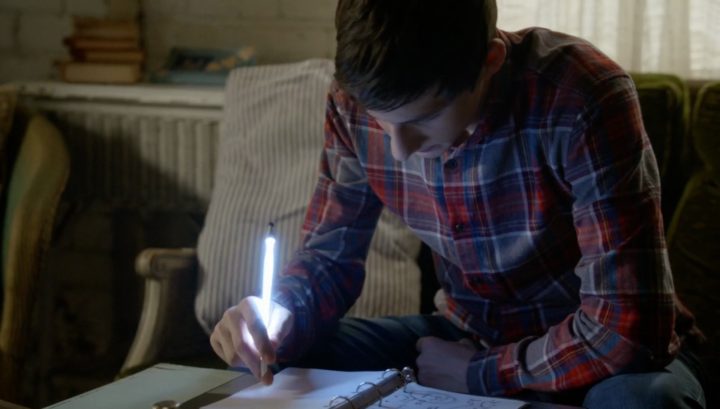 Meanwhile, while Henry is authoring, or at least trying to, the pen suddenly stopped glowing after he wrote, "Emma wins the final battle." Does that caused the pen to turn off? The apple really doesn't fall far from the tree, though, even if it skips a generation. Henry is at least as impulsive and unwise as David. When David looked down at the paper, though, did David recognize some of the writings or was it simply a reminder of there is darkness looming around them? The way they filmed it, however, made it seemed like he had seen those symbols before.
When they were visiting potential venues for Emma and Hook's wedding, David's perspective about looking for the wedding venue makes sense to hold off the planning until they know for sure that the Black Fairy is defeated. Granny should've been at the diner, though. She could've added a lot more comic relief when David is criticizing the place. Besides, it was at the Granny's Diner where a lot of bad things happened; Hook terrorizing the fairies by sucking them inside the Sorcerer's hat, Merlin's death, Neal and Robin's wakes, when Emma had Violet break Henry's heart, where Belle had her pregnancy sped up, as well as Hook suffering from fatal cut, and Emma being wished out of being the Savior.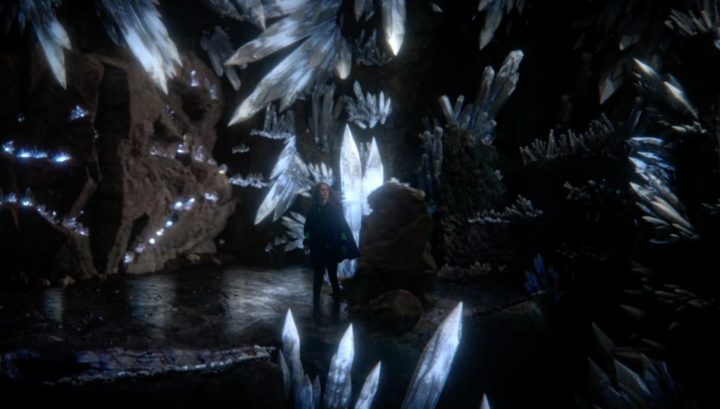 Regina and Zelena, on the other hand, were down in the mines where they found fairy crystals, not pixie dust. Why does the Black Fairy needed Zelena's dark magic to weaponized the crystals? Is her magic unstable? Perhaps the Black Fairy has very little magic. She gets Gideon to do most of her things. Maybe that's why she needed the black crystals.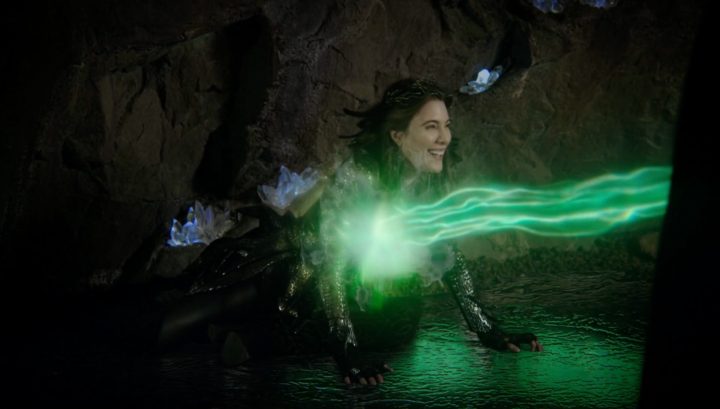 Does dark magic have no effect on her? What was the purple blast? Is that the start of the final battle? Zelena and Regina then get poofed outside the mines and it was nice having the mines being referred to as the magic nuke.
Back outside the town hall, Emma said that they want to get married when it's right. It was, however, reasonable what David was saying about looking for the right place for his daughter's wedding because he doesn't want his daughter to experience the same thing he and his wife went through. This was also such a lovely relationship moment between Snow White and David, which is what "fighting/arguing" with someone you love should look like.
At Zelena's farmhouse while she was summoning a twister with baby Robin was really an amazingly beautiful scene. The cinematography and score were excellent. No rough dialog or questionable plot points, other than how she was summoning the twister. But Zelena then changed her mind and went back to the Sheriff's station to suggest using the crimson heart.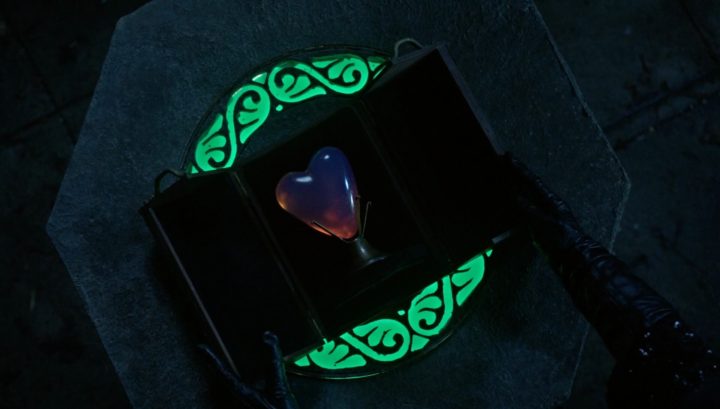 What else in town affected by Zelena's magic that might have been undone accidentally when they used the crimson heart? Is Walsh a human again? What about when Zelena healed Regina? Where did Zelena's magic go after the crimson heart acquired all of her magic? Can they use Zelena's pendant to bring her magic back? MatthewPaul pointed out that they could've skipped using the crimson heart since they had a similar object to do this: the Sorcerer's Hat.
I had an idea about the "elder wand". What if the other part is the fairy crystals? And before Zelena got rid of her magic, the black fairy ruined the crystals so they couldn't be used as the Elder wand. I thought the shape of the crystals looked similar to the shape of the wand from Tiger Lily.

— Jessica Frey
Can the wand and fairy crystal be fashioned into one? What was the Black Fairy's play if Zelena wasn not in town?
What an interesting place for the Black Fairy and Gideon to be since a lot of things have happened in the well. What are they going to do to the town for them to meet there? Why is the Black Fairy more afraid of the secret the Blue Fairy has against her being discovered than she is of the wand?
I suspect that Rumple himself is somehow her weakness. She abandoned him. When Rumple asked her why in 6×09 "Changelings" she said he should understand that sometimes you have to choose power over love. Perhaps giving up her baby has an effect similar to giving up the thing you love most. Perhaps there is some prophecy we have not yet heard about that warned her that the child would be her undoing. The question is what is the secret and why would she not want Rumple to find out. If he is her weakness for some reason it would make sense that she does not want him to know. Perhaps due to blood magic or some such thing only Rumple or Gideon or Henry will be able to defeat her. She might not want him to know that she ever cared about him (if she did) because that would be a liability. Given her involvement in the Dark Curse it is possible that she was behind the scene pulling strings and ruining Rumple's life to lead him down the path to creating the Dark Curse. She didn't know he was her son at the time, but may now realize the extent of what she did to him to turn him evil and not want him to know about her involvement. She might not want him to know about their past because she still wants him to join her and for them to be a family in some way.

— Gareth
Maybe it's just that Blue gave Black a choice between love (baby Rumpie) and power (fairy wings) and she chose the power (Once loves to draw parallels). Then the bitterness turns her evil and maybe fairy Tiger Lily tells her a about a magic whatever that can fix things and Black ends up evil as a result.

— bibliophile
Why did the Black fairy become evil? Both Blue and Rumple agree that the Black Fairy was not always evil. Given the history of the show it is quite possible that Blue and Black are sisters and Black's jealousy of Blue's power made her turn evil (the Zelena story). Given her obsession with loyalty, it is quite possible that she felt deeply betrayed by someone in the past. Again I would guess Blue, because no one else in the show really goes back far enough. I guess Tiger Lily knew her before she went evil so perhaps it was Tiger Lily who betrayed her. Blue said Black stopped protecting the children and started stealing them. This might be a clue to why she went evil, but not sure how. She could have lost another child and been trying to find it, but I hope not, as this would add a sibling for Rumple.

— Gareth
I do have a theory about this whole situation.  Do you remember the first season episode 1×14 "Dreamy"?  That is one of my least favorite episodes, but when the Blue Fairy flew in to talk Grumpy/Dreamy out of running away with Nova, I paid close attention.  The Blue Fairy said that if Nova were to put him above her duties as a fairy, that she'd lose her wings and she'd never become a Fairy Godmother.  It isn't a coincidence that all of the fairies are nuns in Storybrooke.  They have to put the good of the world and serve that, above any relationship, as either a fairy or a nun.

The Blue Fairy talked about the consequences of leaving, as though she'd seen it before.  If the Black Fairy was a fairy before she met Malcolm and ran off with him, she lost her wings and was exiled.  Maybe she was the first one to ever actually leave the fairies in favor of a man.  And as we saw with 3×08 "Think Lovely Thoughts," there are consequences to being the first to break the rules.  So what if the consequences of getting married or worse getting pregnant while still being a fairy are banishment to that dark realm?  Maybe it even meant that Rumple was marked to become the dark one from the time of his birth.  …  And why in the world would the Black Fairy have given up her life as a fairy in favor of Malcolm?  Was he really that different than what we saw in 3:8 "Think Lovely Thoughts?"

— Meredith of Everett, WA
If Nova falling in love with Dreamy (Grumpy) was against fairy rules imagine how much trouble the Black Fairy would have been in for getting pregnant! Perhaps she was banished for it?

— Chelsea Dong
In the context of that scene, I think the secret must be that Blue, not Black, is Rumpel's mother.

— Gaultheria
Whatever the secret is it has to be the reason that Black Fairy created the dark curse, related to why she gave Rumpel up, and something really bad.

Maybe she created it as a way to escape the Enchanted Forest and Blue to a place where they could never be found and perhaps she intended to cast it and have Rumpel or a savior break it…or something. But she got banished before she could. So Blue, knowing that the curse would eventually be casted, tried to boot Rump and Bae out of the EF and booted Black to the dark realm and….

ya know I honestly just don't know anymore.

— TheWatcher
Maybe she simply created the Dark Curse as a way to break her banishment for good and let her live with her son? But she can't sacrifice the heart of the thing she loves most because that's Rumple and that would defeat the whole point.

— Jacquelyn
This could be it, but if she created the Dark Curse and it's mechanics, why would she make the price sacrificing the heart of the thing you love most if she knew she couldn't do that? That would be really dumb, and she seems very smart. Unless that's just the Dark Curse's price because reasons.

— ry4christ
Join us for the season finale! Register and come join us for our season finale party and watch as we record our initial reactions about the upcoming season finale in May 14!
What did you think?
Help us out!
Follow us
Spoilers