Podcast: Play in new window | Download | Embed
The summer hiatus is over and we are now in Neverland! Join us as we talk about Peter Pan, Neal in the Enchanted forest and other things we caught in the episode, "The Heart of the Truest Believer."
Eleven Years Ago…
The episode opens with Emma giving birth to Henry, while handcuffed by the ankle and with a corrections officer.
Emma's screams of labor caused the lights to flicker. Was this a sign of the magic of a mother's love? We suspect "the power of a mother's love" will be a big theme this season.
She says, "I can't be a mother, but eleven years later, she embraces it on Neverland.
Thank you for the Apple Podcasts reviews!
Straightedge07
theLOSTpassenger (CHRIStopher)
NattyUK
crazyj414
-_Smartin_-
Your reviews encourage us and help others find the podcast!
Please rate and especially write a review for us on Apple Podcasts.
Neverland
Time works differently. Could that mean when Rumple returns to Storybrooke, Belle will be an old woman?
Pop, pop, pop! Everyone just pops into Neverland.
When Greg lands, he calls Tamara "T."
Tamara says that Neverland was the motherload of magic. We've heard August say the same thing to Tamara about Storybrooke in "Selfless, Brave, and True."
Is the "Home Office" storyline over? We're not really sure, but there are so many open-ended questions left! Where did they get the equipment? How did they all communicate? How were Greg and Tamara convinced of the mission?
Batteries in the radio turned into sand—could all electronic devices disintegrate in Neverland?
Hook called Regina his hot-headed queen.
How do people get out of Neverland? Hook mentioned he spent more time on the island than he can remember trying to figure out how to leave Neverland and kill Rumplestiltskin.
So many people are saying that she manipulated Bae to go to NL to save her brothers, or that she has been in league with Pan this whole time. Mainly, that she is bad. Now, my theory is that Wendy is the reason Bae got back home from NL. If she was indeed with Pan before, I think she was either manipulated or threatened. In any case, she saw that it was wrong, and probably felt a lot of guilt. Therefore, maybe she made a deal with Peter to get Neal home, and went to NL in his place. My guess is that she wouldn't have told Bae, and he would have never found out, because she knew he wouldnt agree. But, in the end she saved him, and allowed him to return to our world.

Ziera
Before this, we had only seen Bae touch the sand. In this episode, we see our main 6 and Henry touch the beach.
Regina asks Hook if they will get happy endings. Do they believe they are villains or that they are good? Regina has embraced herself as the evil queen, but does she expect a happy ending for herself?
Greg has his shadow ripppppppppppppppppppppppped out of him. Adam Horowitz confirmed on Twitter that Greg is dead and gone with his body rotting.
Greg's shadow had orange eyes, while the Shadow's had blue/white. This may be a identifying trait.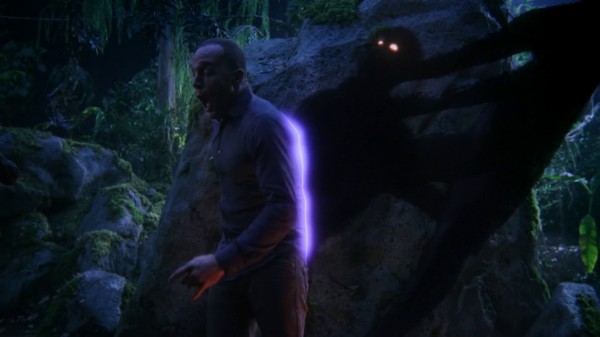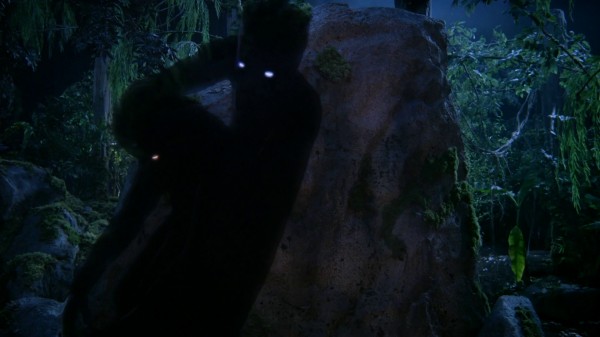 The way in which Greg's shadow was ripped really caught my eye. It looked like his shadow came from inside Greg's body and not like Greg's shadow was attached to him. This reminds me of the shades in Greek mythology. They are the spirits of the dead, residing in Hades. So maybe Peter Pan's shadow is able to extract a person's spirit, and turn it into a shade, which causes the death of his body. Pan is already named after a Greek god, who is the origin of the the word "panic." So it might be possible that there are more connections between PP and Greek mythology.

– Tobias
Emma blames Snow for what happened. This episode showed a lot of relationship struggle between Emma and her parents.
Snow knows she can't let go of hope in these situations because that's when things begin to fall apart.
Rumpelstiltskin took time to have a wardrobe change. It's the first time Emma has ever seen him wear.
Rumple stresses belief in Neverland. We think he used being lame as an example to show the power of faith.
How did Rumple disappear? Everyone was surrounding him! We've seen him do this many times without the need for smoke.
Rumple mentions that Pan is too fearsome for handholding. We have yet to see Pan ACT fearsome.
Another interesting note about Emma:  In the opening scene she said: "I can't be a mother".  In the original Peter Pan story, the Lost Boys and Pan just wanted a mother. Wendy was the mother-figure in the original Peter Pan story. Wendy helped the Lost Boys, and she even reattached Pan's shadow. What if Emma has to become their "mother," and what if she finally able to comfortably use her magic to reattach Pan's shadow?

-OnceWizard
Pan asks Henry if the Shadow brought him to Neverland. Is the Shadow the only one that can leave Neverland? Is it a separate entity from Pan himself?
Peter Pan is connected to Neverland, but in what way? If he was telling the truth about the sand, is that why he ran to the Echo caves?
Mermaids! Mermaids! Mermaids! Why were they attacking the boat? It is surprising how little Hook knows about mermaids.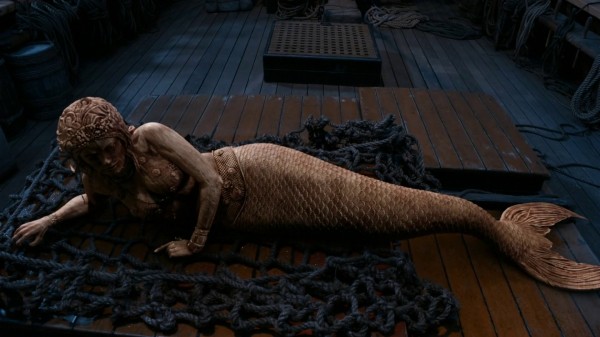 Are the mermaids friends of Pan, or are they scared of him? They could be potential partners to the six.
The moment Emma jumps off the ship, she took control of the whole situation. She believed that someone would save her and took a  literal leap of faith!
Tamara pleaded to Rumple that she didn't know who she was working for. Was she genuine? Well, Rumple didn't care long enough to find out. before crushing her heart.
Felix says that Pan is excited to see Rumple. Why? What is their history? Does Pan need Rumple to take hearts instead of shadows?
I think that Pan somehow gave Rumple a key ingredient or piece of advice for his dark curse – something that made it possible to enact, though I don't know what. We already know that Pan has an ability to track people from other worlds (including our own, since he gets children using the Shadow). I think in return, Pan had some sort of a deal with Rumple that prevented Rumple from killing him without killing himself (sort of the way Regina cannot harm Charming and Snow in Enchanted Forest except that Rumple can kill Pan but it requires his own death).

Jeff
I think the doll that Felix threw at Rumple was maybe made by Rumple when he was a Lost Boy. We know Rumple was trying to be a better man than his father, but we still haven't seen his back story. Or maybe it was something Bae used to make when they were together and he just recognized it.

-Kimberly
Check out our forums for more about this!
Could the doll have been made by Bael? It doesn't seem likely because Felix says, "the things we haven't thought about in years." Maybe the doll was a person? Like the marionettes?
Blood magic was mentioned many times. Could Pan and Rumple be related?
When all five of them step onto the soil, Emma completely takes over.
It is odd that after the season 2 finale where they all decided to work together, that they would start questioning cooperating to save Henry.
Pan thinks it's surprising Henry thinks his family is coming for him. Did Pan have the same feelings before, or is it only because he's heard so many lost ones say it?
Can Pan fly? Does he need Henry to be able to fly? Does Pan want to leave the island and can't because he's connected to it?
I noticed a potential literary allusion in 3×1. While pretending to be a fugitive boy, Peter Pan tells Henry that he will take him to the Echo Caves. This reminds me of McDougal's cave, which features in "The Adventures of Tom Sawyer" by Mark Twain. The main reason I bring this point up is because Adam Horowitz and Eddy Kitsis told "Entertainment Weekly" last year that Tom Sawyer is one of the classic literary characters they'd consider putting in their show. Maybe the Echo Caves are a nice nod to Mark Twain's novel.

In the novel, Tom and Becky Thatcher sneak off to McDougal's Cave, where they get lost. Tom sees a human figure up ahead, and Tom yells out for help, not knowing who it is. Yet, much to Tom's horror, the man he'd witnessed commit a murder, Injun Joe, has been using the cave as a hideout. Fortunately, the echo of the cave masks Tom's voice, which causes Joe to run away.

Also, in the 1953 Disney cartoon, Peter Pan uses the echo of Skull Rock to trick Mr. Smee into believing his voice is that of Captain Hook. In doing so, Peter Pan orders Smee to release Tiger Lilly, who has been taken prisoner by Hook in hopes of luring PP to his death. The echo of the cave proves to sufficiently confuse Smee, who then humorously gets chastised by the real Captain Hook for disobeying his original orders.

Slurpeez108
Jenny: "Peter Pan is a little boy Regina!" His switch from the nice Lost boy to Pan was amazing.
Still a big questions: How did Pan know Henry had the heart of the truest believer, before Henry was even born? And why does he want the heart?
I have a theory why Peter Pan searching for Henry's heart. I believe that Peter Pan wants out of Neverland, but currently has a curse that doesn't allow him to leave unless he is replaced by a "true believer." I think the traditional story applies to Peter Pan as to how he got to Neverland, but once he arrived, that's where Once's interpretation takes over. I think Peter Pan needs the heart of the "truest believer" to replace his spot as Peter Pan. I think Peter Pan, during his time in Neverland, grew bored and decided he wanted to grow up, thus the search for Henry began. However, one day he met a girl, "Wendy" or "Tinker Bell", that made his search more dire because he fell in love. Thus, his search for Henry grew sinister, and more desperate, which led to the creation of the "Home Office". Well, that's my 2 cents. Thanks for a wonderful podcast!

Kelsey
What if Henry becomes Peter Pan, or the Dark One, or Both?
Thank you for supporting us!
Dena81 (Subscriber)
David Neuland (Subscriber)
Lisa Slack (Subscriber)
You can sponsor an episode or more of ONCE podcast, too! Email Daniel@ONCEpodcast.com if you would like to arrange a corporate sponsorship of our podcast for the upcoming third season.
The Enchanted Forest
Aurora describes the dream world for us and that now she can control where she goes. It seems she isn't talking about just the red room.
Neal was nice enough t o explain portals to us. The beans take you to where you are thinking of. Yay for answers!
It was funny to see Neal explain to Mulan about fairy tales and movies. In Neal's words, the Mulan movie "was pretty good."
How did Neal know about the castle and how to move the staff? Maybe Rumple had told him about it when they caught up.
Mulan seemed to know a lot about love when she told Neal to think about Emma when using the crystal ball. Has she been searching for her warrior?
The look on Mulan's face when Neal talked about how he was scared of rejection looked to me as if she knew exactly how that felt. Maybe she is scared of Philip rejecting her, and so she won't tell him how she feels

Susan
Why was Robin Hood in the Enchanted Forest? Was he saved "under the dome" (Cora's, that is)?
Join us for the LIVE podcast!
Initial reactions on Sundays at 9:15 p.m. (EDT/GMT-4)—right after the Eastern and Central episode airing.
Full discussion, feedback, and live calls on Wednesdays at 8:00 p.m. (EDT/GMT-4).
On these days, visit ONCEpodcast.com/live to watch and chat live.
What did you think?
Email Feedback@ONCEpodcast.com (audio files welcome)
Call (903) 231-2221
Comment on the shownotes
Visit any page on ONCEpodcast.com and click the "Send a voice message" link to record and send a message right from your computer.
Help us out!
Share this post in your social networks
Follow us
On Facebook:
On Twitter:  echo do_shortcode('[twitter follow="ONCEpodcast"]'); ?>
Daniel J. Lewis:  echo do_shortcode('[twitter follow="theDanielJLewis"]'); ?>
Jeremy Laughlin:  echo do_shortcode('[twitter follow="phlegon"]'); ?>
ErinJ:  echo do_shortcode('[twitter follow="erinjcruz"]'); ?>
Hunter Hathaway:  echo do_shortcode('[twitter follow="travelingpixie"]'); ?>
Jacquelyn / RumplesGirl:  echo do_shortcode('[twitter follow="punk_bunny_87"]'); ?>
Spoilers
Episode 2 synopsis
Casting news
tvline.com interview spoilers
Random spoiler news