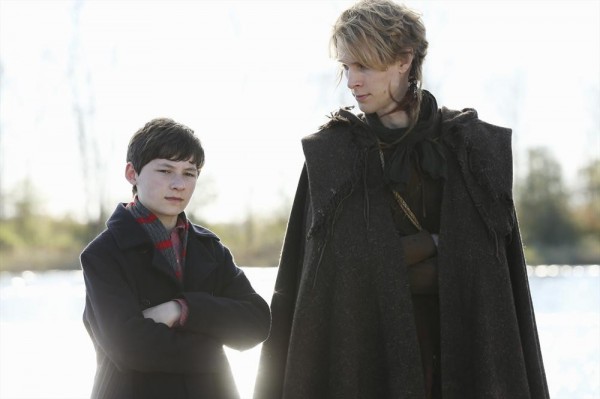 Podcast: Play in new window | Download | Embed
Emma, Regina, Mary Margaret, David, Neal, Hook, Rumpelstiltskin, Wendy, Tink, Henry and the rest of the lost boys made it back to Storybrooke but for Peter Pan, the real fun is just about to begin.
The residents of Storybrooke are overjoyed upon the return of Henry and our heroes from Neverland. But unbeknownst to them, a plan is secretly being put into place by a well-hidden Pan that will shake up the very lives of the townspeople. Meanwhile, in the Fairy Tale Land that was, Snow White and Prince Charming's honeymoon turns out to be anything but romantic when they go in search of a mythical being that could stop Regina cold in her tracks.
These are just our first thoughts about this Once Upon a Time episode. We'll share more about "The New Neverland" in our upcoming full discussion live on Wednesday December 11, 2013, at 8:00 p.m. (EDT/GMT-4).
This episode felt like going through multiple phases. Although it kinda slows everything down, it was refreshing to see something a bit lighter than all the actions we have gotten so far from the last eight episodes. It was great to have a breather off the fast-pace episodes we have seen so far.
Initial Reactions
Remember, these are just our initial reactions regarding tonight's episode so please bear with us if we're a bit all over the place. If you have your own thoughts, feedbacks, or theories regarding tonight's episode, however, send them over to us and join our full discussion this Wednesday!
The body switch made more sense once they landed in Storybrooke, by the way. And the title "The New Neverland" made more sense after seeing the episode. We initially thought that they would show us what's left of Neverland but we were wrong.
Pan-as-Henry has gotten his hand of the curse, especially since Emma is now with her parents. However, the curse requires the heart of the thing you love most so whose heart is Pan going to use? Felix's? His own heart? Or will he use Henry's heart and just switch back his body just in time?
Is the Blue Fairy part of his evil plan? Does Pan need Blue Fairy's shadow because she has magic? Is Pan planning to kill everyone with magical abilities? If that's the case, everyone with magical powers may be in trouble with no way to fight back.
Is Tinkerbell going to redeem herself? With the Blue Fairy gone, can Tink become the new Mother Superior?
What can they do with the new curse?  Can they make it back to the Enchanted Forest? If they make it back to where they come from, will they get another identity, this time, Emma included?
After today, we have one more episode before the winter hiatus so there may be a major cliffhanger next week. Are we going to see the curse hitting but ending it just before it fully hits?
Thank You for Supporting Us!
Steve Johnson (subscriber)
David Neuland (subscriber)
Lisa Slack (subscriber)
Julia Portela (subscriber)
DJ Firewolf (subscriber)
You can sponsor an episode or more of ONCE podcast, too! Email Daniel@ONCEpodcast.com if you would like to arrange a corporate sponsorship of our podcast for the upcoming third season.
Thank You for the iTunes Reviews!
Your reviews encourage us and help others find the podcast!
Please rate and especially write a review for us in iTunes.
The back stories we got from the Enchanted Forest was a bit surprising. Although, it was interesting to see Snow and Charming's wedding from a different perspective after the Evil Queen threatened Snow, Charming and the entire kingdom.
Prince Eric chopping the fish when Ariel found him was kind of funny, but a bit anti-climactic. However, we were right when we theorized that Eric might be working for the fish canary.
It's a bit surprising and honorable that Hook is backing off but is he really moving on from Emma and is now pursuing Tink?
Both Robbie Kay and Jared S. Gilmore are both doing a great job playing each other.
What if Pan enacts the curse and the curse backfires? Instead of freezing time, what if it takes them all back to the Enchanted Forest where they remember their former selves but forgotten what happened in Storybrooke? What would happen to Emma, then if it happens?
If you have your own theories or feedback that you want to share, send it on to us through email (kindly use the Episode Title in the subject field), use the comment section below, or simply join us in the forum and discuss your thoughts regarding tonight's episode.
[ndlmx_special]
What did you think?
Email Feedback@ONCEpodcast.com (audio files welcome)
Call (903) 231-2221
Comment on the shownotes
Visit any page on ONCEpodcast.com and click the "Send a voice message" link to record and send a message right from your computer.
Help us out!
Share this post in your social networks
Follow us
On Facebook:
On Twitter:  echo do_shortcode('[twitter follow="ONCEpodcast"]'); ?>
Daniel J. Lewis:  echo do_shortcode('[twitter follow="theDanielJLewis"]'); ?>
Jeremy Laughlin:  echo do_shortcode('[twitter follow="phlegon"]'); ?>
ErinJ:  echo do_shortcode('[twitter follow="erinjcruz"]'); ?>
Hunter Hathaway:  echo do_shortcode('[twitter follow="travelingpixie"]'); ?>
Jacquelyn / RumplesGirl:  echo do_shortcode('[twitter follow="punk_bunny_87"]'); ?>
echo do_shortcode('[ndlmx_shows]');