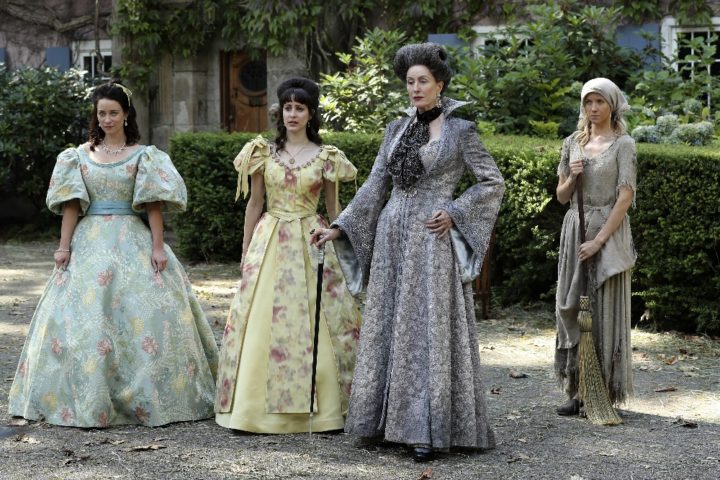 We have just watched the episode, "The Other Shoe" and are ready to share our initial thoughts about the episode. For tonight's episode, we focused on talking about Cinderella's character development, Rumple's message to Belle, and the red elephant in the room, among others!
Podcast: Play in new window | Download | Embed
As Storybrooke continues to welcome the new arrivals from the Land of Untold Stories, families, friends and even long-lost enemies are reunited once again. When Ashley (Cinderella) searches for her step-family, intent on settling their unfinished business, Emma, Hook and Henry scramble to help her before it's too late. Meanwhile, Regina attempts to bribe Mr. Hyde for information about how to defeat the Evil Queen and Snow helps Dr. Jekyll find a suitable laboratory for his work. David makes a deal with Gold and delivers a message to Belle in exchange for new information about his father. In flashback, Cinderella attends a ball and meets her prince.
These are our first thoughts about this Once Upon a Time episode. We'll share more about "The Other Shoe" in our upcoming full discussion (usually live on Wednesdays at 7:00 p.m., USA Eastern Time).
Initial Reactions
Remember, these are only our initial reactions regarding tonight's episode so please bear with us if we're a bit all over the place. If you have your own thoughts, feedbacks, or theories regarding tonight's episode, however, send them over to us and join our upcoming full discussion!
This episode, "The Other Shoe", was pretty decent. There are some things that we didn't like, but there were also some good stronger points. We loved seeing Cinderella again, who is one of the characters in Once Upon a Time that was there in season 1 and has made reappearances all throughout. Seeing her, Prince Thomas and their baby, plus the mention of Baby Neal is also nice, as well as references that we've been missing, like Dopey who is apparently out there getting his master's degree. Plus! It was also nice seeing Gus to be the star of the episode!
For being an episode of Once Upon a Time, it was a fun one but it didn't really help move neither the Evil Queen nor Hyde's plots along, or even the other storylines that was teased two episodes ago, which was of Jafar and Aladdin. We do liked some of the moments between Charming and Snow White in the woods when they talked about their lives being "defeat and repeat", which was a conversation that needed to happen for several seasons. We also liked some of what Emma said with her session with Archie; it was introspective and real, but this episode didn't do much for moving the story along.
One of the things we've said before is that this could be the show's final season and perhaps not, and with the way the story is going, it does sound like they're setting up for an end game; making a life in Storybrooke, reopening the school, Snow White becoming a teacher again, Dr. Jekyll and Dr. Frankenstein also possibly becoming teachers at school, a lot of these feels  like an end game. We've been teased in "The Savior" about Emma's happy ending, and if she gets to defeat her ultimate villain, she should be able to get her happy ending from there, with her and Hook moving on, and resolving any conflict with Regina, as well as with Regina being at peace with her family and her role mostly in Storybrooke, it does sound like they are starting to establish an end game for the show.
We were kind of conflicted with how they developed Cinderella's character. While it was great to see more of the actual story to Cinderella but without having to retell the actual story, but it was a little confusing as to why Ashley is running with a shot gun if she was the wicked step-sister; It was kind of a falsely-laid drama.
One of the things that surprised us is, when the Evil Queen poofed Emma, Hook and Henry, we thought she magicked them outside of Storybrooke, as if she really did move them out of the chess board. It would've been neat to see them try to get back into Storybrooke but no, she simply just poofed them to the end of the road.
The message that Rumplestiltskin left for Belle and their child is sweet. It was really nice seeing Rumple making a step and Belle looking receptive of it right now, which maybe means that they're going to have a conversation as to they will raise their child together, even if they are apart. One of the things that endears a wife to her husband is seeing them investing time to the family, even if it's not directly with her but with the kids, which is something that make them love their husbands even more. Even seeing Emma seeing how Hook is great with Alexandra, shows how she likes seeing this side of his, so maybe, we'll start seeing this side as well with Rumple and Belle. After all, for all his faults, and for all the drama that they have been through, everything that Rumple did was in search of his child. He was a committed father who loved his son very much, who really went all out just to find his son. Hopefully, Belle remembers that he wasn't such a horrible father, even if he might not be a great husband.
But what if Rumple only uses the tape to find where Belle is? After all, Rumple suddenly appeared right when Belle  started playing the tape. Perhaps he is simply concerned and just want to make sure that his wife and his unborn son are okay? However, knowing that Belle is currently living aboard Hook's ship, it might not end well for the other party.
This episode felt like so much like the young Snow White and the Evil Queen Regina conflict in season 1. What with the whole relationship with Cinderella and her step-mother and step sisters, it felt as if they copied and pasted the same plot with Ella and her step-family. To be fair, there some nice references back to the episode, the "Price of Gold", such as Emma telling Ashley, to "punch back and say 'no, this is who I am," which was the one line that perfectly described Emma.
Now, on the other hand, Hyde is running loose, thanks to the Evil Queen, and we love them together. They are so over the top and villainy in their evilness; they are so entertaining to watch!
We're kind of concerned with a little bit of retconning in this episode, which was about Ella talking about meeting Rumplestiltskin, talking about the deal that she made with him, and the fact that Rumple got the key that we saw last week from Cinderella. However, that was never in 1×04, "Price of Gold", so it was confusing as to where the key even came from. Why does Cinderella's mother had it? How did she knew what to do with it? Is there only one key to the Land of Untold Stories, or are there many keys to get into the Land of Untold Stories? Plus, did Lady Tremaine took the key with her?
If you remember back in Once Upon a Time in Wonderland, one of the big popular theories is that Anastasia, the Red Queen, is one of Cinderella's step-sisters. However, during the recently concluded New York Comic Con, Adam Horowitz and Eddy Kitsis were asked about this and later on Adam Horowitz said on Twitter that while Wonderland is canon, Anastasia being Cinderella's stepsister isn't. Even if they couldn't get Emma Rigby back on the show, the least they could do is to at least find a way to make it work.
Matthew Paul was fortunate enough to watch the Once Upon a Time panel and shared some of his thoughts and summary of the Once Upon a Time panel at the New York Comic Con 2016. Check it out if you want to know what happened during the panel. Fair warning though: This might include spoilers about the upcoming episodes.
What do you think about tonight's episode? Share your theories and feedback with us via email and join us for our full discussion of "The Other Shoe" this coming Wednesday!
What did you think?
Email Feedback@ONCEpodcast.com (audio files welcome)
Call (903) 231-2221
Comment on the shownotes
Visit any page on ONCEpodcast.com and click the "Send a voice message" link to record and send a message right from your computer.
Help us out!
Share this post in your social networks
Follow us
On Facebook:
On Twitter:  echo do_shortcode('[twitter follow="ONCEpodcast"]'); ?>
Daniel J. Lewis:  echo do_shortcode('[twitter follow="theDanielJLewis"]'); ?>
Jeremy Laughlin:  echo do_shortcode('[twitter follow="phlegon"]'); ?>
ErinJ:  echo do_shortcode('[twitter follow="erinjcruz"]'); ?>
Hunter Hathaway:  echo do_shortcode('[twitter follow="travelingpixie"]'); ?>
Jacquelyn / RumplesGirl:  echo do_shortcode('[twitter follow="punk_bunny_87"]'); ?>