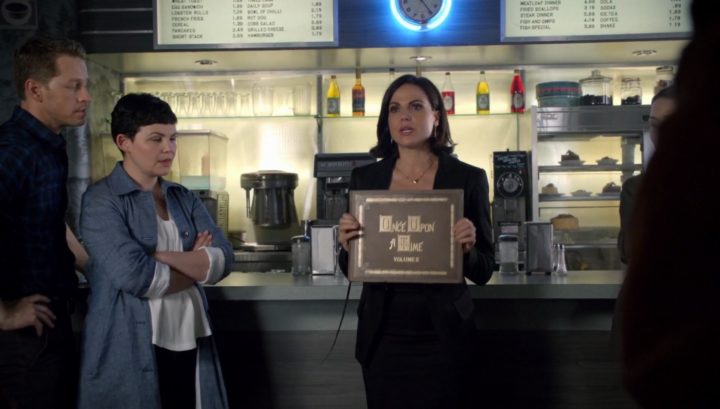 We have watched "A Bitter Draught" again and again and are ready for our in-depth discussion about everything that happened in the episode, including another crazy theory, this time about Emma's "saviorness." Plus, an in-depth look on the Count of Monte Cristo, Hook's apology, Zelena's cunningness, Regina and the Evil Queen's face-off, and a lengthy conversation on two of the most awkward scenes in the entire history of Once Upon a Time.
Podcast: Play in new window | Download | Embed
The Count – 19th Century Fictional France (Past)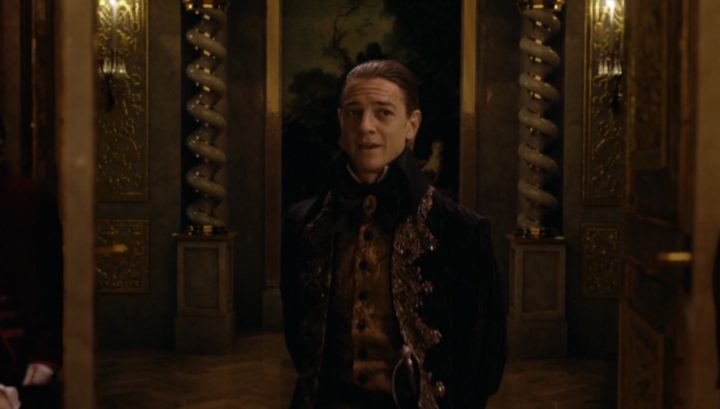 Starting out the past with the story of the Count of Monte Cristo, and we liked that we didn't get his entire story, because this happened before his story got untold, until, of course, it finished in Storybrooke. The invitation to the Count's ball is very specific, which mentions the Wilmore Estate and the date being "Misummer's Eve." But who's the Baron that the Count of Monte Cristo killed?
I'm guessing the guy the Count address as Baron during the party shown is Danglars.  Danglars is the mastermind behind why Edmond Dantès is arrested and later in the book Danglars becomes a baron.  Edmond is arrested because he is accused of supporting Napoleon (so for political reasons) as opposed to the reasons stated in the show.

— Melanie
At least we know who the Baron probably is, although perhaps we would never get to hear or see more of him in the future episodes. But if you want to know more about the Count of Monte Cristo, head over CraftLit.com where one of our friends, Heather Ordover, tackles about the book right now.
Did the Evil Queen and Rumplestiltskin's roles seemed a little flipped in these flashbacks? Rumple is usually the manipulative one, getting involved in people's stories and Regina is usually the one meddling in his plans. And, supposedly, this happened in 19th Century Fictional France, as confirmed by one of the episode writers, Andrew Chambliss on Twitter, although we would have rather that this happened in the Enchanted Forest than in fictional France.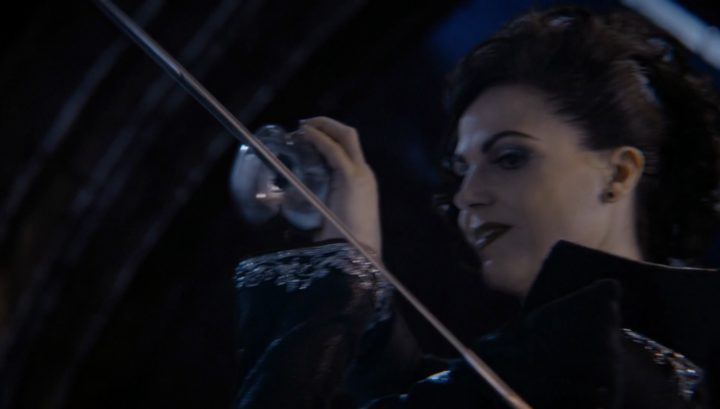 When Regina is practicing to sword-fight kind of sets up what we would see in the present later on. It feels kind of out of place because Regina always uses magic when fighting.
But, what we loved seeing again in this particular scene was the Agrabahn viper, or at least in the venom form.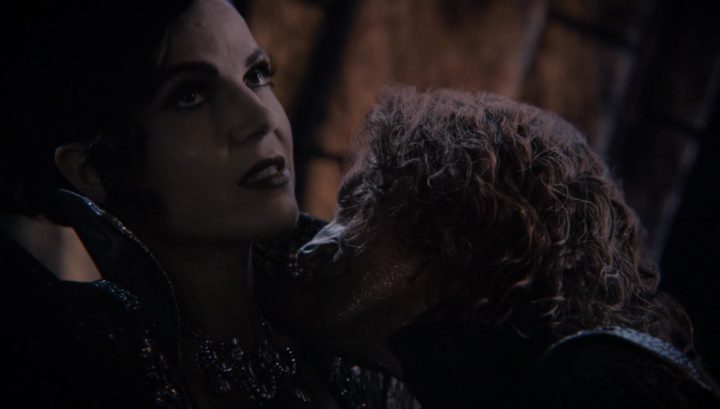 This also led us to probably one of the most awkward scenes that we have seen in the show—Rumplestiltskin sniffing Regina's neck. Other than the one with Cora, Rumple has never done such a thing before; they were funny together, but weird seeing Rumple and the Evil Queen this way. And if protection spells are so easy to use, why couldn't they have used it in so many other instances, like when Rumple was after Henry?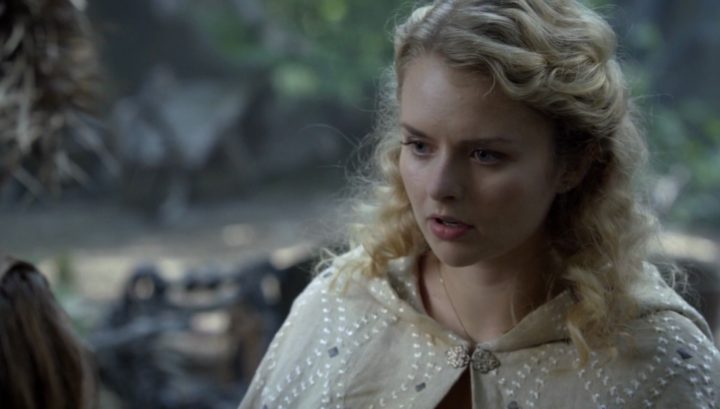 Moving back to the Count, seeing him with Charlotte and him constantly referring to her eyes is really creepy. This feels like they set it up so much but was cut because Charlotte's age wouldn't make sense, so they instead just go a different route.
When Edmond in Once kept talking about how Charlotte's (Snow's servant) eyes reminded him of his fiance, all I could think of was Harry Potter and how everyone always told Harry that he had is mother's eyes.  I was half expecting Charlotte to be related to Mercédès (Edmond's fiance at the beginning of the book) since it seems just about everyone is related in Once.

— Melanie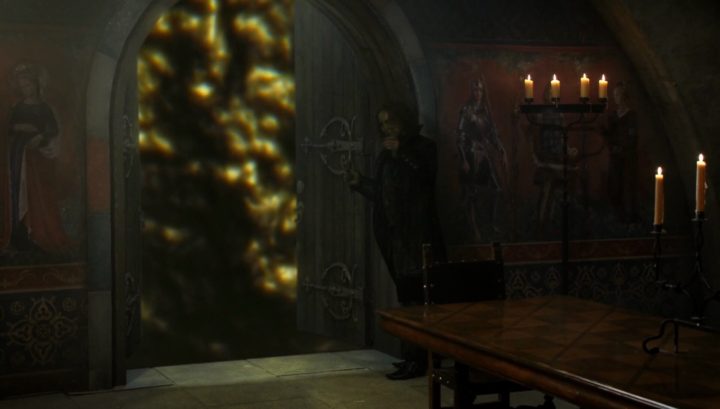 We looked into what Rumple was saying when he made a deal with Edmon and found out that je ne sais quoi means "I-don't-know-what": an indescribable or indefinable 'something' that distinguishes the object in question from others that are superficially similar; n'est-ce pas, on the other hand, means "isn't it [true]?"; asked rhetorically after a statement, as in "Right?".
Rumple having the key to the Land of Untold Stories made us wonder, how accessible was it to everyone? Do they just pay some gate-keeper to get in to this land where all stories come to a screeching halt?
Operation Cobra, Part 2 – Storybrooke (Present)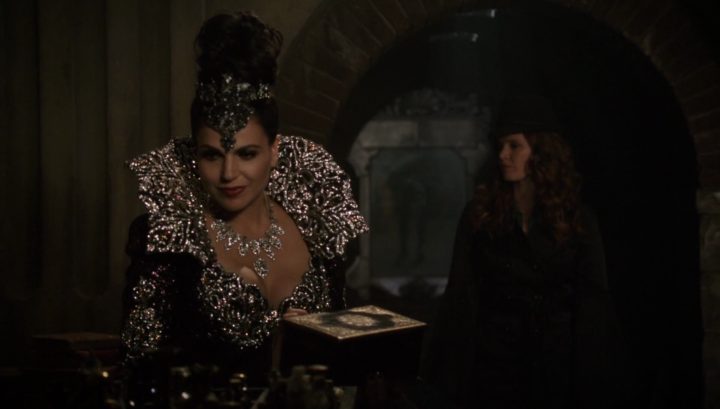 Heading back to Storybrooke in the present, "A Bitter Draught" started with a private graveyard tour with the Evil Queen and Zelena. While the wicked sisters are down inside Regina's vault having some sisterly bonding, the Evil Queen mentioned that the Dragon "should've known better" than to get in her way, so is he actually dead this time, or will he come back in a triumphant return? It also seems that blood magic has become a thing now, although blood magic actually does make a lot of sense. Furthermore, the Evil Queen also got some magical items, so maybe she doesn't really have that much magic in herself.
Meanwhile, outside Granny's, Henry mentions that this time, Regina gets to be a Hero. During our "A Bitter Draught" initial reaction, we mentioned that the book was titled "Once Upon a Time, part 2" but after watching the episode again, it said "Once Upon a Time: Volume 2" when Regina showed it inside Granny's Diner.
Words used in this week's episode, "A Bitter Draught," brought me to believe that Regina is the savior. I don't remember exactly, but Regina used words like "save," and then she literally saved Snow and Charming. She also spoke to all of the people from the Land of Untold Stories in the beginning of the episode, which would normally be a Charming thing to do. If Regina is a savior and Jafar is right about saviors not getting happy endings, then this could explain why Regina hasn't had her happy ending yet.

— Kelsey from Louisiana
Is Regina actually the new hero?
Inside the diner, among the people who showed up was Thomas Gasior as "Musketeer Man", to name a few:
How many of these people will we see on Once Upon a Time?
When Belle came in to the diner, she said, "We're not together, at the moment." Sounds like she's allowing for the possibility things could change, but will it?
Although Emma seems flip-flopping at the moment, it was nice to see her finally actually getting help, even talking about her visions, but then it stops when Archie started saying that the more Emma talks about her visions, the less it will haunt her.
Also is it possible that if we get a season 7 that Emma isn't the savior. Archie said this episode something about Emma learning to be something apart from the savior. I know in the show Chuck, chuck was the intersect for the entire show until the last season. This is why I was thinking of this possible outcome. So maybe Emma doesn't die but the savior dies and gets passed on. Maybe that's why when it was said that happy endings could be taken away that it's because Emma isn't the savior anymore but Emma herself wasn't killed in the vision but the savior.

— Jessica Frey
Is Emma's saviorness coming to an end?
First of all I don't trust the vision. As others have pointed out the Oracle seems suspicious. I don't think it is Regina. I think we are meant to think it is. The Oracle said every hero has their villain. Since Emma is not from a known fairy tale we don't know her "traditional" villain. The question is who would Emma's ultimate nemesis be. When I consider this, especially in the context of the current season, I have to conclude that Emma's ultimate opponent would be herself. Hence I think the battle Emma will be fighting is with herself. Emma is her own worst enemy. Her super power is detecting lying and yet she continues to lie to everyone around her. Given that this whole season seems to be about people dealing with internal conflict I think this makes total sense. If it is Emma fighting herself than that would also shift how we understand the Oracle's prophecy.

— Gareth
What if what the Oracle said true and Emma dies? What if Emma has also been split this whole time? What if the Emma that dies is the dark version of herself, not the one that we knew and loved? What if some of the potion spilled on Emma when Regina split herself in "An Untold Story?" Whose perspective is Emma seeing? The one under the hood, or the one fighting it?
When they break into the Count's room, Regina asked Charming if they really want to hear about every time she tried to kill them, to which we answer, "no." At the very least, the writers acknowledged that no one wants to hear any more tales about the times Regina tried to kill Snow White and Prince Charming.
Since when does trying to leave the town lead to anything good when they crashed into the town line when Zelena showed up? Emma and Regina managed to leave Storybrooke when they followed Henry to New York, but Emma should have tested the town line first before driving by it.
Zelena is also cunning, so maybe she's lying to both the Evil Queen and Regina in order to protect a plot? She might be a bit torn, but she might have some understanding that bonding with the Evil Queen might not be the best option.
Seeing Hook offering his ship to Belle to stay in and him finally acknowledging and apologizing for hitting her and trying to kill her Belle is nice. Does this mean that we're finally going to see him overcome his darkness? We have been pretty critical on Hook in the past, but this was a good character on Hook's part and trying to make things right. What separates him from Rumple is that Hook has changed and he's continuing to change and seeking to make things right. But is Hook helping Belle better for him or not?
While Hook is making things right with Belle, the Evil Queen, on the other hand, is making awkward things with Mr. Gold in his shop. Upon re-watching this episode, it doesn't seem that this was completely out of character on Regina's part. Moreover, the bauble that the Evil Queen wants, is a currency in the video game Path of Exile. Is the Evil Queen on her path to exile?
Regina and Rumple sexual attraction?  Never saw it, don't like it.  Almost feels completely WRONG.  I have always loved any scene Rumple and Regina have been in because they play off each other so well.  It has NEVER had sexual overtones and I would go even further and say that it has always been more of a father/daughter relationship.  Why change it now, oh that's right makes Rumple look even more sleazy than he already is.

— @AKA
I can almost rationalise EQ coming onto him in SB, because without the Regina side in her any more, EQ just has ZERO chill, there's no conscience whatsoever to hold her back from saying or doing anything innapropriate. Rumple being all up on her in the flashback was quite unsettling, given the almost paternal relationship they've set up, and the fact that he also lusted after her mother. *shudder*

— @Phee
Meanwhile, when Henry and Regina went to find Charlotte's body, there was a nice season 1 throwback when they said, "Do you know what I do with things I don't need? I throw them away." How did Regina know who Charlotte was? Was she spying on the Charmings through their mirrors? Does the Evil Queen have any sort of maternal feelings about Henry or are those located inside only on Regina? Would the Evil Queen hurt Henry? Is the Evil Queen even capable of love?
Great fighting skills on Regina when she sword-fight with Edmond down the docks. She seemed pretty strong with the sword, too. Does this make her the person under the hood? Furthermore, watching the fight, Regina offered him plenty of opportunities, contrary to what the Evil Queen said about heroes always finding a third way. Back in season 1, Graham didn't realized that he doesn't have his heart until later. Also, when Merlin was being controlled by Arthur and Merlin was fighting with Emma, he still managed to tell Emma to stop and run. Edmon even say, "This is the only way" was probably true to Regina, too. It was a deep, moral, philosophical question, but Regina had no choice; either she let the Count kill Snow White and Charming, or take him out herself. Therefore, this shouldn't be enough to awaken a tiny bit of darkness inside her.
Before Edmond was killed, he said that Hyde "plucked" them from the Land of Untold Stories, including Charlotte. This could mean that they might not have come willingly. Moreover, this fight scene with the Count of Monte Cristo is probably the most physical acting we've seen from Regina; props to Lana Parrilla for a job well-done, to which she shared a video of her practicing her moves during a Facebook Live on her birthday.
The Evil Queen said that everyone has an untold story ready to play out, and that will rip them apart. But that sing-songed taunt from the Evil Queen was a bit awkward.
In season 1, the writers made a big point of telling us that whoever cast the Dark Curse would have a hole in themselves that they would never be able to fill. That is what Maleficent tells Regina when Regina goes to steals back the curse. This may be a figurative hole, as in having to kill the thing Regina loves most will leave a "hole" in her heart, but what if the writers meant this more literally? If Regina really had a hole in herself that she could not fill, it would explain why she has been having trouble being a hero and why she ripped the Evil Queen from herself in a desperate attempt to be good. The hole in herself means that she was not a whole person even before she ripped herself in two, so she could not be fully good or evil. I think to truly be a hero, Regina would have to reunite herself with the Evil Queen and also find a way to fill that hole inside of her. Maybe there is a reverse to the potion she drank to make herself never have a child? I think a child would bring meaning to Regina's life now that she does not have a true love or a soul mate. It seems like the writers completely forgot about this consequence of casting the curse, but I think it would be great writing if they brought it back, especially since season 6 is mirroring season 1.

— Kelsey from Louisiana
It may be interesting to have that addressed, but some people might have some problem if Regina suddenly expressed the need to want a child, since she already had one in Henry. Plus, that hole in her heart could've undone and filled when the curse was broken; Regina's love for Henry after the curse was broken was much more deeper and real.
Back at Granny's after fighting with the Count, they talked about stories that doesn't want told. Hook and David seemed to know something wasn't right with David when they were with Henry talking about sequels. Will he help David if he finds out what David's untold story is? Who killed Charming's father if it wasn't an accident?
What if Hook is actually the person who is responsible for the death of Charming's father?  We know that Father Charming was an alcoholic and would have spent time in taverns, drinking and gambling.  We also know that Hook, who is likely to be one of the few people in Storybrooke old enough for this theory to work, spent a lot of time in taverns drinking and gambling.

Hook would not have known that it's Charming's father and likely still doesn't.  His conversation with Belle on the Jolly Roger confirms that Killian laments a lot of his past actions and while he is continuing down a redemptive path, there are still a lot of "skeletons in his closet" that he has a hard time dealing with.  Perhaps this is a foreshadowing to that storyline down the road.

— Kristin S.
Is Hook responsible for the death of Charming's father?
Whether or not he's actually the one who did the killing, I've no doubt that Rumple is the one who arranged for Charming's father to end up dead. Like he said to the Count, he needs Snow and Charming alive and together and procreating. So looking back, Rumple needed Charming's father to die, so that when the family farm went downhill, the only person there with any way to save it would be Charming making the deal with Rumple to go be a replacement Prince and end up meeting Snow. Who knows how successful that farm could have been if there had been two able bodied men on hand to work it, so dad had to die.

— @Phee
Or was it actually Rumple who was to blame for his father's death?
Down at Zelena's home, it feels like Zelena actually wants Regina to be the sister, not the Evil Queen. Yet, Zelena looks very rewarded when the Evil Queen said that she will never doubt her ever again.
Finally, back at Dr. Hopper's office, Emma said that she thinks it might either be Regina or the Evil Queen under the hood.
It's pretty clearly not Regina/the EQ under the hood. All the "clues" feel like red herrings  because A and E love themselves a big ol' Tweetable twist. Everything is pointing to the EQ: the swordfighting, the S1 feel, Emma realizing that Regina isn't in her vision and voicing her concern that it's the EQ under the hood. Which honestly is a big part of what's making me believe it's not the EQ. Why the hood? We know she's our arc villain (at least one of them) so it's not to stun the audience. The heroes know she's in town now too so it wouldn't be a shock to them either.

— Jacquelyn
I also don't believe that it's Regina or the Evil Queen under the hood that kills Emma. Neither of them would be caught dead in those ugly boots or hood. Also, because the writers told us that Emma thinks it is Regina, it means it is someone else because they're trying to trick us.

Thanks so much for this awesome podcast! I've been listening since season 1 and I sometimes enjoy the podcast more than the show. I really appreciate the Christian views of the show and the family-friendliness. It's really hard these days to find a good show like this. Keep up the good work everyone!

— Kelsey from Louisiana
If it's neither Regina nor the Evil Queen, then who is under the hood?
Have anything else to share about this episode, A Bitter Draught? Share them all below or simply head over the forum where you can read and talk spoilers, thoughts and other discussions about the upcoming episodes and more!
What did you think?
Help us out!
Follow us
Spoilers