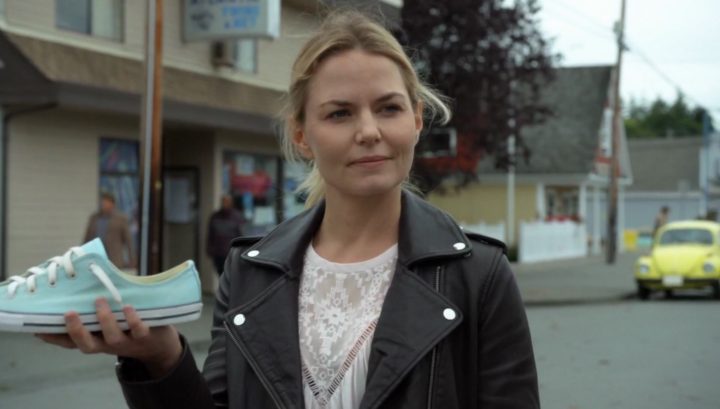 We have watched and re-watched the episode, "The Other Shoe" and are ready to share our in-depth discussion with you! In this episode, we discussed Cinderella's untold story, some timeline issues, a little discover about Ella's names, this Evil Queen and the one we remember from the Enchanted Forest, among many others!
Podcast: Play in new window | Download | Embed
Joining us for today's podcast is Heather Ordover of CraftLit Podcast to lend her expertise on literature, specifically Jekyll and Hyde.
Cinderella's Untold Story (Enchanted Forest of the Past)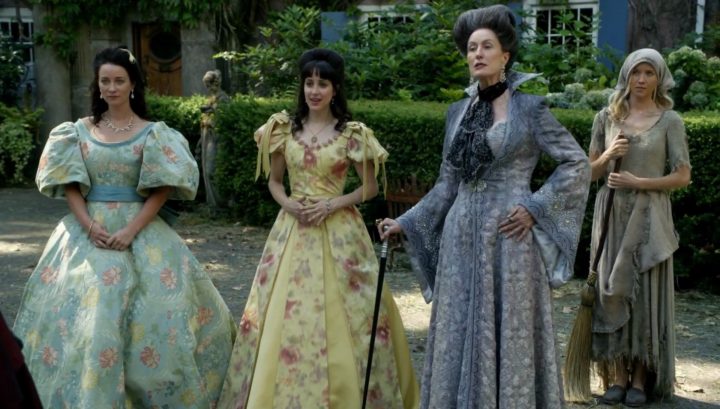 When we first got to see Lady Tremaine, we love how much she looks just like the Disney animated version of Lady Tremaine. What Lady Tremaine says to Ella, as cruel as it is, is surprisingly logical; the humor of the logic in what she's saying is worth pointing out.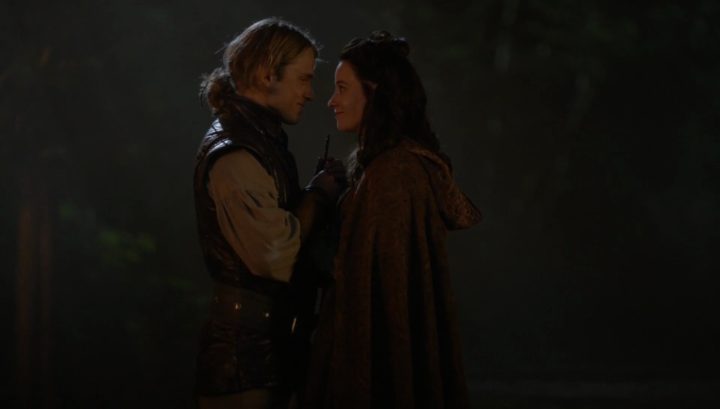 Knowing how this episode ends, watching Clorinda and the way she interacts with the Prince's footman, Jacob, and how she insults him clearly indicates that she was just putting an act. She was hiding their romance, which was confirmed later in the episode. And the names of Ella's stepsisters, Clorinda and Tisbe, were taken from an opera adaptation of Cinderella, La Cenerentola. It's neat how they explained a little bit how they got Ella's name, Cinderella, without trying to retell the entire Cinderella's story.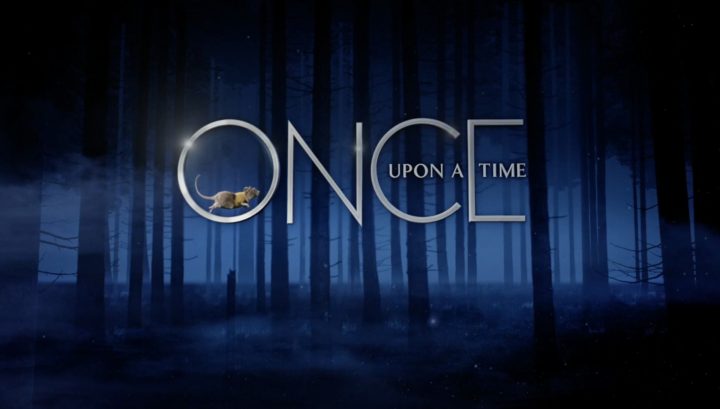 We loved that, in the title screen, they changed the letters with Gus running in the letter O like it was a hamster wheel. And speaking of Gus, it was nice seeing Jarod Joseph reprise his role as Gus/Billy.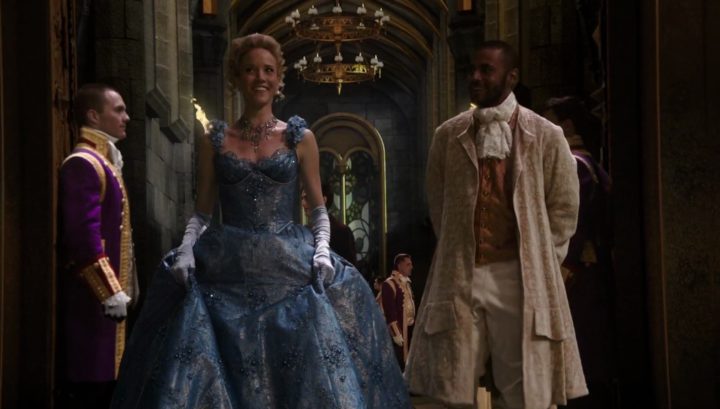 That being said, the lack of detail that Ella knows about her deal with Rumplestiltskin was definitely not worth the Royal ball over her baby.
I find it interesting that Snow and Charming were at the ball where Ella meets Prince Thomas when the events of the ball happen about a year BEFORE Snow and Charming finally get together.  Back in episode 1×04, the Price of Gold, Rumplestiltskin kills Ella's Fairy Godmother for her wand.  In episode 1×06, The Shepherd, Rumplestilstkin visits a "grieving" King George asking the whereabouts of a Fairy Godmother and her wand which would place the events of the Shepherd before the Price of Gold meaning that Snow and Charming not only shouldn't have been happily together at that ball, but they shouldn't even know each other.

— DeAndre
Are you as confused as us about how this fits into the timeline? Check out our Timeline page, Keb does a great job at keeping tabs on the show's timeline! Back in the episode The Price of Gold, we questioned about the Charmings' relationship with Prince Thomas and Ella so it was nice that we get to see how far back the Charmings' relationship with Prince Thomas and Ella go despite the timeline issues. Moreover, 'Ashley' being Ella's cursed name in Storybrooke has "ash" in it, which somehow connects with 'cinders on the Ella.'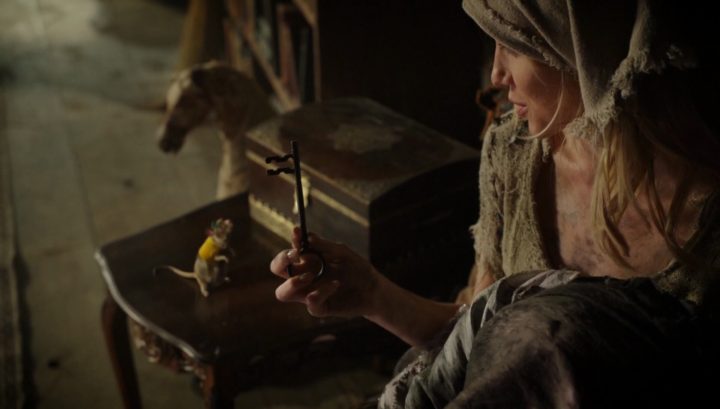 When the evil step-mother went to look for Clorinda, she said that Cinderella "looked like a trash bin and have the education of my cat," which sounds like a saloon insult. And when Prince Thomas and Snow White were looking for Ella, we believed this was the first time we get to see Snow White communicate with the animals that way. Plus, Snow tracking Ella and taking to Gus was so much easier than the original. However, how did Ella's mother ended up with a key to the Land of Untold Stories? Will we even get a backstory of the key to the Land of Untold Stories?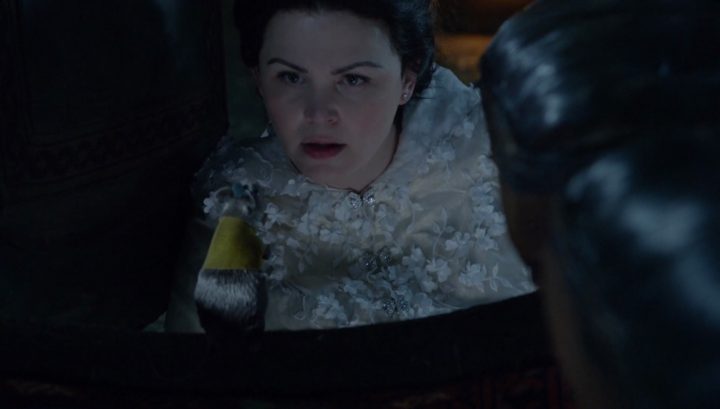 We liked all of the parallels in this episode between so many others in Once Upon a Time. What with the evil step mother and the love interest lying down that is either dead or almost dead, we've seen that in previous seasons. On the other hand, we couldn't decide if we loved or hated it because it was so much like Regina's story.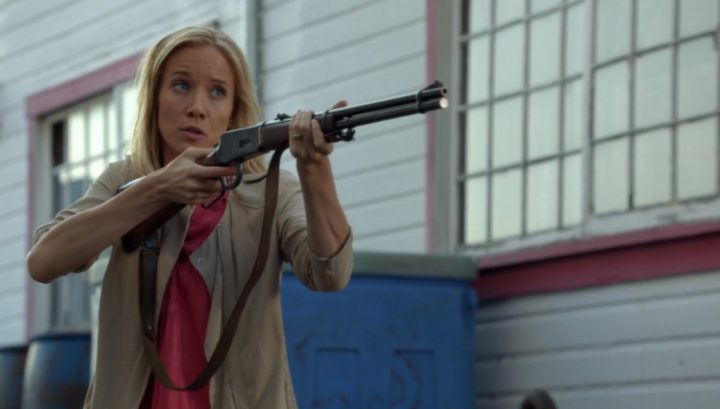 With all of these, how did Ashley ended up with a hunting rifle in present day Storybrooke? It was interesting how Ashley went to hunt her step-sister with a shot gun and made us think that she was going to kill Clorinda, which would be a nice crossover to the dark side. It didn't work out that way, but it does feel like there's something else on deck with her.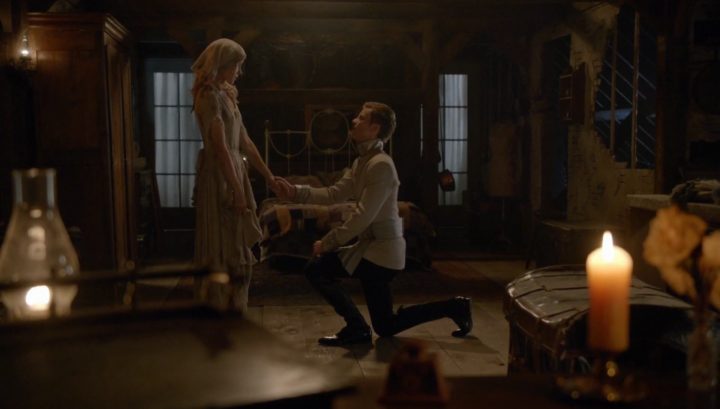 It was also great seeing Prince Thomas proposed to Ella in the flashback; he wanted it, so he put a ring on it.
Searching for the Other Shoe (Present Day Storybrooke)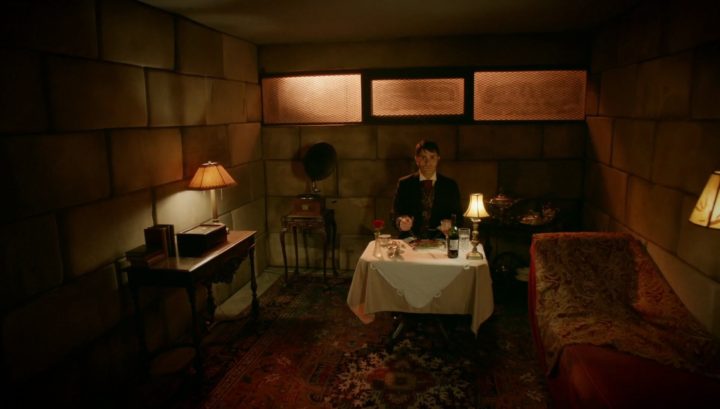 Moving on to the present in Storybrooke, when Regina tried to bribe Hyde with her lasagna down in the hospital prison, one important thing that was mentioned was that this was not the Evil Queen we remember. Unlike Regina the Evil Queen, this Evil Queen is a lot more cunning and evil compared to the one we knew before.
That being said, the weird thing that struck us is that the cut under Hyde's eye looks fresh. This made us question everything we said about the Oracle and the bruise around her face. Was it Hyde? Moreover, it was nice to hear them acknowledge the heart-crush didn't work. Perhaps the only way to defeat the Evil Queen really was to crush Regina's heart?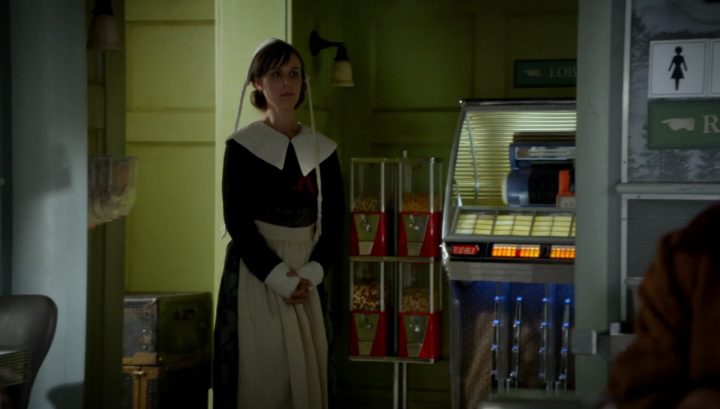 Meanwhile, at Granny's, the new lady that walks in is a little odd, how wears a red letter "A" in her chest. Probably Hester Prynne from Nathaniel Hawthorne's The Scarlett Letter (1850)? Hester Prynne is perfect example that there would be an interesting and difficult decision to be made. Plus, her having feeling of shame and unworthy, which made sense to be one of the people to escape in the Land of Untold Stories, where her stories doesn't play out.
At Archie's office, we got a little reference that Dopey has been rescued from the tree weeks ago. No word on how it happened, but it must've been safe to cross the town line to bring him back. On the other hand, we liked the advice that Archie gave Emma about how it's not about ending things, but how you live them.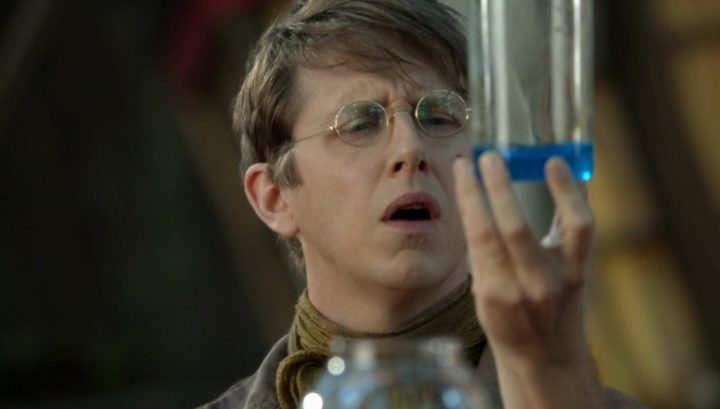 Back at the crashed dirigible when Dr. Jekyll is working with his little science experiment, Snow White mentioned about "defeat and repeat", and that she wanted to go back to teaching, which something that sounded a lot like an endgame for her character, as we have previously mentioned in our initial reaction of The Other Shoe.
Emma's death, or at least the death of the Savior, might be a good thing. Perhaps Emma won't be able to have a normal life and a happy ending until the Savior dies or becomes someone else. Saviors don't get happy endings, but maybe former Saviors do.

— Gareth
Also, in the scene, Regina sounded a lot like old self when she said that Jekyll is "as useless as his other half", which could indicate that she and the Evil Queen might not be as different as her better half. She's a good snark, Evil Queen or not. Not dripping venom, but dripping snark.
It was fun seeing a little bit of the old Emma when we saw Henry playing sword-fight with Hook. It seems like classic bailbonds woman Emma. Plus, with her magicking the other shoe easily, indicates that she have no issues using her magic when she's thinking about love, and saving people.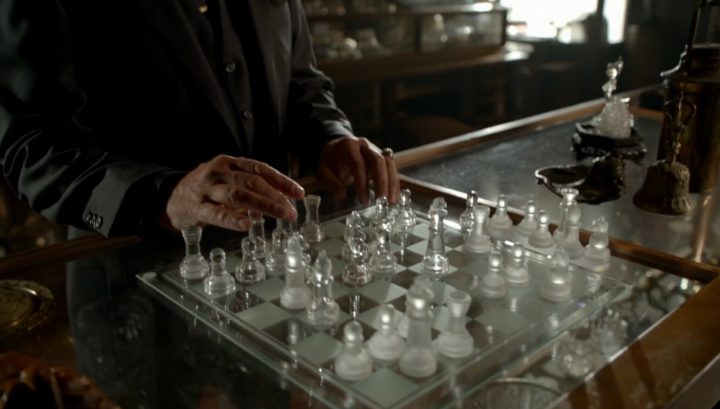 Inside Mr. Gold's shop, when David walks in to ask for a deal, Rumple was seen playing chess, which later in the episode, the Evil Queen referenced to the chessboard. In the scene, Rumple moves the Queen to take a Rook, which is another definition for a black, European crow, Corvus frugilegus, noted for its gregarious habits. This could be symbolic that Rumple is strategically playing the Evil Queen against Regina, or vice versa. However, when the Evil Queen finds Emma at the docks, she refers to taking Emma off the chessboard. So maybe the Evil Queen and Rumple both see Emma as the queen. On the other hand, it was nice to see that the card that Rumple holds actually has something on it, compared to the last time we saw him handed a card in True North.
Why does Ashley need the gun to help Clorinda? And why does Ashley need stopping when she just said that she was going to help her stepsister? On the first viewing of this episode, it felt like more like a filler episode, however, after watching it again, it was more enjoyable and has more little pieces of puzzles to solve.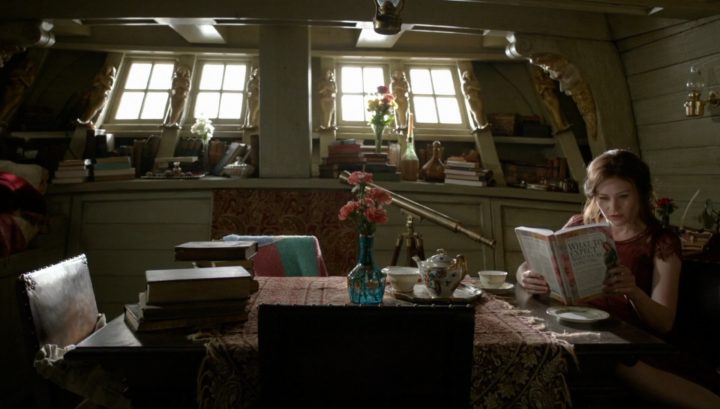 Meanwhile, Belle was inside the Jolly Roger reading "What to Expect When You're Expecting" by Heidi Murkoff, the same book that a pregnant Zelena was reading in "The Bear and the Bow." And when she and David were talking, an important lesson he said was that no matter the damage to the relationship, you need each other. Later on, David found out that the coin helped him know that his father didn't break his promise, using the card that David retrieved from Rumple, which read: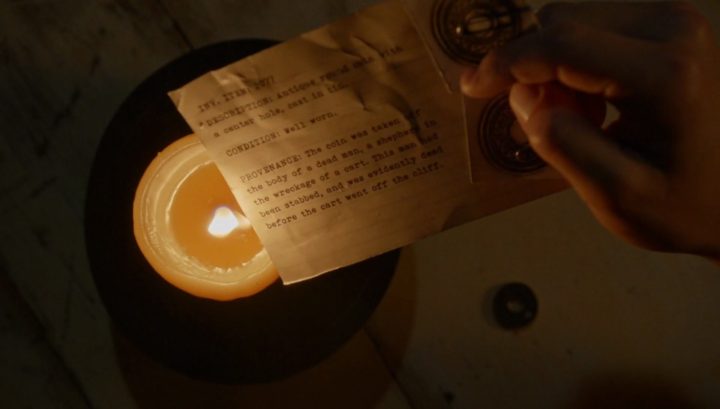 If the coin belongs to David's dad and he didn't die a drunkard, how did the Evil Queen see that as bringing out the darkness inside David? Did Rumple followed David in the Jolly Roger, or did he already know where Belle is staying? Did he put a tracking spell on the tape?
The way it was so childlike sounding I wonder if it was a spell over the baby. To do what…??? I don't know. Draw the baby closer to Rumple? Speed up the pregnancy like magic onion rings? Or even soften Bell's heart for Rumple? Don't know but it was too rhythmic and repetitive and full of magical beings to be just a children's poem.

— General Sunshine
An interesting fact, the poem that Rumple reads, "Sleep Well," was written by Scottish poet Murdoch Maclean. Jane Espenson also said on Twitter that Robert Carlyle picked this poem himself.
When the Evil Queen magicked Emma, Henry and Hook to the town line, it was funny seeing Emma sitting in the middle of the road, unsure of where she should go, which was both literal and metaphorical.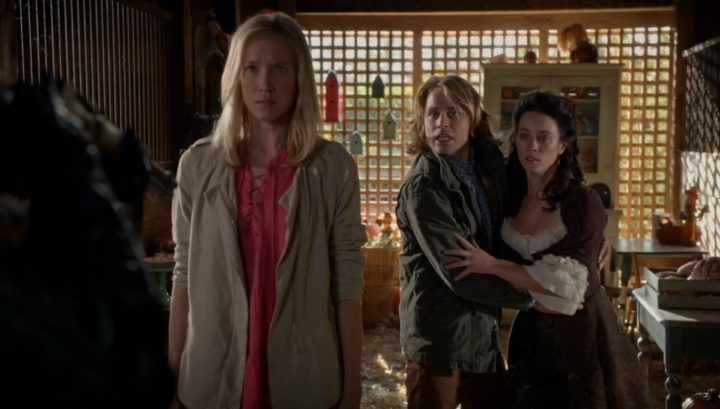 It's funny that where Cinderella found her stepsister was a pumpkin farm, but how cruel Lady Tremaine is for using her daughter to get her revenge without telling her that the place is connected to the man that Clorinda loves. But when Emma heals Ashley using her magic, Henry's reassurance by putting his hands on Emma enabled her to use her magic again. This also sort of gives us a possible prediction of what happens in Emma's vision back in "The Savior." This made us wonder if, maybe, what happened in Emma's vision, Emma was able to use her magic, heal herself and see who's under the hood?
After everything's resolved, there is some good character development with Emma in this episode. However, it would be nice if Hook and Emma to get married before they could live together. Besides, this is Emma building up her character and showing her growing up more, but also this is her commitment to wanting to live her life and not pursue a happy ending and be done.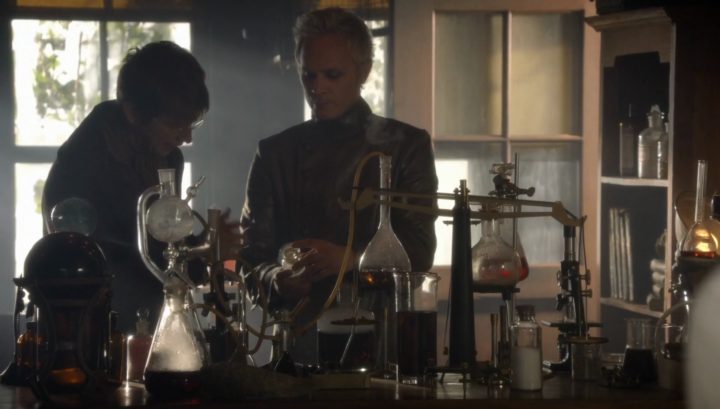 Finally, one an awesome scene that happened towards the end of this episode is the meeting between Dr. Jekyll and Dr. Frankenstein. It was also funny that Dr. Whale's plate number reads, "The Doctor."
This week we learned that Dr. Jekyll is working on recreating his potion. This makes the possibility of Emma literally being split a greater possibility. That being said, I don't think the fight needs to necessarily be a literal one. The fight could take place inside Emma's mind. The second Emma could be inside her head the way Dark One Rumple was. Although Emma is having the visions and interprets them as something that is really going to happen in the real world, it could just be a visualization of a figurative battle that is going on inside of her. We have already agreed that the visions are suspect, possibly planted in her mind or not meaning what they appear to mean on the surface, so there is no reason to think that the battle is exactly what it looks like.

— Gareth
In our previous full discussion in A Bitter Draught, we talked about a theory that led us to talking that maybe Emma's battling herself and that some of the potion spilled on to her when Regina ripped the Evil Queen off of her. Do remember that the Oracle did say, "On the day that you, in the battle that you saw, you will die." However, everything that Dr. Frankenstein creates, turns to zombies, such as Daniel, and his brother. Maybe he'll create zombie Dark One Emma? Interestingly, David Anders, the actor who plays Dr. Whale, also plays a zombie with Rose McIver (Tinkerbell) in iZombie.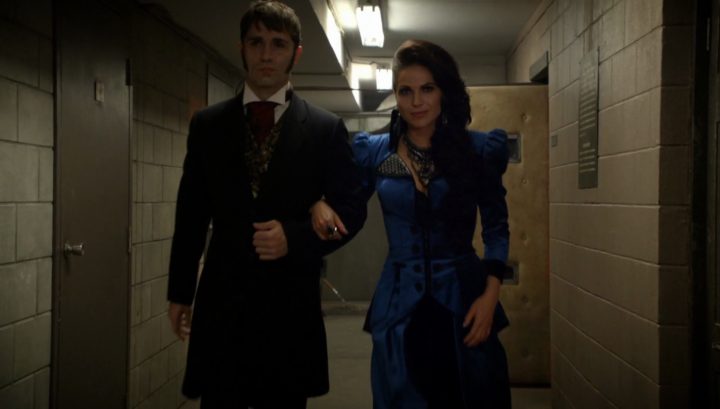 The Evil Queen and Hyde looked great together. But now that the Evil Queen has let Hyde out to play, it makes us wonder who really brought these people over, Hyde or the Evil Queen? Does the Evil Queen had any part in bringing these people over from the Land of Untold Stories?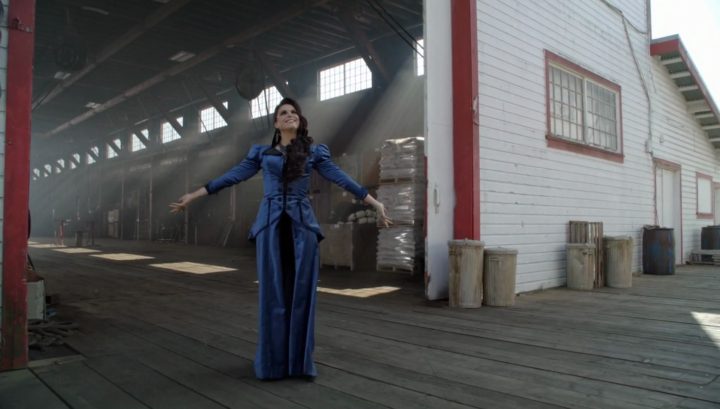 Here's a way to describe this Evil Queen versus the Evil Queen from the Enchanted Forest: this Evil Queen seems to be a lot more bigger than life. The Evil Queen from the Enchanted Forest, on the other hand, was the smaller gesture type; everything seemed to be inside a little box around her. This Evil Queen in Storybrooke, however, seems to be that much bigger gesture type.
In addition to this, for Lana Parrilla to have be given the opportunity for them to go big that wouldn't seem cheesy makes so much sense now. Seeing her really embraced the drama of who she gets to be now. Plus, that is the Evil Queen that was free of the Regina that saved Snow White. That being said, it also seemed that the Evil Queen still has a touch of motherhood towards Henry. Does she love him at all or does she just feels that she owns him, emotionally manipulating him?
What will David do with his knew knowledge since he didn't burn the card? Will he come clean to his wife? Are we going to see more of the family and the love affecting Emma? Do you have any theories about the topics that was discussed in this episode? Do share them through the comment section below, or head over the forum to discuss more about this episode and spoilers about the upcoming episodes!
What did you think?
Email Feedback@ONCEpodcast.com (audio files welcome)
Call (903) 231-2221
Comment on the shownotes
Visit any page on ONCEpodcast.com and click the "Send a voice message" link to record and send a message right from your computer.
Help us out!
Share this post in your social networks
Follow us
On Facebook:
On Twitter:  echo do_shortcode('[twitter follow="ONCEpodcast"]'); ?>
Daniel J. Lewis:  echo do_shortcode('[twitter follow="theDanielJLewis"]'); ?>
Jeremy Laughlin:  echo do_shortcode('[twitter follow="phlegon"]'); ?>
ErinJ:  echo do_shortcode('[twitter follow="erinjcruz"]'); ?>
Hunter Hathaway:  echo do_shortcode('[twitter follow="travelingpixie"]'); ?>
Jacquelyn / RumplesGirl:  echo do_shortcode('[twitter follow="punk_bunny_87"]'); ?>
Spoilers
Snow White starts her first day back as a school teacher
Meanwhile, Hook finds himself trying to protect Belle from Mr. Gold
Back in the past, Rumplestiltskin helps Dr. Jekyll complete his serum
"Strange Case" was written by David H. Goodman & Nelson Soler and directed by Alrick Riley
Guest starring are Lee Arenberg as Leroy/Grumpy, Sam Witwer as Mister Hyde, Hank Harris as Doctor Jekyll, David Avalon as Doc, Olivia Steele Falconer as Violet, Jonny Coyne as Dr. Lydgate, Jordyn Ashley Olson as The Oracle, Elizabeth Blackmore as Mary, Reilly Jacob as Tom Sawyer, and Karen David as Shirin
Promo for 6×04 "Strange Case" opens up with Emma in the woods, sapping Hyde with an electric bolt
The Evil Queen also makes Grumpy and Doc pass out in the promo for 6×04
We also see the Dark One Rumple in the past meeting Dr. Jekyll, and that it's possible Hyde is not the real monster
Last few images from the promo showed Rumple in present-day Storybrooke and free of the wig
We might get an explanation as to why Rumple cuts his hair
Promo photos for 6×04 features with Jekyll in his lab with Grumpy and Doc
Another photo shows Rumple in the past dressed as the Dark One working with Dr. Jekyll
In another promo photo, Hyde is dressed wearing a lab coat of some sort, doing an experiment and looking distressed
We also do see some photos of Rumple in his shop, with the Evil Queen and Hyde
Some other photos include Snow White back in school with Shirin at the school yard
At the Once Upon a Time panel at the New York Comic Con 2016, Jennifer Morrison said it was about time that Emma and Hook moves in together
Adam and Eddy also revealed that we will find out who the cloaked figure is by Christmas