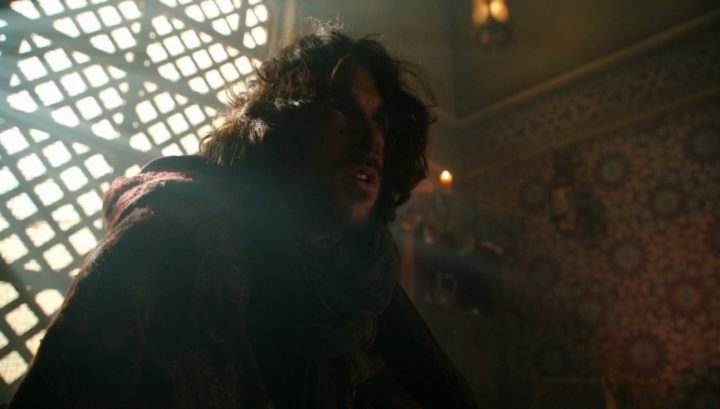 Listen to our in-depth discussion of "The Savior" as we talk about the fate of the Saviors, the red-bird lady, baby Morfetus, Rumplestiltskin's undoing, and the Wicked sisters! Plus, a possible solution to Savior shakes, and a crazy theory about defeating the Evil Queen that many people probably won't want to hear!
Podcast: Play in new window | Download | Embed
The Fate of Saviors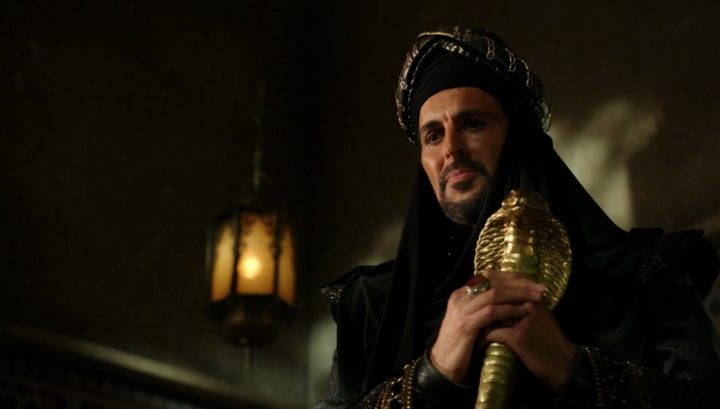 In our initial reaction of The Savior, we mentioned that we got only one flashback, but there's still two separate storylines to follow that happened in this episode—Rumplestiltskin's, which has no intersection with the rest of the episode, and the one that happened back in Storybrooke.
What Jafar was shooting was very tie-fighter like; more Sci-Fi than magical. Re-watching this episode, Oded Fehr still is an excellent alternative to Naveen Andrews to play Jafar, even though it's hard to tell with this one scene alone because it doesn't have a lot of subtlety; it's big and flashy, and ended suddenly. How important will he be to the Aladdin storyline, though?
Even with the little flashback that we got, it seems like a set up that we're going to see more; the parallels between Aladdin and Emma; Jafar's battle with Aladdin; why is Jafar this horrible menace to the kingdom? Why is Aladdin the only one who can save them?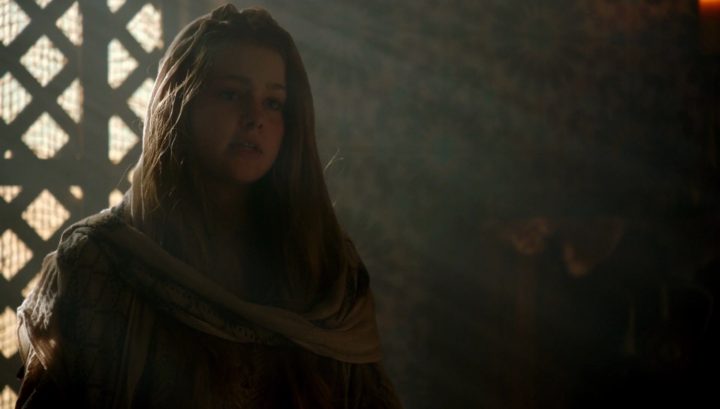 Aladdin's assistant, the red-bird lady who called herself the Oracle, including the first part of the episode, was somewhat forgettable and disconnected to the rest of the story. When Jafar threw her off the wall, it was shown that she has a scar, which still was visible when she was shown later in the episode. Who is the bird-lady?
Maybe the "Once" twist here is that she's the Genie we know in Aladdin. Love the show guys, keep it up!

— Lindsey
In this particular flashback, a red-bird was seen, the same looking bird who led Emma to the Oracle later in the episode. Was is Iago? What if the Oracle is also the genie?
Just found your podcast at the end of last season and I have to say that I LOVE IT!  I listen as I do laps around a track for exercise…makes the work so much easier to do!  So, thanks so much for all your great insight.

— Terri AKA Beans827
In Once Upon a Time in Wonderland, they delved into the Laws of Magic and revealed other things about genies. If this version of Jafar is the same as the one in Wonderland, where does this fit in the timeline? When Jafar was talking to Aladdin, he said that he could've escaped his fate. What fate could he be talking about and how could he have escaped it? By yielding to Jafar, or by some choice? Could Aladdin save himself? Can Emma?
If a Savior can be defeated, does that still make them a Savior? In the bible, Jesus died and was resurrected three days later. So even if Emma dies, it would be a death of victory and not a death of defeat; a death to protect, not a failure.
The Temple of Morpheus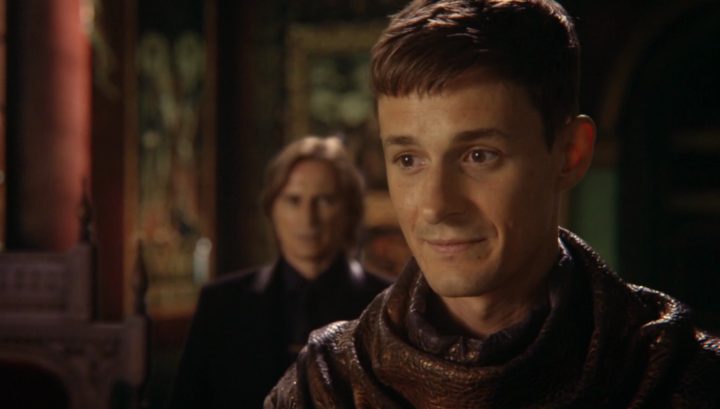 Following Rumplestiltskin in the Temple of Morpheus after handing the keys of Storybrooke to Hyde, Rumple met Morpheus, who was the God of Dreams in Greek Mythology. The character mot of us think of when we hear the name "Morpheus" was the one from The Matrix, who helped Neo to escape from a dream. But in this scene from The Savior, Morpheus led Rumple to where he could find the sands that will allow him to walk in Belle's dreams. Keep in mind that this is Baby Mo, who seems to possess magical powers, knowledge of the outside world, knowledge of past events, and is claiming to be Morpheus (who may not actually exist). Does this mean that Rumple and Belle's baby special in some way?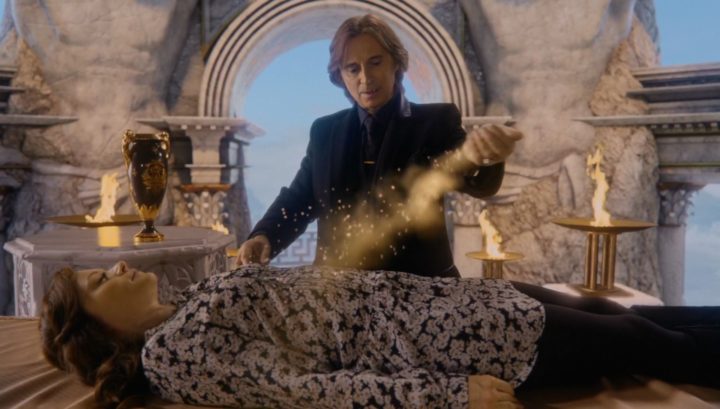 One of the things that does make sense was why Belle wasn't in the burning red room, but was later revealed that she was pulled from the red room and brought to this dream by the sands. But was the hourglass real or just a mere concoction? Why didn't Rumple call foul on the idea of Belle remaining in the burning red room forever?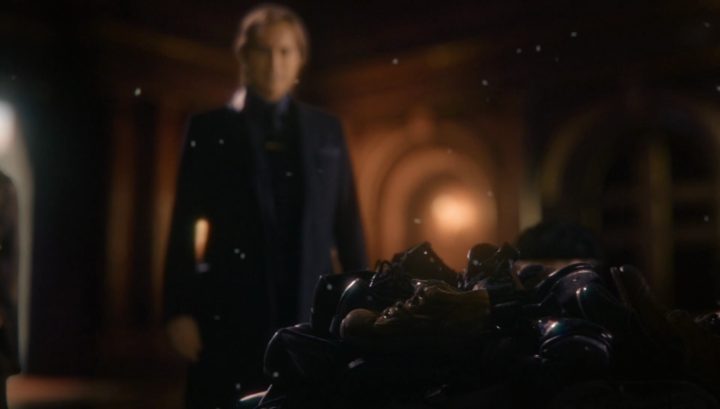 To whom did the empty shoes belong to? To symbolize the ones the Rumple murdered? Furthermore, this was also the same mirror where Regina resolved to be the Evil Queen in The Evil Queen episode and announced, "The queen is dead. Long live the evil queen."
The scenes in Rumple's dream castle just seemed like a big retcon of 'Skin Deep'. The whole point of SD was that Belle WASN'T terrified of Rumple. She was brave, she was calm, she even talked back to him. The way it was presented in this episode makes it implausible that she would ever have fallen in love with him. They didn't need to mess with SD as it was a beautiful episode.

— @sciencevsmagic
Everything that happened in Skin Deep still happened, but this was a recreation of the past, and Rumple was more honest here than in Skin Deep in sharing the truth. Rumple also said that, for Belle, he would be the best man that he can be. Can we trust him? If Belle was unwilling to work it out with Rumplestiltskin anymore despite affirming their love for each other, do they truly love each other if they're not willing to change and grow and become better people?
If he has Belle's memories he should have the good stuff too, which I find problematic. Rumple has done a lot of bad in recent seasons, no doubt. But belle has also witnessed his heroism, his sacrifices, his grief after losing Bae and the lengths he went to find Bae again. There are nuances in Rumple that young fetus is neglecting.

I think the only way to fix the family is to have Rumple die for Belle and Morfetus, thus changing Belle's mind about Rumple and I guess, in turn, changing Morfetus's mind.

— Jacquelyn
If Morfetus have Belle's memories, wouldn't he have the good ones, too?
When your toddler unreasonably throws a fit about wanting the other parent to go away, or tries to pin one parent against the other it is good parenting to remind them that we say nice things to each other, and that parents are a team. Because the next thing you know, they'll be pulling the cat's tail and pushing little Johnny into the sand while stealing their bucket. Parenting fail, Belle. Parenting fail.

— @Nevermore
Morfetus causing Rumple's death would actually fulfill the prophecy that never really was fulfilled from season 3a.  A boy would be Rumple's undoing.  Here we thought it would be Henry but maybe it's his own son.  I'm one of the people who still believe the prophecy has not come to fruition yet so this would make a lot of sense to me.

— @thedarkonedearie
In the Manhattan episode, the Seer said a young boy will be Rumple's undoing. What if that young boy was actually not Henry, but his son, Morpheus?
To be fair Rumple said in the past that Bae was his happy ending, so if Rumple dies and reunites with Bae, he will have his happy ending in death.

— @rainbow
There was a popular theory sent to us via Twitter that it seems that someone important will die this season; Rumple; Emma. If Rumple dies in the end, he will still be reunited with Baelfire and have his happy ending, but in death. Once Upon a Time does beautiful deaths, but seems to mess it up by bringing them back in some way. If Rumple was to die for his son and wife, will he stay dead this time?
Dirigible in Storybrooke
Starting out the Storybrooke timeline before the Dirigible arrived and crashed in town, the scene opens with Hook and Emma kissing in the couch at Emma's apartment.
Hook, Emma, get married! If you're supposed to be heroes, live with a higher moral standard that people can actually look up to. When Emma and Neal fornicated, you could say that Emma was naïve and not yet a hero (though that doesn't make her any less responsible for her choices). Now, Emma is called "the savior," she's the bringer of happy endings, the product of true love, the bearer of light magic, the one to begin to "the final battle," and she neither has the strength to control her own sexual urge nor the honor to save sex for the covenant of marriage? I understand that the writers are trying to make the heroes "real" and "relatable," but what happened to inspiring better choices? And what's unreal or unrelatable about someone mature enough to have self control, patience, and commitment? I know I've said more controversial things on this podcast, and I think this is an issue that is respected even by people who don't choose such morality. If you want it, put a ring on it.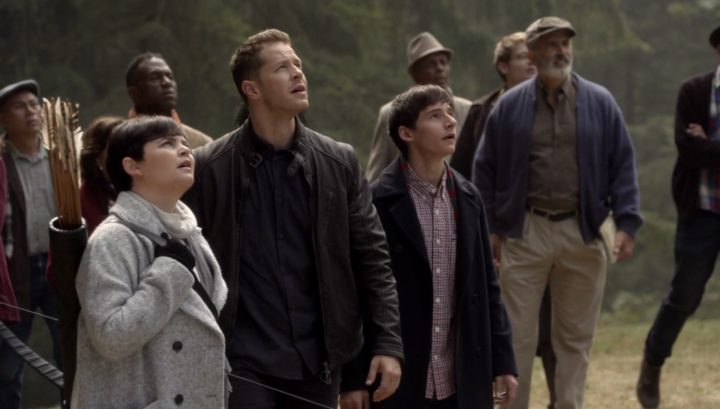 When everyone finds the dirigible in the woods, Hyde said that Rumple gave him the keys Storybrooke. What does he mean? In what way Rumple owned Storybrooke that enables him to give the town away to someone else? Does this mean that Rumple can come and go to Storybrooke whenever he pleases? Plus, Regina's expression looks as if she realizes Hyde's claim.
What makes Hyde so invincible? Because he's a product of Science, making him not real? Hyde also said something that sets up what could be the theme this season, "Nothing more dangerous than an untold story." What is an Untold story? One thing we liked about this scene was when Emma told Regina that evil did not make her strong. But did Hyde bring these people by choice, or did he invite them? What kind of stories will play out?
Maybe because they are split magic doesn't work on Hyde. Maybe he isn't a real person somehow. Like in Dr. Jekyll and Mr. Hyde how Jekyll had to kill himself to stop Hyde. Maybe the only way you can hurt Hyde is by using magic on Jekyll. They have to still be connected.

— @hjbau
If this is true, does that mean that killing Regina might be the only way to defeating the Evil Queen?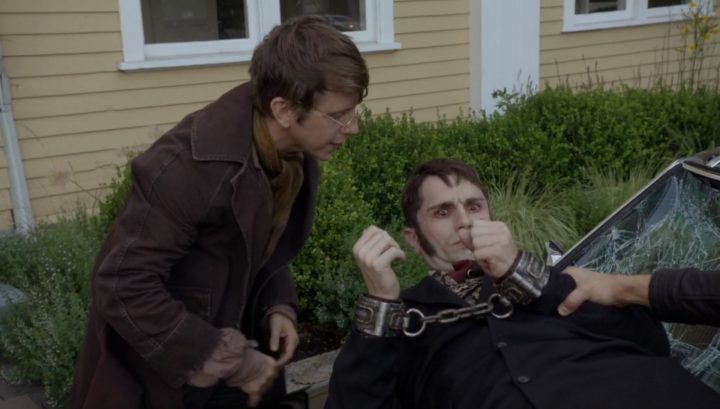 Catching Hyde, Jekyll said that the same technology used in the dirigible was a way to capture Hyde, so they made a specially made handcuff to catch Hyde.
It's always nice to see Dr. Hopper and Pongo again. Raphael Sbarge was perfect for the role; he's always smiling and has the perfect face and voice to play the therapist.
When Emma goes to see Hyde, he said that he brought someone to help her. Did he bring this person because he anticipated Emma's problem? And do we now officially keep people in the psych ward instead of the cell in the sheriff's office? Is the cell in the Sheriff's station not secure enough anymore?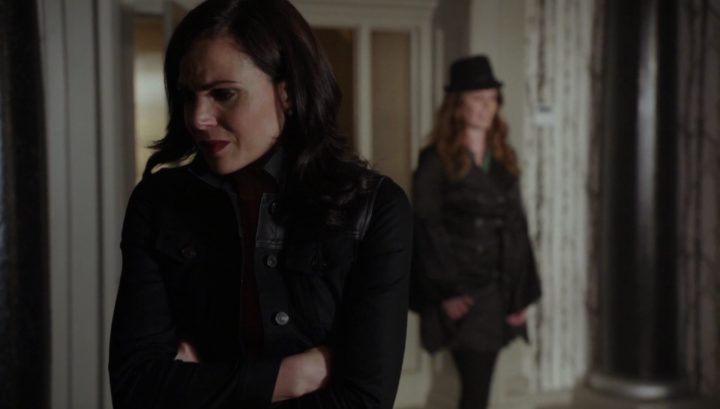 Seeing Regina going to the Mayor's office for the first time after Robin's death was so emotional. Seeing the emotions not just in Regina, but Zelena as well, is very relatable, and it seems like she's trying to go back and embrace the pain, deal with it and try to move on, making Regina the most well-developed character in the series. She's taken steps back like everyone else, but it hasn't been a constant role reversal; she's moved consistently forward to the point where she now actually freely calls these people her friends.
It was gradual and slow, but when she started blaming Zelena about Robin's death was a bit confusing. There was a lot to blame for Robin's death and perhaps Regina was projecting her anger on to Zelena instead of herself, but ultimately, Robin died at the hands of Hades. After all, she's the one who told Zelena to go to Hades and that love might be able to change him, thus ensuring True Love's Kiss and that Hades could leave the Underworld.
When Emma and Hook were out in the woods, she lied to him again. When she kept the fact that Hook was the Dark One, she was protecting him and her loved ones but this time, she wasn't protecting anyone. Why didn't she just tell him what's going on? She literally promised him that she was going to tell him everything later in the episode.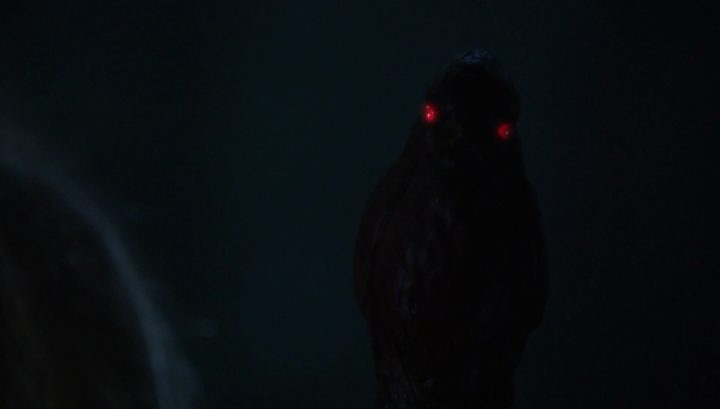 Why was the Oracle with Aladdin in the first place? In order to help Emma see the future, the Oracle conjured a staff. What if the Oracle was actually Jafar in disguise?
My theory is that the oracle is actually Jafar in disguise, the red bird looking far too similar to Iago from Aladdin. The visions may be a trick that causes Emma to second guess herself, leading to her being more vulnerable to the villain from Agrabah, who is actually under the hood in which Aladdin comes into the picture to help Emma.

— Aleana
The Oracle had an animal staff with glowy eyes, just like Jafar's snake staff. I'm guessing he did the same thing he did to Amara, and turned the real Oracle into a staff.

— MatthewPaul
Did Jafar turn the Oracle into a staff?
So I was thinking about Aladdin and the savior and Emma's role. My prediction is Aladdin escape to the land of untold stories to escape his savior premonition to avoid that fate. I believe that what Emma saw is going to be a self fulfilling prophecy if she isn't careful. I see this oracle as evil ish because she is trying to send Emma and maybe even Aladdin down a certain path. However in Emma she even said "no one decides my fate but me" and everyone is going to try and tell you who you are and you have to say no this is who I am. I believe Aladdin was a savior who ran from his problems and could make Emma run scared. That is my prediction for the season based off one episode.

— Jessica
Did Aladdin escaped to the Land of Untold Stories to escape his own fate?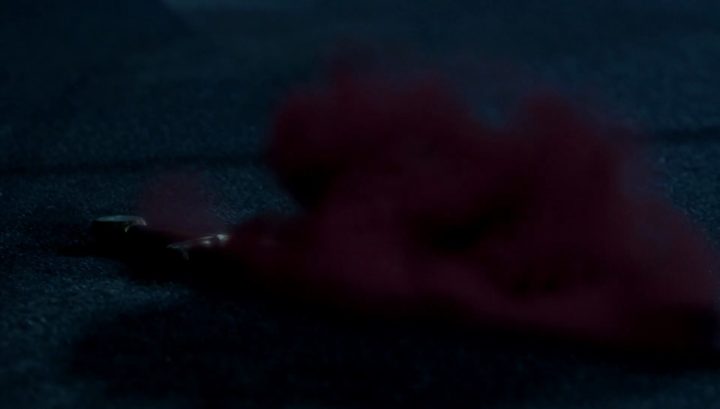 We watched Emma's visions over and over to look closely and in this vision, the person that Emma is battling is a guy, judging from the person's built. During the battle, when he disarms Emma, he poofs it with red smoke, something that is usually tied to the Dark One, specifically Rumplestiltskin. However, there was also one person who used red smoke in this episode—Baby Moe, when he poofed the hourglass. Is it Baby Morpheus that's actually fighting Emma? That being said, other people have used red smoke as well—Dark Hook, Cora, the Dragon.
The Oracle also clearly told Emma, "On the day that you saw, in the battle that you saw, you will die." Can we trust the Oracle, who may not be what she's claiming to be?
Emma doesn't die in that battle, but she does lose her savior powers (and will have to get them back somehow in S7).

— David
A possible solution to the Savior Shakes:
In season 3, Zelena cursed Hook's lips to take away Emma's powers. If they get Zelena to cast the same spell to remove Emma's powers, she might therefore become immune to the mysterious metal, and her hands just might not shake anymore. If Adam and Eddy are focusing on the actual "rules" that apply to a Savior, then what I theorized probably doesn't work.

— MODA Boutique
Can Zelena save Emma's Savior shakes, which didn't start until this episode?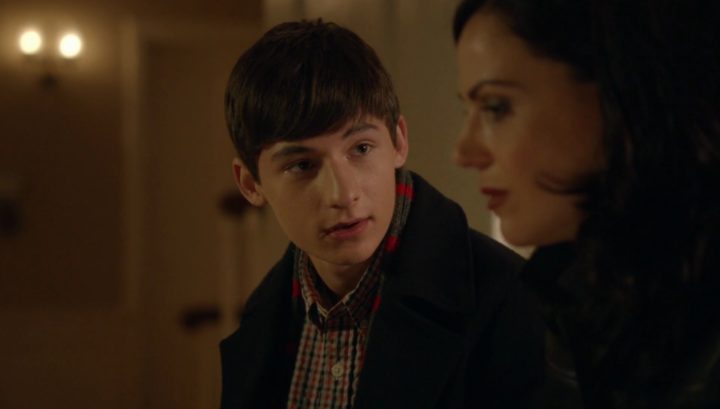 Meanwhile, Regina attempted to do a locator spell to try to find Robin Hood. Nice job on Henry restoring faith and hope to Regina, by trying to tell her that Hades could've lied and Robin was actually in a better place.
Why would Hades lie? This weapon is from the gods, intended to destroy gods but, because of intense fan backlash, we're expected to believe that Robin didn't really get obliterated? And what does this say about Zeus if he didn't bring back Robin after he made the ultimate sacrifice. There's a lot of fan placation going on in this scene and while it might be "nice" or  have good intention, it doesn't hold up with the narrative of the past season.

— Jacqueline
After Emma finishes her talk with Hyde, it was funny that the one Hook gives Emma was the half-drunk cup, which was where he promised him that everything was fine.
Back at the town hall, Regina and Snow White had a great talk. Regina even admitted that she was an awful step-mother to Snow, and ultimately realized that Robin is at peace, which was nice but doesn't justify his death, but it does make us feel better about it. Regina also said that she chooses to believe that this story will have a better ending than her last. Could that same hope apply to Emma?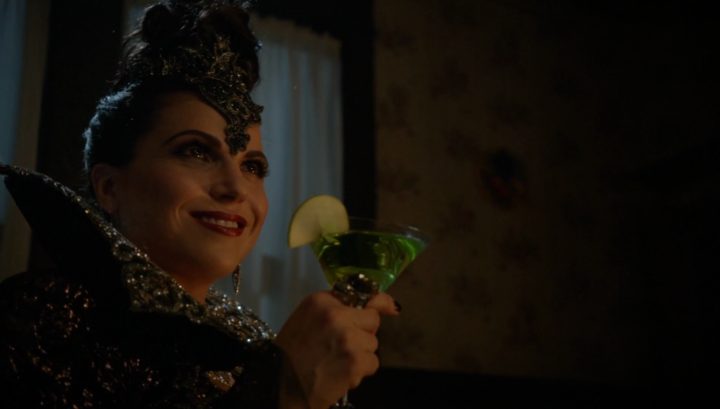 It was loads of fun seeing the Evil Queen back again, along with her evil laugh, as she tries to have a sisterly bonding with Zelena. During our initial reaction, we mentioned that Zelena might actually consider siding with the Evil Queen because of her whole speech back in the Mayor's office with Regina, but the last few camera shots tells otherwise.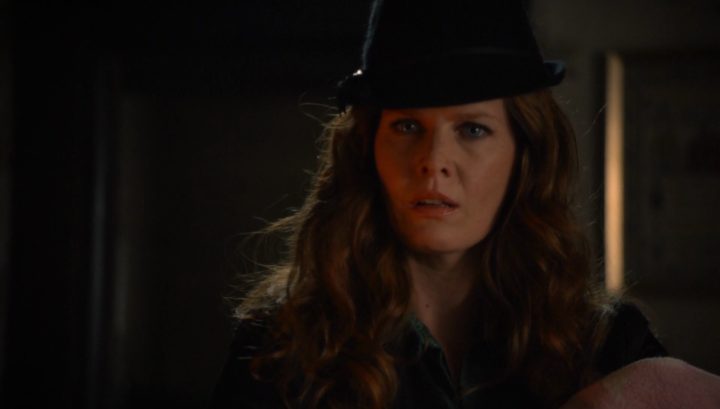 Will Zelena be a double-agent, agreeing to side with the Evil Queen to help Regina? Or is she going to willingly help the sister she can relate to? Send us your theories by sending us an email or commenting below! Have some spoilers and other thoughts to share? Head over our forums to share them and continue the conversation not only about this episode, but the other upcoming episodes as well!
What did you think?
Help us out!
Follow us
Spoilers