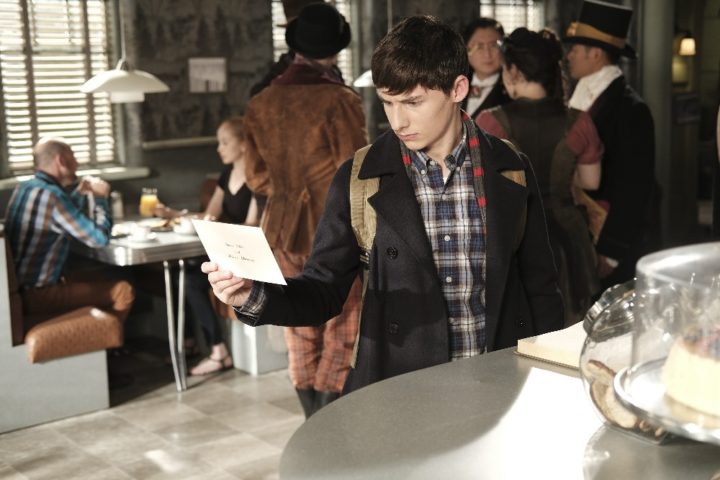 We have just seen the episode, "A Bitter Draught" and are ready to share some of our initial reactions about what stands out to us about tonight's episode. In tonight's episode, Zelena gets a private graveyard tour from the unrelenting Evil Queen, while Henry gets an invitation from a mysterious man who shares a past with the Evil Queen. In the past, however, the Evil Queen hires a man who badly wants his revenge.
Podcast: Play in new window | Download | Embed
When a mysterious man from the Land of Untold Stories, who has a past with the Evil Queen, arrives in Storybrooke, David and Snow work together with Regina to neutralize the threat. Belle seeks Hook's help finding a safe place to hide away from her husband, Mr. Gold. The Evil Queen continues to try to win Zelena over to her side, while Emma resumes her therapy sessions with Archie and shares her terrifying vision of the future.
These are our first thoughts about this Once Upon a Time episode. We'll share more about "A Bitter Draught" in our upcoming full discussion (usually live on Wednesdays at 7:00 p.m., USA Eastern Time).
Initial Reactions
Remember, these are only our initial reactions regarding tonight's episode so please bear with us if we're a bit all over the place. If you have your own thoughts, feedbacks, or theories regarding tonight's episode, however, send them over to us and join our upcoming full discussion!
Operation Cobra Part 2. It was kind of cute but it feels like they were out of names. Operation Cobra Part 2 was kind of cute because Operation Cobra was all about helping people from Storybrooke find out who they were and now it's about helping the next generation of cursed people find out who they are and what their story is. Also, interestingly, the book that Henry was holding says "Once Upon a Time, Part 2." But isn't Henry a little bit too old now to make operation names and walking around with story book?
We liked the little discussion about sequels, which puts it in mind for us that of all of these stories that we're going to see, like the Three Musketeers and the Count of Monte Cristo, Aladdin, Dr. Jekyll and Mr. Hyde, and all of these stuff that we know we're seeing, plus everything that we don't know that we'll see, like maybe Twenty Thousand Leagues Under the Sea and Sherlock Holmes basically tells us not to expect that the stories we know are the untold stories; The untold stories are what happened after the stories we know, or in the case of our heroes, probably before or in the mixture of the stories we feel like we know. It feels like they're running out of timeline, but still interesting to know what's going to happen.
Seeing the Count of Monte Cristo was cool. We looked up Count of Monte Cristo and how he said, "All for one" reason and it made us wonder, is that a musketeers saying, "All for one, one for all?" Will we also see the Three Musketeers, if we haven't already? A big theory in the chat room is that Charlotte was actually the Count of Monte Cristo's daughter. Although she seemed older to be his daughter, it also makes sense especially when he said, "those eyes" as well as the whole thing about her eyes reminding him of his fiancé's eyes.
We also see that there's a key to get to the Land of Untold Stories, which reminds us of The Lost Room. Is the Land of Untold Stories in Jefferson's hat? We wouldn't be surprised if we, perhaps in verbal reference, that we went back to the hat because we're already getting references back to season one. At first, we were kind of rolling our eyes because we thought we're just going to see more about the Evil Queen going after Snow White, and it was kind of cool that they gave us little clues to help us understand where in the timeline it is, which was after Snow White and Charming were protected with the spell and after Rumplestiltskin gave Regina the Dark Curse so that she could hurt Charming and Snow White in a different land, but also before the curse was actually enacted. It was cool to get those little hints without them specifically laying it out for us.
One of the interesting things we learned from these flashbacks about the Land of Untold Stories is that it seems everything comes to a stand still and is prevented from playing out in the Land of Untold Stories; time, poison, stories. The Land of Untold Stories also kind of reminded us of Neverland when Charming got poisoned in Neverland, but as soon as he left, he was going to die. The Land of Untold Stories and Neverland did have some similarities, as if they're using the same plot resources for the Land of Untold Stories.
Is Charming's dad in the Land of Untold Stories and now in Storybrooke? The Evil Queen set it up as though he is still dead, but the conditions of his death have been greatly exaggerated. Does the Evil Queen have anything to do with his father's death? It seems that Evil Queen's full agenda is not to cause war of her against everyone else, but cause war among everyone so that they're fighting each other. We also really love Snow White's statement, especially as it pertains to Regina, which really just shows how far they've come when she said, "You won't divide this family." The toughest wars that humans fight are against themselves and it's probably going to be that kind of a season, similar to what the Snow Queen did. It looks like we are going to see those internal battles with everyone, battling over the things they want to keep hidden, over new struggles, and those secrets that will get out, ones that they wouldn't share inside of a cave in Neverland; ones that they felt they've  overcome but are coming back to haunt them in some way.
When Regina killed the Count of Monte Cristo, is that really the darkness awakening inside of her? We went through it with Emma last year when she killed Cruella DeVil to save Henry, Belle and David accidentally sent people into the River of Lost Souls, and they regretted it. Regina did have no other choice, while we do also get what the Evil Queen was saying that heroes always found a third way, but that's when they have time to do that, to which Regina doesn't have.
Perhaps what they mean for Regina is for her to have like a taste of her old addiction, enough to trigger the darkness inside of her, like a recovering alcoholic would when they relapse. However, Regina's sword-fighting really complemented her business suit, and she's really pretty good with the sword. Then again, the hooded figure are really good with the sword, too. But is that really Regina under the hood, or the Evil Queen? The Evil Queen said that she's the one going to destroy everyone's happy ending and Emma, as the Savior, is essentially the bringer of the happy endings.
Speaking of heroes, there's a lot of talk about magic in this episode, like blood magic and magic dampening spell, for example, why did they call it that? It would've been cool to see Zelena and save Regina, but it would definitely change the story. And Zelena, has she really chosen sides? Or is she just playing it with the Evil Queen to get in with her so that when the time come that it matters the most, she can help Regina? Plus, the way she looked at the Evil Queen when she saw that the Evil Queen was carrying her baby, says that perhaps, she hasn't made up her mind just yet, otherwise she wouldn't be freaking out when she saw the Evil Queen pick up her baby when the baby was crying.
However, this pales in comparison to the Evil Queen and Rumple scenes in this episode. First, Rumple sniffing her neck was weird enough, but then her trying to seduce Rumple inside his shop was all kinds of weird.
EvilImp is very disturbing

— Carissa Shuman
*shudders* we all need archie sessions

—Ash23
skin is STILL crawling

— Ashley Hardee
We thought it was funny when Rumple pointed out to Milah how connected Emma is with all of the family relationships. Now, it's the other way around. Remember, Rumple almost had a romantic rendezvous with Cora and the baby was almost going to be Rumple's, but now it's not and Regina is someone else's daughter. Now, Regina hitting on Rumple is all kinds of weird. On the other hand, she is very much Evil Queen; 100% pure Evil Queen, so it's understandable that she's all kinds of weird. After all, what she did to Graham when she was Evil Queen, what with her making him her pet, the Evil Queen is quite evil, dark, and weird.
Finally, they did use a term that we've never heard them use before, and that is "magicking yourself around town." We liked that they're using our term but some credit would be amazing, since a lot of the fans have been throwing that term around for quite some time now.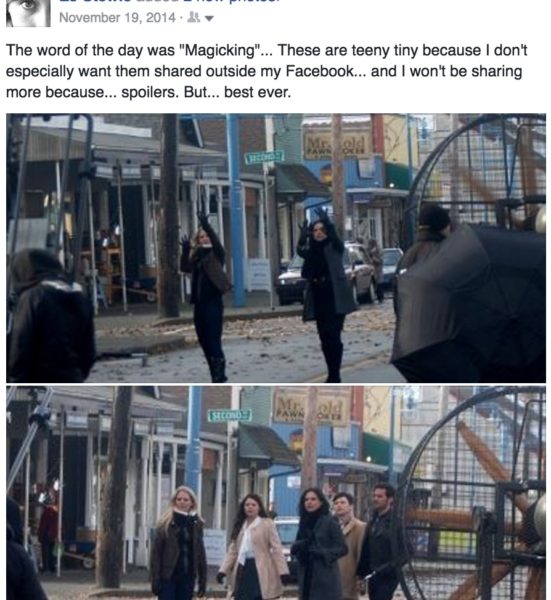 What did you think of tonight's episode? Send your thoughts via email or the comment section below and join us for our full discussion of "A Bitter Draught" this coming Wednesday! Looking for spoilers about the upcoming episodes or simply want to continue discussing this episode? Head over the forums and share your thoughts about "A Bitter Draught," including your favorite and least favorite moments!
What did you think?
Email Feedback@ONCEpodcast.com (audio files welcome)
Call (903) 231-2221
Comment on the shownotes
Visit any page on ONCEpodcast.com and click the "Send a voice message" link to record and send a message right from your computer.
Help us out!
Share this post in your social networks
Follow us
On Facebook:
On Twitter:  echo do_shortcode('[twitter follow="ONCEpodcast"]'); ?>
Daniel J. Lewis:  echo do_shortcode('[twitter follow="theDanielJLewis"]'); ?>
Jeremy Laughlin:  echo do_shortcode('[twitter follow="phlegon"]'); ?>
ErinJ:  echo do_shortcode('[twitter follow="erinjcruz"]'); ?>
Hunter Hathaway:  echo do_shortcode('[twitter follow="travelingpixie"]'); ?>
Jacquelyn / RumplesGirl:  echo do_shortcode('[twitter follow="punk_bunny_87"]'); ?>