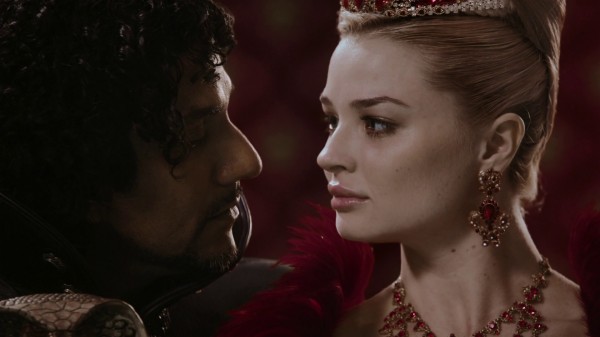 Podcast (wonderland): Play in new window | Download | Embed
Cyrus, the genie, has been wished to be gone by his former master and was thrown to a place as far away from Agrabah as the earth from the sun. But why did Jafar wants his wishes even back then? Meanwhile, in Wonderland, Alice and Will journeys to the Mimsy Meadows to retrieve something no one except her and Cyrus knows about. But are they really the only one who knows about it or would someone else get there before they do?
Once Upon a Time in Wonderland is getting better than last week; the dynamics are better, and they seem to be filling in a lot of holes this time.
Agrabah
Many years ago in Agrabah, the man with the serpent staff named Jafar visited a merchant, who Jafar thought to be well enough for someone who is just selling scarves. Jafar seemed to be seeking wishes even then, but what does he need of those wishes? How was he tracking genie? Is he just going after someone who seems prosperous, assuming they have the bottle and go from there?
Fearing for his life, Cyrus's former master, on the other hand, wished for the genie to be gone out of Agrabah and on to a farther land as possible.
It seems interesting how they give us answers. But Wonderland and Agrabah are two distant worlds so how did Jafar knew that the bottle and the genie is in Wonderland? How did he even get to Wonderland? Alice has never used her wishes so how did Jafar found about Wonderland if the only way to find the genie is through tracking someone with a wish?
Before moving to Wonderland
The flashback in this episode looks a bit similar to how the Disney movie Aladdin started: with a merchant who was telling a tale about genie and his magical lamp. The flashbacks this time are also a bit different than Once Upon a Time and perhaps LOST; generally all part of a single story that somehow relates to current story that allows you to get the real story a bit better. Flashbacks also seem to give us extra details regarding a specific event and are not telling two separate stories (eg; the location of genie's bottle).
Thank you for the Apple Podcasts reviews!
Awesometastic_person
JuliaRose18
cDtippy
Dakota927
once_lost
Bluebellsa from Norway
Kimmibear5
roboref
Keren I
BeeLineGirl
Raylene MacLellan from Canada
Your reviews encourage us and help others find the podcast!
Please rate and especially write a review for us on Apple Podcasts.
Wonderland
Will, The Knave of Hearts, woke up to the sound of Alice in training, who has been trying to come up with a plan on how to find Cyrus. Alice then realized that maybe they don't need to find Cyrus because she knows something that only she and Cyrus knows — where to find his bottle — and has come up with a plan.
Alice's Two-Step Plan
In the hopes of finding Cyrus, Alice suggested two steps:
Find the bottle (which is in Mimsy Meadows beneath the Towering TumTum tree)
Make harmless wishes — something small and innocent like wishing for a cupcake
Alice then explained that once she made her own wishes, Will has to rub the bottle, make three wishes, which should eventually summon the genie then find a way to somehow free Cyrus. But Cyrus is caged, can he even be summoned from the silver cage?
Will seem to know about care bears and TVs. Looks like we've got a Pop culture guy in him, whereas Alice seems to know mostly about Wonderland.
Jafar's Lair
As Cyrus awaken, the genie felt something in his heart, calling Alice's name. Could he be dreaming about Alice and her quest? Does it have something to do with the necklace he gave Alice? By the way, Jenny noticed a somewhat similar necklace on Jafar's neck. It was a black plate that is rather more decorative than Cyrus's. Are the creators following what happened in the Disney version of Aladdin where Jafar became a genie himself? Is that why he needs Cyrus's wish? To be freed of his own imprisonment as a genie?
Before the ending, Jafar entered a room where he took a book and slightly bowed to it before opening it. It sure looks significant but why the need to bow into a book? What's in it?
Queen's Palace
When the Red Queen suddenly noticed her townspeople being frozen, she realized that it was Jafar who did it, calling to him using the game phrase, "come out, come out, wherever you are." While The Red Queen seemed to like her games so much, she doesn't seem very confident, having that watery look in her eyes and looks uncertain of herself at times.
On the other hand, The Red Queen told Jafar that she "took her throne," "took Wonderland." To whom did she take it over from? Inside The Red Queen's castle, however, the floor looks a bit like the Eye of the Horus, but has also some similarities to The Neverending Story's Falcor, a big, furry dog that flies with a special eye that opens and shuts, that have obstacles that needs to get past. Who built the Red Queen's castle? Was it originally hers?
The Laws of Magic
Can't kill anyone
Can't bring back from the dead
Can't change the past
Can't make anyone fall in love
The Red Queen made it clear that Jafar wants to change the laws of magic. But which of the four laws of magic does he want changed? What about the Red Queen? What are her reasons for helping Jafar? During their conversation, Jafar told her, "To make the impossible possible, you must have some truly unholy desires." Does Jafar wanted to change his past where Aladdin triumphed over him? As for the Red Queen, does she want someone to fall in love with her or does she wants something bigger than that?
As Cyrus recites the Laws of Magic to Alice, it reminded of the same rules we know of from Aladdin except from one of them:
Cyrus spelled out four rules of magic to Alice. The RQ said Jafar's motive is to change the rules of magic. The question is, which rule does Jafar want to change and why?

Headcanon: Jafar lost his sister Narsia and wants to bring her back from the dead. He's hoping Cyrus will be able to break the rules of magic.

— RumplesGirl
The Tweedles also look different as the ones we have seen from other versions; the Tim Burton's version even refers to them as The Fat Boys. Michael W shared something about the Tweedles' face paint that looks like David Bowie's.
Hey guys and gals, I wanted to share an easter egg I noticed in Episode 2.

The Red Queen's servants (the Tweedles?) both wore the exact same face-paint that David Bowie wore on the iconic cover of his album, "Aladdin Sane".

I thought it was a funny nod to Aladdin that some viewers may not have picked up on.

The album title "Aladdin Sane" is a pun on "A Lad Insane". Could we eventually meet Aladdin, only to see that he has lost his mind? Perhaps the price he paid for a large wish?

I'm probably turning a very simple musical reference into a crazy theory, but that's half the fun of watching this show!

— Michael W
Are we going to meet an insane Aladdin soon? Cyrus did mention that a few of his former masters tried to free him but it didn't end well for both parties. Did Aladdin went insane when he freed the genie in the Disney version?
Alice (and Will's) Quest
On the other hand, Alice and Cyrus were shown having tea, where people can be seen wearing hats. Are they attending one of The Mad Hatter's tea party? At the same time, Cyrus handed a magical paper rose to Alice that turned red eventually. Was that showing us that he is starting to fall in love with Alice? In flower meanings, white roses indicates friendship, while red roses mean love. Also, those white (paper) roses reminded us of the ones in Alice's Adventures in Wonderland, where young Alice met three playing card gardeners painting white roses red. Unfortunately, the said gardeners had the color wrong and were asked by the Queen of Hearts to repaint them red.
Alice also asked Cyrus if he'd ever slain a dragon before, to which Cyrus answered "once." Has she slain the jabberwocky yet? Perhaps he'll teach her how if she hasn't? And is the Red Queen going to use the jabberwocky as one of the obstacles that Alice has to slain in order to find her lost love?
This episode introduces us to another fairy, Silvermist, who doesn't come close anyone we have known from Once Upon a Time. Silvermist is a vindictive fairy who seemed to have shared a past with the Knave of Hearts. Listener Sara noticed that Silvermist must be from one of the fairies from the Disney version of Tinkerbell.
I just wanted to say that Silvermist from Wonderland is also the name of one of Tinkerbelle's friends in the new Disney movies about Tinkerbell. She is a water fairy in the Disney versions, which makes sense why she showed up. [Added note: Alice and the knave had to clap to get the fairy. The "Clap if you believe" motif comes from the original "Peter Pan" play by J.M. Barrie]

Also, one of my friends noticed the asylum Alice was in the pilot was also in a horror video game about Alice.

— Sara
David & Kristin also noted more fairies from Pixie Hollow in Neverland. Are we going to be introduced to more of Tink's friends in Once Upon a Time in Wonderland?
Silvermist and Will
It's pretty evident that Knave and Silvermist shared a thing in the past, but what exactly did Will do to her? Silvermist also indicated that it was an "old feeling that she has moved on from." Aren't fairies not allowed to fall in love? It seems that fairies in Wonderland need the Blue Fairy, after all.
In the EF, fairies must adhere to a strict set of rules, which were laid out in "Quite a Common Fairy." The BF is a strict enforcer of the rules, and Tinkerbell lost her wings as a result of stealing pixie dust. In WL, by contrast, it seems the fairies lack clear boundaries or someone to enforce them. For example, the fairy Silvermist still has her wings, despite being unchaste. This is a clear contrast to Nova, who was not even permitted by the BF to date Dreamy, her true love, since Nova wanted to become a fairy godmother one day.

In the traditional tale of Peter Pan, it's said that fairies like Tinkerbell can only hold one emotion at a time due to their very small size. With Silvermist in WL, we saw how her vindictive attitude towards the Knave of Hearts for leaving her after a one-night stand got the better of her. She dropped him in a lake, despite his inability to swim. Silvermist allowed her hurt feelings to cause harm to someone else. Maybe the fairies actually NEED someone as strict as Blue Fairy to keep them in check. Otherwise, they end up being more menaces than benevolent fairy-godmothers.

— Slurpeez108
During the Pilot, Alice told Will that she helped him get his heart back. Will also mentioned that he does not feel anything. Did the Queen of Hearts took his heart, just like what The Evil Queen/Regina did to the Hunstman/Graham in Once Upon a Time? Do we sense a flashback here with Alice retrieving Will's heart from the Queen of Hearts?
Alice's Family
Alice told Cyrus that her mother died when she was born and that her father moved on from her. Knave, meanwhile, told her that "When someone truly loves you, they can never move on." Is it possible that the man we saw from Down the Rabbit Hole episode was not Alice's real father? Could she be the daughter of someone more important? Jefferson, perhaps?
Moreover, Silvermist said that Knave is "in pretty deep to the caterpillar." She also mentioned Will's 'precious Anastasia.' Who is Anastasia? Did Knave two-time Silvermist and her?
My theory is that Anastasia is not the Russian princess, but Cinderella's step-sister Anastasia Tremaine. In the Disney Cinderella, Cinderella's step-sisters are named Anastasia and Drizella. Keep in mind that Cinderella/Ashley made a cameo in the pilot. Her cameo could have been foreshadowing that her family is involved with Wonderland's story. I also think she might be the Red Queen, and she somehow became Queen in Wonderland out of jealousy for Cinderella "stealing" her chance of becoming a Queen back in the Enchanted Forest. How she and Will met I cannot say.

— MatthewPaul
Is Will's Anastasia one of Cinderella's step sisters? We did see Ashley/Cinderella in the Pilot, after all. But if the Red Queen is Anastasia, isn't she a bit too pretty to be the supposedly ugly Anastasia from Cinderella that we know of?
Or is it Princess Anastasia Romanov, the youngest daughter of Nicholas II who sides with con men in the hopes of finding some trace of her family? When Alice asked him who Anastasia is, Will told her that she was "nobody." Did Anastasia took his heart? Will also seems to be a con man of sort, giving opposite encouragements to Alice.
As Alice and Will journeys to the Mimsy Meadows to get Cyrus's bottle in the Towering Tum Tum tree, Jafar got to it even before Alice did. While it was fortunate that it wasn't the real location where the bottle is hidden, it seemed like someone else has found the bottle before Alice and Will even get to the dandelion. Turns out, the White Rabbit saw Alice and Cyrus when they buried the genie's bottle in its correct location.
But why is the White Rabbit helping the Red Queen? What did she have over the White Rabbit? Is it his family? He did say "Honey, sorry I'm late" after he saw Cyrus and Alice. Could it be a loved one? Is the Red Queen holding his family hostage? Honorable people maybe willing to sacrifice themselves for the greater good. And if she threatened the White Rabbit using his loved one, that could be enough for him to help her forcibly.
Some General Observations
Chris, a listener, sent us a feedback regarding some of his general observations from the second episode of Once Upon a Time in Wonderland, Trust Me:
1. Jafar says to the RQ that you cannot earn trust from people but that you have to take it. This could be a parallel to Rumple saying something similar to Regina in the EF.
2. The old man hanging in a cage next to Cyrus could be a nod to the Disney film in which Jafar disguises himself as an old man to Aladdin.
3. Will, the Knave of Hearts, said that life of Cyrus is literally hanging in the balance.  Cyrus really is hanging in a cage. How would the knave know that though?

— Chris
Is the old man in the upper cage really Jafar in disguised? Does Will know more than he claims? Let us know what you think and put it on the comment section below. You can also email us your feedbacks, theories and comments through the following details at the bottom of the page. And remember, promises were made to be broken, as are the bones of little bunnies who forget what they have at stake.
What did you think?
Help us out!
Share this post in your social networks
Follow us
On Facebook:
On Twitter:  echo do_shortcode('[twitter follow="WONDERpodcast"]'); ?>
Daniel J. Lewis:  echo do_shortcode('[twitter follow="theDanielJLewis"]'); ?>
Jeremy Laughlin:  echo do_shortcode('[twitter follow="phlegon"]'); ?>
ErinJ:  echo do_shortcode('[twitter follow="erinjcruz"]'); ?>
Hunter Hathaway:  echo do_shortcode('[twitter follow="travelingpixie"]'); ?>
Spoilers
Episode 3 Synopsis
Guest stars in this episode
Hitfix interview
New episode titles released
Programing note