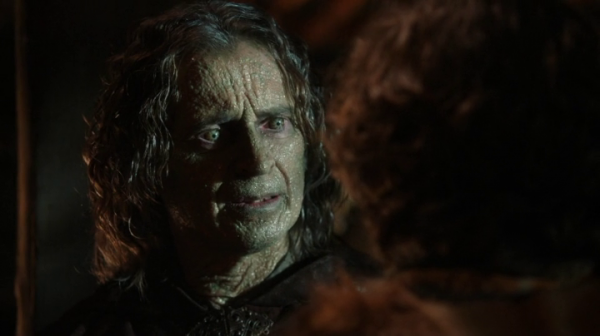 Podcast: Play in new window | Download | Embed
Neal finally made it to Neverland and did not think twice to start finding his son. But just before he could start his search, Neal was welcomed with a Lost Boy, holding hm captive for a while. In the past, Rumple searches for his son only to be reunited with an old friend. Meanwhile, Emma, Regina, Hook, Charming and Snow ended up in a place that may or  may not help them in their quest.
The Enchanted Forest
Flashbacks in this episode definitely filled in a hole that answered a lot of questions, like the Pied Piper thing we've theorized (although we thought it was Rumple and not Pan). This episode's flashbacks are also better than the ones we've seen before, as they are not only about character development, but also about plot development by providing us backgrounds not just about Rumpelstiltskin and Peter Pan, but also the Lost Boys.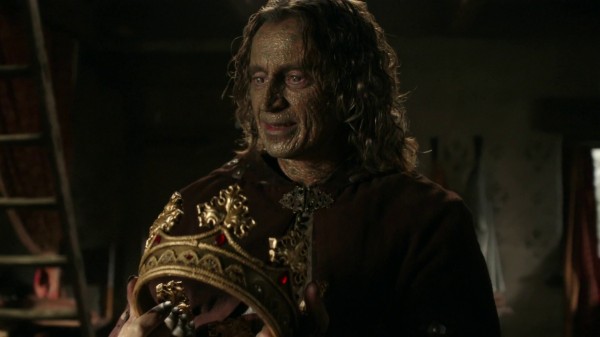 In the Enchanted Forest, Baelfire told his father that he wants to get out of their hovel, and later, when Rumple suggested that he would build him a castle, Rumple presented his son with a crown. Did Rumple eventually built it for him but his son just refused to live in it?
As a refrence to a fairytale story called "The Fisherman and His Wife." The scene when Rumple and Bae are talking in their hovel reminded me of that story. Bae wants to leave and Rumple says that he could build a castle, and that thought led to the story of the fisherman and his wife. They were living in a hovel and the fisherman found a talking flounder and the flounder asked the fisherman to take him back I'm the water and he did. He went back to the hovel and told his wife about what happened. She said he's magical wanted the fisherman to ask to get a castle and they did, she kept on wanting more until they went back to square one. Loved this episode!

— KEREN
Are we going to see Rumple and Bae back into their hovel at some point? However, when Baelfire fell through the portal to England, both he and The Dark One is still living in their hovel. So how did Neal know that his father has a castle (in the episode the Lost Girl)?
When Rumpelstiltskin went back into their empty hovel and Baelfire missing, Rumple searched for his son using magic that led him into a "rathole of a town." The Dark One then questioned the townspeople regarding where they could be possibly hiding his son, and found out that other boys have gone missing as well. It was then that Rumple found out that a certain Pied Piper seems to be taking young boys by playing an unholy music to them once they have been put to bed. In his willingness to find his son, Rumple stayed awake until he himself heard the music come nightfall, following the boys to where the music is coming from. Rumpelstiltskin then realizes that the Pied Piper everyone was talking about was actually Peter Pan.
When Pan turned around, he told Rumple that it has been a long time, calling him Laddy. Is Rumpelstiltskin somehow related to Peter Pan? If so, how exactly are they related to each other?
So, I have a crackpot theory.  When I was watching "Nasty Habits", I noticed something that Rumple said.  When talking to Bae about Peter Pan, Rumple said, "I knew him when I was a boy…Growing up we were really quite close."  I think these statements might actually be really important.  Again, please remember this is a crackpot theory.

First of all Pan seems incredibly connected to Rumple and his  (for lack of a better word) progeny. PP knows about the doll, the last thing Rumple's father gave him and not letting him forget it.  Then he has systematically gone after both Bae and Henry. So here's where the theory comes in. What if Pan hasn't always been a young boy?  What if he was once a man?  Maybe he found a fountain of youth somewhere, it is the Enchanted Forest, after all.  Rumple said "I knew him when I was a boy."  What if, in fact, Pan is Rumple's father?  "Growing up were really quite close."  He could have been referring to himself growing up–not Pan.  I know, I know, crazy, right?  But there does seem to be something between Rumple and Pan, and it seems to run pretty deep.

— Emily
Is Peter Pan actually Rumpelstiltskin's father? After all, Pan said how it's a real family reunion before Neal shot him with a squid ink coated arrow.
Thinking about the episode Nasty Habits, I started to wonder about the previous relationship between Rumple and Pan and I think they going to tell the Prince and The Pauper story with this. Rumple and Pan are initially friends, with Rumple taking the place of the prince (because of the doll) and Pan the pauper, who is constantly mistreated by Rumple's father. Rumple, with fear of going against his father, don't do or say anything, which causes Pan to grow angrier and angrier with Rumple.

— Nat
Could Rumple be the prince and Pan the Piper or is it the other way around?
This particular flashback took us to three scenes — the hovel, the village, the campfire (and later, back to the hovel). At the campfire, Peter Pan talked about dreams and Neverland and how the only friends he have are the children he visits children in their dreams.
In the original novel, as well as the play version of PP, it is said that Neverland is found in the minds of children. This means that NL could change per child, which is why I think PP needs Henry. Since Henry has the heart of the truest believer, his imagination "runs wild" (like Rumple said it does in NL). So PP potentially could utilize Henry's imagination to conjure whatever it is that he wants.

Perhaps children who visited in their dreams were not unlike the visions of Belle we've seen talking to Rumple.

— Julia
If kids can go to Neverland in their dreams, why does it seem like they're getting a nightmare when the night fell? This reminds us of when Wendy told Baelfire about the kids starting to cry during night time because they miss their mothers but the shadow won't let them leave. Pan also indicated that he's starting to take back his friends with him. Is this when Pan started collecting the lost boys?
Timeline
If the flashback showed Baelfire meeting Peter Pan as the Pied Piper, does that mean that he already know him when the Lost Boys dumped him in the beach after Hook told the Lost Boys of him? Is that how Baelfire knows that the shadow is bad when he told Wendy not to come with it? Could that be one of the reasons why Baelfire says thought that magic is bad?
In addition, before Rumple took Bae home using magic, Pan said that he will regret not taking his deal. Is this the first time that Rumple didn't make a deal with someone?
Is this the first time Rumpel hasn't made a deal? Thinking back on the rest of the show, I think this is the first time we really see Rumpel refuse to make a deal with someone. It really shows his insecurities when it comes to Baelfire. It calls back to the scene where Rumpel lets Bae fall into the portal. This is the groundwork for that scene. Also, I think Pan is somehow related to Rumpel. Before season three, I was thinking he could be Rumpel's lost father. [But now,] I'm wondering if Pan might be his brother.

— Hope
Rumple did look a bit frightened of Peter Pan. But why? Aside from the fact that he said how he and Pan were once very close and grew up together but then Pan betrayed him, it seemed that something deeper has happened between Pan and Rumple. Moreover, because of Rumple's fear that his son would abandon him, Rumple took his son back to their hovel instead of asking him whether he wants to go with Pan back to Neverland or stay with him, Bae got angry and disappointed because he told his father he would have chosen him had he given him a chance.
Thank You for Supporting Us!
Dena81 (subscriber)
David Neuland (subscriber) (12x)
Steve (subscriber) (4x)
You can sponsor an episode or more of ONCE podcast, too! Email Daniel@ONCEpodcast.com if you would like to arrange a corporate sponsorship of our podcast for the upcoming third season.
Thank You for the iTunes Reviews!
OUATLuver
Jogproof
RufusExasperilla
Jhilfo
Your reviews encourage us and help others find the podcast!
Please rate and especially write a review for us on Apple Podcasts.
Neverland
Neal may have found his way to Neverland, but was greeted with Felix, who told him that he may have grown up, but grew up stupid. Felix seemed to have some rank over other Lost Boys; seeming quite different from the others. He also told Neal how he knows Pan has been searching for the truest believer for a long time. Determined, Neal fought his way out of Felix's captive, knocking him out in the process.
Rumpelstiltskin, on the other hand, continues to get ready for his own battle by painting his face with three straight lines using a black ink, representing strength.
Black was perceived as a "living" color and worn on the face to prepare for war. Very aggressive color. Black meant strength. It might also indicated that the wearer was a powerful warrior who had proved himself in battle. Black was also used to symbolize victory and might be applied before returning home to the camp.
What does the paint on his face mean? Could he be psyching himself up in preparation for the war he's about to take on? Rumple told Belle that the only way for him to save Henry is by becoming the monster, that he needed the monster in order for him to redeem himself and save his grandson. He also said that he has nothing more to live for so he wants to do the right thing, despite the consequences. Is his resolve to weak that's why he needs the mask? Could this also be the reason why his skin turned gold when he became The Dark One? In the episode Desperate Souls, the old Dark One, Zoso also has a gold skin. Do Rumple and Zoso both have disabilities that's why they need to turn their skin into gold as some sort of a mask? Or is it something that comes with the power?
As for Belle, did Rumple really conjured her, or was it Belle dreaming of Rumple, somehow entering Neverland through her dreams? Belle seemed to be the only one who can see through Rumple's darkness, after all. Rumple needs  her after all; her encouragement more importantly. Rumple also did mention that she could see through the mask, could see the monster, past that and the good in him. But what is his real self? The monster he claims he was or the good that Belle sees?
Baelfire's Cave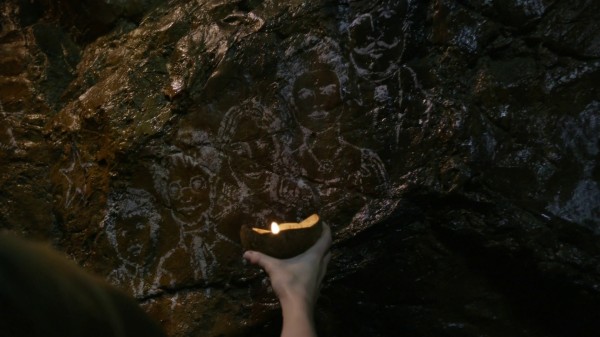 Tinkerbell finally agreed to help find Henry but left for a while when she sees a hole in their plan of attack. Tink also showed them Tamara's watch and how there wasn't enough left of Greg. Are they still going to establish Greg/Owen and Tamara's end? Can the shadow still survive without a body?
When deliberating where else they could find help, Hook told them of Bae's old cave, as well as how he got off Neverland using a bean, which he got from Pan. Hook also told them that it was through a deal he made from Peter Pan, which he was sure he wouldn't want to make again. What kind of deal did Hook make with Peter Pan? Why would Hook think that Pan wouldn't want to make a deal with him again? In the Lost Girl episode, Pan said how he expected more from Hook. What is up with the two of them? Did Hook played some sort of game and won over Pan? It seems that Hook thinks he's not in Pan's good grace right now.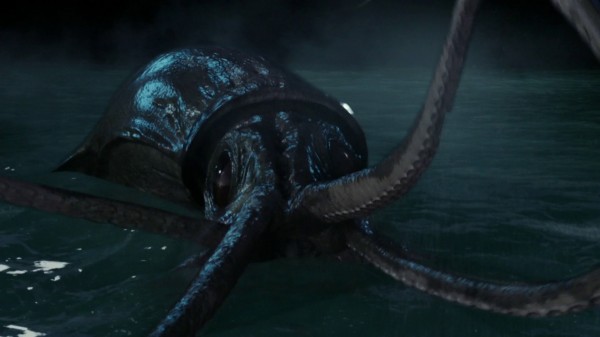 Though adamant at first, Rumpelstiltskin and Neal worked together in order to get Henry. When Rumple told him that the only way to beat Pan is if he is willing to die, Neal led him to the ocean, showing him another way by using a squid ink. This is where Neal called the giant squid using a shell from the shore. Is it the same shell that the mermaid used to call the storm (in The Heart of the Truest Believer episode)? It was said that only mermaids and Rumpelstiltskin can extract the squid ink so how did Neal know about it? If he has used it before, how did he manage to extract the ink? Perhaps he befriended some mermaids and ask them to extract it for him? Rumple also told his son that he has some experience with it, reminding us of the time when he was immobilized after changing the deal with Cinderella in the episode, The Price of Gold.
Hook seemed genuinely care for Charming's sake. Why wouldn't David just tell his family? He may not want to appear weak, but it's a bit odd and weird that he's keeping it to himself. Hook also said how they are world's apart. Does that mean that there might be another way to save Charming from the poison? Can he get help from the Enchanted Forest or Storybrooke if there's a way to get out of Neverland? What about the candle that Snow used to Cora? If they can find another candle, will it work? It seemed interesting how true love's kiss can break any curse but can't heal a poison.
When Emma, Hook, Regina, Charming and Snow finally found the cave where Bae used to hide, the core characters found a few of young Baelfire's possessions, including the following:
Portal drawing with hands reaching into it (a "Swirling vortex", perhaps?)
"Potted bean plant"
Ships
Palm tree
Sea turtle
Spider web
Tree
Crown, belt, or corral
Bucket or barrel
Darling family
Darling family home
A clocktower?
Magic-looking ree
Wand/math/baton
Spindle
Cups
A booted leg
Star Navigation
In the "Bae's Cave" thread on the forum, a bunch of us discussed how the star map in Bae's cave reminded us of the deleted scene from the beginning of "The Miller's Daughter" in Season Two which showed Neal and Henry discussing celestial navigation as they sailed the Jolly Roger from Manhattan to Storybrooke. — Timespacer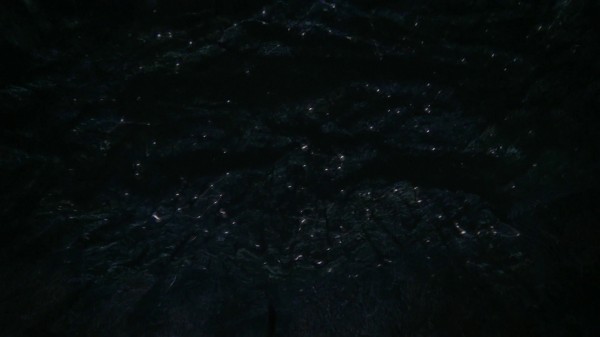 Is the star navigation map their only way out? Does Peter Pan even know about Bae's cave? Can Pan control that portal? They may need to fly out through that, but they are out of pixie dust, let alone a fairy that could give them that.
Although Hook recognized that the star navigation was a map, it was unfortunate that only Neal can read it, to which Emma seconded that the only person who can read it is dead, storming out of the cave. Outside, Emma opened up to her parents how she was distraught that she spent hating Neal thinking he didn't love her and how it was too late when she learned that he does. Disappointed, Snow told his husband how she's having a hard time comforting her own daughter, when it should have been the first thing a mother should know. She also confessed how inadequate she feels being a mother and how a mother is pretty intuitive when it comes to her kids but sadly, Snow missed out on that.
Back to Pan's camp, Henry doesn't seem to hear the first time Peter Pan played the pipe. Is it the same pipe that Rumple broke in the Enchanted Forest? Did he really played something from the flute the first time? What happened to the one that Rumple broke?
Hey guys, I had a couple thoughts after listening to your initial reactions. In regards to Henry hearing the music from the pan flute, I was under the impression that Peter Pan was manipulating Henry the entire time. I don't think he actually played any music the first time so that when he played it the second time Henry obviously heard it and therefore allowed himself to listen to and perhaps start to trust Peter.

— Holly
When Pan said how interesting it is that Henry couldn't hear the music, and that only certain boys (who feel unloved and lost) could hear it, was he really surprised or did he just want to make Henry think he should hear something?
There's certainly more to Pan than meets the eye. It also seems that Pan can travel between worlds, indicating how he knows a lot about the prophecy about Rumplestiltskin. In the episode Manhattan, the Seer told Rumpelstiltskin that a young boy will lead him to his son, but will ultimately be his undoing. Is the young boy really Henry? Or could it be Peter Pan?
As for Rumple reverting to his murderous (grandfathercidal?) ways, I agree with Jeremy: it would show sheer emotional stupidity for Rumple to ever think he could get his happy ending through flatout killing Neal's son. And Pan is manipulating him, and HE (Pan) doesn't want Henry dead either. I think the real moral dilemma that's been set up for Rumple is the deal that Pan offered him in the first episode of the season: does he take the path of least resistance and not actively help SAVE Henry? Because he could stand aside and rest his hopes on the slim chance that Henry can't be saved but he and Bae can, and that he might be able to have a relationship with his (now childless) son in the future. Is this really feasible? No, Neal's never going to trust him unless he a) gives Neal the dagger, b) loses his magic c) Actually sacrifices or TRIES to sacrifice himself, either through dying or so that everyone else can leave the island except him or d) some combination thereof. My guess is will see one of these things happen by the end of the 11-episode arc.

— Isabelle
Peter Pan told Neal that everyone is where he wants them to be. How did he knew that Neal was coming back? Pan did sent Felix to welcome Bae. Are they connected to their shadows? It appears as soon as someone enters Neverland, Pan would know it, just like in Once Upon a Time in Wonderland, where Cyrus's necklace would glow to let Alice knows that Cyrus is close.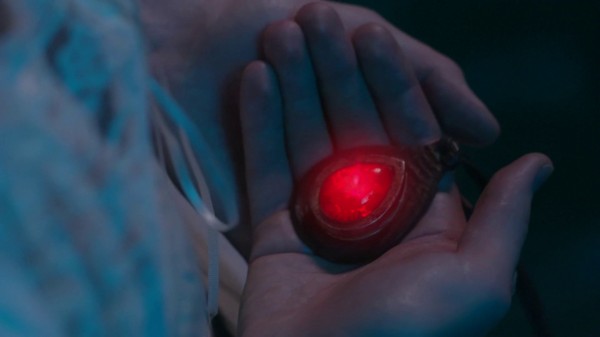 Did Bae really escaped Neverland or Pan simply just let him? Pan seemed to have a gift of foresight. Did he let Bae go out of Neverland so he could find love and eventually lead him to the truest believer?
I have a BIG theory that i really wanted to share with you. My theory is that Peter Pan has been the mastermind behind everything that has happened so far, and I think his whole goal was to get Rumplestiltskin to Neverland, probably because of something that happened between them when they were children. The whole reason he was looking for Henry all of these years was not because he wanted the heart of the truest believer, but because he needed to lure Rumple there, and the shadow could only take children.

I also think that he pulled a Cora, and disguised himself as the seer that Rumplestiltskin saw in the episode Manhattan. S/he foretold that Rumple's actions on the battlefield would leave his child fatherless, and maybe the whole Pied Piper thing was just an attempt to ensure that, and make undoing 'prophesy' seem more likely to Rumple.  This would explain how he knew about said prophesy, because he was the one who made it. He knew that if he put it in his head to try to kill Henry, nobody would trust him once he got to Neverland, leaving him much more vulnerable.

PS If we get Rumple's Father's story and the don't call the episode 'All the Best Cowboys Have Daddy Issues', they're doing it wrong.

— Sydnie
Is Pan actually the Seer in the Manhattan episode that told Rumple of the prophecy? Could he be the mastermind behind everything? Is Pan treating everyone as if they're his Russian dolls?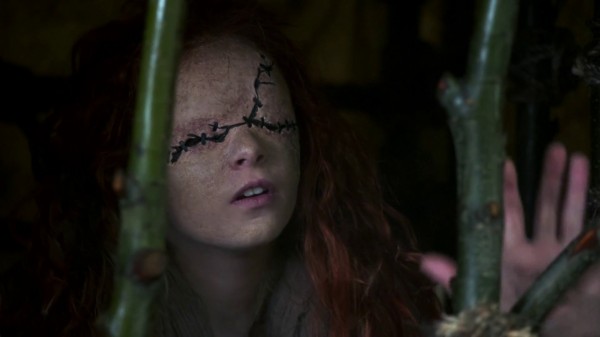 Hey guys, I had a couple thoughts after listening to your initial reactions. In regards to Henry hearing the music from the pan flute, I was under the impression that Peter Pan was manipulating Henry the entire time. I don't think he actually played any music the first time so that when he played it the second time Henry obviously heard it and therefore allowed himself to listen to and perhaps start to trust Peter.

As for the prophecy, I never thought it was Henry that it was referring to but I wasn't sure who it could be. Now I'm convinced that it's referring to Peter. If what he said was true and he allowed Neal to leave then he would be "the boy" that brought Rumple to his son because that's what Peter wanted all along. What do you guys think?

— HOLLY
Despite of Rumple being uncertain of himself, going back from being good to bad, Belle said that habits can be broken. Is there a way to save Rumple and get him out of the prophecy without having to kill his own grandson?
I have a prediction that as the truest believer and as the savior of magic, Henry has the power to save both of his grandfathers. Despite Rumple believing Henry will be his undoing, it could be that Henry will actually be the one who saves Rumple from his dark one's curse by believing. In "Lacey" Regina said to Rumple, "I've seen your dark heart, and it always wins out….If your own son couldn't bring out the good in you, who will?" I believe Henry will bring out the good in Rumple. Similarly, in NL, Henry might have the power to believe in a cure to save his other gramps, Prince Charming, who is currently dying from dreamshade poisoning. I hope to see Henry take a more active role in being a savior, since he has always wanted to be a hero.

— Slurpeez108
Being the truest believer, does Henry really have the power save both his grandfather? He seem to bring out the good in people, after all.
I believe Henry can outsmart PP. While sometimes it is easy to overlook Henry, we must remember the story started with him stealing a credit card and secretly finding Emma. We're not looking at an ignorant kid here. He's smart. … We see Henry stirring when he is recaptured. I believe he was awake, deciding what to do. … I believe Henry will take down PP and the Lost Boys from the inside, just like he took matters into his own hands by eating the apple turnover to get Emma to believe.

— JULIA
The last scene showed Henry finally hearing the music, thus joining the celebration. Does Henry finally feel unloved and lost and is finally falling into Pan's magic for real? Henry doesn't know yet that his father is alive and that both his mothers, his grandparents and Hook is already in Neverland and is coming to save him, is Henry in some kind of spell that Pan puts him in? Pan did tell him that he once dreamed about things he lost, and things he hoped for, but eventually found new things to dream about, and they started to come true.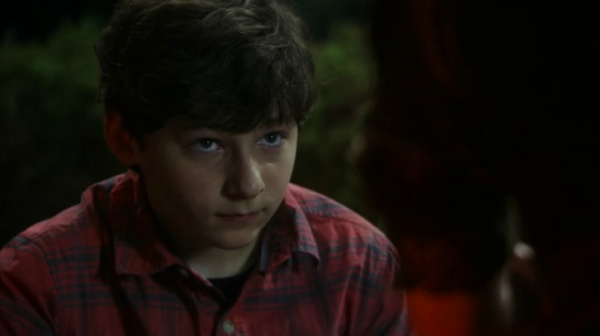 Peter is so good at playing the game, that after this episode, I believe it is because he adds his truths to the those of the people he is playing against. So, Henry is beginning to drink the PP Kool-Aide, and we have discovered what Peter really wants: to be able to dream of something and to get it.  It is why he needs Henry! Only a "true believer" can believe that "your dreams can come true". This is interesting because there is no future on Neverland, and it may mean that Peter wants something, and I think that is someone that he lost. I still think that it has something to do with Wendy, and maybe even leaving Neverland. We know he keeps [almost] everyone there, even if it is against his/her's will, because he doesn't want to be abandoned again. Plus he is addicted to power, like Rumple, like Regina.

— Vanessa
Is he merely outsmarting Pan? If Henry really is falling into Peter Pan's magic, would he really choose to stay when Emma finally find him and ask him if he wants to stay or go home with them? Or would Henry be like his father and choose to be with his father? If you think that we missed something, let us know using the comment section below or contact us using the information below.
What did you think?
Email Feedback@ONCEpodcast.com (audio files welcome)
Call (903) 231-2221
Comment on the shownotes
Visit any page on ONCEpodcast.com and click the "Send a voice message" link to record and send a message right from your computer.
Help us out!
Share this post in your social networks
Follow us
On Facebook:
On Twitter:  echo do_shortcode('[twitter follow="ONCEpodcast"]'); ?>
Daniel J. Lewis:  echo do_shortcode('[twitter follow="theDanielJLewis"]'); ?>
Jeremy Laughlin:  echo do_shortcode('[twitter follow="phlegon"]'); ?>
ErinJ:  echo do_shortcode('[twitter follow="erinjcruz"]'); ?>
Hunter Hathaway:  echo do_shortcode('[twitter follow="travelingpixie"]'); ?>
Jacquelyn / RumplesGirl:  echo do_shortcode('[twitter follow="punk_bunny_87"]'); ?>
Spoilers
Episode 5 Synopsis
Guest Stars in episode 5
Casting news
Things to look forward too this season
Episode 9 title announced