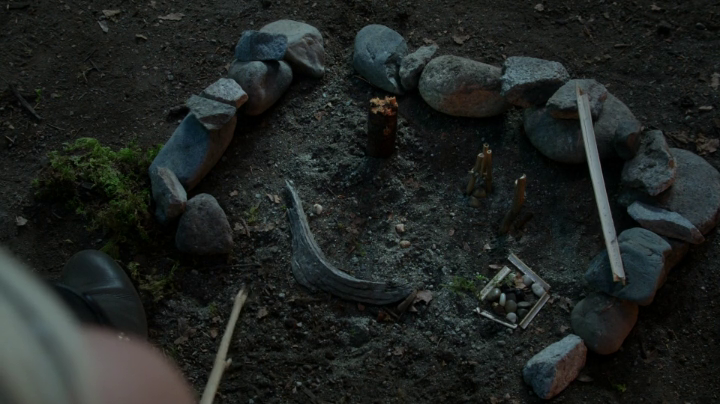 Podcast: Play in new window | Download | Embed
With the help of Tinkerbell, the group devises a plan to get Henry back; Meanwhile, Rumple struggles to break old habits. In the past, The Dark One searches for Baelfire only to come face-to-face with an old friend.
Mr. Gold makes a decision to confront Pan, but will he go there to save Henry or give in to the prophecy that the boy will be his undoing? Neal finds himself back in Neverland and in the custody of one of Pan's most loyal Lost Boys. And David struggles for his life as the poison continues to take its toll on him. Meanwhile, in the Fairy Tale Land that was, Rumplestiltskin goes in search of a missing Bae, who has followed a mysterious figure who steals away children with his music.
These are just our first thoughts about this Once Upon a Time episode. We'll share more about "EPISODE TITLE" in our upcoming full discussion live on Wednesday October 23, at 8:00 p.m. (EDT/GMT-4).
Thank You for Supporting Us!
Dena81 (subscriber)
David Neuland (subscriber)
You can sponsor an episode or more of ONCE podcast, too! Email Daniel@ONCEpodcast.com if you would like to arrange a corporate sponsorship of our podcast for the third season.
Initial Reactions
Some points from our discussion, in no particular order:
This might be the episode with its title spoken throughout the episode more so than any other.
They are taking this in an unexpected direction
Jeremy predicted back in Season 1 that Rumplestiltskin would be the Pied Piper, but it was actually Peter Pan.
Peter Pan and Pied Piper (PP)
Some of the things that stood out to Daniel: Henry didn't hear the pipe at first (he did feel loved), but by the end of the episode, he did hear the pipe.
Henry spent most of the episode sleeping, so how is it he suddenly can hear the pipes?  Can dreams make you wake-up feeling different?
Is Henry faking that he can hear the pipe?
Costumes – they seem to do this every year, where the characters are sent somewhere and then they never change their outfits.
Felix didn't seem excited to see Baelfire (Neal) again.  Maybe Neal gave him the scar?
People used to visit Neverland in their dreams?
The sleeping "spell" (not curse) Rumple put on the Lost Boys, looked an awful lot like poppies.
Nobody can leave Neverland unless Pan allows it.  Did Pan really let Neal leave?  Or is he just saying that?
The map looked like a star map.  This is interesting because of how they got to Neverland from "London" (Second Star to the Right)
Why did Pan let Hook go?  What was this deal?
Are there other clues on the walls of Baelfire's old cave?
Will Charming die?  Will he die alone?  Perhaps Snow White will die with them, and that is their happy ending – dying together.
Pan is such a manipulator.
Jeremy wonders if there is any way the prophecy is not about Henry.  It could be about Peter Pan.  It could mean so many things now.
Pan said he was going to "reset the board"
What if Pan gets the dagger?  Is that what Pan wants – imagine what would happen if that happened.
We got to see Squid Ink.  It didn't take that squid long to come from the deep depths of the sea.
We know now that for sure the squid ink captured Rumple back in season 1 ("Price of Gold") – the same effect was in this episode with Peter Pan and Rumple.
Will Rumple kill his son's son to be reunited with his son who will hate him for killing his son?
Thank You for the iTunes Reviews!
Your reviews encourage us and help others find the podcast!
Please rate and especially write a review for us on Apple Podcasts.
What did you think?
Email Feedback@ONCEpodcast.com (audio files welcome)
Call (903) 231-2221
Comment on the shownotes
Visit any page on ONCEpodcast.com and click the "Send a voice message" link to record and send a message right from your computer.
Help us out!
Share this post in your social networks
Follow us
On Facebook:
On Twitter:  echo do_shortcode('[twitter follow="ONCEpodcast"]'); ?>
Daniel J. Lewis:  echo do_shortcode('[twitter follow="theDanielJLewis"]'); ?>
Jeremy Laughlin:  echo do_shortcode('[twitter follow="phlegon"]'); ?>
ErinJ:  echo do_shortcode('[twitter follow="erinjcruz"]'); ?>
Hunter Hathaway:  echo do_shortcode('[twitter follow="travelingpixie"]'); ?>
Jacquelyn / RumplesGirl:  echo do_shortcode('[twitter follow="punk_bunny_87"]'); ?>