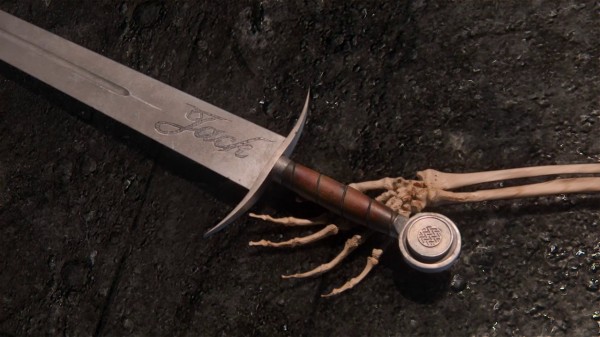 Podcast: Play in new window | Download | Embed
Did August get Henry to Regina? Is Neal also Baelfire and Peter Pan? Could Jack actually be the sword? And what happens if Hook tries to kill Mr. Gold/Rumplestiltskin?
Temporary podcast schedule change
Daniel and Jenny will be in Las Vegas for New Media Expo and Consumer Electronics Show. We'll still release episodes during this break, but only the following will be live.
Live initial reactions on Monday, January 7, at 4:30 p.m. (EST/GMT-5). Will be recorded in front of a live audience at New Media Expo in Las Vegas.
Back to regular live schedule on Wednesday, January 16, at 8:30 p.m. (EST/GMT-5).
Make sure you follow @ONCEpodcast on Twitter for any changes or announcement.
Big thanks to our sponsor!
You can sponsor an episode, too!
Or support us by shopping on Amazon.com or getting a FREE audiobook of your choice through Audible's free 30-day trial!
Unanswered questions from Jacob
How did Henry get to Storybrooke?
Who wrote the book?
What happened to Thomas in "The Price of Gold"?
Who did King George love?
Who was King Leopold's first wife (Snow White's mom)?
What happened to Jefferson's wife and who was she?
How did Queen of Hearts get Henry Senior?
Who is Baelfire? Neal? Peter Pan?
Where did Baelfire go?
Did August bring Henry
RiddleRaven called in to suggest, as we've previously discussed, that August may have be the one to help Mr. Gold "procure" baby Henry for Regina. In "7:15 a.m.," Regina said that something seemed familiar about August. Could she barely remember meeting him when she received Henry?
If Bae is Neal is Peter Pan
HAPPY NEW YEARS PODCASTERS!

It's 2013… In January… So we only have a week until we get ONCE back!!! 😀

Anywayyyyy,

One thing I can definitely see in one of the next episodes is Emma being sent out to find Bae and discovering that Bae is Neal. It would be a great plot twist (although half the world already holds this opinion), and it would add some depth to Henry's already messed up family tree.

So, assuming Neal is Bae:

I was reading some other posts in the thread about who Neal is, and realized: one of the major points in Peter Pan was that Peter couldn't remember his family.

As sad as this would be, this WOULD explain a lot. Like, if Neal is either Bae or Peter, why would he need August to convince him that magic is real with whatever was in the box? If he's Peter, I think Tinker Bell was in the box. Maybe he didn't need to believe per say, but perhaps he needed some… "convincing" to leave Emma. Just like in the story, when Peter leaves Wendy behind to grow up and he stays a kid with Tinker Bell, Neal left Emma behind to "grow up."

How does this tie into Baelfire?

How much of a twist would it be if Emma went out on a journey to find Rumple's lost son after hundreds of years of Rumples' waiting, brought him back to Storybrooke, and on top of him being Henry's dad… he had no idea who Rumplestiltskin was.

I also like Daniel's idea that he could just be a normal person (which would be really ironic, because actually no one is really expecting that). But if he was a normal person, what could POSSIBLY be in the box to convince you that magic exists and that August is telling the truth. And if August did manage to convince Neal, would Neal still have chosen to do the right thing after what he's done? Or did he need to be threatened a little?

What do you guys think?

~ Clockwatcher 😀
Jack is the sword?
I was rewatching Tallahassee and the scene where Emma and Hook discuss Jack the Giant Killer popped out at me. I don't think Jack was the skeleton at all–Jack was the SWORD.

Rewatching that scene, it seems pretty obvious to me that while Emma was talking about the skeleton, Hook was definitely talking about the sword. Not to mention the deliberate panning on the sword *engraved with Jack* when Hook says, "Jack, the Giant Killer."

So that opens up a lot, storytelling wise. Because we haven't seen the last of the Giants storyline, I don't think we've seen the last of the real man behind the sword, who might've faked his own death.
Just an idea!

Sarah
Storybrooke zipcode and Lost
Hey guys!

I am re-watching season 1 and listening to your corresponding podcasts about them afterwards… I'm listening to "Dreamy" right now, and you guys had posted a screencap of Kathrynn's phone records.

You asked if we saw any lost easter eggs… I've never ever watched lost, but I know that 815 is a significant number, and I noticed 04815 is the postal code for Kathrynn's address (or wait… you guys call it a zip code, right?)

🙂

Erin
Emma & Mr. Gold
Hello!

I love your podcast, and I signed up but forgot all my info. I am probably too late, but the implications of Emma realizing she has had no control over her life, and she has powerful magic, are strong. Emma was a woman who trusted no one, lived life as a bail bondsman, and felt she had control over her own life, & has now realized it was out of her hands. I also believe that for some reason, Rumpy wants/knows that she will become the most powerful of them all.

I rewatched "Tallahassee" and I am 100% on board with Neal as Baelfire. I just knew after his reaction to the dream catcher, and his interaction w/August, that he has an an innocence deep down, that could only make him Bae.

Oh, and does Hook know that if he kills Rumpy with that knife, he will become the Dark One? And that he and Cora will look like Halloween came too early when they land?

Looking forward to your next episode.

Vanessa
Connection between "Queen of Hearts" and the pilot
Hi guys,

Not sure if this was discussed, but I don't recall… and it might be obvious, but I just connected it… (not anything major, just for fun).

I just rewatched the pilot. When Charming kissed Snow in the first scene of the episode (after she ate the apple), she said "you… you found me."
"Did you ever doubt I would?"
"Truthfully? The glass coffin gave me pause!"

And that is what Charming said to her at the end of Queen of Hearts
"You… you did it!"
"Did you ever doubt I would?"
"No… though the burning red room did give me pause."

So… that was cute! 🙂 I'm new to your podcast, so now that I purchased the blurays, I am going to listen to the corresponding podcast from last season with the episodes I watch on bluray now!

That's all!

– Erin
Check out the first OUAT Roundtable!
Hosts of six Once Upon a Time podcasts joined together for the first-ever roundtable. We had a blast, and we'll do it again!
The costume contest winner!
We received 1,233 votes on 23 different costumes in our 2012 fan-made Once Upon a Time costume contest!
The winning costume, by a large margin, was "Rumplestiltskin" by Tim Hawks: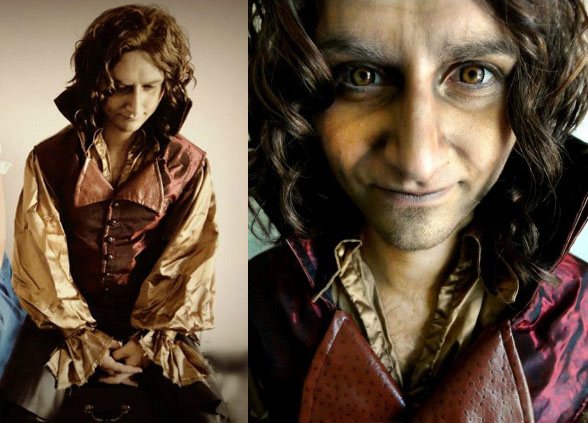 Congratulations, Tim! We're sending a free Amazon.com giftcard as an award.
Preorder season-two DVD/Blu-ray set!
You can now preorder the complete second season of Once Upon a Time on Amazon.com! For a limited time, save $10 off the DVD set and $15 off the Blu-ray set!
Preorder the second season today!
What did you think?
Email Feedback@ONCEpodcast.com (audio files welcome)
Call (903) 231-2221
Comment on the shownotes
Visit any page on ONCEpodcast.com and click the "Send a voice message" link to record and send a message right from your computer.
Help us out!
Share this post in your social networks
Follow us
On Facebook:
On Twitter:  echo do_shortcode('[twitter follow="ONCEpodcast"]'); ?>
Daniel J. Lewis:  echo do_shortcode('[twitter follow="theDanielJLewis"]'); ?>
Jeremy Laughlin:  echo do_shortcode('[twitter follow="phlegon"]'); ?>
ErinJ:  echo do_shortcode('[twitter follow="erinjcruz"]'); ?>
Hunter Hathaway:  echo do_shortcode('[twitter follow="travelingpixie"]'); ?>
Jacquelyn / RumplesGirl:  echo do_shortcode('[twitter follow="punk_bunny_87"]'); ?>