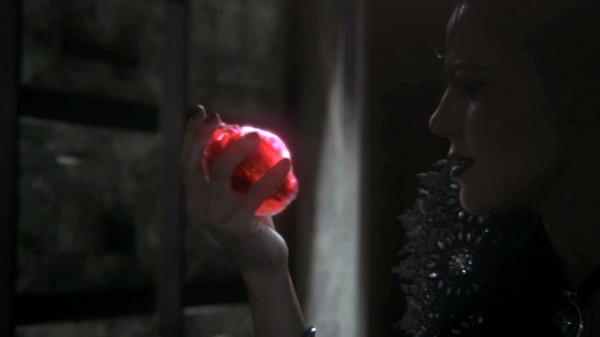 The Evil Queen has a strange hobby: she collects hearts. As I thought about this, it made me wonder. Could it be that she herself has no heart?
There's a whole history there that we have yet to discover about the Evil Queen. We've witnessed in Fairytale Land that each character has their own history; even Rumplestiltskin didn't always possess the power to wield magic. He was once known as a coward and a mere peasant, spinner, and wool tradesman. His beguiling nature had a beginning.
Maybe the evil queen wasn't always evil, either. She has mentioned how Snow White took away something that was very dear to her, and she sometimes refers to that thing as a "he." Perhaps this "he" was Snow's father and the queen invested her heart in him so much that after he died (of course we know she killed him after an incident that involved Snow's revealing a secret), she removed it from herself, never to feel that way for anyone again, and is now rendered heartless. Thus beginning the cruel hobby of collecting hearts.
Or she could've just married Snow White's father to gain the throne, which blows a huge hole in my entire previous theory. Until we find out more about this thing or person that the evil queen once loved, we'll never know how she came to be so calloused and wicked.
Please share this post!
Use the social buttons or retweet the following.
Why Does the Evil Queen Collect Hearts? http://t.co/7mTVT4gE #OnceUponaTime post by @JennysNook #OUaT

— ONCE podcast (@ONCEpodcast) January 21, 2012