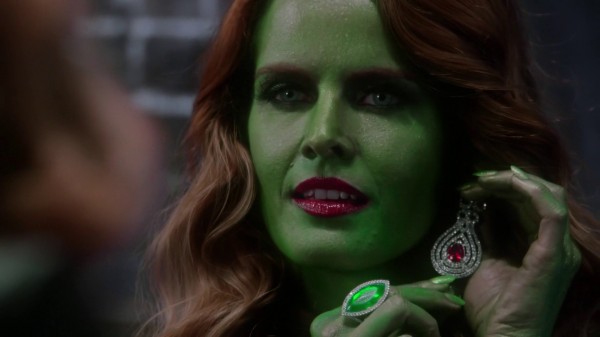 Without anyone's knowledge, Emma and Regina worked together to figure out who cast the new curse on Storybrooke. In the Enchanted Forest, Regina journeys back to her castle with Robin Hood in an attempt to break the protection spell that was cast by the Wicked Witch.
Podcast: Play in new window | Download | Embed
Start your own website and get unlimited hosting, unlimited bandwidth, and even unlimited websites with BlueHost.
The second half of the third season seems to be shaping up to be great. It was nice seeing more familiar faces. Still no traditional flashbacks that we are used to. Although it was a little bit broken out than what we are used to, seeing non-traditional flashbacks were very refreshing. How long is this kind of flashback will last, though?
Great seeing new changes with the show; scheduling of episodes being the number one, as well as the way of telling story arcs between worlds. The current season have far fewer story arcs to follow, which makes it easy for everyone to follow what has been going on.
One Year Ago (The Enchanted Forest)
As Zelena goes through Regina's jewels, Zelena made another Disney reference to Jack Sparrow, which is the black pearl. What does Zelina mean, by the way? We've looked it up and found out that the name meant moonlight, derived from the name Selina.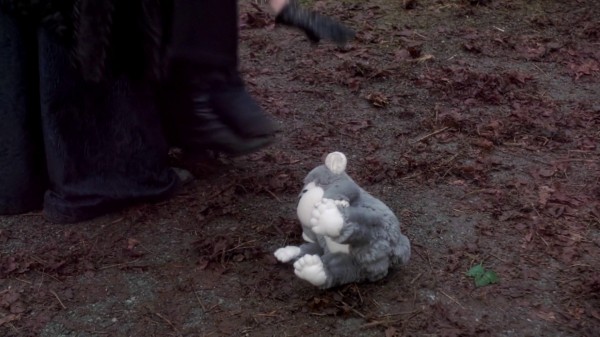 Is the flying monkey that Regina turned into a stuffed monkey Walsh? We haven't seen any more flying monkeys except Walsh and Little John when he turned into in the hospital. Did Zelena turned it back into its human form when she cast the new curse in Storybrooke?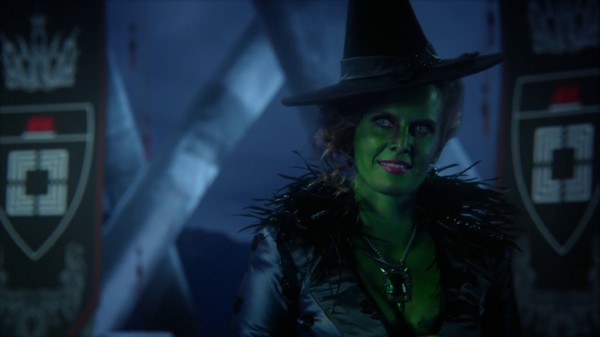 The Regina dress that Zelena tried on was the same dress that Regina wore in the episode, Hat Trick. Seems like the Wicked Witch is very jealous of Regina and everything that she has.
One clarification, Robin Hood knows Belle because he released her from Rumple's torture in the episode, Lacey.
It was fun hearing Grumpy confirming about the differences between the Wicked Witch of the East and West; one you drop a house on, the other you throw a bucket of water on. Interesting how they reference specific details to various fairy tales we have known. Even Regina saying she doesn't care if the Wicked Witch was being protected by the lollipop guild is funny!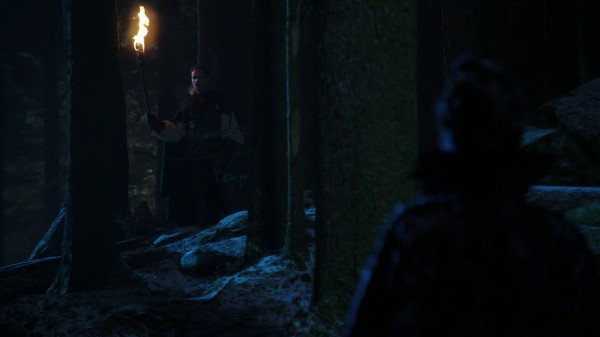 Why did Robin Hood and his merrymen suddenly joined Regina, Snow, Charming and the rest of their army? And why did they bring Roland? Great seeing Regina and Robin make a connection, by the way.
Speaking of Regina and Robin Hood, seems like Robin Hood was impressed with what Regina can do with the boulder. But no matter how it seemed that there might be a blooming romance between the two of them, it seemed to have been forgotten in Storybrooke with the new curse.
Why didn't they mention Maid Marian's name, but instead reference her as "Roland's Mother?"
The crypt that was sealed by blood magic looked mostly the same as the one from the episode, Queen of Hearts. Plus, why are both of her parent's coffin said, "Beloved Father" and "Beloved Mother." But why did it say "Mills" when it wasn't really their last name? In addition, this particular crypt seems a lot like Regina's vault. It has the same pattern as the one in the episode, Queen of Hearts. If at the time when Regina cast the curse, Cora hadn't escaped from the crypt, she could have been the one to break Regina's blood magic. But now that they were back, is Cora really inside the coffin? Moreover, how come Zelena didn't know that Cora was dead if she said that she has seen everything?
In the last episode, New York City Serenade, Zelena got the blood from the monkey and said, "Now I shall get my revenge." Although it looked a lot like Zelena was already inside Regina's castle at the time she said this, Regina's blood was at least part of breaking the blood magic, making it hard to believe Zelena's claims that she and Regina share the same blood.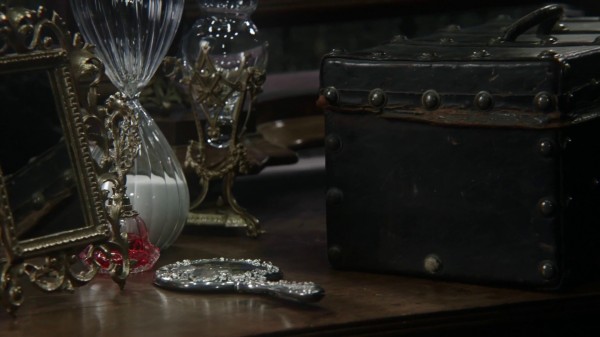 As the Evil Queen and Robin Hood went inside her room, the hand mirror that Regina always use was seen in her vanity. It was also interesting to get a throwback to the original Snow White story when Regina pulled a hair pin or barrette from her hair and dipped it in the potion. As Regina lowers the shield on the Death Star, there were flags that was seen that was never seen before.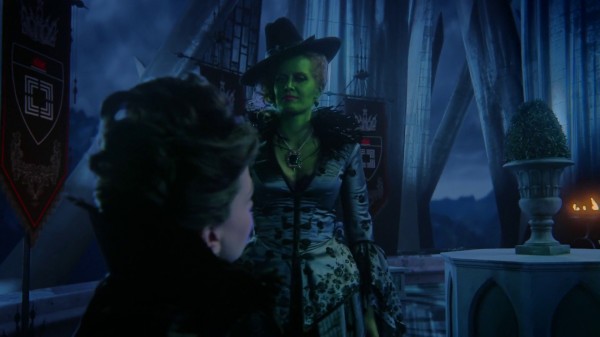 Is Zelena and Regina really half-sisters? Is she really Cora's first born daughter? She said that anything would have been better than the life she's had. What happened to her? Why does she have a lot of disdain against Oz? Is her becoming green part of that anger? If Rumple is Zelena's father, it would confuse the timeline as Cora only met Rumple before she met Prince Henry. Besides, Cora told Rumple that he will never have her baby. If there's any truth that Cora and Rumple were Zelena's parents, the episode "The Miller's Daughter" wouldn't make sense.
I think Zelena and Regina really are half-sisters. In "New York City Serenade," Zelena was already inside of Regina's castle when Walsh the monkey brought her some of Regina's blood for a potion. The fact is that Zelena had already opened the door before Walsh scratched Regina, meaning Zelena really is related to Regina.

Also, Rumple most likely is not Zelena's father based on what she told Regina. Zelena said Cora had her before Regina–before Cora "wormed her way into the dregs of royalty." That means Cora likely gave birth to Zelena before the events of "The Miller's Daughter" and therefore, before she ever met Rumplestiltskin, meaning he couldn't be Zelena's father.

— slurpeez108
Perhaps, Zelena's father is not Rumplestiltskin, but Snow White's father, Leopold, when he and Cora were both younger. If you think about it, Princess Eva humiliated Cora when she meet the daughter of a miller, and considering Cora's proud and vengeful personality, she wanted revenge not only against King Xavier for making her feel like she is nobody important, but against Princess Eva as well for tripping her. I'm guessing Cora seduced Prince Leopold, somehow, into fathering a child (Zelena) with her as a way to get back at Princess Eva. Both Cora and Prince Leopold kept silent about it to maintain their reputations.

— Bryant
Who is Zelena's father? Can Snow White's father be Zelena's father? Some also theorizes that Zelena's father could be The Wizard of Oz.
Thank You for Supporting Us!
Steve Johnson (subscriber)
David Neuland (subscriber)
Lisa Slack (subscriber)
You can sponsor an episode or more of ONCE podcast, too! Email Daniel@ONCEpodcast.com if you would like to arrange a corporate sponsorship of our podcast for the upcoming third season.
Thank You for the iTunes Reviews!
Your reviews encourage us and help others find the podcast!
Please rate and especially write a review for us on Apple Podcasts.
Present Day (Storybrooke)
In the present, we've seen that all of the characters are just a few days out of what they remember, but the story picks up at Granny's Bed & Breakfast with Emma asking everyone to lie in front of Henry. Until when will Henry realize the truth about everything?
A number of people have been disappearing, especially the dwarves, some of whom are Doc, Dopey and Bashful.
Hook said that a bird landed on his ship's wheel as he was sailing the realms. The note said to retrieve Emma with a small vial of memory potion. Who sent Hook the bird with the message? Rumple? August? Ariel?
Despite how everyone lies in front of him, one of the only things that sticks is his liking cinnamon in his hot cocoa. Henry also seemed to changed a bit, what with having lots of friends in New York when he has none in Storybrooke.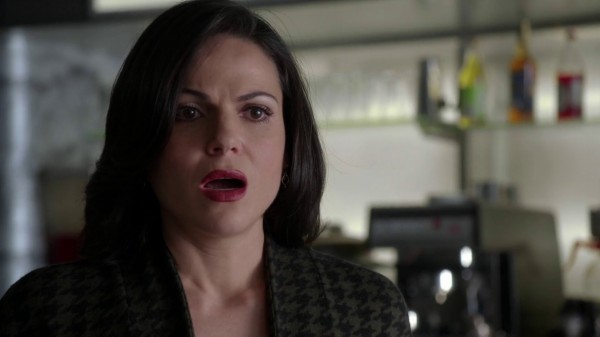 Regina's reaction upon seeing Henry for the first time was heartbreaking. You could definitely see the hurt in her eyes to see her son and not remember her one bit. Great writing on Edward Kitsis and Adam Horrowitz for planning Henry's age carefully.
Props to those who theorized that anyone will be turned into flying monkeys for attempting to cross the town line.
One of the things that Regina said to Emma regarding the new curse is that "a cast curse is to hurt others, not myself." It was cool seeing Emma and Regina scheme together, and cleverly, too.
Cool nod to Tron as well when Henry said "de-rezzed him." But does Henry still love reading? He said, "How'd you know that", which could mean "how did" or "how would." He hasn't been seen reading lately.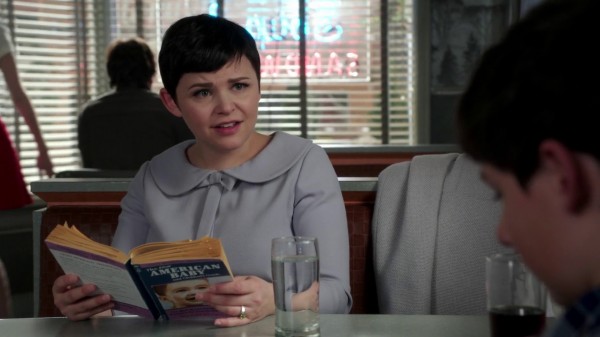 Speaking of books, Snow was seen reading "The New American Baby", which seemed to be another fake book, probably covered with fun easter eggs and production designer's (Michael Joy) name.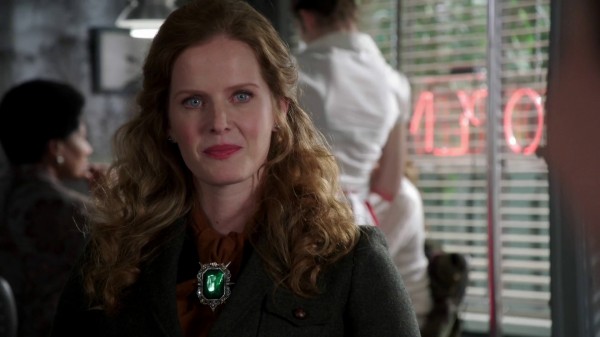 Zelena told Snow that she is a midwife and that "babies are stronger than you think." Is it any significant to Zelena's backstory? Why could she want Snow's baby? Her green necklace looked a little too prominent as well, which could probably be significant in the future episode.
My theory (and I'm spoiler free including the promo so this is completely 100% my thinking) is that the storybook will return at some random point to Henry, not only including the previous stories that were in it, but also the new ones that include what happened that past year. It will pay homage to season one, as Henry believes again via the book, and it will allow the characters to regain their memories again without a potion. Of course, the book won't have everything, but it may be enough to trigger a memory. What do you guys think? — Kiara
I have a theory about how Henry is going to be reminded of his memories in Storybrooke. I think Regina is probably going to give him a motherly kiss on the forehead, similar to the end of season one [when Emma kissed Henry], and it will wake him up.

— Maddi
Would Regina giving Henry a kiss wake him up?
So far, we have heard of a connection between Zelena and Aurora's baby and now Snow White's baby. She has also declared herself a midwife…I don't see any obvious connection [between her interest in babies] and getting what she wants or making Regina suffer. Unless Zalina just wants a family – which seems a bit sentimental for the wicked witch. The baby is the product of true love and so might have power that Zalina is interested in.

— Gareth
Is Zelena interested in Snow and Charming's new baby? Is the new baby some sort of a key to breaking the new curse?
It was cool seeing Emma and Regina in good terms. Despite Regina somehow trying to insult her when she said that she never went to prison, both of them kept their cool. When the memory potion that Regina made didn't work, she said that she knows exactly who to tell and Grumpy goes to Granny's diner to tell the big news. Who was really in on Emma and Regina's plan?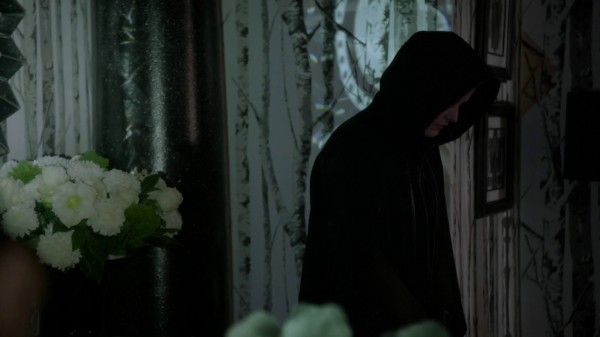 During Emma and Regina's stakeout, it seemed a lot like it was really Zelena who poofed out of Regina's magic, only hooded. Again, Regina said that "No one can break through magic, no matter how powerful they are." Could Zelena really be related to Regina? How else can she disappeared off the Mayor's office, then?
When Regina, Emma, Snow, Charming and Hook talked about Little John turning into a flying monkey and how the person in Regina's office disappearing in green smoke, what if Henry was listening in their conversation?
How long has Rumple been in cage? How does she intend to use Rumple in enacting her plans? Rumple stuck in Zelena's dungeon looks a lot like the Rumplestiltskin in the Pilot episode.
So it's confirmed our beloved Rumple lives after all, but he's seems to have gone completely insane. But I have a theory on that. I think Rumple has gone insane to stay sane. Now I know that sounds weird, but I've heard that people go insane to stay sane especially in tuff situations. The best example of this, perhaps not as harsh though, is the TV show M*A*S*H, which is about a bunch of army doctors in Korea during the Korean war. They are completely insane but they are insane to stay sane especially when dealing with the horrors of war. I know that might seem like a serve example, considering war and being trapped in a cage are totally different things, but it was the best I could think of a certain situation in which going insane keeps you sane.

As always I enjoy the podcast and love listing to it, keep up the good work. RUMPLE LIVES!

— darkones1fan
Is Rumple really insane or is he just pretending to be insane? Which madness is he talking about when he said "You feed the madness and it feeds on you." Why is he saying that Zelena shouldn't have brought him back?
Is Rumple being the Dark One that interest Zelena in bringing him back? How deep is her anger for choosing Regina over her to reenact the dark curse? Is it because Regina was initially a good-hearted person who only had a hard fall because of the Stable Boy compared to Zelena?
In the original story of the Wizard of Oz, the Wicked Witch wasn't originally about her being green, but more about her flying monkeys not really having any rule over them.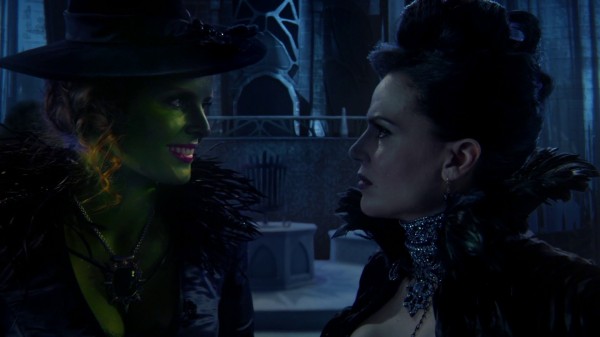 If Zelena and Regina wasn't related by blood, how did Zelena broke Regina's blood magic protection, then? Over the hiatus, some re-watched The Miller's Daughter and watched young Cora's reaction when Rumple mentioned about her first-born. In the episode, young Cora made an interesting reaction when Rumple told her of that. Are the creators setting us up for the possibility of Cora and Rumple having a child of their own?
What do you think about the Witch Hunt episode? Do you have any theories or thoughts to share? Share them out by sending us an email or commenting below.
What did you think?
Email Feedback@ONCEpodcast.com (audio files welcome)
Call (903) 231-2221
Comment on the shownotes
Visit any page on ONCEpodcast.com and click the "Send a voice message" link to record and send a message right from your computer.
Help us out!
Share this post in your social networks
Follow us
On Facebook:
On Twitter:  echo do_shortcode('[twitter follow="ONCEpodcast"]'); ?>
Daniel J. Lewis:  echo do_shortcode('[twitter follow="theDanielJLewis"]'); ?>
Jeremy Laughlin:  echo do_shortcode('[twitter follow="phlegon"]'); ?>
ErinJ:  echo do_shortcode('[twitter follow="erinjcruz"]'); ?>
Hunter Hathaway:  echo do_shortcode('[twitter follow="travelingpixie"]'); ?>
Jacquelyn / RumplesGirl:  echo do_shortcode('[twitter follow="punk_bunny_87"]'); ?>
Spoilers
Episode 14 is called The Tower, directed by Ralph Hemecker and written by Robert Hull
Episode 14 also features Alexandra Metz as Rapunzel
Hook wants to help but Emma may start questioning if he's keeping something from her
There is an actor who's filming but isn't in the credits, Everick Golding, who will play as Rapunzel's father
We're going to see a bunch of interaction between Zelena and Rumple
Seems like episode 14 is going to be creepy
Henry's book will make a comeback and he will be seen holding it
The hooded-figure in Storybrooke is different from the ones in the Enchanted Forest
In the Canadian Promo, there is no talk about Rapunzel but they show a bit of Zelena-Rumple interaction
Charming thinks he found the Wicked Witch in the woods
Episode 17, "The Jolly Roger" will feature Hook with the Blackbeard to be portrayed by Charles Mesure, decoding a mysterious message about how to get to New York and retrieve Emma
We'll also see a complete backstory of the Wicked Witch. Lana Parrilla told E! Online that there's a deep-seeded hatred between Regina and the Wicked Witch
We're going to see Oz as well, probably in episode 19, "A Curious Thing". Glinda will be there as well
We'll see young King Leopold in episode 18, same episode where young Cora will also be in, giving birth to a baby in perfectly normal color
Edward Kitsis and Adam Horrowitz told D23 that they want to bring in Ana and Elsa into the show as well
Rose McIver got cast as a lead in a new CW TV show, iZombie with David Anders but it hasn't been picked up yet so they could still be in the show
Episode 21 is entitled "Snow Drifts"
Regina, Robin Hood, Rumple, Belle and Charming was seen shooting lately with Regina's black carriage in a very creepy barn, maze-thing going on, probably a portal?