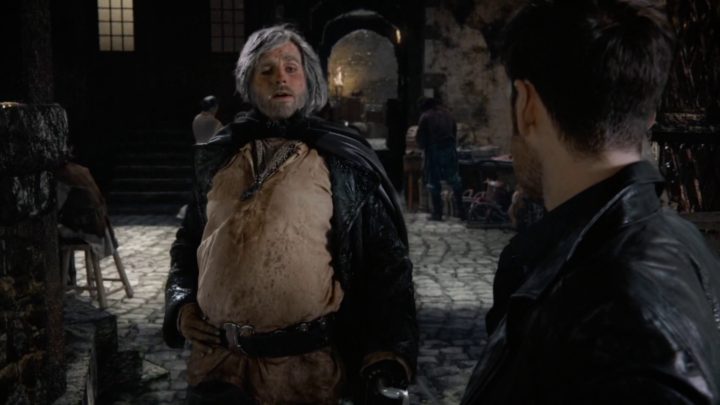 Emma's fate, rejuvenating Hook, a crackpot theory about Wish Realm Hook's daughter, Inspectorstiltskin plus, is Lucy awake? Is Lady Tremaine? All these and more on this Creation Entertainment sponsored episode of "A Pirate's Life!"
Podcast: Play in new window | Download | Embed
Are you thinking about coming to Once Upon a Time convention in Whippany, NJ but haven't got your tickets yet? Get your tickets now at Creation Entertainment website and get a chance to meet Regina, Emma, Hook, Zelena, Archie, and more!
What we saw in Another Realm must be several years since Henry left Storybrooke, putting Hyperion Heights then even later than that. So if the Storybrooke flashback happened about 2 years after season 6, Emma would have been in her late 30s when she got pregnant and Wish Realm Hook would be way older than Enchanted Forest Hook because of the timeline difference in Wish Realm.
Emma's Fate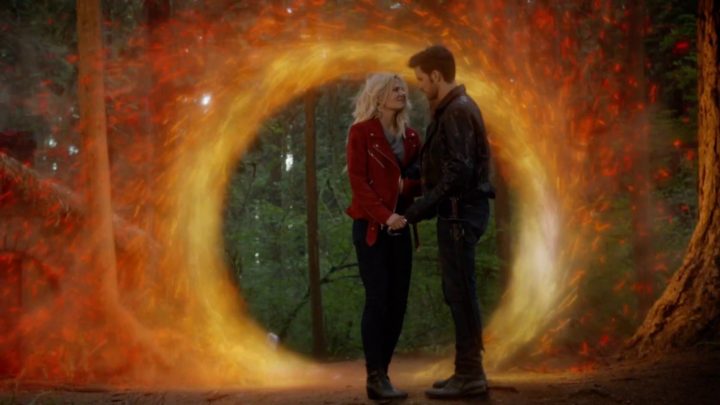 Emma is a lovely name, however, it is kind of disappointing with what they did to Emma. Although her send-off is wonderful, it was a bit disappointing that she didn't die because it would make for a better story. There was so much set up leading to the moment that she had died, especially with the way they worded some of the lines. What would made for a special moment was to show her in Storybrooke. What we know about the show then is she's not coming back. There could be a reunion someday, just like when Sheriff Graham showed up at the end of season 1.
If the show ends and Henry goes back to Storybrooke, we should see Emma again. No other time again.

— palace486
What a silly waste of one episode to pick to bring Jennifer Morrison back. They could simply say that she was pregnant instead of bringing her back just for this. And because they didn't want to anger the fans, they instead brought Wish Realm Hook in and have Enchanted Forest Hook back to Storybrooke with Emma. That said, if they had killed Emma we could be lamenting over the same thing about them killing off their happy ending.
Having said that, it was nice knowing that Storybrooke is still alive and well; Archie's wedding officiating business has gone up; Snow and Charming still sickeningly optimistic.
Rejuvenating Hook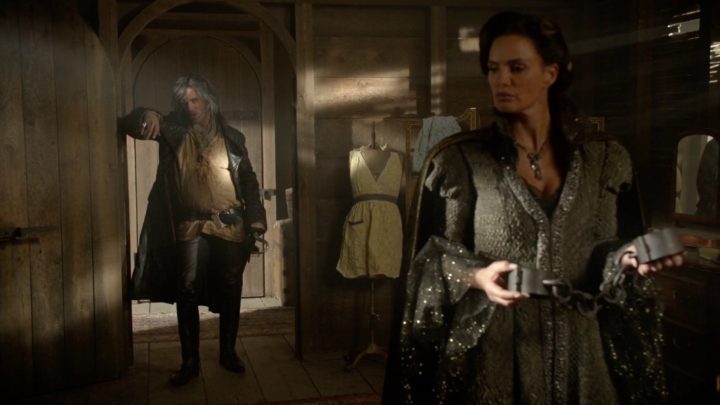 With an alternate Hook, this then cast all sorts of doubt with other characters. Although Roni could actually be Regina, we don't know if it's the real Rumplestiltskin. If this Wish Realm Hook is real as he says, that means that Regina truly murdered real Snow White and Prince Charming in Wish Realm. Or did the bottle somehow make Wish Realm Hook real? With using another version of Hook, it seemed that everything we've known and loved about Hook is now gone. Because of this whole daughter storyline, it feels like we are supposed to be invested into it rather feel more for the Hook that we've grown to love for several seasons.
Do they all have twisted memories rather than a completely erased memories? Will the Fury come after Wish Realm Hook since his supposed death was intercepted? Is Emma still a Dark One? Is there a cost of magic this season, since it has been said seasons prior that all magic comes at a price?
Who is other Hook's daughter? Drizella? However, if he knew that he had his daughter with Lady Tremaine, wouldn't he know that his daughter was somewhere around? How do they fix his curse? How does time actually work in Wish Realm? How old is her daughter even supposed to be? And since this is a different Hook, will there be a new ship in town with Regina and Wish Realm Hook?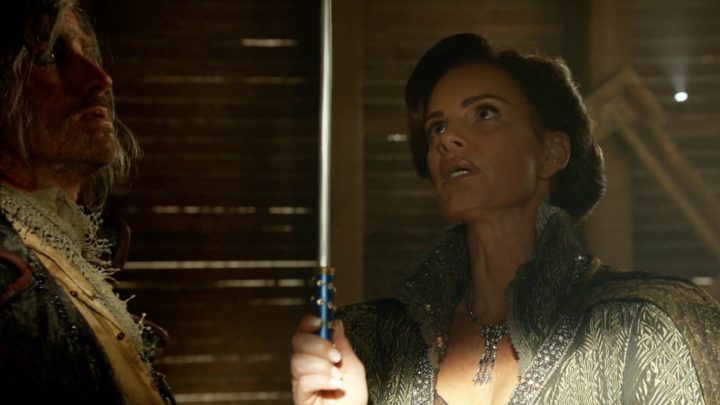 For someone who does not wield magic, Lady Tremaine seems pretty good wielding the fairy's wand.
I think the long-lost daughter fake Hook has been searching for is actually Lady Tremaine's (errr, Victoria's) daughter Drizella. Fake Hook and Lady Tremaine clearly have a history between them as shown during the scene in which fake Hook was made to look young again. Also, Drizella has shown in the first two episodes of this season moments of discomfort in her mother's evil actions. We're already empathizing with Drizella in some of these scenes and it appears as though her story is a complex and multi-faceted one that's yet to be told. Additionally, with fake Hook being convinced that Lady Tremaine may have had something to do with this mystery (as discussed with Henry and Ronnie), it makes sense that she may want to hide this secret. Besides, no daughter of Lady Tremaine should know that she's the daughter of a pirate, right?

— Ken Lohr
Looking at how Lady Tremaine treats Drizella over Cinderella, it was clear she's the favorite. Is Lady Tremaine awake or is she also under the curse herself? Is it possible that this isn't the real Henry in Storybrooke, but rather Wish Realm Henry?
Wish World Hook's daughter: Hook is old enough to be the father of pretty much anyone on the show. The reference to chess pieces sounds like a reference to Wonderland, so I think we are supposed to think that he is Alice's father. There are some parallels, Hook is also from "and other places." That being said, I think Alice is more likely related to Rumple given their connection in both worlds. Hook's daughter was locked in prison by a vengeful witch. Hook mentioned that he was sneaking in to visit her. Perhaps he was sneaking in by climbing up her hair. Given the terrible waste Once proper made of Rapunzel it would be nice if they went back to that story. Whoever Hook's daughter is, she should be at least 10 years older in the present as, at the point in the past we first learn about her, Lucy has not been born yet. Of course no one actually ages on this show.

— Gareth
What if Lucy isn't Cinderella's actual daughter? What if she's Wish Realm Hook's daughter instead? Furthermore, Wish Realm Hook's daughter could also simply be made of a wish.
Is Lucy awake in Hyperion Heights? Is she like young Henry who figured out after reading the story book, or does she actually have her memory from before? Unlike Henry's, her book doesn't seem to have that much detail about the curse, so how much does Lucy actually know?
Victoria's Secret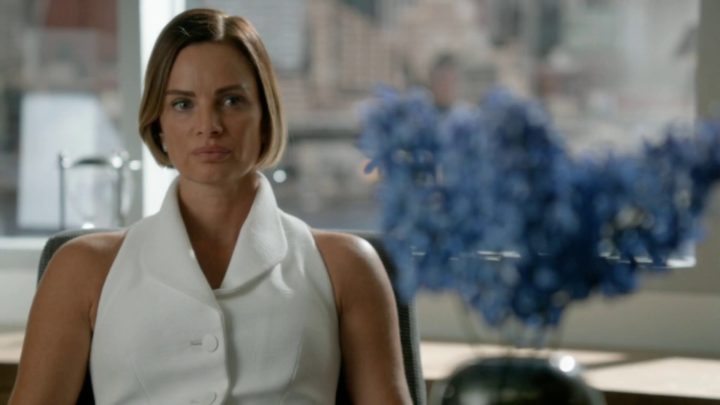 Lucy said last episode that Victoria wants to bring in people from outside world so fairy tale characters move out. So far, Lucy, Rogers and Weaver have all left Hyperion Heights. What if this curse is only about Victoria's revenge on Cinderella? It seems like only Jacinda can't leave Hyperion Heights. At least so far.
If Cinderella and Henry got together, it's totally possible for Lady Tremaine's other daughter to marry the next prince so it's not Cinderella is getting in the way. Wouldn't she be more happy that Cinderella found someone else?
Where is Lady Tramain from? Wish World Hook says to her "I heard you were in this realm" This implies that she has been in other realms. Lady Tramain says "you're lucky you still have eyes at all after what you did to me" This suggests that she and Hook have a history, possibly in whatever world she is from. I don't think she is from the Wish World, but you never know. Hook said he was "traveling the worlds' looking for a way to save his daughter, so he probably met her somewhere on his travels.

— Gareth
What is Victoria Belfry's relationship with Weaver aka Inspectorstiltskin? What if Lady Tremaine is from the Wish Realm and Inspectorstiltskin is the Rumplestiltskin from Wish Realm and they are both trying to find some way to escape the Wish Realm? What if this curse is actually trying to escape the Wish Realm?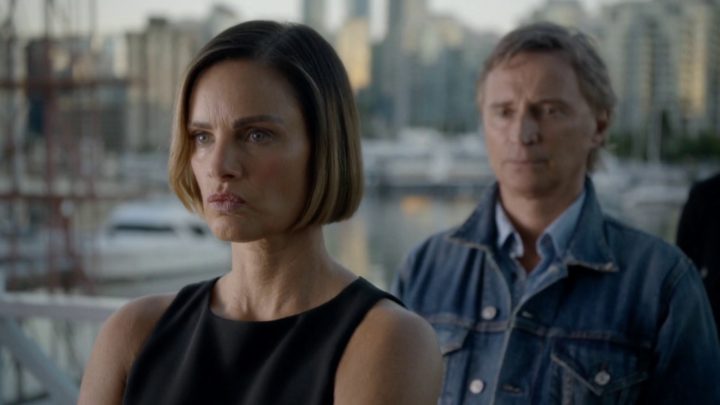 Is Inspectorstiltskin actually Wish Realm Rumple? Is he good or bad?
Weaver; A mystery as always. Rumple did not travel to the mirror universe to help Henry when Regina, Hook, and Emma went. Now we know that Regina and Hook stayed and there was a period of time before the curse was cast. This means that there was potentially time for Rumple to join them. Rumple did know where to find Henry as he had Alice keeping an eye on him. He might have gotten caught in the curse. I'm not sure what goals of his might have aligned with Victoria's in the past. I can sort of understand him having sympathy for the Hook who lost a child and trying to help him.

— Gareth
Will Inspectorstiltskin help Rogers find his daughter? Is he awake? What if he got caught up in this curse to find his son?
I do believe that Rumplestiltskin knows exactly who he is, and that his new found savior-hood didn't last long.  It certainly seemed that way in the other episode this season.  But that begs the question, doesn't it?  If Storybrooke still stands, is Belle still back there?  And did she finally wise up and split from him once and for all?  Maybe Rumple went back to the enchanted forest to get away from her.  But what's become of Gideon then?  So much confusion.

— Meredith of Everett, WA
Operation Next Chapter
Very quickly, Henry went from Operation Glass Slipper to Operation Next Chapter. Does Henry have to kiss Cinderella to break the curse? If Lady Tremaine, Lucy, and Weaver are not awake, who cast the curse then?
Did we miss anything from the episode "A Pirate's Life?" Share them all using the comment section below or head straight over the forum and share your thoughts not only from "A Pirate's Life" but also on upcoming episodes.
What did you think?
Email Feedback@ONCEpodcast.com (audio files welcome)
Call (903) 231-2221
Comment on the shownotes
Visit any page on ONCEpodcast.com and click the "Send a voice message" link to record and send a message right from your computer.
Help us out!
Share this post in your social networks
Follow us
On Facebook:
On Twitter:  echo do_shortcode('[twitter follow="ONCEpodcast"]'); ?>
Daniel J. Lewis:  echo do_shortcode('[twitter follow="theDanielJLewis"]'); ?>
Jeremy Laughlin:  echo do_shortcode('[twitter follow="phlegon"]'); ?>
ErinJ:  echo do_shortcode('[twitter follow="erinjcruz"]'); ?>
Hunter Hathaway:  echo do_shortcode('[twitter follow="travelingpixie"]'); ?>
Jacquelyn / RumplesGirl:  echo do_shortcode('[twitter follow="punk_bunny_87"]'); ?>