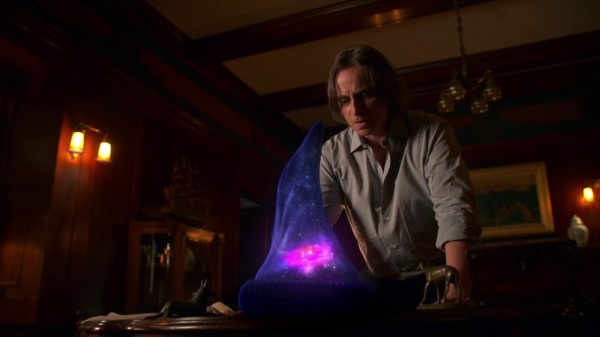 Emma and Hook was able to go back to the present with a baggage that would once again ruin Regina's chance at finding love. Will Regina revert back to being the monster everyone knows her to be, or can she control herself and understand it was an honest mistake on Emma's part? Now that Belle and Rumplestiltskin are married, can Rumple keep his word to no longer be the man he was? And what mission does Elsa have for coming to Storybrooke? Join us for our full discussion of last Sunday's episode, "A Tale of Two Sisters."
Podcast: Play in new window | Download | Embed
If you haven't watched Frozen, we suggest you watch the Disney animated hit first as the episode picks up a few years after the Disney animated hit movie ended.
Arendelle of the Past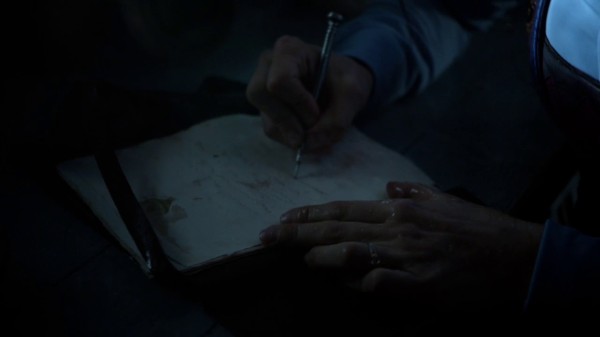 Starting with the ship going down where Anna and Elsa's parents were, Anna's mother wrote a letter to let Anna and Elsa know about the "truth"; the only thing that will save them. In the movie, it was vague as to where they were going, which makes this arc more sense. Where were they going?
The true Disney-inclusion to the story (aside of the amazing Beauty and the Beast ballroom scene recreation) was the iconic Sorcerer's Apprentice hat. In Fantasia, Mickey Mouse wears it but the owner of said hat is Yen Sid, opposed to Jeremy's constant references to Merlin. Is it possible that Yen Sid was originally the character that was trapped in the bottle/vase?

If you notice, the hat appearing and Regina looking for the book's writer have correlation, but Frozen has still to make a connection. We are all assuming that Anna will encounter the original Snow Queen, and we are all theorizing that her parent's journey was leading them to Rumple…. but (and here is the story-related theory) could it be that Arendelle's king and queen were actually looking for Merlin– I mean Yen Sid?

— Geovanny
Were Anna and Elsa's parents looking for Yen Sid? Is that why Rumple imprisoned Elsa inside the urn? Because her magic is something that is too dark that even he can't control?
The "truth" that will "save" Ana and Elsa: It appears that Ana and Elsa's parents found something during their trip to the Enchanted Forest (I believe the ship wreck happened on their way back – perhaps the storm was even magical, an attempt to prevent them from getting home with the truth). It sounded like the truth that would save Ana and Elsa is information – presumably something they learned in the Enchanted Forest. I think ultimately we will learn this information – either whatever was saved from the wreck will be found or Ana or Elsa will find it either in the EF of the past or Storybrooke present. My guesses about what the information is would be: something about the origins of Elsa's power – perhaps she was cursed and not born with it after all, perhaps how to control or remove the power, the reason she has the power (perhaps a curse but perhaps for reasons of good), or perhaps the information will talk about the link between Elsa and others who have similar magic. The controlling or eliminating the power option fits best with a literal sense of "save" them but perhaps understanding the power could emotionally save them. Given that Elsa ends up in Rumple's vault perhaps Rumple was the person they got the information from.

— Gareth
Was the storm that killed Anna and Elsa's parents not an accident at all? If it wasn't then who cast it?
Anna and Elsa's mother had a sister who had powers just like Elsa and she became the original Snow Queen and was banished to the Enchanted Forest and they were going to find her to see if she could help Elsa learn to control her powers.

— Sarah
Is the Snow Queen somehow related to Anna and Elsa? Can she really help Elsa control her powers?
So, Elsa & Anna's parents were headed to Enchanted Forest AND they sent a message to tell them 'the truth'.  Why does Elsa have the frozen curse and not anyone else?  Are they going to Enchanted Forest to find her birth parents?  You know how this show is with siblings and genealogy.  I'm not sure who her parents are, but my guess is, they are headed to Enchanted Forest to find Elsa's birth parents to help her deal with her Frozen curse.

— Karin
Was Elsa adopted, after all? Does that explain her uncontrollable icy powers? If she was, who was her parents?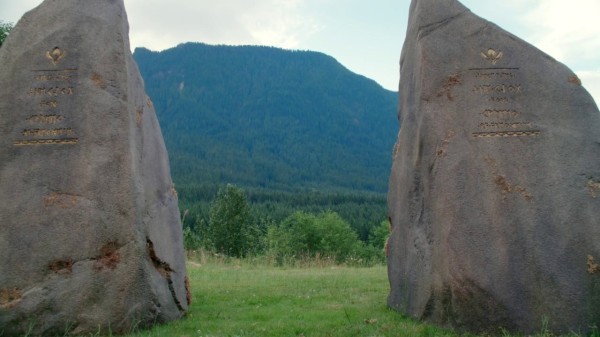 Five years after their parents day and the day before Anna's wedding, Elsa and Anna went to visit their parents' grave. It was nice that they showed that it was five years after the movie's timeline took place. At least she's marrying someone she just met, right?
Although they didn't get the original cast from the movie, and the actress that played Anna seemed a bit ditzy, the creators did a pretty good job casting the Frozen characters for the show. Plus, how the creators presented the Disney animated hit seemed pretty good, especially if Disney was actually considering making a sequel to the movie.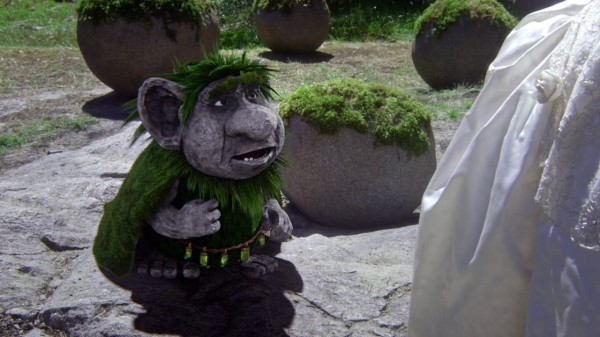 In the hopes of finding answers to what their parents wrote in the diary, Anna and Elsa visited Anna's future in-laws — the rock trolls. We have already seen the trolls in the Enchanted Forest, so are they somehow related? Elsa also mentioned about Hans and his 12 angry brothers, Maybe a "Twelve Angry Men" reference?
Grand Pabbie said that Elsa and Anna's parent weren't really supposed to go to the Northern Isles like they said, but also in Misthaven. What were they supposed to do there? If Anna didn't make it back to Arendelle, where is she now? Is she in Storybrooke or in another realm altogether?
Thank you for supporting us!
Lisa Slack (subscriber)
Steve Johnson (subscriber)
David Neuland (subscriber)
Kelsey Hunt (subscriber)
Laura Silva (subscriber)
Laurie Hancock (subscriber)
Tappnbrd (subscriber)
DJ Firewolf (subscriber)
Maryann Livoti (subscriber)
Patreon backers ($16.50 per episode)
You can sponsor an episode or more of ONCE podcast, too! Email Daniel@ONCEpodcast.com if you would like to arrange a corporate sponsorship of our podcast for the upcoming third season.
Thank you for the podcast reviews!
Major Neat Guy
A. Barash said, "There is NOTHING to think about for Once Upon a Time without ONCE podcast!"
Your reviews encourage us and help others find the podcast!
Please rate and especially write a review for us on Apple Podcasts.
Storybrooke (Present Day)
We liked how the episode immediately picks up right where we left off last season, just like what happened in the past season finales and openings. Outside of Granny's Diner, we certainly the hurt that Regina felt at the moment. It was sad that her dark past continues to haunt her, despite her continuous struggle to redeem herself. However, her constantly defending herself to the others (except for Marian) and, at the same time, her wavering is suddenly getting old. Is she really a villain or a hero? Everyone seems to think that just like that, Regina will switch to being the Evil Queen again, but will she? Seems like Regina's a bit of a fixer-upper, isn't she?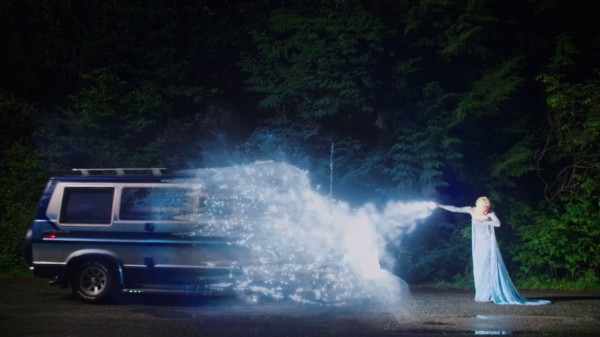 While it is understandable that Marian is new and she was initially fearful that everyone was talking to her nicely, Marian could've felt better when Mary Margaret asked Regina if she was okay. And why would anyone let SLEEPY drive? Did Elsa's presence cause the radio to go out?
This episode seems to have a lot of Frozen references, one where Mr. Gold was in Neal's grave and he almost said "for the first time in forever", and Robin Hood almost saying to Regina that "the past is in the past."
Back in Neal's grave, Rumple said that he only lied to Belle in order to avenge his son's death. Will it really be the last time that he would lie to his new bride? Or is he still too addicted to the Dark One's power?
"I simply hated the graveyard scene. Never have I heard such a cold and selfish monologue. I expected this to be a tear-jerker. I expected Rumpel to act even an ounce like the Rumpel in every previous season, but he did not. There were no kind words for Baelfire, and what a good son he was, or the father to Henry he could have been. Rumpel spoke of what Baelfire made him feel, what his future plans were for himself, then pretty much said, "I'm better now, though. Bye!" Gone is the man who would have ended himself at the thought of losing his boy. The boy he destroyed worlds for. Rumpel wasn't a father at his son's grave, he was a writer, tying loose ends. He's now suffering from the same disease that ONCE injects into every other character and plot point: Shiny Toy Syndrome, a sickness that makes characters on this show forget that they are supposed to feel in favor of moving the plot. This show had weight, meaning and symbolism, and season after season was slowly purged of every scrap"

— @Schaendlich
Was doing the wrong thing for the right reason the right thing to do? However, being this a TV show, not everyone has all the time in the world to grieve for as long as they wanted to.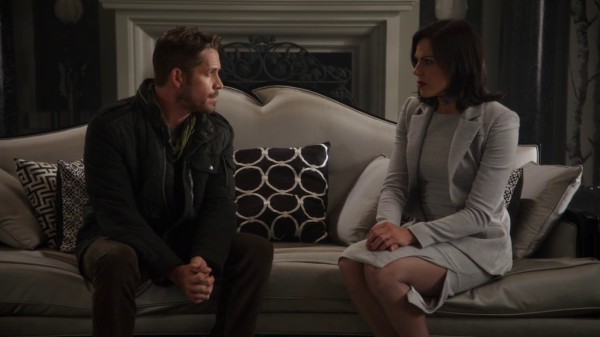 From one emotional scene to another with Robin Hood and Regina inside Regina's office, their struggle is totally a real struggle. It was very honorable how Robin decided to honor his vows to his wife, despite the fact that his feeling for Regina were and are indeed real. But can Regina look into her heart and understand that right now isn't the time for her to be with her soul mate?
I thought you brought up a great theory about the "frozen heart" being used since the show revolves around "true love" in different forms as well as physical hearts. Along those lines I was thinking that maybe they will make that come into play between Regina, Marian, and Robin somehow. This may be way out there, but it could be the course correction you all mentioned about how if something was changed in the past then it would correct itself, and since Marian was supposed to die then maybe she gets a frozen heart but actually dies in the process of trying to thaw it – like by giving her life for someone but not in time to save herself.

Or it could not involve Marian or Robin at all, but I think Regina would somehow be involved if it does come into play. Maybe Emma's heart is frozen and she does something to save Regina, Hook, or really anyone. I say Regina because she is now so focused on trying to make things right, and I honestly think they both respect each other enough to care about what happens to each other, despite their differences. I don't know if that would count as true love, but it could since it would be selfless. Emma has saved Regina before and put herself in danger to do it (like when trying to save her from the wraith) and that was before they really respected each other, so it wouldn't be that much of a stretch.

— Jessica
Since Regina is understandably brokenhearted, could it be possible that Regina may have a frozen heart? Or will it be Maid Marian? How much will Regina let her dark side win over to rid everyone standing in the way of her happiness? And if it's true that the more Emma tries to help, the worse Regina's life becomes, how worst can her life get?
In anger, Regina breaks the mirror, which prompted her to get Sidney out of door 108 of The Mental Care Pharmacology. By the way, Martha on Twitter caught a Lost easter egg when Regina entered the code 815 before entering down to Sidney's prison:
@ONCEpodcast I am pretty sure Regina's code to enter Sidney's cell was 815.
— Martha (@martmaureen) October 1, 2014
When Regina broke the mirror, this reminds us of one scene in Snow Queen, but this time, the mirror was Sidney. Sure, this idea didn't come from the pizza boy, right?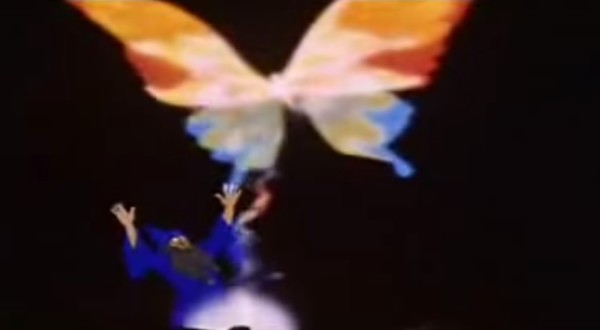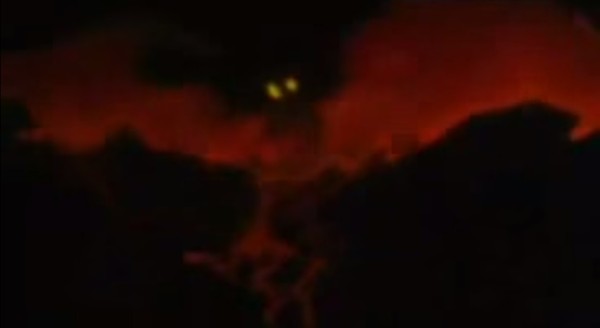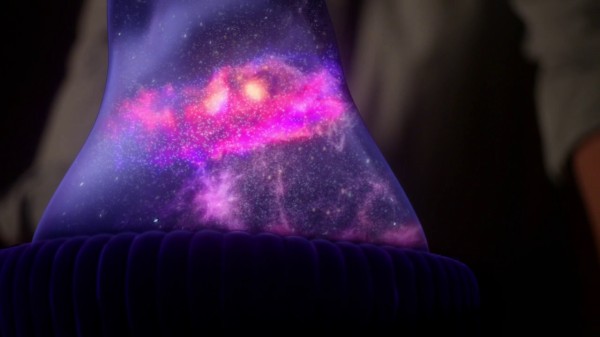 Back to the newlyweds, Mr. and Mrs. Gold, Belle told him that the house "came over in the last curse." To whom does the house belong to? When Yen Sid's hat materialized out of the trinket, a swirl of stars suddenly appears. What is the relation of this with everything that's going on? Are Yen Sid and Rumple friend or foe? We haven't really seen Rumple with friends before. When he comes to power as the Dark One, it looked like he already knew how to use it. How did Rumple know about using it?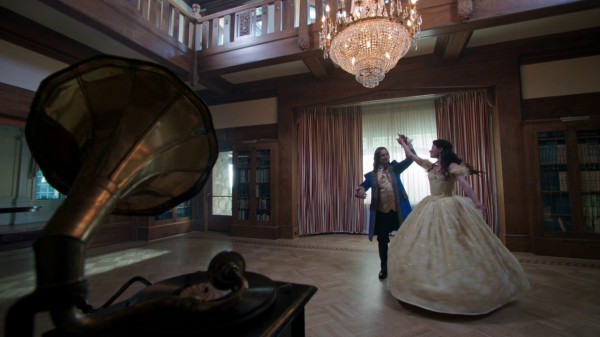 Jumping back to Belle and Mr. Gold arriving in the borrowed house, them dancing to the tune of Beauty and the Beast was really nice. Now that they are married, will Rumple have another child, this time with Belle?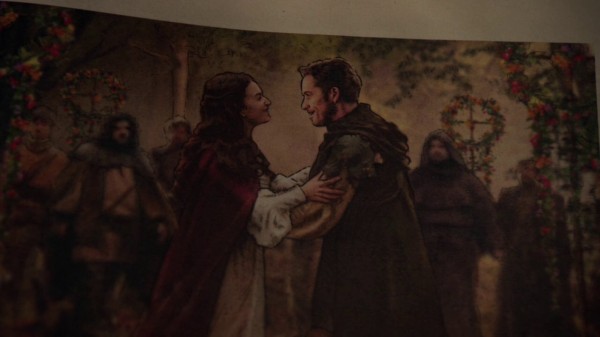 Down in Regina's vault, Regina told Sidney that it's more than just a book; that it's powerful and what happens inside, it appears immutable, although Regina feels stronger. Regina also told Sidney about her wanting to find out who wrote the cursed Tome and then force them to give what Regina deserves. Regina also believes that it's time to change the book, for villains to get their happy endings.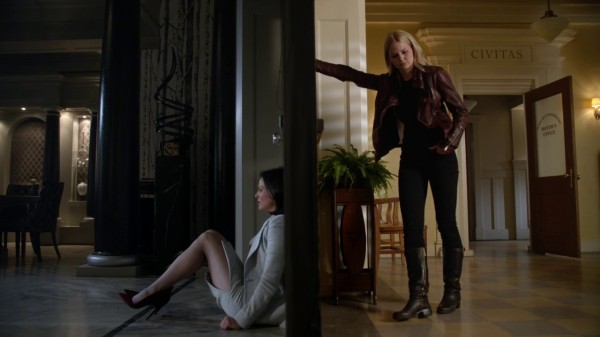 Back in Regina's office, Emma told her that her job is to bring back the happy ending, and that she won't stop until everyone gets theirs. However, what we know so far is that August added contents about his past to the book. Does the book contain the future, as well?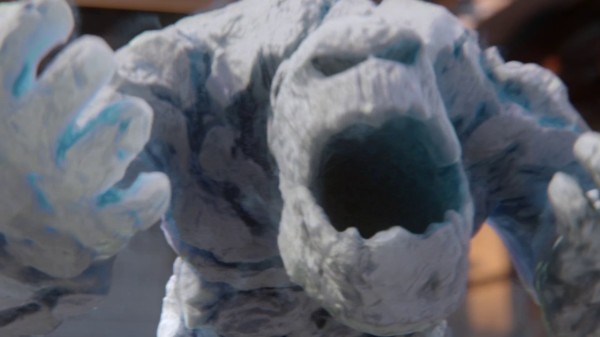 Yet again, Elsa created life as she summoned Marshmallow to protect her. But unfortunately for the snow monster, Regina incinerated him using her fiery powers. And unexpectedly, Regina even saved Marian in the woods from the evil snowman stepping over her.
And again it's Regina saving the day while the rest are running around headless or knocked out by one tiny blow. Marian pleading with teary voice for help to Regina made me cringe even more. Why have the character? She's just some gimmick to trigger Regina's newest back and forth.

— @Myril
Are we still on the Rumple and Regina roller coaster, going back from evil to good?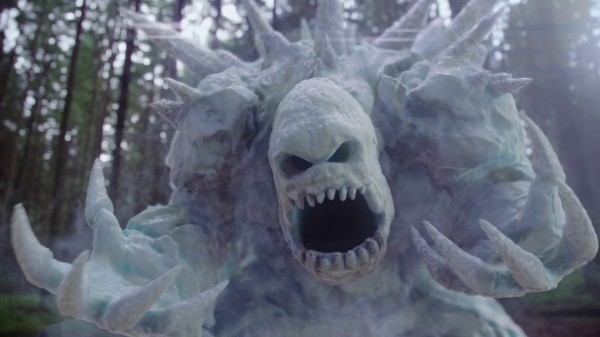 How come Emma's magic didn't work on the snow monster? Is her magic isn't as powerful as Regina's or does she just need more training from Regina?
Do villains deserve happy endings? Head over the forum, join the discussion and share your opinion on this!
I was looking at the Sorcerer's hat, and noticing that they took the star design on the surface a step farther.  The hat appears to contain an entire nebula or galaxy or something inside it.  Or maybe a mini-universe, or another realm or something.  Fascinating!

But maybe, that is the reason it is powerful.  Maybe whoever possesses the hat can draw magical power from the universe contained within.  Cool!

But then I got to thinking about magical hats, and I thought of Jefferson, the Hatter!  What if his powers have some connection to the Sorcerer?  Like maybe the Sorcerer gave him his powers?

When I suggested this to my family, someone answered:  "Maybe the Hatter IS the Sorcerer's Apprentice!!!"

— Sci-Fi Girl
Does Jefferson have something to do with Yen Sid's hat? What if he himself is the Sorcerer's Apprentice? It would definitely be nice to see old characters from the show that we know of.
My theories is we will found out who originally own the Sorcerer's hat but we will also found out it will now belong to Henry because he has the heart of truest believer and he the product of light and dark magic. It could also belong to Prince Neal. My other theory is the original Snow Queen will either turn out to be Elsa and Anna's Aunt, Grandmother, or Elsa's real mother. It's great to be back listening to the podcast and having discussion about the show and theories!

— Aleana
If changing fate is beyond Sidney's power of reflection, how will Regina undo Emma's mistake? Can she find the book's writer and ask it to give the villains a happy ending once and for all? Emma said that her job is to bring back everyone's happy endings, how can she right her wrongdoings? Is Anna in Storybrooke? Can Elsa still find her sister? Share your views about the episode "A Tale of Two Sisters" by filling in the comment section below or joining the forum with our fellow ONCErs.
What did you think?
Email Feedback@ONCEpodcast.com (audio files welcome)
Call (903) 231-2221
Comment on the shownotes
Visit any page on ONCEpodcast.com and click the "Send a voice message" link to record and send a message right from your computer.
Help us out!
Share this post in your social networks
Follow us
On Facebook:
On Twitter:  echo do_shortcode('[twitter follow="ONCEpodcast"]'); ?>
Daniel J. Lewis:  echo do_shortcode('[twitter follow="theDanielJLewis"]'); ?>
Jeremy Laughlin:  echo do_shortcode('[twitter follow="phlegon"]'); ?>
ErinJ:  echo do_shortcode('[twitter follow="erinjcruz"]'); ?>
Hunter Hathaway:  echo do_shortcode('[twitter follow="travelingpixie"]'); ?>
Jacquelyn / RumplesGirl:  echo do_shortcode('[twitter follow="punk_bunny_87"]'); ?>
Spoilers
Mary Margaret to take over as the Mayor of Storybrooke while Regina deals with her own dilemma?
Guess stars include  Robin Weigert as Bo Peep, Gabrielle Rose as Ruth and Sean Owen Roberts as ruffian.
4×02 "White Out" was written by Jane Espenson and directed by Ron Underwood.
Promo played out exactly like the synopsis, with Elsa casting a barrier on the town line, allowing no one to leave the town until she finds Anna.
In the promo photos, Emma was seen with Elsa and it looks like Emma was really cold.
Elsa may start bonding Emma and might become friends, even.
One of the promo photos also showed David with a new haircut, looking like a model of a romance novel cover.
We will be meeting Prince Hans soon, looking like the one from the Disney animated version.
There was a casting call for a strong, intelligent sister of three; blue-eyed and is off to a ball.
Sally Pressman (Army Wives, Scandal, Grey's Anatomy) has been cast as an unknown character. Perhaps one of the sisters or Anna and Elsa's mother?
There will also be another episode depicting how Regina and Emma's past; revealing how their relationship grew.
Kitsis and Horowitz confirmed that Elsa was not the villain this season.
Hook and Emma will soon have their first date, with probably Hook in his modern day clothes.
Speaking of their first date, we will also soon be meeting Will Scarlet in 4×03, interrupting Hook and Emma's date.
Being a thief, the Knave of Hearts/Will Scarlet is getting in the way of things with everything in Storybrooke.
4×08 is entitled, "Smash the Mirror" and is written by David H. Goodman & Jerome Schwartz.
Maleficent won't be returning until season 4B and won't be pleased with Regina in 4×11.
One of our very reliable sources say that Rose McIver is in talks with ABC to reprise her role as Tinkerbell for season 4B.