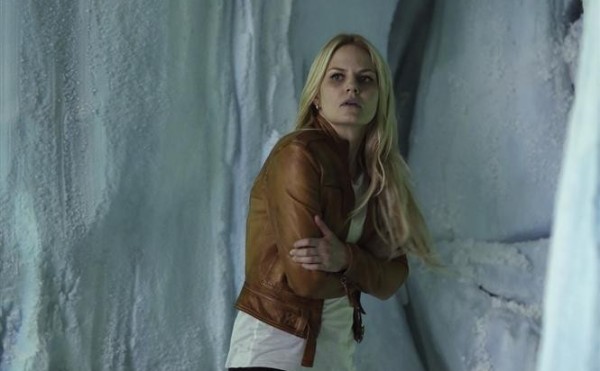 Determined to find her sister, Elsa created a barrier that would prevent anyone from Storybrooke from leaving town until they're together. Elsa may have controlled her magic before, but without her sister, can she stop someone else from freezing to death? In the Enchanted Forest, however, Anna seeks help from a shepherd and in return, she teaches him to sword-fight against a brutal warlord from an impossible battle who is threatening his and his mother's farm if they don't pay her price.
Podcast: Play in new window | Download | Embed
While desperately trying to find her sister Anna, Elsa is startled by Emma and accidentally traps them both inside an ice cave, with the frozen temperature placing Emma's life in peril. Regina, depressed over her likely breakup with Robin Hood, secludes herself away from the town and Henry, which saddens her son. And with the townspeople considering Mary Margaret their leader, she faces her first leadership task in trying to re-start a generator and restore the town's electricity after Elsa freezes and damages the power lines. Meanwhile, in the Enchanted Forest of the past, Anna tries to teach a meek David to fight Bo Peep, a brutal warlord who is threatening to take his and his mother's farm away if they don't pay her price.
These are just our first thoughts about this Once Upon a Time episode. We'll share more about "White Out" in our upcoming full discussion live on Wednesday October 8, at 8:00 p.m. (EDT/GMT-4).
Initial Reactions
Remember, these are just our initial reactions regarding tonight's episode so please bear with us if we're a bit all over the place. If you have your own thoughts, feedbacks, or theories regarding tonight's episode, however, send them over to us and join our full discussion of the episode, "White Out" this Wednesday!
We found out that a deleted scene that's going to be shown on Good Morning America so you might want to stay tuned to that.
So, who is the ice cream lady? Elsa thinks that she's the only one that can do magic and we think she's one of the two things — Elsa's real mom or the original Snow Queen, who may be this season's new villain.
From the moment Elsa and Emma met, it was interesting how there are no villain-hero feeling between the two of them. Can this be a start of a new friendship forming? It's also quite interesting that it was Anna who has to teach David. And did he get his swirling-sword thing from Anna? Of all characters, Bo Peep as the town butcher may be one, if not the weirdest characters we have seen on the show. But weird as it may seem, it was an interesting way to introduce a character to the show. If Elsa has to create a barrier on the town line, does that mean that anyone can leave Storybrooke now without losing their memory?
Does that mean that Mary Margaret is now the mayor because she was the one who cast the curse? Regina wasn't elected, after all. But without all the training about being an electrician, Mama Mayor sure does know how to work her way about power generation. Perhaps she has some experiences with power blackout?
Thank you for supporting us!
Lisa Slack (subscriber)
Steve Johnson (subscriber)
David Neuland (subscriber)
Laura Silva (subscriber)
Patreon backers ($16.50 per episode)
You can sponsor an episode or more of ONCE podcast, too! Email Daniel@ONCEpodcast.com if you would like to arrange a corporate sponsorship of our podcast for the upcoming third season.
Where is Anna? Could Anna be inside the necklace? Did Rumple put her in it? After all, he was the one who put Elsa inside the urn. And why is the necklace broken? Is it significant at all?
Are we the only one who thinks that it's kind of weird that Anna seeks David, even if he and Kristoff were friends? On the other hand, it was also great to see David's mother return.
Anna's character is developing a little better compared to last week. We did feel like they are telling a story here. One that's developing better; not forced. However, it was a bit sad that we see very little of Regina, Snow, Belle and even Rumple. Maybe next week's episode will be main character heavy?
Confuse a bit about the show's current timeline? Check out our full list of the show's timeline from all the seasons past and present.
If Anna was inside the necklace and Elsa was in the urn, where was Kristoff when the curses happened? Does that mean that Anna and Kristoff didn't get to be married? Did Elsa eventually make it through the Enchanted Forest to find Anna, that's why she was imprisoned inside the urn?
Now that Mary Margaret is the town's Mayor, can she handle the pressure of the job AND being a super Mom to her new son, Neal? With Emma and Elsa's uncontrollable powers, can they find Anna in Storybrooke? Is she even in Storybrooke and if she is, who is keeping her hidden? Send your thoughts and theories via email or head over the forums and join us this coming Wednesday for our full discussion!
What did you think?
Email Feedback@ONCEpodcast.com (audio files welcome)
Call (903) 231-2221
Comment on the shownotes
Visit any page on ONCEpodcast.com and click the "Send a voice message" link to record and send a message right from your computer.
Help us out!
Share this post in your social networks
Follow us
On Facebook:
On Twitter:  echo do_shortcode('[twitter follow="ONCEpodcast"]'); ?>
Daniel J. Lewis:  echo do_shortcode('[twitter follow="theDanielJLewis"]'); ?>
Jeremy Laughlin:  echo do_shortcode('[twitter follow="phlegon"]'); ?>
ErinJ:  echo do_shortcode('[twitter follow="erinjcruz"]'); ?>
Hunter Hathaway:  echo do_shortcode('[twitter follow="travelingpixie"]'); ?>
Jacquelyn / RumplesGirl:  echo do_shortcode('[twitter follow="punk_bunny_87"]'); ?>