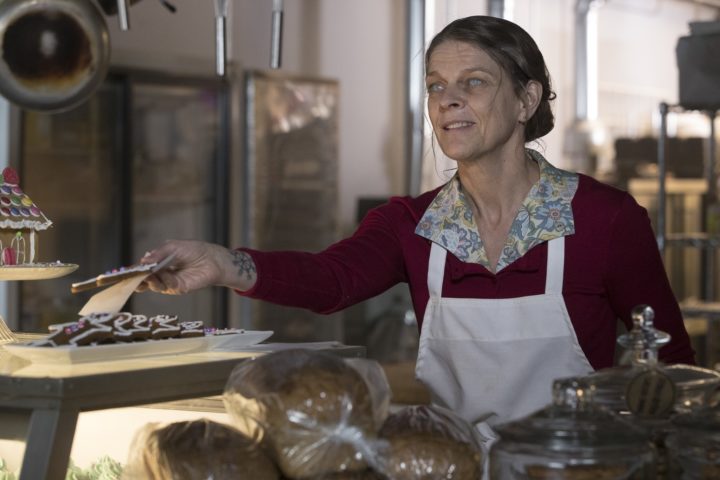 The voodoo witch doctor with that ridiculous hat, H-Town, the Rollin' Bayou, and more in our in-depth discussion of "A Taste of the Heights"!
Podcast: Play in new window | Download | Embed
The Princess and the Frog
Although this episode wasn't that much enjoyable, this is one of those rare weeks where even though it was not that enjoyable, rewatching it brought the enjoyment level higher. Tiana's storyline for one, was sort of enjoyable, but it feels like watching a story in two different times. We liked the parallel, but it took most of the episode. It wasn't even just a small thing, they just bounce back and forth and kept focusing on the same people, which is very true to old Once Upon a Time format, wherein the past explains the present except it is much more similar in two different ways.
If Jacinda used their collective rent money for the food truck, wouldn't that mean she was the one starting the food truck? Or was that all for Sabine's beignets? In the new Enchanted Forest, when Dr. Facilier said that he has been trying to get something that he's been after for quite a long while, did he mean the Resurrection Amulet? Does he also want it from himself? Also, when Naveen died, Dr. Facilier said that he is "in between worlds?" Are worlds the same thing as realms, and if they're not, are they dimensions within this world? Is he on another plane like the Underworld? Is Naveen dying?
As they debate whether Tiana will go to check the docks or go to the coronation, why didn't Regina just suggest to poof them there instantly or take care of it herself? Why not bring Regina instead of bringing Nook and Cinderella? And for a second when they got the necklace out of the gator, it looked a bit like a watch from Peter Pan.
But why did Dr. Facilier want the necklace? In Princess and the Frog, the necklace was a skull and was used to turn the dude into Naveen when Naveen was a frog. Furthermore, Tiana's palace is also the name of the restaurant Tiana opens in The Princess and the Frog. Sabine and Drew knew each other years ago, however, it seems they are more together in Hyperion Heights. Is the curse gentler because Regina cast it somehow or is that another inconsistencies? When Dr. Facilier saved Naveen's life, Tiana seems to forgot that she accidentally almost killed him in the first place because he had something with him that belonged to Dr. Facilier.
VoodooQueen
What is Regina's history with Dr. Facilier? And why must Regina always be kissing people she shouldn't?
"It seems pretty clear that he knew Regina when she was the Evil Queen (based on his comment that she had gone soft). It appears that they had some kind of romantic involvement. It appears that he still has feelings for Regina. In Greenbacks he was imprisoned between worlds and somehow I suspect that it was Regina who trapped him there. Perhaps their original relationship did not work out very well."

— Gareth
3) I had the feeling of dread of NO… Please NO about Regina and Dr Facilier the same way I had about Wish Realm Evil Queen and Mr. Gold in season 6. 4) If Regina has a past life with Dr Facilier, then how about Rumple, Zelena or Gothel? 5) Dr Facilier referred to Regina as "my Queen" similar to that of Genie/Sidney Glass in season 1.

— Keeper of Squid Ink
If there's only 10 episodes left in the series, how will they explain Regina and Dr. Facilier's backstory? Will we even see it? Could Regina have gone to Dr. Facilier to try and resurrect Daniel, which will explain her history with him? Whatever their history is, it seems Zelena doesn't know about it.
Regina wondered what the odds are that Dr. Facilier shows up "just days after (they) discover there's a coven forming." Does this mean he is the one killing witches? The lock of hair would point to his style of magic, but how did they know that a lock of hair was missing from Dr. Sage or Hilda, the Blind Witch? It's interesting Regina didn't seem to know Dr. Facilier by the business card, so who is really awake?
Who is awake? It does appear that more and more people are awake all the time. The witch doctor is awake – though the fact that he seems to have some kind of innate magic and Regina asking him why he came to Hyperian Heights makes me think he was actually never cursed and came to town by some other means (portal). In addition the blind witch might have been awake. Her suspicious behaviour towards Rogers and Weaver might be explained by her being awake. If this is true then probably all of the members of the Coven are awake. This is entirely plausible. We need to keep in mind that false memories (or being asleep) is not actually part of the Dark Curse. It never has been. Regina added it to the original curse. In Snow White's Dark Curse there were no false memories and no memories would have been affected if Zelina had not added the forgetting potion. Therefore when Gothel and Drazella cast the curse they could have left anyone they wanted awake. Obviously Drazella and Gothel were always awake, so why not the rest of the witches?

— Gareth
The whole Weaver-Rogers investigation is getting tiring, but investigating Hilda was somewhat interesting. It was interesting that both Dr. Sage and Hilda had the same tattoo scar, which they described as the eight pillars. They also made it seem like she was the Blind Witch because she is making gingerbread, but is she really? Why would Dr. Sage have her tattoo removed? What does that mean for the coven? Did she wanted out because she became a doctor? Is Hilda awake?
Why would Regina go to Dr. Facilier's apartment without telling Zelena? Why hide her history with Dr. Facilier to her sister? Unless she comes back to Zelena and Rumple to give them some information, is it possible Regina went to Dr. Facilier to make some deals with him to save Henry? It was disappointing to see in the past where she kisses the guy right after he steals Naveen, and then here she is doing kind of the same thing. Although Regina didn't kiss Dr. Facilier in present day Hyperion Heights, she still followed him inside which seem to suggest things. Why go all the trouble if she knew who's who? Dr. Facilier is a lot like Rumplestiltskin, what with making deals and his sing-songy voice. Is he done "owning" Naveen in the past?
H-Town
It seems that the page that Lucy found sees the curse the same way that we do. Based on the page that Lucy found, it almost seems that the curse is just on that family now. Moreover, it's interesting to find out that Lucy isn't awake; she just believes, because she sees ending the curse as all of them getting their memories back. That being said, True Love's Kiss was added into the original Dark Curse by Rumplestiltskin and it was specific to Emma. She was the Savior because Rumple used a lock of Snow White and Prince Charming's hairs to weave it in and brought magic back with that same potion. So, in theory, True Love's Kiss should not exist in this curse, unless they are now going to show us how it was weaved in somehow.
Unless Henry was somehow written into this curse to be the Savior, it doesn't really make sense. Is Emma still the Savior? Maybe she will come back and save the day in the finale? Perhaps Henry and Jacinda are going to kiss and nothing is going to happen?
Lucy said that she's been playing checkers since she was 2 years old. How? Will the original book also appear in Lucy's closet? Who made the page appear in Lucy's book? Is Henry really going to die if he and Jacinda kissed? If Henry will die should the curse break, why would someone send the page and save the day? Why did Henry specifically call the Game of Life "living your entire life in an hour"? Is that foreshadowing of something that's going on? Is season 7 going to turn out to be a dream?
Henry said in his podcast, "You don't always get the ending you want." To whom is he referring to?
Henry's got some interesting reviews in his podcast. How many episode has H-Town had? And who is his sponsors?
Will Zelena have a happy beginning? Chad keeps calling her, after all. Is Chad also a fairy tale character? How will Rumple's quest for the Guardian end? Will Emma even ever see her granddaughter? Will Henry inherit the yellow bug?
What are your hopes for how they wrap up the series? Share them with us by sending us an email! Did we miss anything from the episode? Hop on to the forum and join in on the conversation not just on "A Taste of the Heights" but also about the next episodes leading up to the series finale!
What did you think?
Email Feedback@ONCEpodcast.com (audio files welcome)
Call (903) 231-2221
Comment on the shownotes
Visit any page on ONCEpodcast.com and click the "Send a voice message" link to record and send a message right from your computer.
Help us out!
Share this post in your social networks
Follow us
On Facebook:
On Twitter:  echo do_shortcode('[twitter follow="ONCEpodcast"]'); ?>
Daniel J. Lewis:  echo do_shortcode('[twitter follow="theDanielJLewis"]'); ?>
Jeremy Laughlin:  echo do_shortcode('[twitter follow="phlegon"]'); ?>
ErinJ:  echo do_shortcode('[twitter follow="erinjcruz"]'); ?>
Hunter Hathaway:  echo do_shortcode('[twitter follow="travelingpixie"]'); ?>
Jacquelyn / RumplesGirl:  echo do_shortcode('[twitter follow="punk_bunny_87"]'); ?>