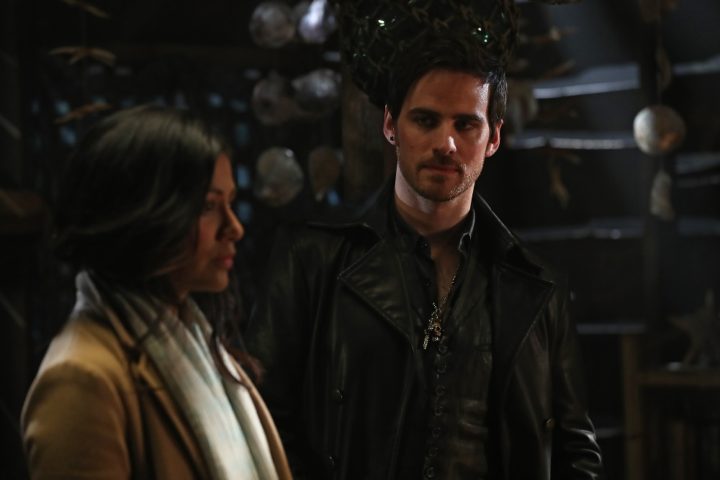 Regina getting her PhD from a curse, Gideon's not-so-evil plot, some Once Upon a Time in Wonderland references, a couple of rants and more on our initial reaction of the episode "A Wondrous Place."
Podcast: Play in new window | Download | Embed
When Hook finds himself trapped in another realm along with the Nautilus and her crew, he races to return to Emma before Gideon can execute the rest of his plan. In Storybrooke, Regina and Snow take Emma out to get her mind off Hook's disappearance. And in a flashback to Agrabah, Jasmine befriends Ariel, and together they set out to locate Prince Eric as the threat from Jafar intensifies.
These are our first thoughts about this Once Upon a Time episode. We'll share more about "A Wondrous Place" in our upcoming full discussion (usually live on Wednesdays at 7:00 p.m., USA Eastern Time).
Initial Reactions
Remember, these are only our initial reactions regarding tonight's episode so please bear with us if we're a bit all over the place. If you have your own thoughts, feedbacks, or theories regarding tonight's episode, however, send them over to us and join our upcoming full discussion!
This episode, at least in this initial viewing, is one of the worst episodes of Once Upon a Time. It was very hard to follow, especially in the moments where we thought they were going to rectify something, they then dropped the ball a few  seconds later. Albeit plenty of great lines and some hilarious things, as well as stuff that ties back to other episodes and Once Upon a Time in Wonderland, "A Wondrous Place" is simply a bad episode, especially for an Espensode. It broke so many rules, so many things we thought we knew how they worked. At the same time, it introduced so many new things that it was hard to follow. There are a lot of things where, how it should've ended for this episode, could've changed things significantly.
We liked getting to see Jasmine and Aladdin again and it's funny how Aladdin finally acknowledged, as he told Jasmine, "How many times are you almost gonna kiss me", which the kiss eventually brought Agrabah back. It was nice to see Jasmine in her pretty princess dress, although it would have been nice if they tied the storyline with Once Upon a Time in Wonderland. When Jafar, who is in the bottle, mentioned about going after the people who imprisoned him, that would have been Alice and Cyrus from Once Upon a Time in Wonderland. Seeing Ariel again was a lot of fun, too. It feels like they're bringing a lot of characters that we haven't seen for many years and we really liked that. It's nice to see her, which helps the episode a bit. But mermaids make portals, so why offer just a seashell to Hook instead of helping him come back to Storybrooke?
It was clever of them to use the ring to reveal where Agrabah is. However, the Agrabah storyline was interesting because that was part of the frustration of trying to get it to fit with what we know of Agrabah in Once Upon a Time in Wonderland. It's not even that they were pretending that Wonderland didn't exist because of all the hints that they dropped in this episode. Jasmine's father being the head of Agrabah that time doesn't make sense with what we know of the storyline, but Jasmine was pretty tough, which is very true to the Princess Jasmine we know from the original Disney animated movie.
Hearing a new pub such as the Aesop's Table suddenly pop up in Storybrooke was a little suspicious because how often do new things show up in the town? It was interesting until they put on a sad ease by explaining that the owner came with the Land of Untold Stories, which makes it less suspicious that a new pub just popped up in the town. But as soon as they zoomed in on the napkin with Emma's tears, it was already obvious what was going to happen next. On the other hand, the scenes with Snow White and Regina was rather enjoyable, especially seeing Snow challenging the guys to dagger throwing. She didn't act very motherly towards Emma, but it was nice that she and Regina tried to get Emma to share while they were in the pub. It was also funny seeing Regina try to be Archie tonight when she was trying to take Emma's mind off Hook. How does Snow White have a toddler?
We liked that Hook and Emma did get to connect with each other, although it was a little to late because of her tears. Gideon's evil plot is he wants to prevent Hook from coming back to Emma and use Emma to help him kill the Black Fairy. This is not an evil plot, it makes the tears unnecessarily complicated or overly simple. This one was not only unsupervised, but also supervised by the people who wrote the unsupervised episodes in the past.
What did you think about this episode? Share your feedbacks and theories and join us this coming Wednesday for our full-discussion of "A Wondrous Place." You can also head straight to the forum where you can share theories, spoilers, your favorite and least favorite moments, and other things that stood out to you in this episode!
[ndlmx_special]
What did you think?
Email Feedback@ONCEpodcast.com (audio files welcome)
Call (903) 231-2221
Comment on the shownotes
Visit any page on ONCEpodcast.com and click the "Send a voice message" link to record and send a message right from your computer.
Help us out!
Share this post in your social networks
Follow us
On Facebook:
On Twitter:  echo do_shortcode('[twitter follow="ONCEpodcast"]'); ?>
Daniel J. Lewis:  echo do_shortcode('[twitter follow="theDanielJLewis"]'); ?>
Jeremy Laughlin:  echo do_shortcode('[twitter follow="phlegon"]'); ?>
ErinJ:  echo do_shortcode('[twitter follow="erinjcruz"]'); ?>
Hunter Hathaway:  echo do_shortcode('[twitter follow="travelingpixie"]'); ?>
Jacquelyn / RumplesGirl:  echo do_shortcode('[twitter follow="punk_bunny_87"]'); ?>
echo do_shortcode('[ndlmx_shows]');