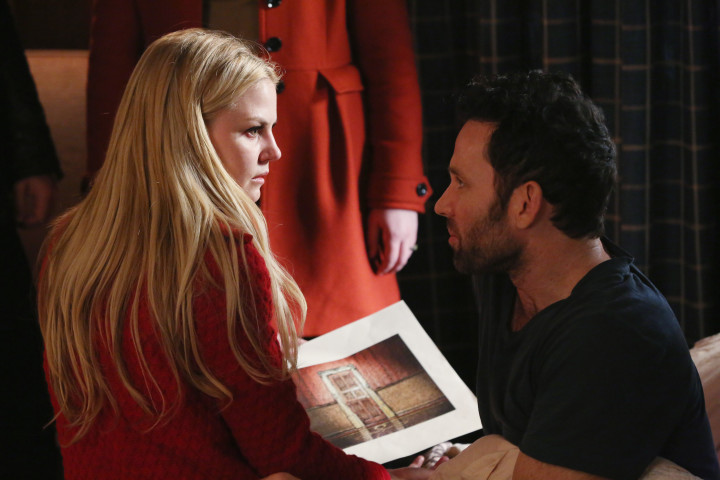 In the Enchanted Forest of the past, Snow White and Charming traveled east and found themselves in a cottage where a kind old hermit helped them find a way to ensure their child's goodness. Up to what length will Snow and Charming go to just to sing their child's darkness away? Meanwhile, in Storybrooke, Regina's life was put in danger after leading the villains on a wild goose chase around town after the one that's very protective of his storybook and all its content ran away to secure the page. Join us as we discuss and share our initial reaction of the episode, Best Laid Plans!
Podcast: Play in new window | Download | Embed
Hook tells Emma that her fate is at stake in Gold's plan while Regina leads the villains on a wild goose chase. Henry makes a breakthrough in his search to find the Author, but Mary Margaret and David need a moment to reconsider the best course of action. In a Fairy Tale Land flashback, Snow and Charming search for a way to ensure their child will grow-up to be a hero. When a travelling peddler directs them to visit a kindly old hermit, Snow and Charming are presented with a choice that could secure their child's goodness, but at a price that will haunt them for years to come.
These are just our first thoughts about this Once Upon a Time episode. We'll share more about "Best Laid Plans" in our upcoming full discussion (usually live on Wednesdays at 7:00 p.m., USA Eastern Time).
Initial Reactions
Remember, these are just our initial reactions regarding tonight's episode so please bear with us if we're a bit all over the place. If you have your own thoughts, feedbacks, or theories regarding tonight's episode, however, send them over to us and join our upcoming full discussion!
It was an interesting episode. There were a lot of frustrations, but, at the same time, at least we got a lot of answers, which we applaud whenever we do get answers. It was disappointing in some way, as there were a lot of disappointments in this episode. Snow and Charming really are now the two idiots, but it was really cool to meet the author, or at least the last author. We also liked how no one on the show is random peasant number one, and apparently, no one is random orphan girl either. With that, we wanted to congratulate everyone who predicted that Lily is, indeed, Maleficent's daughter.
Learning about Maleficent's child's true identity made us respect the show a bit more is actually the fact that they had this plan all along. In the episode where we met Lily, it was shown that she had a star-shaped scar on her wrist, and we could already tell from that episode that there was something behind that scar. We liked how they put little thoughts into that scar, preparing us for something bigger, telling us that even back then in the early half of season 4 that they had at least parts of these stories already planned, which gives us more respect to the show for giving us subtle hints on where they were going.
We liked that, with the author, it does feel very like the story of the show, as opposed to story of the arc, since we always have these tiny story arcs that begin and end after 11 episodes but often time, they don't feel like they belong to a larger mythology that is the show. At least the book and the author were something we've been wanting for a while now. We loved how they are trying to connect a lot of dots, which we do appreciate.
Getting to meet the author—big highlight of the episode—and that the author is, basically, a villain himself. We actually wanted to give credit to MatthewPaul for predicting that the Author isn't what we expect him to be.
Speaking of the author, when did he become the author and how much manipulation did he have over the heroes we know as heroes? Was it even him who gave the heroes their happy ending? Or was that a doing of some other author? Walt, perhaps?
Knowing that Lily was Maleficent's daughter, Lily's name made a lot more sense. This reminds us of when we made all those research we had about Lily, as well as the name 'Lilith.' And after finding out that she was Maleficent's daughter, naming her Lily fits in very well with everything. So if Snow White and Prince Charming went through extreme lengths to remove all of Emma's potential for darkness from her to Lily, wouldn't that mean that Emma still doesn't have the capacity to go dark? Can anyone actually remove someone's potential darkness? Was Emma already spared for becoming dark, or does she still have the potential for great darkness?
We were so disappointed with Snow White and Charming in this episode. They were so very far from the Snow White and Prince Charming that we have known from season one.
The whole thing about the real page and the fake page was so clever but so quickly squashed. Then again, we were glad  that Henry got to have a part with the book, because since it all started with him. Will the Author eventually have a special connection to Henry? Can he become the author himself, be the hero and bring back the happy ending someday? It sure would be fitting to see Henry to take up that mantle.
August gave us some awesome information about the author and we liked that this is the last author that was given the title and the job of being the author. But is the author really the one with the power or is it the quill? The Apprentice seem to want to have the quill back. Where was the quill now? Was it in the Sorcerer's mansion?
Did the author do something to put Emma in the middle of the town all along like that? How much influence the author still has? In the end of season three, Emma and Hook being in the Enchanted Forest was added in the book when they changed the past. Does that mean that the author still has some control over everything?
How was the author abused the power? Which story did he try to corrupt? Was it when he started choosing who can have the happy ending and who wouldn't? Was the Apprentice referring to Emma or Lily when the Apprentice asked him how can he do what he did? Was the Apprentice upset that the author write in that Emma would have a potential for great darkness, or was it that Lily was going to be sent into our world?
Thank you for supporting us!
David Neuland (subscriber)
Steve Johnson (subscriber)
Lisa Slack (subscriber)
Tracey Anderson (subscriber)
Daniel Clark (subscriber)
15 Patreon backers ($61.25 per episode)
You can sponsor an episode or more of ONCE podcast, too! Email Daniel@ONCEpodcast.com if you would like to arrange a corporate sponsorship of our podcast for the upcoming third season.
Was Rumplestiltskin's speech to Belle a foreshadowing that he is going to die by the end of the season? Was his little speech to Belle some form of saying goodbye? Are they gearing up in ending his life for good? Will Regina also die in the process? If he will be killed, will Rumple die willingly or will someone else kill him? Will it be Emma or someone else entirely? Can Emma put the dagger in Rumplestiltskin's heart and become the new Dark One herself? Is Rumple, at this point, like Zoso, a desperate soul looking for a way out?
What does Rumple see as his happy ending? He has already married Belle, what more can he possibly want? Will, at some point, Emma get her hands on the Dark One's dagger? Or is Lily going to step into the Dark One's shadow, someone who already have a darkness inside of her? If Emma's the savior, is Lily the anti-Savior?
Emma knows that her parents obviously have regrets, that they are good people, that they sent her to the Land Without Magic to give her her best chance, so how will she react now in any given situation? Now that her world and trust has shattered, how can her ability to see the bad in people help her avoid it?
This episode may have given us a dozen more questions but, at least, we found out how Cruella and Ursula got into our world. But what do you think about this episode? Share us your theories by sending us an email and join us this coming Wednesday for our full discussion of Best Laid Plans!
What did you think?
Email Feedback@ONCEpodcast.com (audio files welcome)
Call (903) 231-2221
Comment on the shownotes
Visit any page on ONCEpodcast.com and click the "Send a voice message" link to record and send a message right from your computer.
Help us out!
Share this post in your social networks
Follow us
On Facebook:
On Twitter:  echo do_shortcode('[twitter follow="ONCEpodcast"]'); ?>
Daniel J. Lewis:  echo do_shortcode('[twitter follow="theDanielJLewis"]'); ?>
Jeremy Laughlin:  echo do_shortcode('[twitter follow="phlegon"]'); ?>
ErinJ:  echo do_shortcode('[twitter follow="erinjcruz"]'); ?>
Hunter Hathaway:  echo do_shortcode('[twitter follow="travelingpixie"]'); ?>
Jacquelyn / RumplesGirl:  echo do_shortcode('[twitter follow="punk_bunny_87"]'); ?>