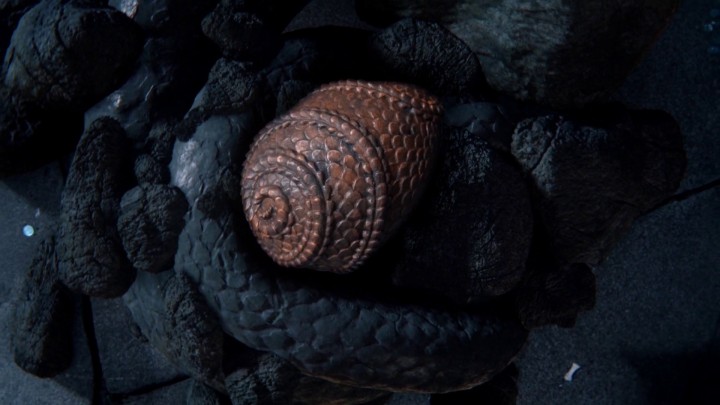 As Maleficent put the entire town to sleep, including the Savior, while Snow and Charming tried so hard to redeem themselves to get a chance at grace by finally telling Emma the truth. Meanwhile, Henry found a key that can free the author, only to find out that he was more than what he was ill-suited for the job. In the Enchanted Forest of the past, however, Snow White and Prince Charming met a peddler on the road that led them go East, where they met the Apprentice who can banish their child's potential for darkness by securing a living vessel and sending it where it can hurt no one in the Enchanted Forest. All these and more on our Best Laid Plans full-discussion!
Podcast: Play in new window | Download | Embed
Enchanted Forest (Past)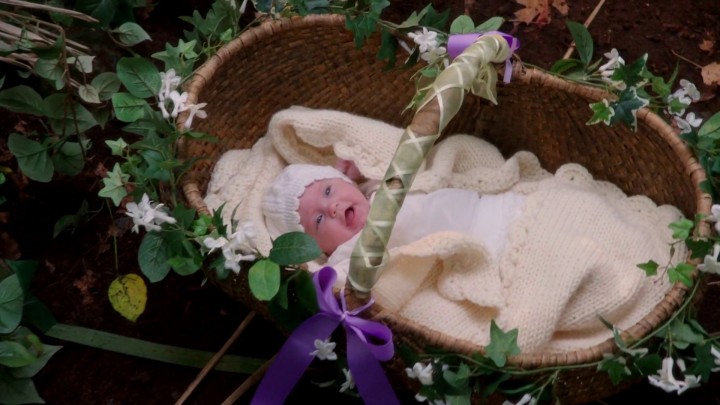 When they started out hunting the unicorn, and Snow White had the vision with teenager Emma and she said, "I'm your mother," to which young Emma replied "I don't care," was heavily foreshadowed. If you didn't catch it, it was the same lines the mother and daughter said to each other later on in the episode. However, Charming and Snow could simply be seeing the same thing. Charming is seeing a baby not yet touched by this world. Snow, on the other hand, is seeing a teenager who maybe has been through a bunch. That being said, this could be the same Emma.
This episode had so much theological issues that seemed like they were trying to address on purpose, like the characters view things, freewill, the whole pre-determination or pre-destination kind of undertone or overtone, and more. If they are saying that every person is born with the potential for both good and evil, why is Emma any different? Why is any baby any different? Snow and Charming shouldn't have been too worried about it all. Was Emma being the product of true love makes her potential for darkness even bigger?
This also remind us of the show Charmed, where there's also a baby who also has the potential for both good and evil and what actually ends up turning him evil was the betrayal of somebody so close to him, who was supposed to be protecting him. This is what we may see with Emma is that this betrayal by someone that she trusts the most is what might end up turning her evil, and the reason of them betraying her is because they were trying so hard in keeping her from there.
I think this is a little bit self-fulfilling prophecy. Because Snow already believes the worst about unborn Emma, she's going to put in motion the events that lead to the future she saw.

— @PantheMan
In this unicorn scene, specifically, David started out as being the voice of reason, which he should have been even after Snow saw her vision of Emma's possible future. In the Pilot episode, David asked Snow whether she was worried about what the Queen said. This had us thinking whether he was really referring to the Evil Queen or not.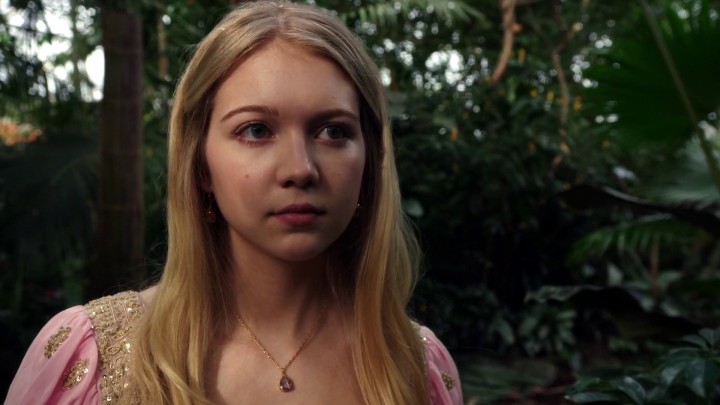 Did Snow and Charming saw the same vision? On the other hand, Abby Ross, the actress that plays young Emma, seems to be doing a much better job now at portraying the role. She's already getting as good as Bailey Madison is at playing young Snow White; capturing Emma's quirks and expressions perfectly.
Did the peddler planned to meet Snow and Charming on the road? Does he actually have to there to change the stories? Was that his way of influencing the story? The peddler told Charming and Snow to trust him. Can they really trust the Peddler? And since when did Snow and Charming run from a fight?
Remember when Tink brought Regina to the tavern and told her that she needed to walk inside and talk to the man with the lion tattoo to find her happy ending and Regina ran? Well, in my theory Regina actually went inside, met Robin, and they fell in love. Hence the story book page of young Regina and Robin together. The Author did not like this ending – no Regina, no dark curse. So he rewrote the scene and made Regina run. The story book page of Regina and Robin is from the original story Before it was rewritten by this Author.

— @BelleoftheBall
Did the Author made Regina run to make for a good story? Or was it really Regina choosing her path all along? Does the Author have ulterior motives to have gotten them this far?
When Snow and Charming went to the infinite forest, it made us wonder whether Hansel and Gretel was still there the time when Regina sent the twin at in the episode, True North. It was also the same forest that Charming got sent into when Rumple helped him find Snow.
Was the Apprentice also the Sorcerer? He seems to be very good, almost Sorcerer-like.
Snow said that if her vision of Emma's future came to pass her life "would be bleak, full of pain and darkness" – seems that kind of happened anyway since Emma grew up without her parents.

— Jessica Olsen
In a way, Snow's vision happened to her daughter as Emma actually grew up without her parents, so Emma's life was pretty much bleak, full of pain and darkness. Plus, when present Emma told her mother, "I don't care" it was as if Mary Margaret's heart was figuratively ripped out.
The last time the Charming's saw Maleficent she roasted some guards because they were in her way to the Tree of Knowledge. I can totally buy Snow making a huge judgement call on any of her spawn.

— @Sweets
Why does it have to be Maleficent's baby? Why didn't they just find a baby unicorn or something? Why would Snow have the idea that a baby dragon could be the vessel?
I didn't like how Snowing were totally okay with taking someone else's child and pouring their child's potential darkness into it because A) they didn't think it would be human, and B) because they were going to give it back to the mother. Snowing only got upset about what they did because Mal's baby got sent through a portal. They should've been upset about the fact they TOOK SOMEONE'S CHILD (whether it is human or not is irrelevant) and experimented with it.

— @PriceofMagic
When they were talking about banishing the evil in another world, we for a while thought that Maleficent's baby could be the Jabberwocky from Once Upon a Time in Wonderland. After all, she kinda looks like Maleficent, acts very animalistic, and she's super, super evil. However, as we all know, this has been disproved by the end of the episode.
When Snow and Charming went to steal Maleficent's baby, Maleficent has Ursula and Cruella as her guards. Doesn't Maleficent have any guards? And why does her guards have their backs to, facing into, the cave? They also pointed out that she hoards anything silver. Does it have any relevance to anything?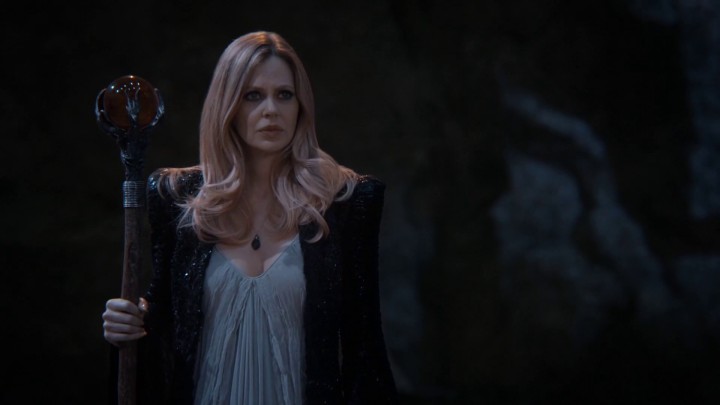 The pain on Maleficent's face as she pleads to Snow not to take away her baby was very well done by Kristen Bauer von Straten; her look, the sound of her voice as she talks to Snow mother to mother, and everything was awful.
A lot of people expressed disappointment with us after our Best Laid Plans initial reaction toward Snow and Charming's actions in this particular scene that made them lose their respect for Snow White and Prince Charming. Just like what we said in our initial reaction, it wasn't that the episode was disappointing, but what Snow and Charming did. This made us wonder if this is an alteration that we haven't seen before. Was this one of the things that the author manipulated because it made for a better story?
If author was the last author with that great responsibility, who was recording the events after he was trapped into the page?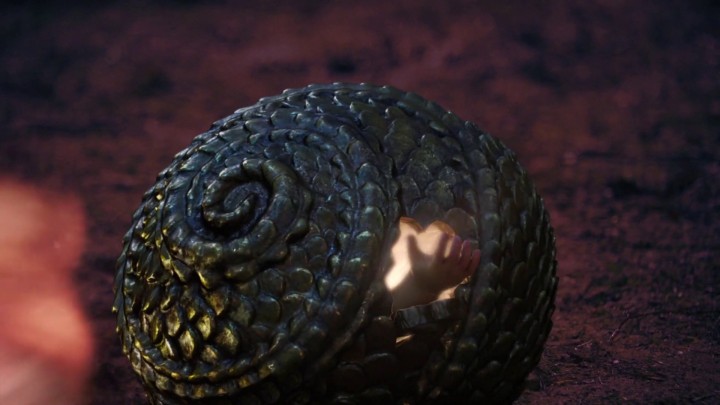 As Maleficent's baby was about to get sent into the portal, again, why were Ursula and Cruella had their backs to the egg yet again? They could have fallen in trying to save it, at least, why didn't one of them try to save Maleficent's baby instead of yelling to the Charmings together?
Come to think of it, did the Apprentice really drive away Emma's potential for darkness? After all the Chernabog did still go after Emma, so her heart still must have capacity for darkness after all. It seems Charming and Snow's dark venture "to protect" Emma was futile.

— @Slurpeez108
As soon as they realized it was a baby, Snow and Charming tried to save the baby, but it had already fallen into the portal. Had they known that it was a baby, will Snow and Charming still proceed with banishing their child's potential for great darkness?
Back at the Charming's castle, we learned that the unicorn mobile was actually a gift from Cinderella. But then Snow told Charming how they were brave, but weren't kind, was actually selfish, and that they weren't heroes anymore, asking Charming if redemption was still possible. Hearing them using the true love music in the background, it  made us think that, perhaps, true love can forgive; can give grace, and help in redemption, which is a neat message for them to share that no matter what mistakes you made, there is always that chance for redemption. It doesn't mean that you can get out of its consequences, but it also doesn't mean that there is no chance at grace, redemption and forgiveness. This is probably why Regina has had so many chances in redeeming herself, despite all the things that she has done.
Thank you for supporting us!
David Neuland (subscriber)
Steve Johnson (subscriber)
Lisa Slack (subscriber)
Tracey Anderson (subscriber)
Daniel Clark (subscriber)
Jessica Olsen (subscriber)
Tappnbird (subscriber)
15 Patreon backers ($61.25 per episode)
You can sponsor an episode or more of ONCE podcast, too! Email Daniel@ONCEpodcast.com if you would like to arrange a corporate sponsorship of our podcast for the upcoming third season.
Storybrooke (Present)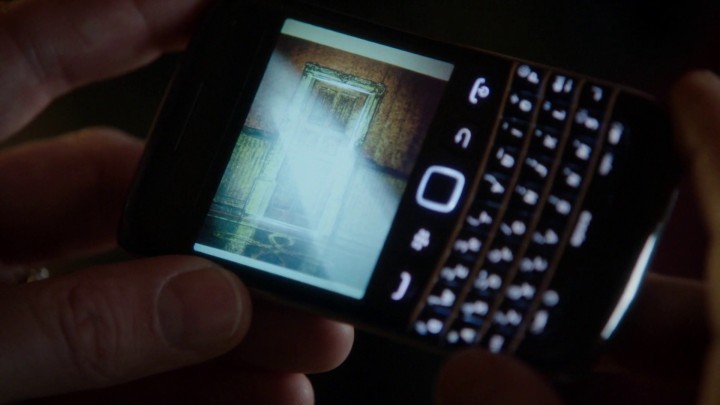 Back in Storybrooke, the present scenes started out when we first see that something is wrong with August. When they took him to the nun's monastery, Regina's statement to Henry had us worried. It seems that she wasn't sure if she would be coming back.
It's nice that, in this episode, several people were finally being honest with Emma. One of them is Hook, as he reveals Gold's plans to the Charmings. He said that Gold wants to use the author to darken Emma's heart. Is he planning on making the Author rewrite Emma's story to turn her into a villain from the beginning? Can the author even change stories that were already written? Emma was always destined to be the Savior to be the one to break the curse, so it doesn't really matter how she turned out. Or does it?
Rumple was the one who orchestrated for Emma to be the product of true love. Now, he wants to take it away by planning to un-Savior the Savior?
Gold wants to fill Emma's heart with darkness. The number one way to fill Emma's heart with darkness is by making her become the dark one. But, I think there will be some catch because Emma is the savior. I think part of Gold's happy ending is to be free of being the dark one, and because in becoming the dark one herself, Emma is helping get Gold's happy ending, she will possibly be immune from the dark one curse or at least be more in control of the powers due to her fulfilling her "savior" duties.

— Clare
Is Emma immune to becoming the Dark One?
Hook told Emma that, "Darkness is a funny thing. It creeps up on you." Was that him implying lack of choice? Or getting so far into something you don't really know what you're doing?
When Hook and Emma was talking about Lily before Maleficent put the town to sleep, it had us wondering that them mentioning Lily was to remind us of who she was if and when we see her in the coming episodes. It would also be nice if Emma regarded to August as a brother, rather than a friend.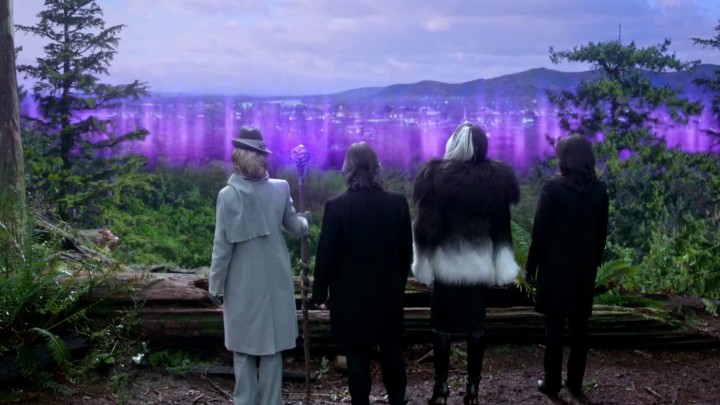 When they break into David and Mary Margaret's loft, they mentioned that one can no longer be put to sleep once you have been put under the sleeping curse. If it simply was a sleeping spell and not a curse, does that mean that true love's kiss would not have work to awaken the people?
It makes a perfect sense that Regina named Henry after the two people she loves most—Henry, her father, and Daniel, who was her first love, was the stable boy. But it was a great subconscious communication towards Regina and Henry as they took the forged page from him. Snow and Charming, on the other hand, was so out of their character when he yelled at Henry and took the real page away from him. Henry even looked concerned seeing his grandparents acting like that for the first time.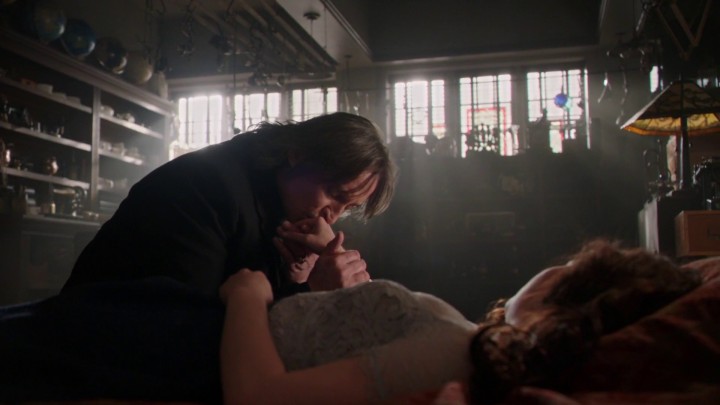 Based on Rumple's speech towards sleeping Belle, it's pretty clear that his magic does come at a cost, and he's been collecting debt that he might never be clear of. What is the "something else" that's changing that he referred to? His heart? How is it changing?
Rumple says: 'My love… I need to tell you this while it still matters.' That part to me makes it sound like the darkness is going to completely consume his heart, at which point it will no longer "matter" what he does or doesn't feel for Belle, or anyone else. I don't necessarily think he's anticipating dying, I think it's just that he's anticipating losing the last shred of his humanity. Unless he finds a way to stop it.

— @Phee
Was Rumple losing his last shred of humanity? Is trying to find a way to transfer his darkness to the person that has the greatest potential for darkness? Has he got so much darkness in his heart that he can't hold it anymore?
Was the reason Emma's heart can't be ripped out because her heart is protected by the spell that Snow and Charming agreed to be done by the Apprentice? What makes her heart not steal-able?
What if Rumple plans to sacrifice himself to bring back Neal? Dead is dead until it isn't. Neal is Rumple's happy ending. What if his goal is no longer to have everything, to keep his power, but to finally do what he originally set out to do? When he said things are changing he might have meant internally, maybe his love of power is weakening. He also told Mal if you don't feed your pain it goes away, so perhaps he is ready to let things go. Perhaps since Neal died restoring him, life for life, perhaps it would work the other way. Perhaps he'll follow in Zelena's slippers and change the past. Can the Author change the laws of magic?

— Gareth Grey
Personally, I think it's going to come down to a final showdown of him and Emma. Emma prevails, Rumple is weakened, Belle kisses him and his curse is completely lifted. He's once again the humble spinner, a human, but the price to pay for his exorcism and redemption is death. Human Rumple passes away, finally at peace, his soul finally free. Shippers get their TLK, Dearies get a curse free Rumple and Emma is reborn, stronger and more confident in her role as the savior.

— @Josephine
Is Rumple trying to change the laws of magic? Was that the reason why they brought in Will to the show? To show Rumple that it simply cannot be done?
Before Snow and Charming was, once again, to take yet another rash move, Snow finally came to her senses. We liked how Snow told her husband how heroes do what's right, not what's easy. This reminds us of the Charmings that we have known and grown to love. And after this revelation, they finally confessed to Emma.
As Charming and Snow finally told Emma what they did to Maleficent's child, Emma's reaction was a little overboard, considering they confessed. This would make more sense if she'd caught them in trying to conceal their lie. It's understandable if she can't forgive her parents easily after this confession, but we just hope that this particular confession will set her down the dark path. And if this is really the worst thing Snow has ever done (and it is), then why wasn't this her confession in the Echo Caves of Neverland?
Back at Regina's vault, Rumple said that he had something that, the moment she sees it, will make Regina do his bidding forever. What leverage could they have over Regina? Is he planning to have her become the Dark One so that he can control her with the dagger? Does Gold have Henry's heart, somehow? What else could do what he said? Maybe a page altering her story?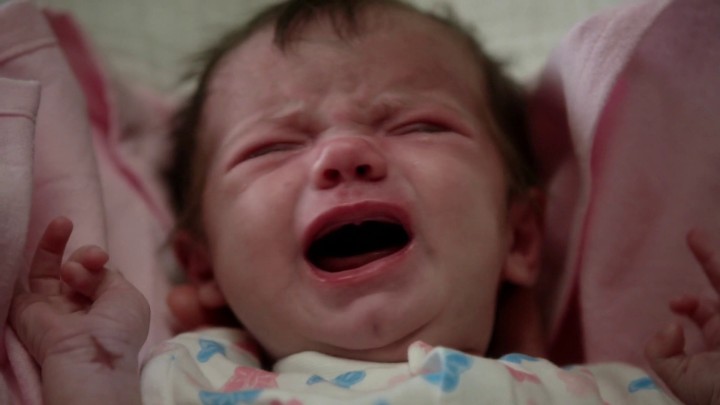 Still down at Regina's vault as Maleficent asked Rumple to show her what become of her baby, we finally know what Maleficent's happy ending is—getting her daughter back. She also mentioned how someone must know her. This had us wondering how things would go when they found out that Emma actually knew her daughter?
Does Lily have magic? Is she really evil or does she have choice still? Since Emma pushed her away, will that have repercussions? Or will their friendship be the key to ending everything? Lily was a friend to Emma, so it seems she can be good, even though she received all of Emma's darkness, but did Emma's actions (or reaction) kind of push Lily towards the dark side? If Maleficent and Lily are reunited, isn't that fulfilling her happy ending without making the Author change their story? Or will the reunion not be a happy one? I like your ideas about Lily perhaps becoming the next Dark One and/or being the opposite of Emma, but I would also be interested in seeing a non-evil Lily just to show that even though Snow and Charming sent Emma's darkness into Lily, she still can choose to be good.

— Jessica Olsen
Did Lily really grow up to be someone that has so much darkness inside of her? Does she have magic? Was the Apprentice correct in saying that all of Emma's darkness transferred into Lily?
The author being trapped inside the page also made us think that Henry's storybook ending up in Mary Margaret's closet was not his doing but, perhaps, the Sorcerer's and his Apprentice.
This season, we were presented with four different villains—Rumple, Maleficent, Ursula and Cruella. Ursula already got her happy ending. Maleficent now had hope after learning that her daughter was alive. We have yet to know what Cruella's happy ending is, but seeing how things are unfolding, it might be possible that she might die in the end. Or will she survive like Ursula?
Lily, Ursula and Cruella all got sent into the Land Without Magic together. Did they just abandon the baby after they got swept into the portal together?
Meeting the Author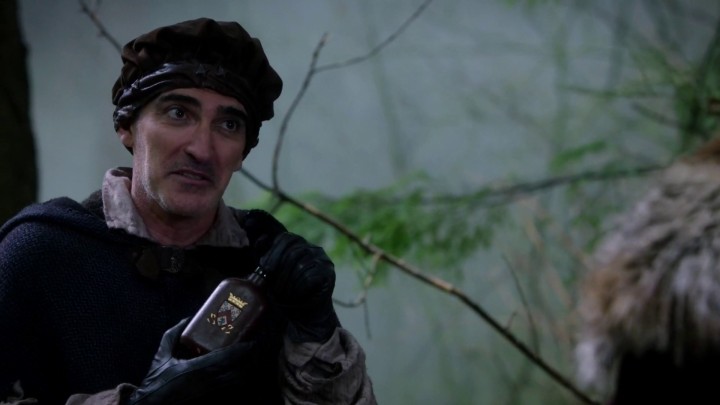 According to August, this author might not have written Emma's story. If not him, then who wrote Emma's story? Moreover, August said that this author, this last author, wanted to make better stories instead of just record what had happened as he was tasked.
It's kind of ironic, and I'm sure the writers didn't intend this, that even though Disney was one of the past authors, Walt Disney in the real world is the closest of all the folklore recorders to the actual Author figure we get in this show. He changed things and reworked the original stories to put his own stamp on them, because he thought it "made for a better story". Of course, some of the previous folklore recorders had done stuff like this as well (eg., the Grimms), but not nearly to the extent of Disney. This is true of Walt Disney the man, but it's even more true of Disney the company. Maybe my old theory, from a couple seasons ago, that Disney is the arch-villain of the show, wasn't all that off the mark after all.

— Michael Lucero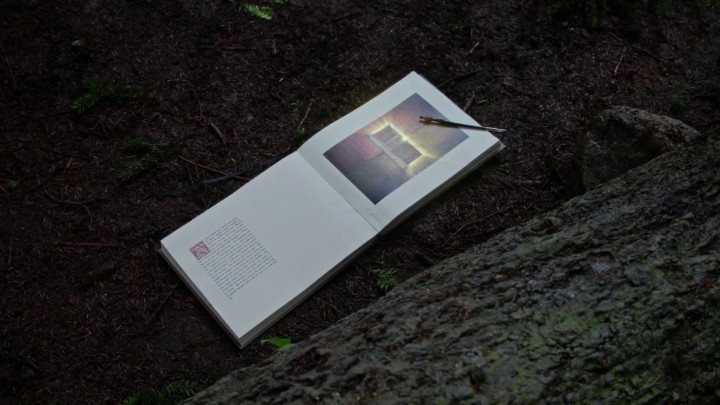 We looked into the little montage when the author was shown writing and found that he was writing Snow and Charming's remorse before the Apprentice trapped him into the page:
There was no way we could have known. The Apprentice hid the truth from us," the prince tried once again to assure her. Inside, he felt as she did, but pangs of helplessness at the sight of his love so forlorn compelled him to comfort her. She was about to reply when a bluebird settled on a branch up ahead. The princess averted her gaze. She imagined its whispers of judgment in her ear echoing her own disappointment in her actions and was relieved when the bird flew off rather than perch on her shoulder. She had thought before that she had known true depths of sorrow with the heinousness of the evil queen's betrayal of her family. But in that moment the princess knew that the greatest betrayal of all is that of a he—
August told them that the Sorcerer and the Apprentice put the author in the book. However, we only saw the Apprentice doing the did. Was he simply acting on the Sorcerer's behalf or was he the same man, after all?
Who is the author now? Is August actually one of the authors now? He knew so much about what happened even after Emma got sent into our world, what if August is actually an Author, too? Maybe he was the one who even wrote Emma's story.
"Author" is like Tim Allen's "The Santa Clause" and maybe Henry will be next?

— Jessica Frey
Is the Apprentice the new author? Will Henry be the next Author? He is, after all, the "one who's very protective of his storybook and all its content," as per Rumplestiltskin. Will the Apprentice ask him to become the next Author and bring back the happy ending himself eventually?
Now that the Author is on the loose in Storybrooke, does the Author have a power? What did you think of the episode, Best Laid Plans? Share your thoughts through the comment section below or by joining us over the forum. Please keep in mind that there will be no episode this coming Sunday, April 5. However, the show will be back for a new episode in two weeks, at April 12.
What did you think?
Email Feedback@ONCEpodcast.com (audio files welcome)
Call (903) 231-2221
Comment on the shownotes
Visit any page on ONCEpodcast.com and click the "Send a voice message" link to record and send a message right from your computer.
Help us out!
Share this post in your social networks
Follow us
On Facebook:
On Twitter:  echo do_shortcode('[twitter follow="ONCEpodcast"]'); ?>
Daniel J. Lewis:  echo do_shortcode('[twitter follow="theDanielJLewis"]'); ?>
Jeremy Laughlin:  echo do_shortcode('[twitter follow="phlegon"]'); ?>
ErinJ:  echo do_shortcode('[twitter follow="erinjcruz"]'); ?>
Hunter Hathaway:  echo do_shortcode('[twitter follow="travelingpixie"]'); ?>
Jacquelyn / RumplesGirl:  echo do_shortcode('[twitter follow="punk_bunny_87"]'); ?>
Spoilers
Emma focuses on finding the author before Gold does
Author is running loose in Storybrooke
Gold blackmails Regina into helping him
In the past, Robin Hood learns what it means to be an honorable thief
Robin Hood travelled to Oz to steal a valuable magic elixir from the Wicked Witch
This is the episode where not only Robin Hood returns, but also the same one where Rebecca Mader returns as the Wicked Witch
Guest stars include Wil Traval as the Sheriff of Nottingham, Raphael Alejandro as Roland, Jason Burkart as Little John, Christie Laing as Maid Marian, Patrick Fischler as the Author, Jennifer Cheon as Nurse, Paul Kloegman as Carriage Driver and Tristan Shire as Oz Guard.
"Heart of Gold" was written by Tze Chun and Scott Nimerfro, and directed by Billy Gierhart.
Promo focused on Robin Hood and Zelena returning and the fact that they apparently have some have kind of past.
Robin Hood is going to Oz, where he meet up with Zelena in all her Wicked Witch glory
Zelena, in this episode, is greenified, and is in her black outfit and the pointy hat
Robin is seen riding down the city on a horse
Rumple wakes up in the hospital, looking to someone whose hair was red and curly, which is probably Zelena
There might be a lot of Rumple revelation in this upcoming episode, tackling a lot about his heart
There was a set photo that showed Robin in Oz and he was not in his merrymen uniform, but rather in what looked like an Oz guard uniform
There were a bunch of photos of Charmings and Hook in the woods, probably searching for the Author
There was also a set photo of Rumple in the woods, talking to the Author so, perhaps, he will get to the Author before the Charmings
During a concept meeting, the production team was describe as a flutter because of something outrageous in the script.