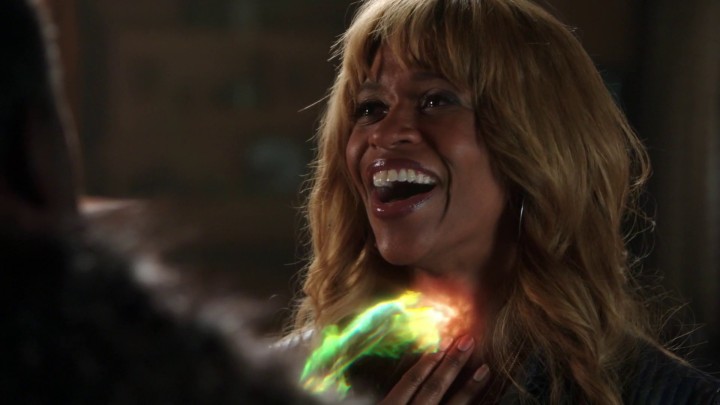 With August being held captive by Rumple, Regina and the Queens of Darkness, Emma, Mary Margaret, and David went to find him before they can inflict any more pain, while Hook made a deal with Ursula to give her happy ending in exchange for information about their plan. In the past, however, Captain Hook offered passage on young Ursula to take her to Glowerhaven when the sea king, Poseidon, stopped him, ordering him to show Ursula how cruel humans can really be, turning her into the monster that she has become. Listen and join us as we decode each and every scene of the episode, Poor Unfortunate Soul.
Podcast: Play in new window | Download | Embed
From what we can tell, this timeline happened probably 50-100 years after Hook initially had a run-in with Rumple, because Poseidon told Hook that he has been spending a lifetime looking for a way to get revenge on the Dark One. Plus, the more times we watch it, the more time we love it, not only because it's about Ursula, but also because it's got a lot the Little Mermaid storylines in many ways. Although Ursula didn't turn out to be the Sea Goddess Ursula that we have seen from the past episodes, and young Ursula seemed more The Little Mermaid Ariel than the sea goddess Ursula. Not only that, we also got to see Ariel, and it is so nice to see her again.
Enchanted Forest (Past)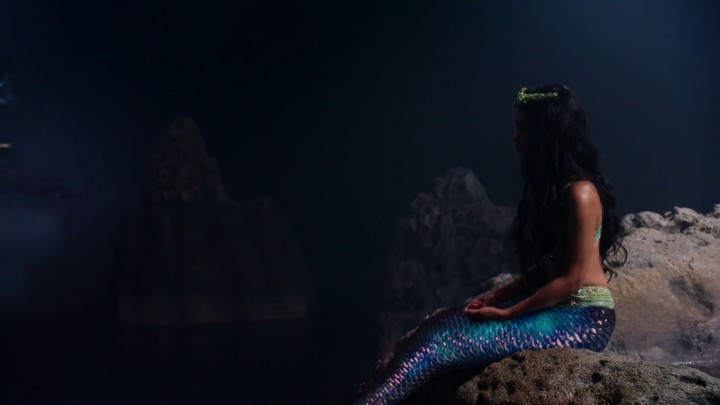 Starting out the past while Hook is working for Peter Pan, which we liked seeing because it ties in with the major story arc of the third season. It seemed like what they're doing now for Pan is they're just trying to gather sweets, which is odd in a way. Is that all Hook does for Pan? Bring him food back and forth?
Ursula's singing voice is hypnotic, it reminds us of a Siren, which also holds true to mermaid's mythology that. We liked how they tie in a lot of mythology into the show, even later on, it's funny to watch Ursula singing at the tavern when one man looked like he suddenly wakes up from a trance when she stopped singing. But what happened to Ursula's mother? It was said that her mother was killed by a pirate, but who? Why did he kill her? Is Ursula done for the season?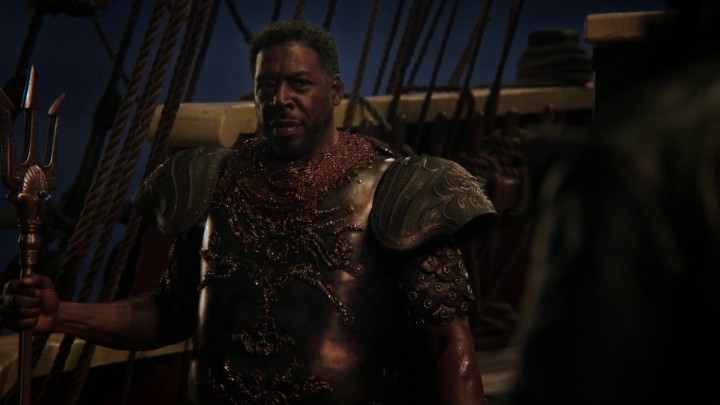 All we could think of upon seeing Poseidon was Ghost Busters. The whole Poseidon-Ariel thing was either pretty forced, overly convenient, and basically just filling time. But when young Ursula was in the tavern, we learned that Poseidon has his own vault, as well. Perhaps all magical beings have their own vault where they keep their magical objects at?
Ursula mentioned that Glowerhaven was her mother's favorite place to sing, which is probably some land other than the Enchanted Forest. The tavern, where Ursula visited and sang at, as well as the dock, looked like it took place at the Enchanted Forest, which also called as the Misthaven, so we think Glowerhaven might be in another realm. Somewhere far away that Ursula needs to take a ship to instead of swim at.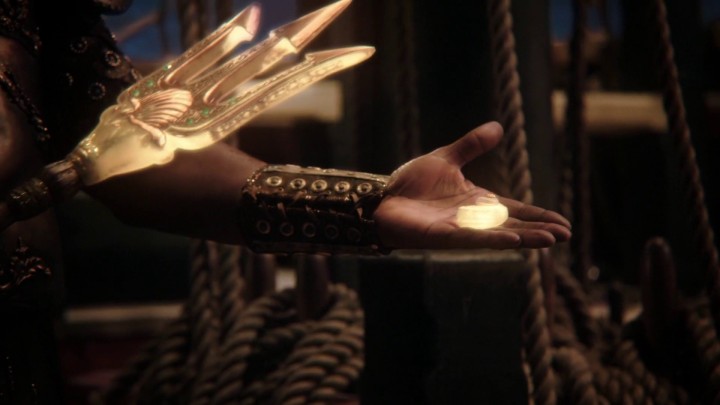 It reminds us a lot of season 1 when Poseidon was on the ship with Hook and he hands out the seashell, to when Charming was with Rumplestiltskin in the Enchanted Forest and they had a sword-fight before he handed out the ring to him that could help him find Snow White and said, "Now, it's enchanted", which was the same line Poseidon told Hook after waving his trident at the seashell.
When young Ursula lose her voice, her voice did sound a little bit different. She sounded more raspy; she sounded like she lose her soft voice. We've seen in the first season that Rumple had his own supply of the squid ink that he kept in his jail cell, which later helped Emma, Mary Margaret, Mulan and Aurora to escape. Does that mean the squid ink did paralyze him, though? Plus, it doesn't seem more of a revenge if it only allows Hook to paralyze someone as powerful as the Dark One.
It was strange to hear Poseidon calling himself both the Sea King and the Deity. What is also confusing is that in the original story, Ursula was the sea goddess. In this version, however Poseidon was referred to as the Sea King, but looks as if his powers come from his trident. And are mermaids divine? Or are they just royalty who presents themselves as divine to their subjects? Can a deity be killed?
Thank you for supporting us!
David Neuland (subscriber)
Steve Johnson (subscriber)
Lisa Slack (subscriber)
Maryann Livoti (subscriber)
Swangot Hooked (new subscriber)
Tracey Anderson (new Patreon backer)
Daniel Clark (new Patreon back)
15 Patreon backers ($61.25 per episode)
Thanks to you, we'll be able to upgrade our viewing experience soon and be able to catch more details the first time we watch
You can sponsor an episode or more of ONCE podcast, too! Email Daniel@ONCEpodcast.com if you would like to arrange a corporate sponsorship of our podcast for the upcoming third season.
Storybrooke (Present)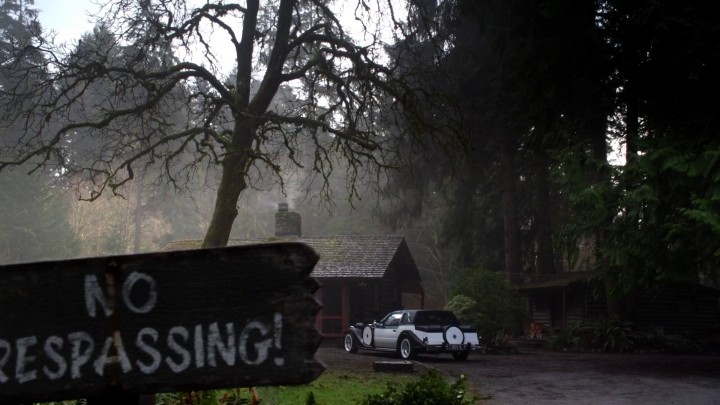 Moving along the present day at Gold's cabin and during our initial reaction of Poor Unfortunate Soul, we were excited to be hearing about the Dragon, which was a direct reference in season 2. It was also nice hearing a direct reference on season 1, when Rumple said that it wasn't the first time August lied to his face, referring to when August pretended to be Baelfire.
August described the Dragon and said that he took all his research but after re-watching the episode a couple of times, we wonder if anything of what he said was true? Regina got his bag, but are those said research there? Was his trailer even still there? Mr. Gold knows how much of a liar August is, and August seemed a little disappointed when Gold said that he didn't even bother checking out his trailer. Was there maybe a trap waiting for Gold in his trailer? Or was there really anything useful that can be found in his trailer? In addition, what August described seems untrue because his description of the Dragon looking for the author for years is not how Selfless, Brave and True went down.
It was nice how Regina was protecting him the entire time they were interrogating him, even after she light a fireball in her hand; a sign that she was still on the good side, and not reverting on her evil self. Although, August seemed a little confused whether she was trying to protect him but, as watching the scene, Regina seemed to be trying her hardest to pretend that she's on their side, knowing exactly how to make him talk.
We love that they made Snow do the talking for Regina. It looks so crazy to see her mouth moving, but it was actually Regina's voice that we were hearing. The way she moves, how she copies Regina's her body language, and how it changed when it was done was cool.
What good is a Pirate's oath if, on the very next day, she will just spill the beans right away? But learning that, the pain Belle was going through must hurt so much, seeing how Gold deceived her so easily. It doesn't give us a lot of hope that she and Belle would still get back together, since she has been the victim of much deception for way too many times.
When Emma and Hook was talking about shoving the dagger into the Dark One's heart themselves, it made us wonder, what if Emma became the Dark One herself? What if Rumple made her so angry, making her stab him with the dagger and eventually being the Dark One herself? Emma, after all, also has the potential for great darkness so if she were to use the dagger on Rumple, will it act differently?
When they showed August the page from the book, and all his memories were back, it makes us wonder if he knows more about the way the book and the author work? Does he actually know the truth? He added more pages to the book, he knows where the author is, recognized Baelfire even, does that mean that he knows the author, too?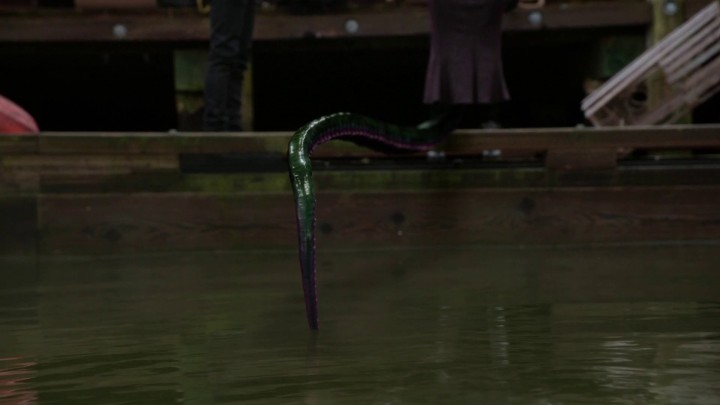 It reminded us of the time when Neal summoned the giant squid in season 3 when Hook called Ursula using the seashell. And when Hook and Ursula started working together to get back the Jolly Roger, we noticed a lot of problems trying to get the ship back. With just a simple touch on the water with her tentacle, Ursula can open a portal. But that what makes her so powerful, how can Ariel, a regular mermaid can also open a portal? There also seemed to have a little inconsistencies here because if it was so impossible to get to the Land Without Magic, then how can merpeople open a portal and bring objects and people to the Land Without Magic? Was it because magic is now in Storybrooke? Is Storybrooke no longer the Land Without Magic because Rumple brought magic into it at the end of the first season?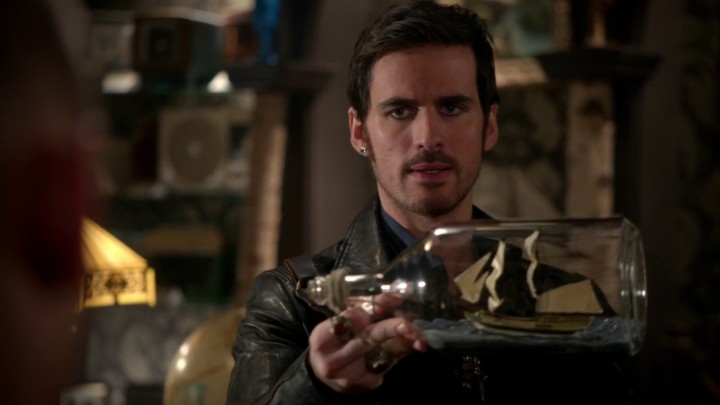 How did Elsa trap the Jolly Roger inside the bottle? We know of her icy powers, but how did she manage to shrink the ship and put it inside the bottle? Where is Blackbeard? Is he frozen somewhere, too?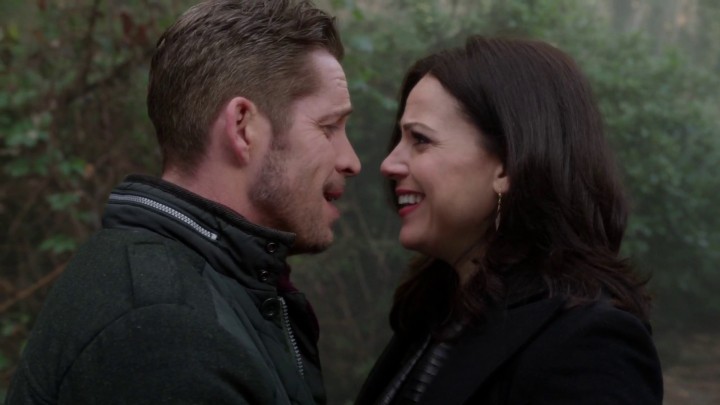 What was Regina's dream all about? Regina thinks there was something to it, although we think it doesn't necessarily relates to Emma, could it have something to do with Marian? We've heard from Tinkerbell that, because Regina chose not to go inside the tavern and meet Robin, she ruined his life. However, Robin seemed to still have a good life with Maid Marian and a wonderful son. Has something happened to Marian that made her a threat now? A decease? Has she turned on the dark side? Was the Evil Queen trying to get Marian away from Robin? Or was the Evil Queen actually trying to protect Robin Hood from Regina herself? Or was this some way the author tries to communicate with Regina?
So I was thinking about Regina's dream and the symbolism. I think it means something. I have long thought that Regina is afraid of self-sabotaging her own happy ending. Actions have consequences and for a long time Regina's evil acts have not led to a path toward a happy ending. Regina seems to be afraid of enjoying her own happy ending in front of her and she constantly doesn't accept the love in front of her and this dream she does exactly that in that her evil side takes over. I tried to look up dream analysis for this dream but I didn't know what to search so I looked up fighting since Regina kinda fought herself to protect Robin. What I got was interesting in that the dream analysis is:

"To see others fighting in your dream suggests that you are unwilling to acknowledge your own problems and turmoil. You are not taking any responsibility or initiative in trying to resolve issues in your waking life.

To dream that you are trying to fight, but cannot throw your arms as hard as you want signifies lack of self-esteem and self-confidence in some area of your waking life. You are unsure of your next move. This dream may also reflect your actual state of REM paralysis during the dream state."

— Jessica Frey
In movies and TV shows, dreams always mean something. What does Regina's dream mean? If this was just a bad dream, Regina wouldn't have come to Emma and ask her to try to track Robin down. Why didn't she just give her number before Robin Hood crossed the town line?
Back at the cabin when Rumple came back, we learned that the Sorcerer trapped the Author in the book behind the door. Why? It sounds to us that the Author could be the bad guy and the Sorcerer the good guy, especially since the Sorcerer has its hat, although the Apprentice seems like a good guy. Another theory that we have in mind that maybe the Sorcerer and the Author are brothers, which would tie in with LOST.
Sibling rivalry is a well-known story device that goes back to the Old Testament: Cain and Abel, Ishmael and Isaac, Jacob and Esau, Rachel and Leah, Joseph and his many brothers. All of these siblings were vying for the birthright and blessings that come from being chosen or favored by someone.

— @Slurpeez108
As we know from the show, everybody is practically related so we would not be surprised to learn if the Sorcerer and the Author would turn out to be brothers. Perhaps the Apprentice was even related to either or both.
It was cool to finally see Pinocchio's built-in lie detector.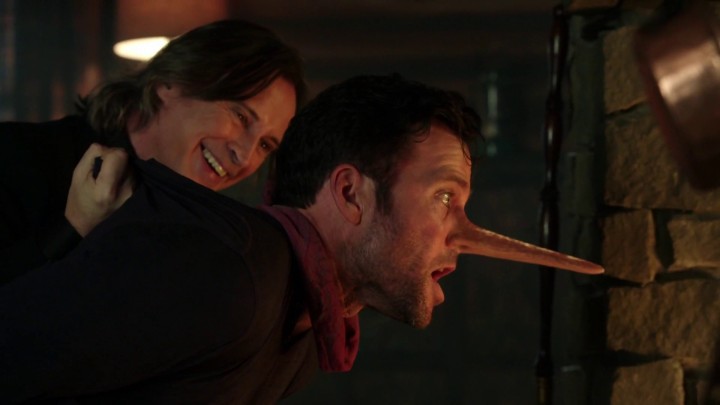 I'm not the biggest fan of August, but it was kind of fun to have him back. I hope they eventually turn him back into a little boy again though (poor Marco). Anyway, when Rumple brought up his built-in lie detector (referring to his nose growing when he tells a lie) it made me think of Emma's superpower. I had always assumed she got it because she was "the savior" but now I kind of wonder if Emma got the power by traveling through the tree portal with Pinocchio and some of his lie magic (for lack of a better term) rubbed off on Emma? Probably it was just a coincidence, but they seem to be the only two with some sort of power/magic surrounding lying.

— Jessica Olsen
Did Emma actually got her superpowers from Pinocchio? Belle's superpowers is to see the good in people, which is quite the opposite in Emma; how she can always see the bad in people, when they were lying. Then again, it could also be just how she was brought up.
When Charming and David was shocked about Emma saying how she would shove the dagger in Rumple's heart herself, it made us realized that this wasn't the first time she said something like that. Back in the episode Broken, Emma threatened to punch Rumple's face. It wasn't uncommon to someone like Emma; everyone has got their evil streak despite their good side, and with Emma having the great potential for darkness, it made us think whether Rumple will start manipulating situations to trigger that darkness inside of Emma that will make her doubt things. Especially if Emma's superpowers is to tell when someone's lying, it's only a matter of time now until she discovers what her parents are hiding.
When they come to break out August, Poseidon's return was about the worst past of the episode. What is also really concerning us is when Hook doubted his ability to get a happy ending when he just successfully helped Ursula get her happy ending. On the other hand, one of the best moments of the season come from this particular scene—the frying pan. It reminded us of the bandit Snow back in the Enchanted Forest.
How did Cruella escape without anyone noticing? Why didn't they even hear her car when she drive off? That being said, it was nice seeing Ursula and Poseidon reconcile. She even seemed to glow when she got her voice back. It's also amazing that after getting her singing voice back, Merrin Dungey, the actress that plays Ursula, no longer looks like a villain. Looks like she overcame being a villain quite fast. Has Ursula really got her happy ending despite being a villain?
Back at the docks when Ursula held up her end of the bargain to Hook and told him about Gold's plan, there's some really good depth here that we found upon re-watching the episode. It sounds like the Author is the bringer of happy endings to everyone in the Enchanted Forest. However, the Author didn't bring back the happy endings in Storybrooke, Emma did. We've already seen a page of Regina and Robin actually meeting, but how did that happen? Is the author simply writing things? Is it the choices that everyone makes that decides their fate? Or was the picture actually happened, but in Regina's dream?
If the Author can't bring happy endings to this world because Emma is the savior, could Emma willingly bring happy endings to the villains? Perhaps Rumple's plan wasn't entirely to bring happy endings to the villains, but maybe to corrupt Emma so that she will become a villain herself, making her want to bring back the villain's happy endings instead? What does corrupting Emma do?
Way back when Rumple first connected with the QoD, he mentioned that he knew what each of their happy endings were. It seemed like none of them wanted them shared. Well, we now know what Ursula's happiness meant, and we can take a guess at what Maleficient's had to do with (though that hasn't been shared with the villains yet). It makes me wonder if all their happy ending are "soft" and therefore that why they wouldn't want them shared.

— Briana Cooper
Back at the Charming's loft is when Regina came to seek Emma's help to find Robin. Will she eventually find Robin? What is she going to find? Is she going to find Robin in a horrible circumstance? Is Robin going to turn to the dark side because of something that happened outside of Storybrooke? We, on the other hand, believe that Emma will ultimately find Robin. After all, finding people is what she does. But what will he be like?
Now we know that the Author is trapped inside the book, how will they get him out? Can Emma, somehow, read the page out loud, or put the page back in the book?
I thought it was interesting that the author is in the book. It brings up a lot of questions though, like how long has he/she been there, how did they get there, do they want to be there, and can they write/alter the book from there? Did the Sorcerer possibly banish them there or send them there on purpose, or did the author choose to go there to escape the Sorcerer or something like that? Is the author Maleficent's child? Is the Author a villain?

— Jessica Olsen
Was the Author a he, a she, or an it? It was never revealed that it's a male, could the author actually be the Sorcerer's wife? Did the Author wrote the book at the time before the curse hit? Does the Blue Fairy have something to do with trapping the Author inside the book?
Just thought I'd share this little theory I have about the Author. Some have assumed that Sorcerer might be evil, and trapped the Author in the book for his own nefarious purposes. However, what if this isn't the case? What if the Author is the sinister and mischievous one? What if the Sorcerer imprisoned the Author in the book, not to abuse his powers for his own gain, but as punishment for his behavior and as a method to keep him under control? Having the power to control everyone's lives through the power of writing would likely give the Author a God complex, which could be in itself very dangerous. Freeing the Author from his imprisonment could be a huge mistake, and result in yet another catastrophic problem our characters will have to deal with.

— Matthew Paul
Was the Author actually a villain himself that's why he was trapped in the book? If he was, what could that entail? Blue Fairy specifically said that the Author and the Sorcerer are two very different people. Was the Author actually the bad guy? Share us your thoughts on Poor Unfortunate Soul using the comment section below!
What did you think?
Help us out!
Follow us
Spoilers