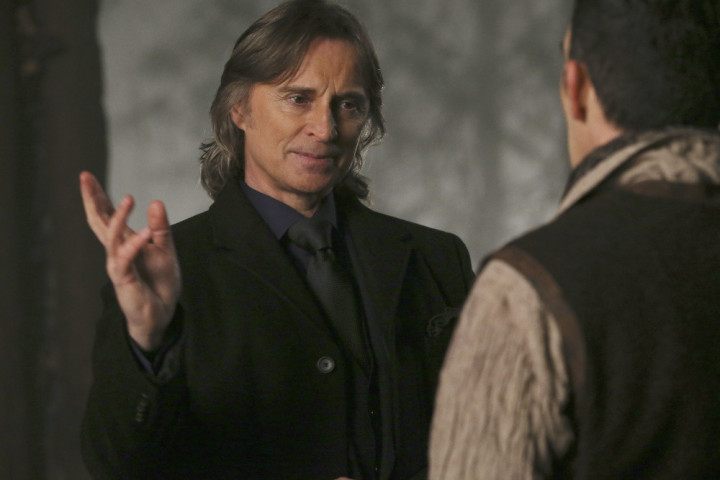 We're back after that short Easter break and are ready for our Heart of Gold initial reaction! As the author runs loose in Storybrooke, Gold raced the Charmings to find the author to strike a new deal. Nine weeks ago, in New York, Rumplestiltskin tasked Robin to get a magical item brought from elsewhere to protect Rumple's heart, only to be faced with a malevolent foe that he thought to be vanquished. And back in the past, the Dark One seeks the best thief in the land and sent him on a fool's errand to a faraway land that's ruled by an old compatriot who doesn't want to see the Dark One's putty face again to steal a potion that can mend a broken heart.
Podcast: Play in new window | Download | Embed
Emma is still reeling after learning the truth of her parents' history with Maleficent, but she must focus on finding the Author, who is running loose in Storybrooke, before Gold does. When Gold's quest for his happy ending grows more urgent, he blackmails Regina into helping him. In a Fairy Tale Land flashback, Robin Hood learns what it means to be an honorable thief when he accepts a proposition by Rumpelstiltskin to travel to Oz to steal a valuable magic elixir from the Wicked Witch.
These are just our first thoughts about this Once Upon a Time episode. We'll share more about "Heart of Gold" in our upcoming full discussion.
Initial Reactions
Remember, these are just our initial reactions regarding tonight's episode so please bear with us if we're a bit all over the place. If you have your own thoughts, feedbacks, or theories regarding tonight's episode, however, send them over to us and join our upcoming full discussion!
Going solo for our initial reactions is Daniel, as he is in Los Vegas right now, speaking at the New Media Expo and the Association of Broadcasters. Our schedule this week will also be a little bit different, but we are still ready to dig deep into our initial review of the episode Heart of Gold.
What an interesting episode! For the majority of the episode, it felt like somewhat interesting until we get into halfway-through it. We knew that Zelena is coming back, because of some spoilers that we can't avoid, but to what capacity is she coming back, we don't know. To discover that she is Marian this whole time suddenly has our brain going into different directions trying to figure out if it fits. One of the things that we thought it made good sense of is seeing Zelena's ghost from the jail cell opening the time portal at the end of season three. We've always wondered about how Zelena could have opened the time portal and we wrestled about that in our previous episodes. Now, after seeing the episode we wonder, did the writers plan this whole time? If they did, then props to them for hiding these little clues early on. If they didn't plan this and this is some sort of revisiting the history and changing the canon of the story, it's a bit of a stretch but it's actually something we are willing to go with.
We really liked this twist only because knowing that Zelena will be in the show again, is one thing, but to see that now she is the new villain coming back that has us excited, actually. Although it made us question how many other villains are we going to see this season, seeing her come back like this is really cool!
We're excited to see how it plays out the storyline for the rest of the season because it seems to change everything. It may no longer be about Rumple, Maleficent, Ursula and Cruella anymore getting their happy endings. It's also now about Zelena getting her happy ending or something. What is she after?
There are some things in the timeline that confused us a little bit, and we know it raised some questions, but it was really cool to see Oz again. It was really cool to see how Will and Robin met, how he became Robin Hood, and a few bit of history from many years ago that they gave us. Back in Storybrooke, what they gave us is very little timeline. we saw that Rumple has a quill, which he offered to the Author. So the Author wanted to  make a quill for himself, for what reason? We're guessing this is where our theories from a previous episode came in where the Author probably want to write a story to affect what was going on for his own good. As soon as Rumple pointed out the quill, we thought that perhaps they are going to turn August into a quill. Fortunately that theory was debunked easily because we think he still has something to say about what is going on.
Thank you for supporting us!
David Neuland (subscriber)
Steve Johnson (subscriber)
Lisa Slack (subscriber)
Tracey Anderson (subscriber)
Daniel Clark (subscriber)
Laura Silva (subscriber)
DJ Firewolf (subscriber)
15 Patreon backers ($61.25 per episode)
You can sponsor an episode or more of ONCE podcast, too! Email Daniel@ONCEpodcast.com if you would like to arrange a corporate sponsorship of our podcast for the upcoming third season.
In some ways, this episode made us feel like they're trying to tie up loose endings that could be leading us to series finale. In some ways, it's cool, but in some ways, it's concerning.
It was also really neat to tie back in season three with getting to visit Walsh's shop, which now we knew is the Wizard of Oak. We really wonder what direction this season will suddenly go. How much of Oz are we going to get in with the mix of all of this? We still need backstories like Cruella's, maybe a little bit more of Maleficent's backstory, but we think that this season has now turned completely around and we have no ideas where this could go. Although we have some theories, this could now go into so many directions and we love the surprise in this episode, including seeing many things. It was really cool to see Rumple suffered from heart attack, seeing the Elixir of the Wounded Heart, which is a little bit odd. It had us wondered a little if it was maybe what Rumple gave Snow White in season one, but we know that Rumple didn't actually get it presumably.
With the set up now that Robin is not actually with the true Marian but is actually with Zelena, and that his wife is really dead—which was really disappointing—means that he is now free to pursue his true love and not create a moral problem. Really clever, and how well it fits together is part of what makes us think that the writers must have  planned this all along.
What do think of this episode? What new theories do you have? Were you turned completely around like we were on where this episode or this season could go now that Zelena is back?
What did you think?
Email Feedback@ONCEpodcast.com (audio files welcome)
Call (903) 231-2221
Comment on the shownotes
Visit any page on ONCEpodcast.com and click the "Send a voice message" link to record and send a message right from your computer.
Help us out!
Share this post in your social networks
Follow us
On Facebook:
On Twitter:  echo do_shortcode('[twitter follow="ONCEpodcast"]'); ?>
Daniel J. Lewis:  echo do_shortcode('[twitter follow="theDanielJLewis"]'); ?>
Jeremy Laughlin:  echo do_shortcode('[twitter follow="phlegon"]'); ?>
ErinJ:  echo do_shortcode('[twitter follow="erinjcruz"]'); ?>
Hunter Hathaway:  echo do_shortcode('[twitter follow="travelingpixie"]'); ?>
Jacquelyn / RumplesGirl:  echo do_shortcode('[twitter follow="punk_bunny_87"]'); ?>