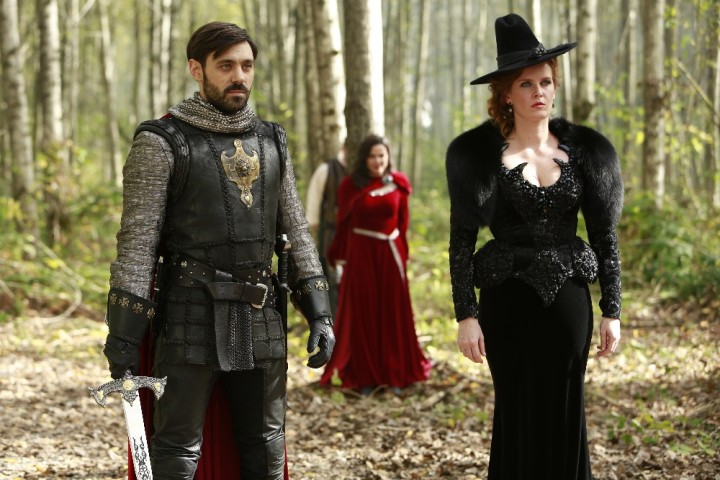 We just finished watching this duo episode for the price of one, "Birth" and "The Bear King". In the episode, "Birth", Hook seeks the Dark Swan to figure out what really happened between them in Camelot, while Zelena's pregnancy magically accelerated. Three weeks back in Camelot, Emma was forced to ignite the spark to save her family and loved one. Meanwhile, in "The Bear King", Merida finally learned the truth about her father's death with the help of the Witch's guard dog and the little lady who can't be pushed around.
Podcast: Play in new window | Download | Embed
Keep in mind that the reason why they put these two episodes together is because there won't be an episode next week, November 22 to give way for the American Music Awards. However, Once Upon a Time will be back on November 29.
Tensions in Camelot come to a head when Merlin, now under Arthur's control, delivers an ultimatum to Emma: hand over the Dark One dagger and the Promethean spark or he will kill her entire family. Refusing to give in, Emma and our heroes face off against Arthur, Merlin and Zelena in an epic battle of magic and will. Just when the end is in sight, Emma is forced to make a gut-wrenching choice that no one saw coming. Back in Storybrooke, Zelena's pregnancy mysteriously accelerates and Hook goes to new and desperate lengths to get answers from the Dark Swan.

Zelena and Arthur journey to DunBroch on a mission to retrieve an enchanted relic that will provide the advantage they need to vanquish Emma and our heroes. Their path will cross with Merida's, who is on a journey of her own to pay a debt that her father, King Fergus, owed to the Witch when he died. Merida enlists the help of two friends, Mulan and Ruby, but, in order to satisfy the Witch and save DunBroch, she first must discover the identity of the knight who killed her father. In flashbacks, Merida learns about bravery and honor as she trains for combat and rides alongside Fergus into the infamous battle that claims his life.
These are our first thoughts about this Once Upon a Time episode. We'll share more about "Birth" / "The Bear King" in our upcoming full discussion (usually live on Wednesdays at 7:00 p.m., USA Eastern Time).
Initial Reactions
"Birth" and "The Bear King" were clearly two separate episodes, and not a Part 1 and Part 2 thing. Of the two episodes, Birth was a much better episode compared to "The Bear King." There may be some things that are really weird and a little crazy, but that was still a better episode tonight.
Now, we know that Arthur was the one who killed King Fergus, which makes so much stronger tie to the Merida's side of the arc; explains a lot why she ended up in Storybrooke, why she's still connected to the larger group. It also seemed that we're a lot closer now as to why they lost their memories in Storybrooke. One of the big things in this episode is seeing Emma turned Hook into a Dark One, it makes sense now that Emma had to take their memories so that Hook wouldn't know he is the Dark One, so that he wouldn't give over to the darkness inside of him.
Just because Hook didn't remember he is the Dark One, wouldn't he know? Why is it, that the simple knowledge of what Emma did, seem to made Hook go all dark? Did he really flip in the end? Will he also see Dark One Rumplestiltskin follow him around? Why isn't it already happening?
Emma's solution to taking out Hook and Emma's darkness inside of them by using Zelena was a bit confusing. They seemed to think that with the unified blade, it would work like the Dark One dagger but in reverse; if they kill her with it, it would put all of the power into her. Were they thinking that as long as they have the sword, they control her? And did they really just try to hit a woman who just had her baby?
It was great to see Dr. Whale again and see him get thrown against off the wall again. It was also nice seeing Mulan and Ruby, even though there were a lot of things that seemed stretched out just to explain what happened to these characters, especially Ruby. It's definitely a character development episode, getting to know the characters more, even though they were side characters that we might not see again for a while in the series. Still, it was neat to see that these characters haven't been completely forgotten. Perhaps we would see them again in the future episodes? Did anyone else know that Ruby went back to the Enchanted Forest aside from Mary Margaret? Did Ruby bring anyone else back with her?
Emma, in the process of transferring power to Hook, did something to Merlin, but what was all the dark stuff coming out of him? Is Merlin dead now? Did that kill Merlin? If Rumplestiltskin gets to be alive after everything he went through, Merlin could survive, too, can't he?
If we are to assume now that Merlin's voicemail was from the time-period they assumed it was from, was Merlin actually referring to Hook and not Emma when he said that the Dark One found him?
If this happened three weeks before they went back to Storybrooke, what did Hook do as the Dark One? Was Emma trying to save him for the last three weeks before they went back to Storybrooke? Will we see them battle Hook as the Dark One for the second half of season 5? How horrible would he be as the Dark One? It makes sense now what Emma's ulterior motive is.
What would Hook look like as the Dark One? Does Hook still have his hook now that he is the Dark One? Will he regrow his hand? Rumplestiltskin did not have his limp when he was the Dark One.
Vote for your favorite costume on our Once Upon a Time costume contest! The voting will close at midnight Thanksgiving Day. Check out the full details like the voting period, prizes, as well as the entries submitted and vote for your favorite costume now!
Did Nimue build the Dark One vault? How are they even going to find Nimue? Send us your feedback and theories about the episodes, "Birth" / "The Bear King" and join us this coming Wednesday for our full discussion!
Remember, these are only our initial reactions regarding tonight's episode so please bear with us if we're a bit all over the place. If you have your own thoughts, feedbacks, or theories regarding tonight's episode, however, send them over to us and join our upcoming full discussion!
What did you think?
Email Feedback@ONCEpodcast.com (audio files welcome)
Call (903) 231-2221
Comment on the shownotes
Visit any page on ONCEpodcast.com and click the "Send a voice message" link to record and send a message right from your computer.
Help us out!
Share this post in your social networks
Follow us
On Facebook:
On Twitter:  echo do_shortcode('[twitter follow="ONCEpodcast"]'); ?>
Daniel J. Lewis:  echo do_shortcode('[twitter follow="theDanielJLewis"]'); ?>
Jeremy Laughlin:  echo do_shortcode('[twitter follow="phlegon"]'); ?>
ErinJ:  echo do_shortcode('[twitter follow="erinjcruz"]'); ?>
Hunter Hathaway:  echo do_shortcode('[twitter follow="travelingpixie"]'); ?>
Jacquelyn / RumplesGirl:  echo do_shortcode('[twitter follow="punk_bunny_87"]'); ?>