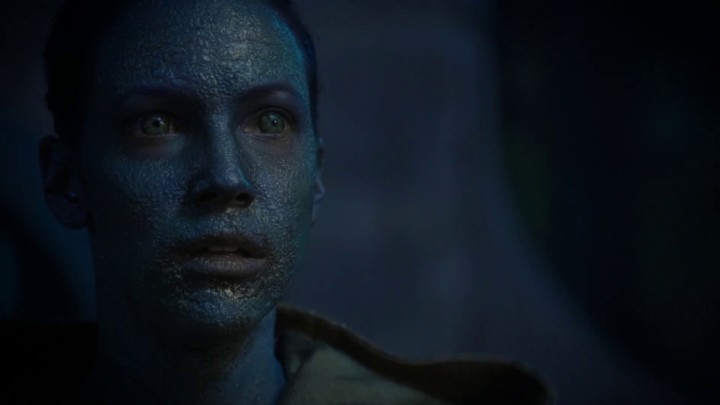 Why didn't Nimue get incinerated when she drink from the cup? Was the ring that Hook gave Emma imbued with magic? Listen to our full discussion of Nimue as we share our answers about this, plus some great theories and feedbacks, all while asking even more questions about Emma's intention behind taking the sword after reuniting the dagger with the Excalibur, the key to finding Nimue, and who could have possibly made the Holy Grail!
Podcast: Play in new window | Download | Embed
Flashback (Before the Age of Arthur)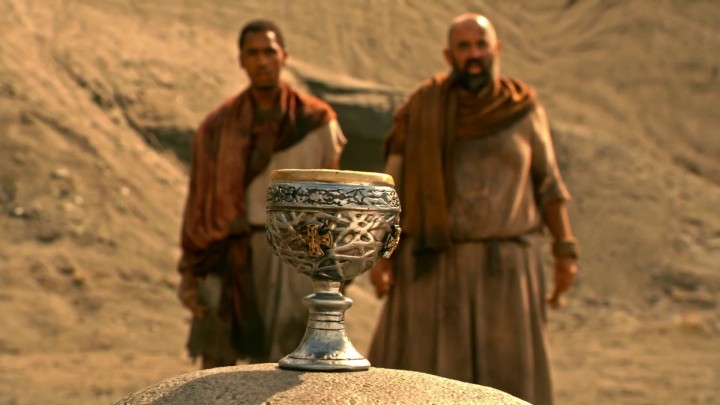 Starting out the episode 1,000 years before the age of Arthur, there was this little comment that tells us about Merlin that says, "They wouldn't trail escaped generals into this, much less foot soldiers." Does that mean that Merlin was a foot soldier and was running away? It looked like Merlin and the other man were slaves or prisoners, they have rope tied to their wrists. What's the backstory behind this, and was it even that important to tell? Who were they running from?
The fact that Merlin got his magic made us wonder where did the Holy Grail come from. Did the Blue Fairy create the Holy Grail? After all, they once called Blue Fairy the original magic.
During our Nimue initial reactions, we mentioned how it tied with some biblical terms, but after watching it again, it seems that this was connected more to the Arthurian legend. That being said, Merlin looked like he became the Jesus of his time when he received the magic after drinking from the Holy Grail.
Before the man got poofed, he said something like "the Gods could do worse," which showing lack of humility, whereas Merlin asked permission and perhaps kneeling, giving thanks for his life. Still the question lingers, how did Nimue not poof when she drank from the Holy Grail when she was bent on revenge? Did she have a potential to be good, that's why she didn't get incinerated?
We were confused in the initial reactions about the timeline in this episode. Fortunately, Adam Horowitz clarified the timeline via Twitter that it was, in fact, 500 years earlier and not 200 years, which made more sense now. There's definitely more to this episode than we need to see. Does Nimue know that can she can be controlled with the dagger?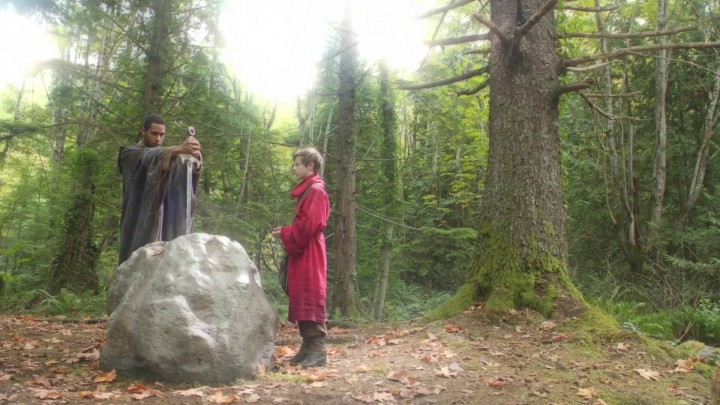 The little boy assisting Merlin, who was actually the Apprentice, was dressed in red like Mickey from Fantasia, as well as Arthur from the Disney movie, The Sword in the Stone.
Meanwhile, it was Vortigan to blame for the fact that there are only two Middlemist flower left. Furthermore, Vortigan himself is "based on Vortigern, a 5th-century warlord in Britain, and often appears in modern Arthurian fiction, including the upcoming movie Knights of the Roundtable: King Arthur (in which Vortigern will be played by Jude Law)."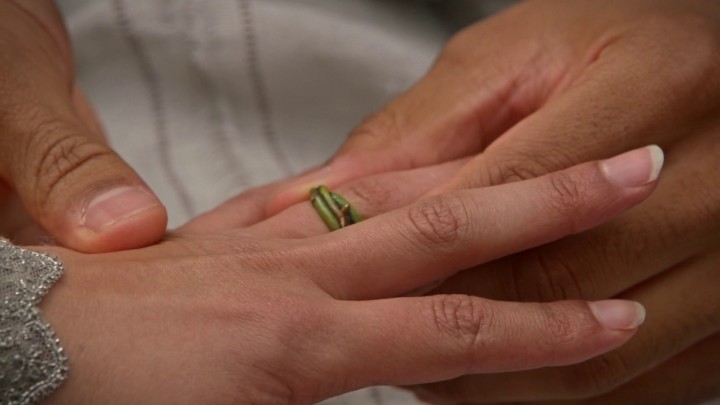 Since Merlin can't read Nimue and can't read her future, is there something more that makes Nimue invisible to Merlin's vision? Shouldn't that have been a red flag since he can't see the future with her?
Easter egg: Merlin telling the young apprentice to go check up on those brooms when he first went to flirt, I mean, speak w/ Nimue 🙂 Great throwback to the Sorcerer's Apprentice

— Leslie
Merlin said that the sword can separate him from his magic and immortality, while still keeping Merlin, Merlin. Does this mean that Arthur doesn't want to kill Merlin, but simply his magic? Is the ring that Merlin gave Nimue a key to finding her in Storybrooke? How are they going to find and bring Nimue back?
As they go to Nimue's village, Oxleigh, it's crazy to realize that Merlin was essentially why Vortigan destroyed Nimue's village. For a time, Nimue also didn't seem to want to go against their plan until she saw her village again. Sci-Fi Girl from the forum helped shed some light on why Nimue didn't get incinerated when she drink from the cup.
Here's a thought. The Grail was setting very nicely on a stone. What if it is the stone, and not the actual cup, that decides if a person is worthy to drink and receive the gifts? The grail could sit there, undisturbed for all eternity* until someone worthy came along, because no one who is not worthy can touch it to lift it away!

Has Excalibur, which is the Grail, been put back into the same stone for safekeeping?

Consider this: when the sword is in the stone, only the worthy can pull it out, with the same consequences to an unworthy attempt as Merlin's friend encountered. But once the sword is removed, anyone can touch it without dying!

For that matter, Merlin's friend was turned to dust just for touching the grail (albeit with the intention of drinking). But after Merlin removed it from its stone pedestal, it seemed like anyone could touch it.

So I think the stone was the guard/test. Once Merlin came along, he was trusted with all the power, including the grail itself, to protect and guard as he saw fit.

— Sci-Fi Girl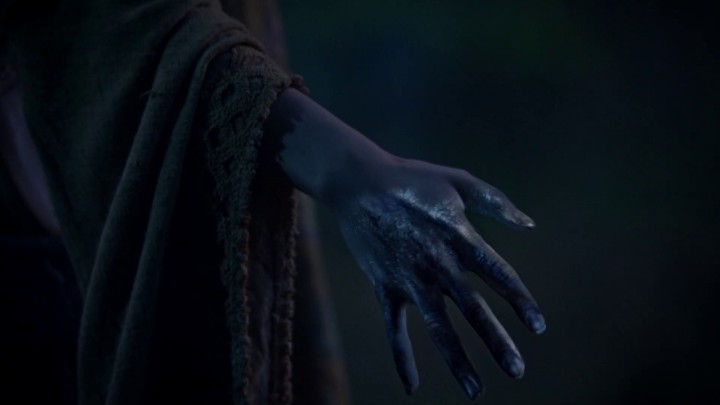 In the scene where they were talking about using magic to kill will darken their soul, has that always been the rule? That if someone uses magic to kill, darkness will take root inside of them? We've seen this countless time, after all, not only with Rumplestiltskin, but Regina, and even Mary Margaret when she killed Cora. On the other hand, there seems to be a big difference between killing for revenge over killing as a means of self-defense. Moreover, back to the episode Lily, when Emma was about to kill Lily, Regina reminded her that killing Cruella was an accident, but to kill Lily is going on an entirely different road.
Back at the spark from mankind's original fire, the flame of Prometheus, did Nimue take the fire when she killed Vortigan? Why did Nimue pretend to die? To remind Merlin what death looks like or to simply fool us? Was Nimue the first one to rip a heart out? Is this what would have happened to Emma had she killed Merida?
Maybe the Darkness grew through each Dark One.

— MatthewPaul
Merlin told a few times that the Dark One destroyed the woman he loved. However, didn't Nimue choose to succumb to the darkness herself? The darkness may have consumed her, but she chose the power herself, letting her need for revenge take its toll on her. In line with this, Caroline Ford, the actress who plays Nimue, was doing a great job in convincing us that she was right person to play the first Dark One.
Thank you for supporting us!
David Neuland
Lisa Slack
Greg Shope
Maryann Livoti
Jessica Olsen
Jennifer A Treese
Irvin Z. Martinez
31 Patreon backers
You can sponsor an episode or more of ONCE podcast, too! Email Daniel@ONCEpodcast.com if you would like to arrange a corporate sponsorship of our podcast for the upcoming third season.
Camelot (Six Weeks Ago)
Jumping forward to a thousand years later in Camelot, where it starts out at Granny's while Emma makes dreamcatchers outside. Does she already know why she's making the dreamcatchers? Hook may have been disturbed that Emma is making dreamcatchers instead of sleeping, but does she already know why she's making them? Can Emma see the future? Is she doing this knowing that this can help her protect everyone of what's to come? She hasn't told anyone about she's making them. Or is she simply doing this to pass time, trying to keep her hands busy? Did Emma ultimately take everyone's memories to protect them, intending to bring them back at the right time?
Is Merlin holding things back from them? As Merlin talks to Emma, he said that she is the most powerful Dark One ever. Why?
We did some research about the fire of Prometheus and found out that Greek mythology says that Prometheus gave the first fire to mankind.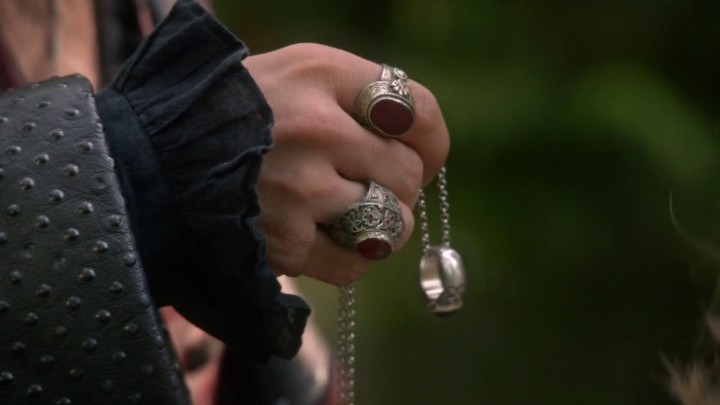 The ring that Hook gave Emma has a small flower on the side, very similar to Emma's tattoo.
I was re-watching the episode Poor Unfortunate Souls from last season and I noticed something about Hook's interactions with young Ursula back in the enchanted forest. Before hook betrayed Ursula, there were a few scenes when hook looked as though he really was concerned for her and looked a bit sad when she explained why her voice meant so much to her.  In the episode we are led to believe that hook understands Ursula because he also lost a love, Milah. But what if it was much simpler than that? I think hook understood EXACTLY how Ursula felt about her voice and fully gets that a gift from a mother is precious, because he probably also lost his mother at a young age. Perhaps he too holds on to a cherished gift from his mother… her ring! This would explain why it meant so much to hook to give it to Emma and also could explain why the writers had him wearing it on a chain as opposed to showing it off and wearing it on his hand (since we know he isn't shy about having his jewelry very visible.) Perhaps Hook's mother is/parents are somehow connected to Greek mythology and the ring really is imbued with magic or is another gift from the gods. Yes, this would mean that the show has introduced us to yet another magical McGuffin. However, in some ways the show has been setting this up for a while with hints at how good Hook is at surviving. Hook boasts a LOT about how he is great at surviving and there may be a legitimate reason why besides dumb luck.

— Sara
Was the ring that Hook gave to Emma the same one that belonged to his mother? Was it imbued with magic? If that is so, this wouldn't be the first ring imbued with magic that we were introduced to, the first one being the ring that David's mother gave to him, as well as the one Merlin gave Nimue, and the ring that Daniel gave Regina, the one she used to get back in time to retrieve the poisoned apple.
The song lyric Emma quoted to Hook was from the song  "Working My Way Back to You" sung in 1966 by The Four Seasons then made popular years later in 1979 when sung by the R&B group the Spinners as a medley with another song "Forgive Me Girl".

The song is about a guy who cheated on his girlfriend and abused her emotionally.
She walks out on him, and he realizes what he lost, and tries to win her back.

I have no idea what the writer was trying to say using this lyric.

Here are some YOUTube links to the songs:

The Four Seasons version:

The Spinners version:

P.S: Below are the lyrics:

I'm workin' my way back to you babe
With a burnin' love inside
Yeah I'm workin' my way back to you babe
And the happiness that died

I let it get away
Paying every day

When you were so in love with me
I played around like I was free
Thought I could have my cake and eat it too
But how I cried over losin' you

See me down and out
But I ain't about to go livin' my life without you
For every day, I made you cry
I'm payin' girl, till the day that I die

I'll keep workin' my way back to you babe
With a burnin' love inside
I'm workin' my way back to you babe
And the happiness that died

I let it get away
Been payin' every day

I used to love to make you cry (Make you cry)
It made me feel like a man inside (Baby, baby)
But if I'd been a man in reality (Cry, cry)
You'd still be here babe, lovin' me

Now the nights are long and lonely
And I ain't too strong babe, I just miss you so
And you're too proud, you won't give in
But when I think, about all I could win

I keep workin' my way back to you babe
With a burnin' love inside
Mmm, I'm workin' my way back to you babe
And the happiness that died

I let it get away
Been payin' every day

Yeah, yeah, yeah

I'm workin' my way back to you babe
With a burnin' love inside
Ooh, I'm workin' my way back to you babe
And the happiness that died

Oh, how I cried
Workin' my way back to you babe
With a burnin' love inside
I'm workin' my way back to you babe

— Andrea from LA
Was there more to what Emma told Hook about working her way back to him?
As they're planning the break-in, it was amazing how they didn't know they were being conned by Zelena. Then again, she could be saying all that because she may be thinking that their plan could actually work. We also liked how delighted Snow White looked like when Regina put her on guard duty. On the other hand, it was a little drastic how Arthur said that they're at war now with the Charmings and the gang. When did Zelena's deal happened?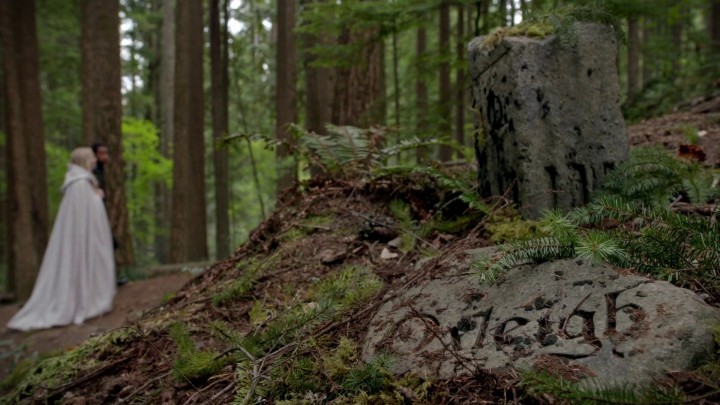 When Emma and Merlin are walking to where the flame used to be, Emma said that the Dark One will disappear when she has finally embraced the darkness. But Emma still sees them in Storybrooke. Did she never embrace the darkness, after all? That being said, Emma said in the episode The Dark Swan that she has finally embraced the darkness, so why does the Dark One still appear before her?
We tried looking into the names on the dagger as Emma tries to summon the first Dark One and found the following:
Emma Swan
Rumplestiltskin
Zoso
Gorgon (the Invincible)
Nimue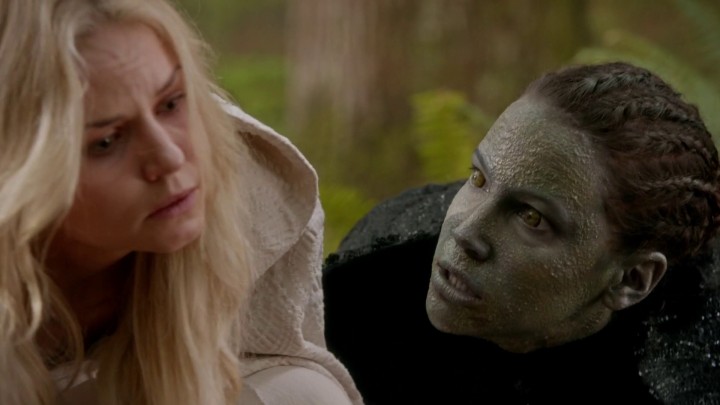 It was quite a change how Emma yelled that she was not nothing from when she used to say that she was otherwise. It was delivered powerfully, making it Emma's one, if not her best moments ever. Was Emma being stripped off her potential for darkness the reason why it seems to take a long time for her to embrace the darkness?
Could there really be someone who's worthy to hold that much power and not let it burn through to darken their soul? Aren't Emma and Merlin essentially the same right now? Emma hasn't gone completely dark, just like Merlin never did. Perhaps, this is even what Emma is trying to do at present in Storybrooke.
Will Emma be more powerful than Merlin once she's cleave of the Dark One's curse? If it wasn't Emma who's destined to hold that much power, who is?
With just a wave, Zelena can tether Merlin's soul to the sword? In the roundtable room, Merlin said that prophecy is still yet to be fulfilled, that Merlin will still use the Excalibur to strike darkness from the land. And when Arthur asked Merlin to send them away, was that Merlin sending everyone back to Storybrooke? Except for the fact that some people weren't there, they were in the same clothing, after all.
Perhaps if Merlin is in Arthur's control Arthur made Merlin tell him about Nimue and then forced Merlin to leave the voicemail that the hero's saw. That would explain why Merlin said to find Nimue.  I also think that Arthur will find this memory in a dreamcatcher in Emma's shed. Then he will not realize that Nimue is dead (because he saw a short memory of him forcing Merlin to say that) he will just think that Nimue will help him create his "New Camelot" so he'll set out on a quest in Storybrooke to find her.

— Chloe
Did Arthur ask Merlin to mislead the heroes to seek Nimue for help? Does he think that Nimue can help him create his new Camelot?
Thank you for the podcast reviews!
Lokiverse said, "… The discussions are often interesting and funny …"
Ashleythevegan said, "I've listened to pretty much all of the OUAT podcasts out there and this is the only one you need. The attention to detail is amazing and the chemistry of the group is enjoyable. I look forward to the podcast every week and I will miss it greatly once OUAT comes to an end. THANK YOU!"
Your reviews encourage us and help others find the podcast!
Please rate and especially write a review for us on Apple Podcasts.
Storybrooke (Present Day)
We got to see a little bit of the present day Storybrooke when Emma reunite the Excalibur with the dagger, which was the same scene as the beginning with Nimue trying to prevent Emma from completing the sword before.
I'm thinking Emma is going to use the sword not to destroy the darkness but to control it and use it for good rather than evil, as she asked Merlin, "Is it possible to control it and use it for good?" As Merlin said if a person is strong enough [they can]. Maybe Emma thinks she can be that person as it has been said before there always be darkness and it can never be truly destroyed but if you can control most of the darkness maybe the darkness inside you won't take over.

also think Emma cast the curse to protect everyone and she erased their memories because she did something to them to help her to control the darkness.

— Aleana Harris
Does Emma somehow know that she is strong enough to handle that much power? But Merlin told her when she was a little girl to leave the sword alone. If she intended to use it for good, how pure are her intentions?
Did the Excalibur half still say Merlin? Does it have Emma's name? We may not have seen a clear name of anyone's name, but Emma's flower tattoo was clearly in shot.
What did you think?
Email Feedback@ONCEpodcast.com (audio files welcome)
Call (903) 231-2221
Comment on the shownotes
Visit any page on ONCEpodcast.com and click the "Send a voice message" link to record and send a message right from your computer.
Help us out!
Share this post in your social networks
Follow us
On Facebook:
On Twitter:  echo do_shortcode('[twitter follow="ONCEpodcast"]'); ?>
Daniel J. Lewis:  echo do_shortcode('[twitter follow="theDanielJLewis"]'); ?>
Jeremy Laughlin:  echo do_shortcode('[twitter follow="phlegon"]'); ?>
ErinJ:  echo do_shortcode('[twitter follow="erinjcruz"]'); ?>
Hunter Hathaway:  echo do_shortcode('[twitter follow="travelingpixie"]'); ?>
Jacquelyn / RumplesGirl:  echo do_shortcode('[twitter follow="punk_bunny_87"]'); ?>
Spoilers
Arthur delivers an ultimatum to Emma
Emma and our heroes face off against Arthur, Merlin and Zelena in an epic battle of magic and will
Emma is forced to make a gut-wrenching choice that no one saw coming
Back in Storybrooke, Zelena's pregnancy mysteriously accelerates
Hook goes to new and desperate lengths to get answers from the Dark Swan
Zelena and Arthur journey to DunBroch to retrieve an enchanted relic
Merida is on a journey of her own to pay a debt that her father owed to the Witch when he died
Merida enlists the help of Mulan and Ruby
Merida must discover the identity of the knight who killed her father
In flashbacks, Merida learns about bravery and honor
"Birth" was written by David H. Goodman & Jerome Schwartz and directed by Eagle Egilsson
Guest cast includes David Anders as Dr. Whale, Ingrid Torrance as Nurse Ratched
"The Bear King" was written by Andrew Chambliss and directed by Geofrey Hildrew
Guest cast includes Meghan Ory as Red/Ruby, Jamie Chung as Mulan, Glenn Keogh as King Fergus, Caroline Morahan as Queen Elinor, Lily Knight as Witch, Richard Stroh as Edgar, Paul Telfer as Lord Macintosh, Marco D'Angelo as Lord MacGuffin, Josh Hallem as Lord Dingwall, Matthew Olsen as Brother #1, Jordan Olsen as Brother #2, Colton Barnert as Brother #3
5×09, The Bear King is probably the episode where they will explore an LGBT relationship, which could be Mulan and Ruby
The American promo showed Emma fighting King Arthur, lots of CaptainSwan moments
The promo also showed that something is going on at the Dark Swan house, a spell that washes over the house
It also showed Regina warning Hook that she is manipulating him
American promo 2 showed Zelena confronting Emma what she's going to do
The second promo also showed Emma fighting Merlin
Canadian promo showed Emma talking to Henry in Camelot
There's also a scene at the Canadian promo where Hook looked like he's summoning Emma
Hook shows up in Regina's office and asking for help
One of the leaked photos showed Emma holding a glowing, broken sword, kneeling at what looks like an unconscious Hook
Another photo showed Arthur holding the broken sword, and Zelena is back in her Wicked Witch outfit sans her necklace and holding a gold box
According to Entertainment Weekly, Victoria Smurfit is set to return in multi-episodes to reprise her role as Cruella DeVil starting in 5×13
5×13 is entitled "Labor of Love" and written by Andrew Chambliss & Dana Horgan