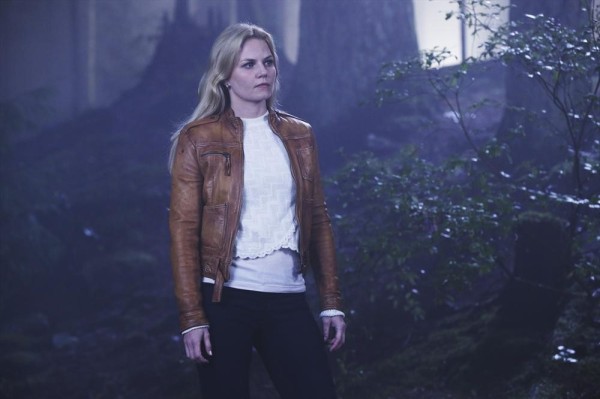 While Regina's busy thawing her true love's wife, Emma paid her an unpleasant surprise visit for a walk through north, then east of the Toll Bridge that led them to teaming up against the Snow Queen's theatrics. In 1998 in Hopkins, Minnesota, however, a young Emma met an orphan girl who made her feel less invisible.
Podcast: Play in new window | Download | Embed
Regina reluctantly teams up with Emma to search for the Snow Queen after Sidney, who is once again Regina's prisoner in the mirror, discovers her whereabouts and agrees to lead her to the location. With Belle babysitting baby Neal, a nervous Mary Margaret and David prepare for their first date night away from their child and find themselves on a mission to track down Will Scarlet, who has escaped from the town jail, and Elsa sees Anna in the Storybrooke woods. Meanwhile, back in the past, young Emma finds herself a kindred spirit when she befriends a girl who, like her, is a runaway orphan.
These are just our first thoughts about this Once Upon a Time episode. We'll share more about "Breaking Glass" in our upcoming full discussion live on Wednesday October 29, at 8:00 p.m. (EDT/GMT-4).
Initial Reactions
Knowing the title of the episode, we kept wondering which particular glass was it that was going to be significant in the episode. Was it going to be a physical glass, a wine glass breaking or something? A window, perhaps or a mirror? Turns out it was all of those except for the wine glass. It was actually Sidney Glass that broke free. He was namby-pamby before, now he's a turncoat namby-pamby. Seems like he bows down to whichever Queen is powerful at the time. How did the Snow Queen even get in touch with him?
We pointed out before how the Snow Queen got all the mirrors in her shop, Any Given Sundae. Is she using the mirror the same way that Regina does? Perhaps the mirrors are somewhat symbolic just like in the original tale of the Snow Queen, just like we pointed in our previous discussions.
The whole flashbacks thing, we thought it's just going to be for the sake of letting us see something about the Snow Queen. We initially thought maybe Lily was the Snow Queen or became the Snow Queen, but basically the whole point of Breaking Glass' flashbacks was to lead us to the camcorder. We also thought that perhaps it was going to be Regina in disguise. We knew the moment Emma watches the tape essentially what she was going to see. Does this mean that the Snow Queen was actually young Emma's foster mother? What else is in the camcorder?
We also thought that we were going to finally see how Emma got her tattoo, which we prominently saw in Tallahassee when she was arrested and her little flower tattoo was shown on her wrist. We thought this was going to show the origin of that tattoo, but it wasn't. Does that mean that Lily was just a nobody, a passing character? How did the Snow Queen got into our world?
The actress that plays young Emma plays her better this time, by the way. However, where was Emma's foster home was located? Emma was in Portland when she met Neal but she grew up in Boston, and this was in Minnesota the past that we saw. Does that mean that the foster home was in Minnesota?
Are we the only ones who wanted to blast into Let It Go when Elsa ran into the staircase just like in the Disney movie, Frozen? Why did Elsa chased faked Anna? Did love blind her into thinking it was really her sister? Didn't she realize it might just be a trap?
It was clever how everything played out between Mary Margaret and Will Scarlet. What else is in the sack that Will is looking for? Why did Will bury it? Is there some other clue in the sack from Wonderland that will reveal of Will's backstory; what happened in Wonderland, how he got here? Meanwhile, two people got pardoned in this episode – Sidney Glass and Will Scarlet.
It was really interesting to see Emma and Regina's friendship developing; kind of odd, cool. Odd because we've spent all of these seasons seeing them go against each other and now Emma suddenly wanted to become friends. However, they've been working together before, and they were both Henry's mother, why not make the best of it? We love that this episode gave us so much; very blunt. Perhaps one of the things that's motivating Emma and Regina to try to build this friendship is their son?
Something odd in this episode, and we're not quite sure how it fits into the story is the one with glowing blue eyes in the coffin that the Snow Queen had in the beginning of the episode. Who was it? Her own frozen version of Daniel? Was there something more to it?
It was cool to see Emma use her magic better and Elsa overcoming fear, which is what the Snow Queen wanted her to do. But if the Snow Queen is after having a family, what does having Elsa conquer her fear really have anything to do with that? And then there's the issue with the mirror, what kind of special power will the Snow Queen get when she gets this mirror? Now that she has the final piece, what will she see? What can she do? What other mirror does she need as part of this?
Hopefully, we'll find a sack of goodness in this episode. What else was in that video? Was there anything in the video where we saw the Snow Queen that will show neat props or where we could find hidden Mickey's or Easter eggs?
With Mary Margaret finally finding her old self, does this mean we're going to see the old adventurous Snow White that we know? Is Sidney Glass going to serve the Snow Queen now? What do you think of this episode? Share us your thoughts and theories about Breaking Glass by sending us an email or heading over the forum or the comment section below, and don't forget to join us this coming Wednesday for our full discussion of Breaking Glass.
What did you think?
Email Feedback@ONCEpodcast.com (audio files welcome)
Call (903) 231-2221
Comment on the shownotes
Visit any page on ONCEpodcast.com and click the "Send a voice message" link to record and send a message right from your computer.
Help us out!
Share this post in your social networks
Follow us
On Facebook:
On Twitter:  echo do_shortcode('[twitter follow="ONCEpodcast"]'); ?>
Daniel J. Lewis:  echo do_shortcode('[twitter follow="theDanielJLewis"]'); ?>
Jeremy Laughlin:  echo do_shortcode('[twitter follow="phlegon"]'); ?>
ErinJ:  echo do_shortcode('[twitter follow="erinjcruz"]'); ?>
Hunter Hathaway:  echo do_shortcode('[twitter follow="travelingpixie"]'); ?>
Jacquelyn / RumplesGirl:  echo do_shortcode('[twitter follow="punk_bunny_87"]'); ?>