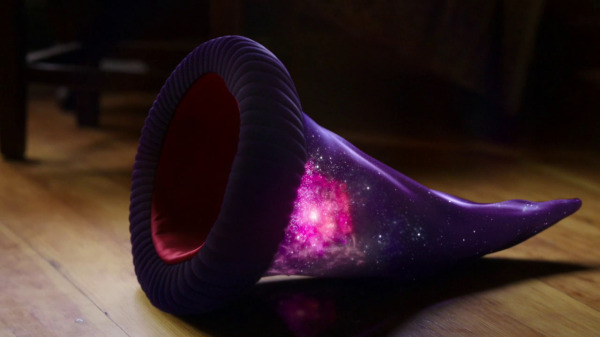 On our full discussion of The Apprentice; when Emma asked Hook on a date, Hook went to Mr. Gold and ask him to restore his hand, only to face his worse nightmare when he discovered that the lump of flesh helped him remember the darkness that lies beneath the man he once was. In the Enchanted Forest of the past, meanwhile, the Dark One sent Anna to the hooves of the alleged devour of children where the Sorcerer's Apprentice resides, enabling him to take away the most precious thing in the world and turn it into a weapon—love.
Podcast: Play in new window | Download | Embed
A long time ago (Enchanted Forest)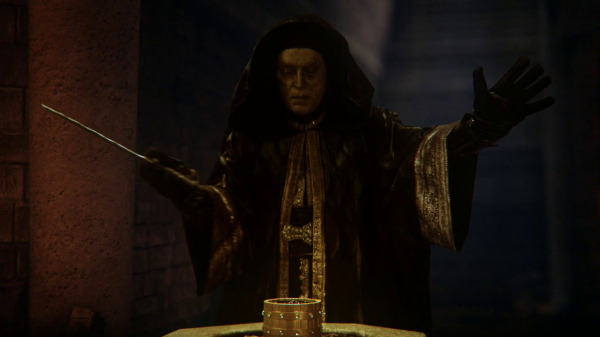 One of the scenes we love from "The Apprentice" was with Zoso trying to get his hands on the magical box and we wonder whether the duke get his hands on the dagger as part of Zoso trying to free himself of the Dark One curse. It was also very "Indiana Jones and the Last Crusade" esque; what with all the round thing and an old guy protecting it with a sword. In the scene, the Apprentice said that every Dark One has tried. How many Dark Ones have there been exactly before Zoso and Rumplestiltskin? Are we going to get some kind of backstory to the Dark One as a being? Did the Sorcerer, whoever that is, create the Dark One himself?
We've dissected every single time that they presented us, how long has it been since this happen? Check out our Timeline if you're just as a bit confused as us and want to keep up with the Onceiverse timeline.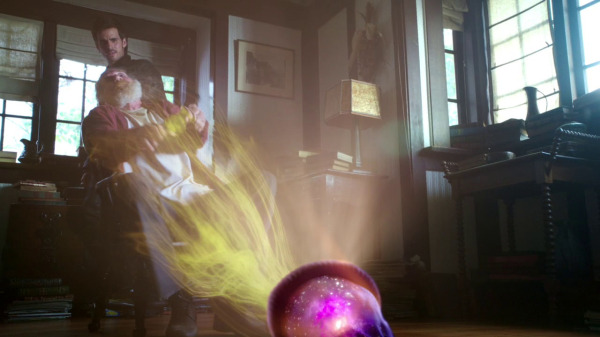 Is the price being paid by every magical being that the hat absorbs? Is the hat collecting the price, combining it, putting it out there, changing things? Or has it been out there already? Mr. Gold said that magic cannot be destroyed, it only change forms, after all.
Is all the magic that's ever present in all the cycle capable of changing forms? How old is this Apprentice? Is he somehow older than Blue Fairy? It seems, for now, that he just might be the oldest character we've seen so far, unless the Blue Fairy is way older than he is.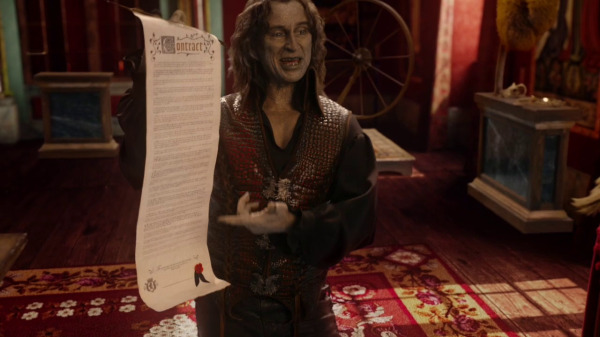 Once again, we have seen the contract. However, why did Anna not read the contract? Doesn't anyone read the Dark One's contract before they sign it?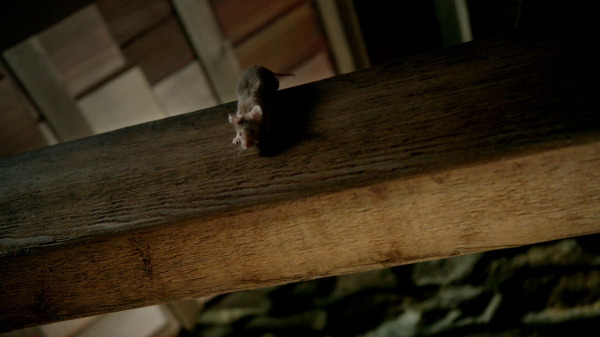 And once again, the Apprentice was sweeping. How perfect that the Apprentice was turned into a mouse? Perhaps a nod to Mickey Mouse? However, for a mouse, the Apprentice was very stealthy.
It was funny how Rumplestiltskin kept acting surprised when Anna told him that she didn't put the antidote in the tea. Had he known all along that Anna wouldn't do it?
Throughout the show, we've learned that love is a weakness, love is a diseases and now, we know that love is a weapon. Aside from this episode where Rumplestiltskin used Anna's tears as a weapon to get what he wanted, the only time we saw him used a tear was when he asked for Mary Margaret's tear, mixed it with Regina's tear to help them find Regina in the second season episode, Second Star to the Right.
By the way, the little crystal that Rumplestiltskin used was the same one that Neal used to find Emma in "The Heart of the Truest Believer" with blood magic. Great use of continuity right there.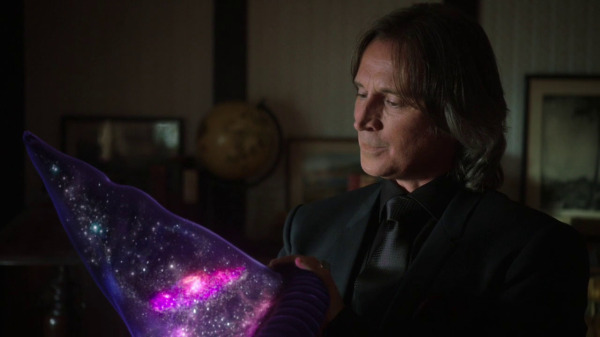 Rumplestiltskin told Anna that his goal was to collect as much magical power as he can steal. Now that he has the magical box again, will he go back to his old plan and use it again to take everyone's magic away?
We know that the magical box was with Anna when she went back to Arendelle, so what happened in between? Does the Sorcerer still lives? Emma said a few times that she needs to find her own place. If the place is unclaimed, will it be Emma's new place?
Thank you for supporting us!
David Neuland (subscriber)
Maryann Livoti (subscriber)
Bridget J
Amanda Robar
Fabio Fiss (new Patreon backer)
9 Patreon backers ($21 per episode)
You can sponsor an episode or more of ONCE podcast, too! Email Daniel@ONCEpodcast.com if you would like to arrange a corporate sponsorship of our podcast for the upcoming third season.
Present Day (Storybrooke)
Back at present in Storybrooke, the first thing we've seen throwing darts in the board was with Graham in the episode, "The Heart Is a Lonely Hunter." We loved the fact that Emma was the one to ask Hook out and Henry was her wingman. Where does Hook live? Does he sleep in the dock all the time? Surely, he needs his own place more than Emma does.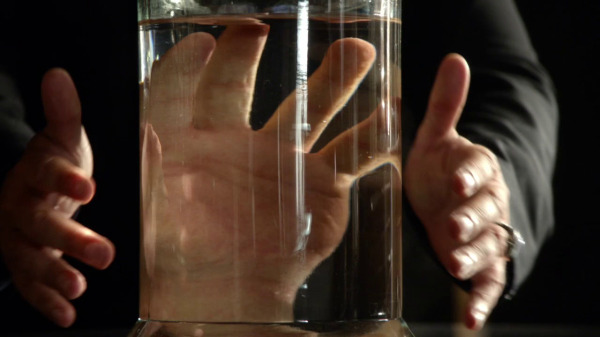 When Hook got his hand back from Mr. Gold, it made us wonder whether Rumple was manipulating Hook—just to get a deal with him later, or to bring out the worst in Hook? Even though her have foreseen a lot of things post-curse, can Rumplestiltskin still the see the future like he did in the past? Why didn't Emma's superpower work that Hook lied about his hand?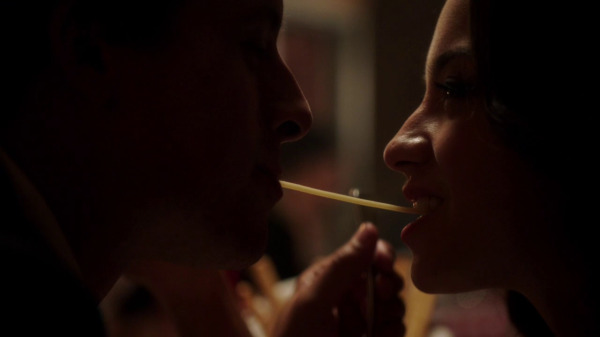 Hook and Emma's date was great and there was a nice nod about Lady and the Tramp spaghetti scene. Plus, the waiters were dressed just like Tony from Lady and the Tramp. In addition, their waiter looks just like Tony. Watch this entire spaghetti scene from the Lady and the Tramp:
A couple of the scenes in this episode also reminded us of the Pilot episode when Emma steps into a puddle when exiting her car in Storybrooke for the first time.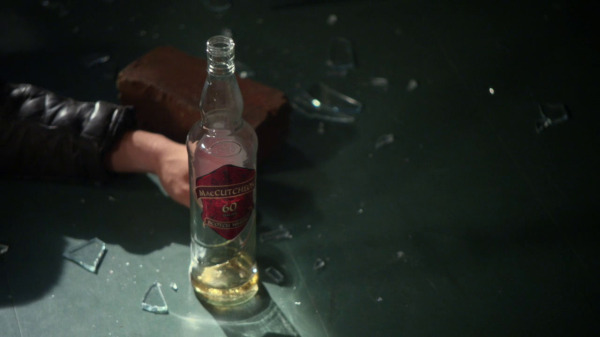 This episode also shows exploring of the character's dark side excluding Regina — Hook and his dark side; Will and his dark side, and yes, it was a MacCutcheon whiskey Will has been drinking.
Turns out, Will went to steal the book Alice's Adventures in Wonderland. Is he trying to get back to Wonderland with Anastasia? Did Will get cursed? When Regina broke Pan's cursed in "Going Home", did Will get trapped in the Enchanted Forest and got sent to Storybrooke when Snow White cast their curse? Is he simply trying to get back to Wonderland?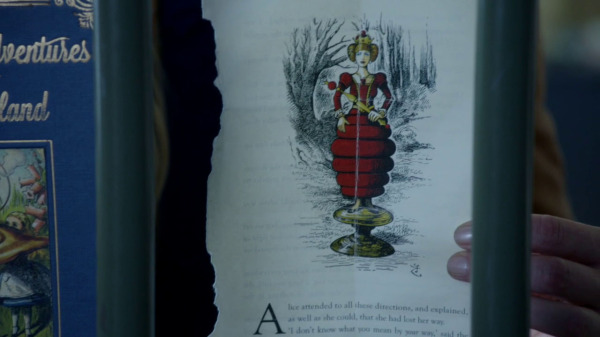 His reaction when Emma showed him the page to the Red Queen, it was a bit vague whether he remembers Anastasia or not. Is he just denying his relationship with the Red Queen or does he not remember her at all? Either way, it was nice to hear a track that we have heard before in Once Upon a Time in Wonderland.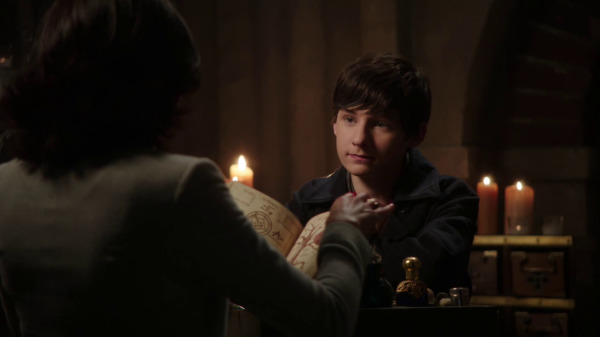 When it comes to Henry and Regina working on the Operation Mongoose, it was a bit disappointing that it seems like they are forgetting what the story book is for. It doesn't tell the happy endings, it tells the past. Henry said that Mr. Gold finally got his happy ending. Has he? Did he really change his story, or is it not over yet? Also, the book did not make Regina a villain. Her actions did.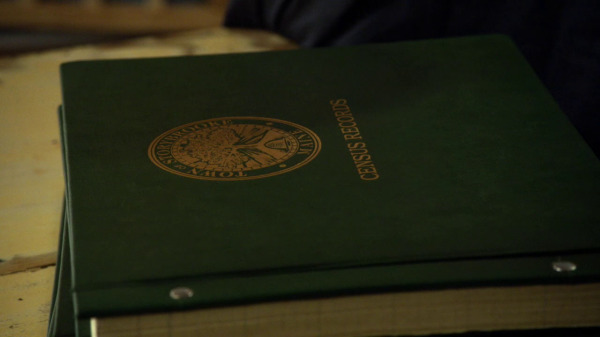 Their curses were very thorough, it seems; what with them having curse records and all. Where did this come from? Was it possible that it was the same source where Rumple got the ingredient for the dark curse?
Why did the Snow Queen wants Emma to follow her? Does she simply want some alone time and a real conversation with her? Or does she have an entirely different agenda for making Emma follow her icy trails?
Now that Hook owes Mr. Gold for the rest of his life, maybe Hook will become Mr. Gold's henchman now? Back in the shop, Mr. Gold said that Belle is now "the only light in my life." This reminds us of a scene in (1×22) "A Land Without Magic" and the line, "a brief flicker of light amidst an ocean of darkness" exchanged between Rumplestiltskin and Charming.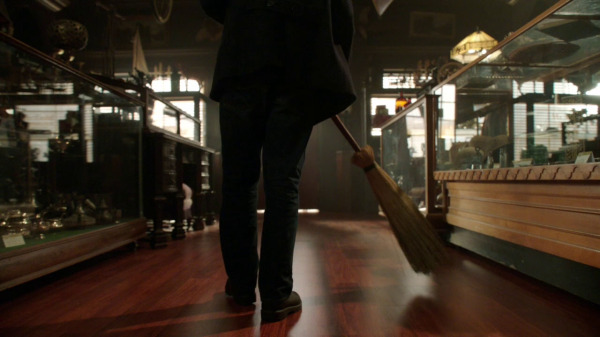 With Henry going undercover for the Operation Mongoose, we were wondering if Henry will have his own The Sorcerer's Apprentice moment?
According to David, the Snow Queen goes to Storybrooke by the name of Sarah Fisher. Where and how did they get the name? What does it mean?
What do you think about The Apprentice? Share your thoughts by filling in the comment section below or joining us over the forum. You can also start sending in your theories for next Sunday's episode via email or heading over the forum.
What did you think?
Email Feedback@ONCEpodcast.com (audio files welcome)
Call (903) 231-2221
Comment on the shownotes
Visit any page on ONCEpodcast.com and click the "Send a voice message" link to record and send a message right from your computer.
Help us out!
Share this post in your social networks
Follow us
On Facebook:
On Twitter:  echo do_shortcode('[twitter follow="ONCEpodcast"]'); ?>
Daniel J. Lewis:  echo do_shortcode('[twitter follow="theDanielJLewis"]'); ?>
Jeremy Laughlin:  echo do_shortcode('[twitter follow="phlegon"]'); ?>
ErinJ:  echo do_shortcode('[twitter follow="erinjcruz"]'); ?>
Hunter Hathaway:  echo do_shortcode('[twitter follow="travelingpixie"]'); ?>
Jacquelyn / RumplesGirl:  echo do_shortcode('[twitter follow="punk_bunny_87"]'); ?>
Spoilers
Regina will reluctantly team up with Emma to search for the Snow Queen
Belle babysits baby Neal as Mary Margaret and David is about to go on their first date night after baby Neal was born
Will Scarlet escapes from the town jail
In the past, young Emma befriends a runaway orphan girl
Guest stars include Giancarlo Esposito as Sidney/Magic Mirror, Oliver Rice as King Arendelle, Pascale Hutton as Queen Arendelle, Nicole Munoz as Lily, Barclay Hope as Lily's father, Kelly-Ruth Mercier as manager, Anson Hibbert as policeman, Ilias Webb as Kevin, and Abby Ross as young Emma
Episode 5, "Breaking Glass" was written by Kalinda Vazquez & Scott Nimerfro and directed by Alrick Riley
There was a theory that the girl playing Lily was the Snow Queen in disguise
4×05 promo shows an ice warrior, a magic battle, and a ghost-like Anna in the woods
Snow Queen is building a snowman
Canadian promo is being kept a bit tighter than the US version.
Canadian promo showed Elsa and Emma, as well as Regina wanting to know where the Snow Queen is
Snow Queen is also showed looking at a shattered mirror
It looks like they're going to be playing with Snow Queen mythology
Regina is seen walking with a compact mirror, perhaps with Sidney Glass
Elsa is seen wearing a winter cape
Emma and Elsa walks into the woods, runs in with the Snow Queen
For the episode 10, "Shattered Sight" Rebecca Wisocky was cast as Madam Faustina, a charlatan who was known to swindle her customers with made-up fortunes
Madam Faustina has some connection with the Snow Queen
Theory is that she might be Once Upon a Time's take on the witch from Brave
One of the set photos showed Elsa and Belle may get a lot of adventure together
Belle is going to get her own episode in 4×06, "Family Business", where we would get to meet her mother
Elsa will also be seen other than the Charmings
There's also a set photo showing Snow Queen in what looks like New York City, standing in front of a giant blue door that has a lot of carvings similar to that of the urn. Has she find another way to get to our world?
Episode 10 is entitled, "Shattered Sight" and was written by Scott Nimerfro & Tze Chun