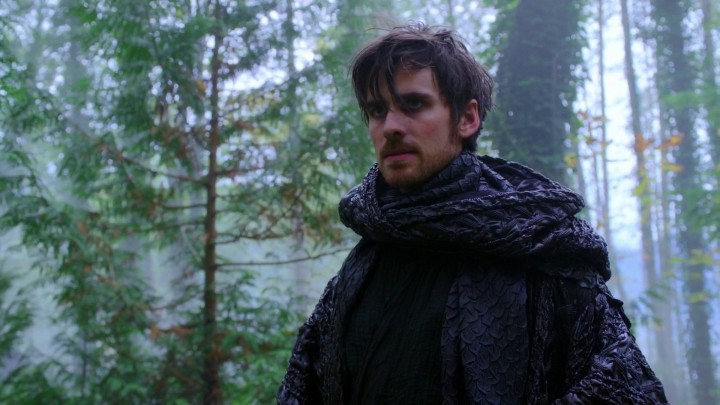 Why does Hook not look scaly? Why did they have to kill Merlin? What memories did Hook actually take from Emma? Is Zelena really incapable of stopping the insanity, or can her daughter sway her back into the light? How does pouring the squid ink over the cuff remove it from Emma? What exactly does "snuffing out the light" mean? And is Nimue the key to stopping all these? All these questions plus some interesting thoughts about racial concerns, RumBelle, Captain Dark One's plan and a couple of wild theories on our in-depth discussion of "Broken Heart."
Podcast: Play in new window | Download | Embed
Having seen it a couple of times, we enjoyed re-watching it more but only because we like the characters when they're being themselves, even if there are a couple of hits and misses in this episode. However, it took us three times to really understand how everything fits together, and for it to make sense. There are certainly plot holes and logic problems that cannot be escaped, no matter how much it fits together, but having seen it more than once we were able to pick out a few more pieces.
Camelot (Past)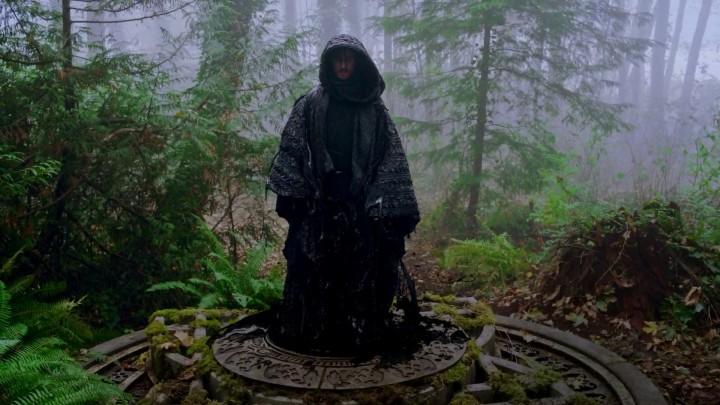 It was interesting how Hook got transported into the vault, and then the darkness surrounded him, then coming up through the vault. It was pretty existentially transformative apart from past experiences or memory. But why wasn't Hook sparkly in any way? He give in to the darkness pretty quickly. Do Dark Ones decide how they look? Did they have to allow themselves to look scaly or reptilian? Can they choose how they will appear?
When Hook was enveloped by the darkness, it reminded us of the end of the season 4, when the same thing happened to Regina and Emma. It was then when they said that the darkness was snuffing out the light. Still, this still doesn't explain why this didn't happen to Rumplestiltskin or Nimue when they became the Dark Ones themselves.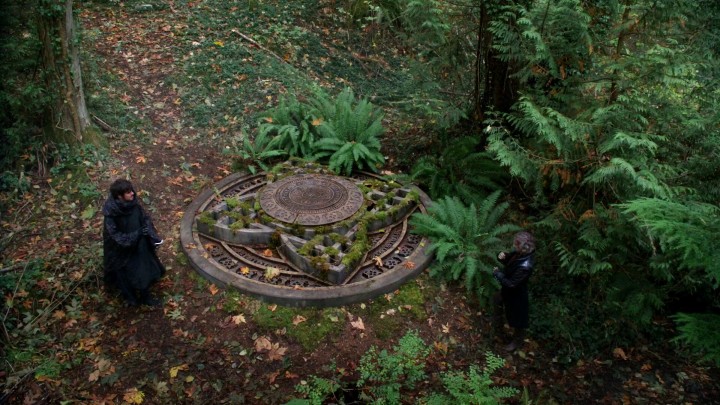 Hook starts out by saying he won't listen to the Dark One in his head when he first appeared before him, like Emma did. Did it really snuff out the light, why is he resisting?
One of the things that stood out to us when they were tracking Hook's steps was that Merlin said something about of all the paths he saw for Emma, which could possibly mean that he could see multiple paths for multiple people; not a single path, but many potential futures. Did it not seem foreshadowing how Lancelot was going to get the Lady of the Lake? Could next week's episode open with him and the Lady of the Lake or getting hit by the Dark Curse?
In Arthurian tradition, Nimue is the Lady of the Lake. She also goes by Vivanne or Niviane. But I guess they are not going that route here in OUAT. For the record: the creature that appeared in "What Happened to Frederick" is NOT the Lady of the Lake. She's a Siren, from Greek mythology. Similar but different mythos.

— Jacqueline
Is Nimue the Lady of the Lake or someone else? Is it possible that she is one of Nimue's ancestors?
As Hook decides to go all-black leather, one of the things that we are reminded of when Emma talked to Hook is that "love conquers darkness." This seems to be true because head Rumple suddenly disappeared when they were talking, when they were expressing love, when they were living love, essentially. Emma also said that what they need to do is go to the ones they love. Is love what's keeping Emma from being totally dark and falling totally into its control? Has Emma firm grasped on love the reason why she didn't fully give in to the darkness, and not look scaly? And since she is an ineffectual Dark One, as per Head Rumple, could Emma actually be the one that Merlin talked about that would be strong enough to wield all the power and not give in to darkness, except for her bad choice that she made at the end of this episode?
Head Rumple suggested the Dark Curse to Hook, which he quickly dismissed by saying that he wouldn't crush Emma's heart. However, after learning that Emma kept the truth about the Excalibur, he suddenly became angry with her. But what was the plan at this point for getting rid of the darkness inside of them without them dying? Is Hook's mortal wound completely gone? Rumplestiltskin still have his limp when he became a mortal, after all.
When Emma summoned Hook with the sword was a beautiful moment, but it's all lies. It was also bizarre. Regina literally did the same thing to her several times and she didn't freak out. It also sounded a little like a therapy talk. It was supposed to be the thought and conversation behind the writing of the character, not the stuff that comes out of their mouths. Perhaps it's time they schedule a session with Dr. Hopper?
With Emma believing Hook, together they returned to Granny's, where they met with the others. It was also in this scene when Regina asked Emma if she was fine. Her acknowledgment indicated that they haven't seen her like this yet.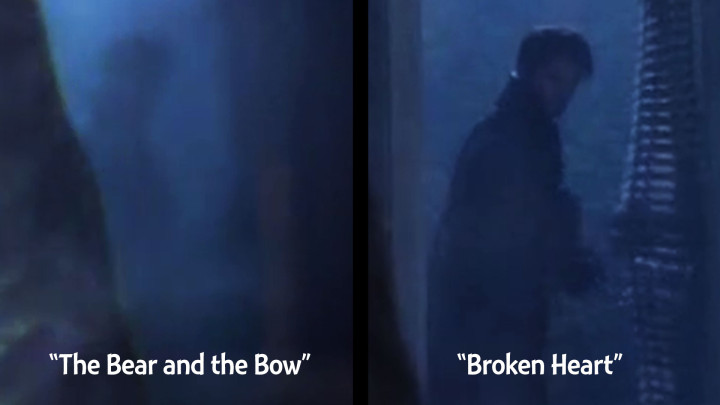 During our Broken Heart initial reaction, we wondered whether it was indeed in the Granny's where Merlin recorded the voicemail. We take a look at the episode, The Bear and The Bow, and indeed, it was in the Granny's that Merlin recorded said voicemail. Hook was even clear to be in the background, when Merlin turns his head as he heard someone coming.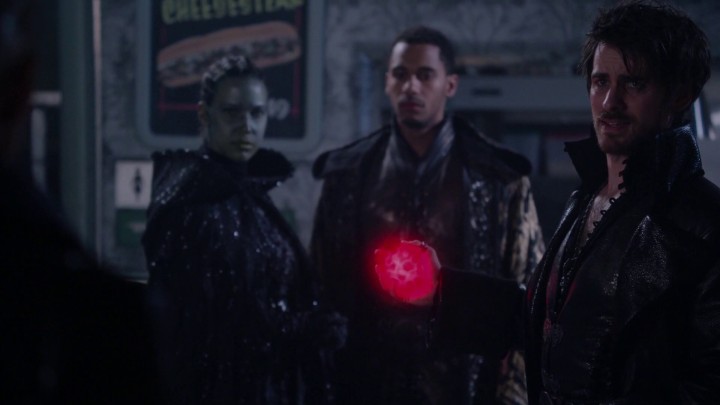 Head Rumple said that Merlin's is the oldest heart in all the realms. What about the Blue Fairy? She was referred to as the original magic. Does that mean he's older than her? Do fairies even have hearts at all?
This whole loophole of Nimue being in Dark One Hook and that he could crush the heart of the thing he loved the most for her is acceptable. This idea that Hook is crushing the heart for Nimue is okay, but only because she held the spark from the Promethean flame. But why do they have to cast the Dark Curse in order to go back to Storybrooke? Why didn't they just ask Regina to simply reverse what she had done the first time instead of casting the Dark Curse again?
It was also in this scene when Emma was talking to head Nimue and head Rumple, where the idea of what the Dark Ones want—not revenge, which Emma knows but not Hook. It was also during this scene when Emma realizes that Hook is merely a pawn in all of this, but that the Dark Ones inside him fueled him to do everything that he has done, so they could open the Pond Portal and get to Storybrooke. It was the knowledge that the Dark Ones wanting to snuff out the light that was being communicated here, without actually saying it.
Head Nimue also told Emma that she wants it, too, but disagreed. Is that the reason why head Rumple called her an ineffectual Dark One, because she doesn't want to snuff out the light?
Why did Hook speak of himself in the past tense and third-person?
So, we were wrong about all these being a test for Emma, as well as Emma foreseeing any of this. However, it was the Dark One that planted the idea for Emma to do it all by herself. This also explained why Emma kept asking everyone to trust her, because she's doing it on her own, a plan that she just came up with and not something that she has been mulling over for a while back when they were in Camelot.
Why did they have to kill Merlin?
Merlin's death was obviously coming, but still, I'm annoyed that Merlin's dead. The actual circumstances I don't mind so much, because Hook being horrible, and lying, and using, and not caring who gets hurt in the process is the most entertaining he's been in ages. Just wish the result of the plan hadn't been us losing Merlin so quickly like that.

— Phee
One unintentional issue on the show is that some things are accidentally coming across as slightly racist. Villains often being with dark skin, dark-skinned characters being killed or sent to "forgotten-character island," like Merlin, Ursula, and Lancelot. When Merlin died, we were sad about losing a good character, a good actor, someone that had managed to take what ended up being a relatively small role given to build up, making it big as it was supposed to be, as opposed to thinking about his race. It can be easy to pick out things and find problems with certain things sometimes with TV shows, however, some of it is, sometimes, completely accidental and simply being consistent with the story. It's not that there isn't a racial issue to be considered, but it would be nice if they would be looked upon by the character they play and the flow of their character to the story, instead of just the actor's skin color. In general, it may be best if we just give more grace and let the writers tell the story they want to tell and cast the actors for the roles they fit best.
Storybrooke (Present)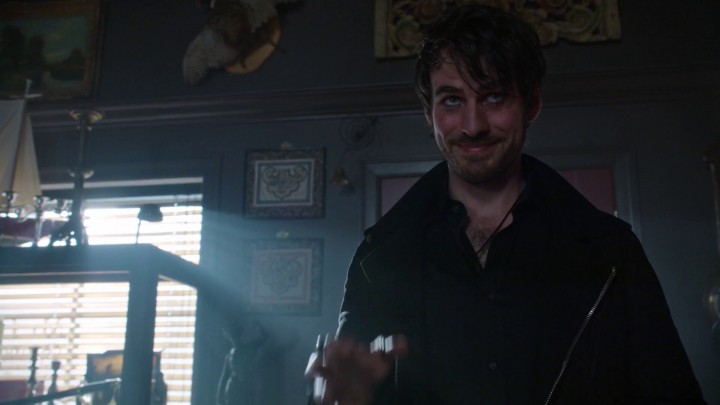 Will the Lady of the Lake have some influence on how the half of the season will end? What memories did Hook actually take from Emma? Was it the memories of what all the Dark Ones want, or some of memories about summoning all the Dark Ones? It can't be the memory of Camelot, can it? Nimue said that she is in all of the Dark Ones, if they can get Nimue out of the way, will it neutralize the power?
Hook's sudden change from the previous episode was because all the Dark One memories have returned to him, including realizing what Emma did in Camelot. But how much of Hook is in control of everything that comes out him, and not just the Dark One talking?
In the next scene, it was nice that they finally acknowledge that what Emma planned to do with Zelena is a premeditated murder.
One of the interesting things when Hook went into Mr. Gold's Shop was knowing that the whole Excalibur can't control the Dark Ones anymore, making them essentially cleave of the dagger but it can still kill them.
Also, in Mr. Gold's Shop, while Hook does have a valid reason to hate Rumple, was Rumplestiltskin really responsible for filling Emma with darkness? Was Hook referring to when he pushed Emma to almost killing Lily? Will they ever mend their relationship? Why did Rumple act so strange when he became the Dark One but not Emma and Hook?
The winners for our Once Upon a Time costume contest have been announced! See if any of your favorites win!
It was when they were at Regina's when we found out about the Dark One Chronicles. We tried to look up whether it was mentioned before but we couldn't find more information about it. It was also awfully inconvenient how they brought this up. Why haven't they been using it up until now?
From what they've said in the past about the process of the darkness snuffing out the light seems like it didn't work on Emma because she doesn't have something that can fuel her to go the dark side. Cora couldn't even take her heart. One of the things that could be the darkness taking control of Emma is her self-pity and the stuff that drives her to be alone could be what push her to do things by herself, instead of getting help.
As they decide to go their separate ways, we got a nice conversation between Belle and Rumple. We're glad that they acknowledge that Rumple hasn't made up for everything by simply standing up to Merida. He also said that he wants to pursue to be honest and courage, was it the darkness that always prevented him from doing so before?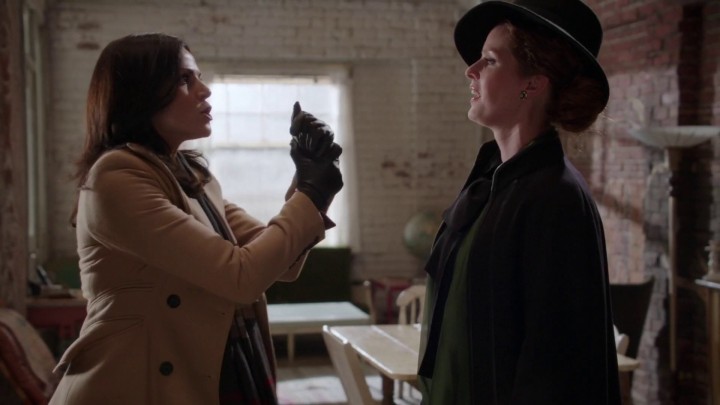 When Zelena visited her baby in the hospital, it was the first time Nurse Ratched and "Chief" Bromden (Native American man with the mop) have ever been seen outside the basement. Some people may be disappointed with this, but we appreciated that they labeled what Zelena did to Robin Hood as vile deception, which does nicely cover everything, labeling it appropriately. That being said, it sounds like Zelena feels incapable of stopping the insanity, even though it looks like she wants to.
This whole thing of taking Zelena to meet the baby was really neat; Regina giving Zelena a chance, indicating that she and Robin still have hope that Zelena might turn around. It was nice how they are handling their situation, however complicated, except that in this case, Regina and Robin are extending grace to Zelena, allowing her to visit the baby as long as one of them is present. It also looked like even have a little bit of hope that this will turn Zelena around, making us wonder whether she will and if this will actually work.
Regina said that Henry's unconditional love made her her best self. But was it really just Henry?
Henry was the starting point and the ultimate necessity in Regina's redemption, but there were other factors like Emma, her step-daughter and step-son in law. Henry helped Regina by giving her the unconditional love she always craved, the Charmings helped in Regina's redemption by showing her how a real family is supposed to be there, support you, and love you. Snowing, Emma, and Henry held Regina's hand and lead her out of the life of darkness into the life of light… someone needs to do the same for Zelena. So, in order for Zelena to change for the better like Regina, she must have the same necessities as Regina had. The unconditional love and support of her family. Her baby girl starts it by giving her the unconditional love, it's up to Regina to guide her sister as she was guided by their family. And since technically Zelena is Snowing's Step-Aunt, they could help her as well. If unconditional love and family can change Evil for the better, then it should be a much easier task with Wicked.

— WickedRegal
It took Regina many seasons and a show closely focused on her character (and to some extent on Henry) for that to happen. We saw her and Henry's journey over 4 years. Doing the same to Zelena but extra fast wouldn't be very realistic, and would also cheapen Regina's character development.

— Nevermore
Now that Regina has redeemed, will Regina revert immediately back to wanting to kill Snow White if she becomes the next Dark One? Or will she struggle with the darkness just like Emma?
Meanwhile, Merida gets to guard Emma this time, and this is the big moment when Dark One Hook comes in and says about every hurtful devastating he could ever think of to Emma. Is something fueling him and he can't control the darkness? It seemed a little ironic how he's mad to a lot of people for hurting Emma and yet, here he is also wanting to hurt Emma himself. Is he still mad at other people for hurting Emma? Can Hook physically hurt Emma?
It does seem like Hook should have resisted more but, here's the thing: Emma is his anchor for good, she always has been. She was literally the only thing he could hold onto to resist the dark influence. So once the dark energy planted some doubt about Emma in his head, even the tiniest bit, it took that away from him!

— SciFiGirl
The darkness seems to be like a drug; it amplifies the dark side that already exists inside of the person, and I think Hook has always had an angry temper just below the surface waiting to come out. I think Hook has demonstrated a darker side to him before becoming the dark one. For instance, in S4 as the fake cursed hand demonstrated that Hook had a lot of anger inside of him still. The hand was simply an excuse for Hook to give into his dark side.

— Slurpeez
Does this mean that Hook doesn't really love Emma?
On the other hand, back at Mr. Gold's Shop, Rumple finally did something right by locking up the magic. And it could be the squid ink wearing off, but in this scene, Emma seemed like she's back to being the Dark Swan all over again—scheming and conniving.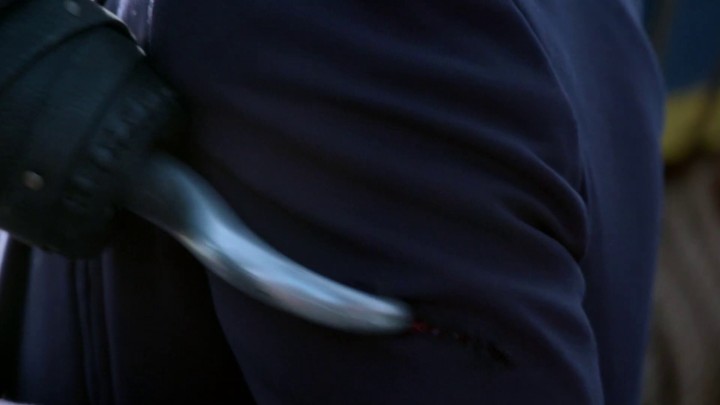 It was nice to see Gold being courageous and standing up to defend himself during his duel with Hook. During our initial reaction, we wondered whether Rumple was cut with the Excalibur or Hook's hook and after watching the episode again, it was clear that he was nicked with the hook, not by the Excalibur. But why didn't Hook take the Excalibur when he poofed out? Fortunately, now the good guys have the sword. Will they know what to do with it now that the Dark Ones are in Storybrooke?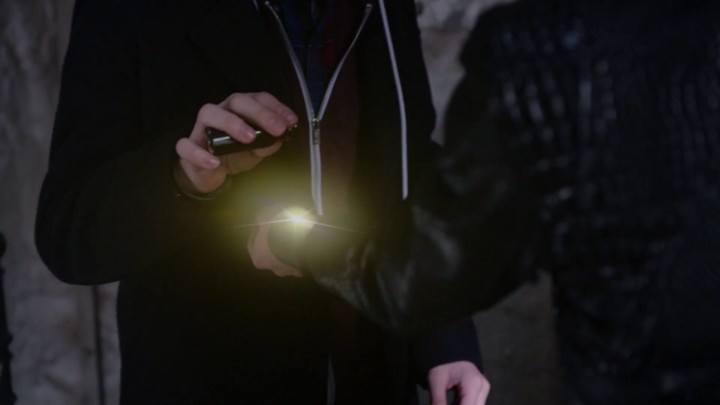 When Emma and Henry went to retrieve the dreamcatchers, the use of squid ink makes sense if you look at it as "trapping" magic. How did Henry get the squid ink? Does he know the combination to Mr. Gold's safe? How does pouring the squid ink over the cuff remove it? Perhaps because the purpose of the squid ink is to trap magic, pouring it over the cuff also traps the cuff's magic, hence why they could finally take it off Emma.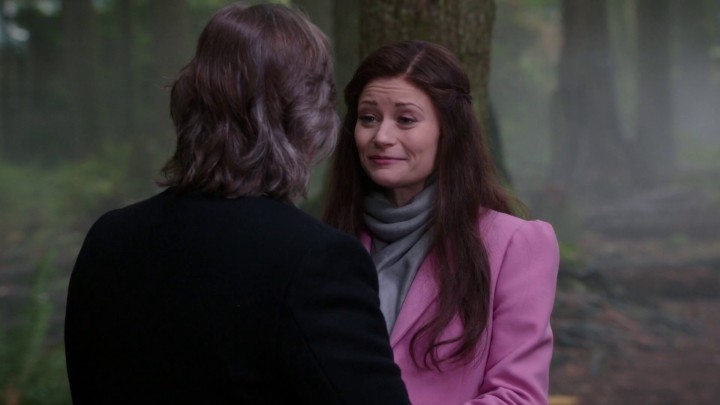 It was clearly stated that Belle does love Gold when they were in the well, but she also said that she needs space because of too much broken trust that happened between the two of them, something that we can understand and appreciate.
I firmly believed that Rumple and Belle needed to take things slowly after everything that's changed in their relationship. Belle's declaration, however, felt very OOC to me, and I'm rather convinced that someone was doing shenanigans with her.

— Keb
I'm completely fine with it. Used to like Rumbelle together, but then they lost me, and if they'd gone with a quick fix they'd have never won me back over. Rumple being truly repentant and Belle taking time to figure herself out, allowing time for Rumple to really figure out who he is now as well, is the best way to handle the messed up situation they'd written themselves into IMO.

— Phee
Belle said that she's not sure she wants to make it work, but how much space and time does she actually need? Will Belle ultimately come back to Gold?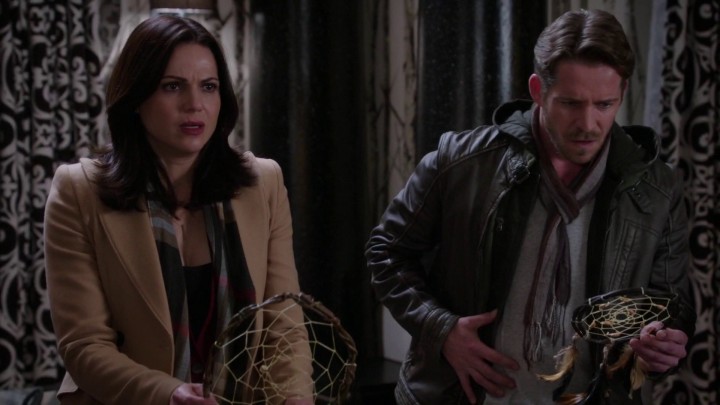 When Emma return the memories, Robin held on to his side, possibly remembering the wound. And when Emma finally got her memories back, Emma said that she remembered what they were after, that Hook wants to bring back the Dark Ones. Is this going to be the final battle? What does snuffing out the light mean?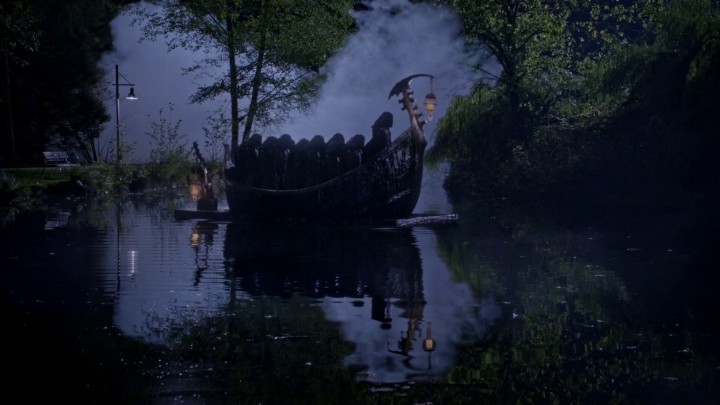 Nimue is finally in Storybrooke, did Merlin foresee her coming to Storybrooke? Is Nimue the key to stopping all these? The big problem we have with all the Dark Ones coming back is that all of these Dark Ones are still Dark Ones. What happens when you killed a Dark One? They become the new Dark One.
A wild theory, but maybe since all the former Dark Ones live inside the current DO's head, they can't fully die before the darkness is destroyed? Similar to Voldemort and the horcruxes, as long as there is a piece of him somewhere, he can't die.

— Rapaperi
Are the Dark Ones alive? If so, what happened to dead is dead?
I'm betting on some massive battle between Good and evil where the end result is all of the dark ones are destroyed, thereby destroying the darkness forever. Maybe Emma will have to call on all the good magic characters like Elsa and the blue fairy for the epic battle. And then just when you least expect it, Zelena will stroll on in and help the good side.

— Jessica Oltman
Will Zelena fight with the good side now that she has her daughter to protect?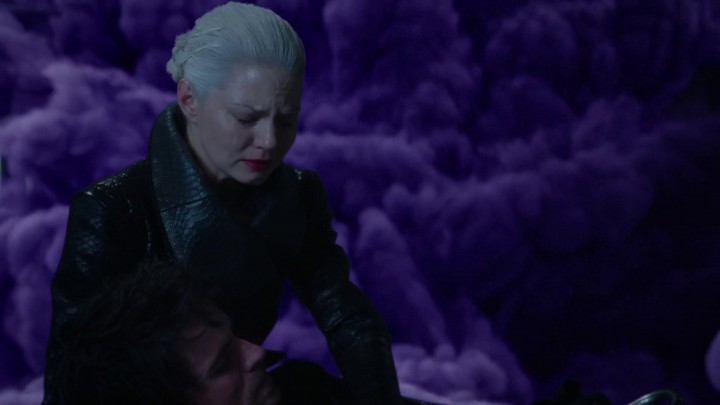 It was cool seeing Emma holding Hook just as the Dark Curse is about to hit, reminding us all back to the Pilot episode when Snow White was holding on to Charming while the Dark Curse hits them.
As for Hook going off the rails. We saw in Season Two how much he hated Rumple who he barely knew. But I'm beginning to understand that it wasn't really Rumple he hated.  It was the curse he was afflicted with. Being the dark one allowed him to live immortally in the Enchanted Forest. If Rumple had killed Milah as an ordinary person, and gotten away with it, do you think Hook would have had such a fixation on him?

— Meredith
In the episode, The Price, Hook goes to ask Belle why true love's kiss didn't work on Rumple and she responds that it did–the first time.  But then she says, "He pulled away from me.  And in that moment, the darkness forever regained its grip on him."

I think that "true love's kiss" was working for Hook in a general sense, but stopped when he felt betrayed by Emma and pulled back from her. The love he had for her was keeping Killian "awake" and the Dark One dormant.  In Siege Perilous, Emma asks Hook if he loves her, and he says he loved, her.  It was clear that Hook still cared deeply for Emma, and continued to do so, leading up to the events in Birth, but we see him become increasingly testy and temperamental.  When he remembered what Emma had done, his love for her grew cold and the Dark One awoke.  Even though Emma said she could make Hook forget that he was the Dark One, perhaps it wasn't exactly his memory of being the Dark One, but instead his memory of Emma making him the Dark One against his wishes and then lying to him and trying to control him with Excalibur that changed him.  Those events turned his heart cold toward Emma, as even after he rose from the vault he was initially willing to trust her and to try to move forward with trying to rid themselves of the darkness.

— Ariana Miller
Can Hook ultimately defeat the darkness inside him, or will he continue to let its grip on him tight?
Thank you for the podcast reviews!
OnceIsland from USA said, "I love their in depth reviews of Once Upon a Time …"
CajunEquestrian from USA said, "Love listening to ya'll's podcast! Each episode goes so in-depth and most of the time ya'll's predictions are so spot on, it's scary. But as long as ya'll keep popping out episodes, I'll keep listening!"
Red Leather Jacket from Canada said, "I've been a big fan of Once Upon a Time since the conception of the show and it was only LAST MONTH that I found this podcast. How have I not heard of this podcast until now!!! I have to say, downloading this podcast was one of the best things I ever did this year! I just love listening to these guys talk about the show! All the in dept discussions and theories have made me pay closer attention to the show then ever before. It's always a lot of fun and I recommend any fan of Once Upon a Time to listen! Thank you guys so much for doing this podcast. You guys are awesome!"
Your reviews encourage us and help others find the podcast!
Please rate and especially write a review for us on Apple Podcasts.
What do you think about the episode, Broken Heart? Do you have any thoughts and theories about next week's Winter Finale? Share them with us on the comment section below or head over our forum where you can talk about spoilers, theories and more!
What did you think?
Help us out!
Follow us
Spoilers