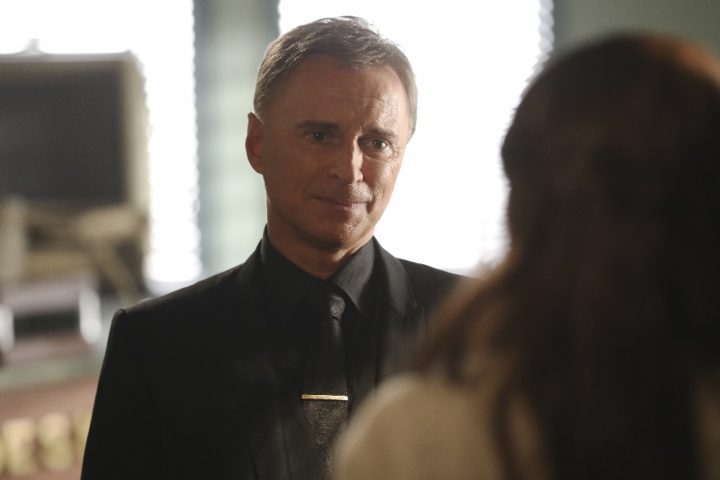 Listen to our initial reactions of the episode, "Changelings" as we talk about the Dark Fairy, Morfetus, and RumBelle. Plus! Jack and Jill, Zelena and Regina's conversation about forgiveness, Aladdin the genie, Emma's duality, and the star of the episode, Squid Ink.
Podcast: Play in new window | Download | Embed
In a Fairy Tale Land flashback, Rumple collects Jack and Jill's son as bait to lure a powerful being to him. Back in Storybrooke, Gold tells the Evil Queen that she must kill Zelena, and the EQ makes a decision that will change her relationship with her sister forever.  When Belle discovers Gold's plans for their son, she convinces Hook and Emma to help her steal squid ink that can immobilize him, and, as a result, Belle is left to make a sacrifice that will affect the lives of everyone in Storybrooke. Meanwhile, Jasmine finds a genie-less lamp that she hopes to use to save Agrabah, and Aladdin finds a way to be her hero.
These are our first thoughts about this Once Upon a Time episode. We'll share more about "Changelings" in our upcoming full discussion (usually live on Wednesdays at 7:00 p.m., USA Eastern Time).
Initial Reactions
Remember, these are only our initial reactions regarding tonight's episode so please bear with us if we're a bit all over the place. If you have your own thoughts, feedbacks, or theories regarding tonight's episode, however, send them over to us and join our upcoming full discussion!
This episode kinda got better toward the end. There were definitely some heartbreaking moments that were very well executed, but there was also something in it that feels off. This was very much a squid ink episode, literally. It was the star of the episode and all over the place, even dry squid ink works differently than fresh wet squid ink but, nonetheless, this episode was a little bit mixed bag; some really cool stuff and some that we have to wonder how much is left on the editing floor and how much did they have to rush in certain ways.
Nonetheless, we finally get to see and meet the Dark Fairy. We heard originally about the Dark Fairy back in season 3 when they needed the Dark Fairy's wand and that's all we know about her but to reveal that she's Rumple's mother? That was certainly not what we were expecting at all. With the timeline, clearly this is before the Cinderella incident but he needed that baby maybe not because of anything he planned in the Enchanted Forest but because of everything that he was doing for the curse and wanting to have leverage over Emma in some point. We also wondered what kind of potion is he going to whip up with the baby because, as per Regina, you'd be surprised how many spells there are that call for newborns, and we probably just scratched the surface in the series.
Speaking of the scratching the surface, it seems they've also just scratched the surface on the Dark Fairy, who she seems like a character that's going to be coming back. Being Rumplestiltskin's mother, you can't have a character that important appear on the show and never appear ever again. Are we going to see her again in the context of wherever Blue Fairy has taken the baby? Is the Dark Fairy living in some fairy place where Blue has decided to hide out with baby Gideon? After all, at some point, they said that all fairies came from Neverland. But when baby Gideon was born at the end of the episode, we thought what Belle was going to do is have Blue Fairy summon the Dark Fairy again and give the Dark Fairy to Rumple because she's the only person that Rumple would not go to see ever again and would not dare venture near. But if it was so easy for Blue to poof out of Storybrooke, why hasn't she done that yet? Where did she go? Are the skies like the water where the fairies can travel from world to world, just not on land?
Rumplestiltskin and Belle's son, however, was not named Morpheus, but Gideon. It was a very endearing sentiment that Belle used the character in the book that her mother used to read to her, the very same book that she said made her the type of strong woman that she is. It was also very wise of her to choose a name that he probably has not paid any attention to her love of this book and would probably not think of when he's searching for him. After all, it makes sense since he does deals with names.
Going back to the baby that Rumple had in the flashback, we knew very little about this episode but one thing we did know about this episode is that actress Tammy Gillis is appearing in it. How does this tie in with the baby? Tammy Gillis played the mother of the baby named Jill, while her husband was named Jack. We don't really get to hear from them but we will get the opportunity to interview Tammy Gillis this coming Tuesday, November 29.
Coming back to another mother in this episode, it seemed like a missed opportunity for Zelena and Regina to finally make things right. They had a great conversation about forgiveness, but then Regina goes to say that she can't forgive her sister, there's nothing that separates someone from someone else as being forgivable or unforgivable. Forgiveness is a choice, it's not measured by what the person did based on who's doing the forgiving. We thought we would get to see them repair their relationship. Saving her life is definitely a big step and even if Regina is convinced that she has not forgiven Zelena, there might be more forgiveness in her heart than she actually realizes.
However, Zelena has been double-crossing her this entire season so far and we liked that they had that conversation. Who knows, it might lead to more reparing their relationship down the road since it's all out in the open now. And if we were to learn that Zelena had secretly been playing double agent, that would have come up in this conversation, but it didn't. Unless, it's something that Zelena decided not to mention at this point.
Zelena, like all the villains on the show, works for whoever is offering her the best thing at the right time, so it's not even necessarily personal against Regina, she's just going with who's offering her some type of bargain or protection that she needs at the time; she doesn't seem to have any loyalty to anybody. And it looks like the Evil Queen doesn't have any loyalty to her either because she was willing to kill Zelena until Regina came and started crushing the heart they share, which was a bold move. It was really cool that she told the Evil Queen that she still have a hole in her heart just like she did when she came to Storybrooke.
Rumplestiltskin, on the other hand, still has that weakness from magic and manipulation. It was nice to see that after that little speech from Belle and Rumple walking away means that he is not willing to lose her forever.
We also got to see a little bit more of Emma's vision. Is this how they're going to play this out? The way they're developing this season is really interesting. It feels like there are several threads of storylines in this season and we're getting little bits of this storyline and one of those little bits was seeing the sword that kills Emma and her finding it, and that whole Savior shakes thread that we get to follow. Is the thread going to be the entire season arc? Since we only have one episode before the Winter hiatus, and now that they have the sword, it could be the next episode that we get to see this play out in some way. Or, maybe, in some significant cliffhanger connected with this specific thing? Are they also going to wrap up the Evil Queen and Regina being separate and Rumple finding Gideon in the next episode? Will they even wrap anything up with only one episode left before it goes on a break?
How will they wrap up Aladdin and Jasmine's story, especially now that Aladdin is the genie? That being said, funny to hear that clunk of the bracelets coming out of the bottle instead of a genie. But now, Aladdin is the genie and it wasn't Jafar that is the genie inside the lamp. And as a former Savior and a genie, what can Aladdin do with that kind of power? Technically, he is just serving his master, but will he have the information about the sword? A couple of weeks ago, we mentioned if Emma was going to battle herself as a price of her own magic and it still seems probable, especially now that she has the sword that will be used to stab her. We learned from Once Upon a Time in Wonderland that genies are bound to the laws of magic, so even if it is Aladdin fighting Emma, that could still be her price of magic. Or could be Emma battling Emma because now she has the sword that stabs someone that looks like Emma, which will split her Savior self from her non-Savior self and one of the two kills the other one and that's the process of not becoming the Savior.
It's been a recurring theme, much like Regina has always been battling Evil Queen throughout the series, and Rumplestiltskin has always been battling the darkness throughout the series. Emma has always had that kind of duality in her as well.
What do you think about "Changelings?" Send us your thoughts and theories and join us this coming Wednesday for our full discussion, and don't forget to also send your questions for Tammy Gillis for our upcoming interview with her this Tuesday, November 29!
What did you think?
Email Feedback@ONCEpodcast.com (audio files welcome)
Call (903) 231-2221
Comment on the shownotes
Visit any page on ONCEpodcast.com and click the "Send a voice message" link to record and send a message right from your computer.
Help us out!
Share this post in your social networks
Follow us
On Facebook:
On Twitter:  echo do_shortcode('[twitter follow="ONCEpodcast"]'); ?>
Daniel J. Lewis:  echo do_shortcode('[twitter follow="theDanielJLewis"]'); ?>
Jeremy Laughlin:  echo do_shortcode('[twitter follow="phlegon"]'); ?>
ErinJ:  echo do_shortcode('[twitter follow="erinjcruz"]'); ?>
Hunter Hathaway:  echo do_shortcode('[twitter follow="travelingpixie"]'); ?>
Jacquelyn / RumplesGirl:  echo do_shortcode('[twitter follow="punk_bunny_87"]'); ?>