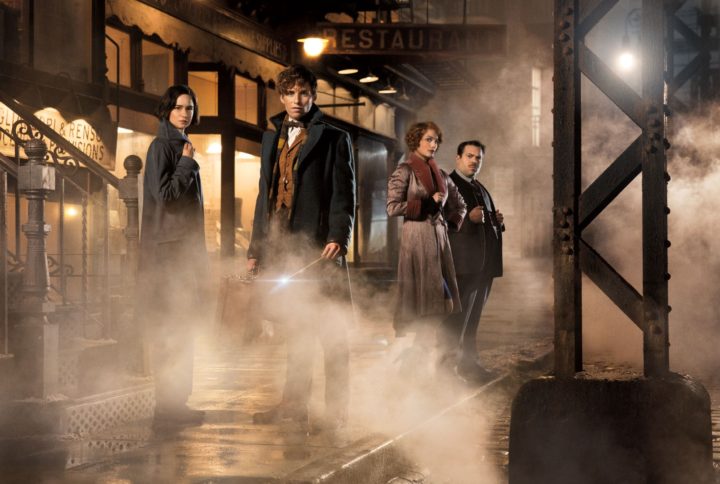 Join us as we apparate back to the Wizarding World of Harry Potter as we discuss Newt Scamander's epic journey in New York on our Fantastic Beasts and Where to Find Them movie review! Because the movie is still in the theaters as of this recording, the first part of this discussion will be spoiler-free.
Podcast: Play in new window | Download | Embed
Spoiler-free Fantastic Beasts and Where to Find Them movie review
In general, it was fantastic. Compared to the Harry Potter movies, Fantastic Beasts and Where to Find Them was a beast! A very fun movie, it has kind of all of that fun the first few Harry Potter movies, but doesn't have that sinister darkness undertone to it that the Harry Potter series had. Even from the beginning, there was this growing shadow as the movies progress, which is what made the movies cool. Fantastic Beasts and Where to Find Them had enough darkness that if it is indeed going to be a series of movies, there's almost to the point where if you were to rate it in a family-friendly way in a non-spoilery way, the movie had some moments that are almost dark in a way that it doesn't fit in the rest of the movie. It's got one tone, but there's certain moments that are particularly violent, all in kind of the same way.
There are probably going to be some scary things for younger kids in 'Fantastic Beasts', especially some things that they didn't go into that much, but will make the parents definitely cringe and would require some conversations between the parents and their kids. It's darker and potentially scarier than Once Upon a Time would be, so it is advisable to use that to base your decision whether or not you could bring your family to it.
Fantastic Beasts and Where to Find Them stood out as it did because there are parts of the movie that feels so light and a certain kind of contrast. However, this is not a review by hardcore Harry Potter expert fans, but more for the Once Upon a Time fans.
Fantastic Beasts and Where to Find Them is a text book at Hogwarts School of Witchcraft and Wizardry that was frequently referenced in the books and the movies. A text book about the study of magical creatures, "Newt's masterpiece has been an approved textbook at Hogwarts School of Witchcraft and Wizardry ever since its publication and must take a substantial amount of credit for our students' consistently high results in Care of Magical Creatures examinations — yet it is not a book to be confined to the classroom. No wizarding household is complete without a copy of Fantastic Beasts, well thumbed by the generations who have riffled its pages in search of the best way to rid the lawn of Horklumps, interpret the mournful cries of the Augurey, or cure their pet Puffskein of drinking out of the toilet," as per Albus Dumbledore.
Set in the same universe from Harry Potter, the way the they're positioning the movies really reminded us of iRobot. 'Fantastic Beasts', on the other hand, takes the concept from the text book and turn it into a prequel, taking place in 1926 New York, 70 years before the events that happened in the Harry Potter series. It was kind of neat to see an American take on the Harry Potter wizardry and magic universe, and what's different about it in the American side as opposed to the London, England British side of things. It's a fun movie, very well-produced with neat storylines, twists and turns, and is recommended if you haven't already watched Harry Potter before watching this because it will be more fun. You can watch it even without having seen the 8 Harry Potter movies that came before. So far, with this first movie, Fantastic Beasts and Where to Find Them does stand alone for the most part even it was set in the same universe.
Fantastic Beasts and Where to Find Them movie review (with spoilers)
While watching, one of things in our mind is, "Where's Voldemort?" In the movie, there was one boy inside the orphanage when they were feeding the kids who had a birthmark on his temple. Headed by a woman named Mary Lou Barebone, who seemed totally anti-magic and magic-people, the boy looks at her and has a look of dread when she looks at him. Also, a couple of other characters like Credence Barebone can almost detect something, which makes us wonder, is the little boy in the orphanage with a birthmark, whom we never see anywhere else nor know of his name, Tom Riddle who will later on become Lord Voldemort? After all, he did look singled out and there's seemed to be some kind of sense of something with him. Or was it simply something to express their paranoia?
What was really the only in the movie that kind of took it down a notch was how it feels that the way J.K. Rowling writes characters who are against magic comes from a place of deep biased. Having these people so two-dimensional and living in what appears to be a church and she's so severe, harsh, and adopting children which is yet another case that she has written of bad adoption. At least in Harry Potter, as things went on, even some background was revealed about why his adoptive mother in particular was so rabid, but here it was just shown how these sort of like people who believe witchcraft is evil are; closed-minded, hateful and abusive. It was not implied but this lady who was the new leader of the New Salem Philanthropic Society (the NSPS, or "The Second-Salemers") is physically abusing and beating the children that she adopts, using them for her purposes and putting her work ahead of even feeding them, turning them into a little cookie-cutter version of herself.
One the things about Credence's character, who ends up being Obscurus, was secretly working for Percival Graves, who secretly turns out to be Gellert Grindelwald. It's funny because, at the beginning, we see Grindelwald from the back and his hair was very distinctive, and then when they showed Graves from the back, they had the same hair. Furthermore, something that he said to Credence is that Graves had detected someone in close proximity to Credence's adopted mother that had immense power, which could be some sort of a prophecy. Are they talking about Tom Riddle and not about Credence and his Obscurus power? Maybe it was Credence that Graves had visions of.
This whole concept of the Obscurus even was new and interesting that, if you suppress the magical power that's in you, then this dark force is uncontrollable and destroys things. Are the going to bring this concept back in the upcoming movies, because right near the end, it seemed like there was one little last hint of the black cloud from the Obscurus after they killed Credence.
One of the other things that would be a darker moment in the movie is, suddenly, you've got the entire wizarding law enforcement killing this teenager essentially. With Harry Potter in mind, how does this connect with Voldemort? Is the Obscurus something that somehow later ties into the creation of the birth of being involved with Tom Riddle, if he is indeed one of the kids in the orphanage? Plus, Gellert Grindelwald is a dark wizard and that darkness may simply be the connecting thread between the Harry Potter series and Fantastic Beasts and Where to Find Them.
Another connecting thread is Albus Dumbledore, who was referenced in this movie. He was not yet the Headmaster of Hogwarts, but was simply a teacher and was Newt Scamander's teacher who believed in his research and studies. While we never see Dumbledore, but we're probably going to see him at some point in the 'Fantastic Beasts' series. Another name referenced in this was "Lestrange," who was the woman in the picture that Newt had with him, probably a former love interest or childhood friend. What we know of the Lestrange family from the Harry Potter series is Bellatrix Lestrange, the one who killed Sirius Black. Which familiar name are we going to hear referenced next that we know?
Will Fantastic Beasts and Where to Find Them turn out to be a prequel to Harry Potter? It is, after all, set in the same universe. They also leave plenty of things open for the next movie, which will is scheduled for release in 2018.
One of the cool things about the movie is how they referenced people without magic "No-Maj" in America, to which Newt Scamander answered that where he came from, they were called "Muggles." It was funny to see a very American approach to what we've already seen a British approach to like, how in America, there's a secret branch of the American Government that no-maj's are not allowed to know about. However, one no-maj got to tag along—Jacob Kowalski—who fell in love with Queenie Goldstein. At the very end, when the girl he fell in love with went to his bakery, you could kind of see him wanting to say the words, "Do I know you?" We also liked that he wasn't just the overweight comic relief, that he had substance and she saw something in him, instead of everybody being sort of stereotypical. And, in a sense, with her ability to read minds, she saw who he really was not just on the outside, but on the inside as well. From the Harry Potter we know, there have been families formed from a mix of pure blood and muggle-born, and we see those kids being ridiculed. Does this mean that it goes even before it was a thing? It seemed that it was even strict in America than it was in Britain. Maybe Kowalski will help change that in America? Nonetheless, it does makes us wonder, is he going to be a character in the next movie, because of how they hinted and how they ended the movie with him?
Have you seen the movie? What did you think about Fantastic Beasts and Where to Find Them? Share them all with us using the comment section below!
What did you think?
Email Feedback@ONCEpodcast.com (audio files welcome)
Call (903) 231-2221
Comment on the shownotes
Visit any page on ONCEpodcast.com and click the "Send a voice message" link to record and send a message right from your computer.
Help us out!
Share this post in your social networks
Follow us
On Facebook:
On Twitter:  echo do_shortcode('[twitter follow="ONCEpodcast"]'); ?>
Daniel J. Lewis:  echo do_shortcode('[twitter follow="theDanielJLewis"]'); ?>
Jeremy Laughlin:  echo do_shortcode('[twitter follow="phlegon"]'); ?>
ErinJ:  echo do_shortcode('[twitter follow="erinjcruz"]'); ?>
Hunter Hathaway:  echo do_shortcode('[twitter follow="travelingpixie"]'); ?>
Jacquelyn / RumplesGirl:  echo do_shortcode('[twitter follow="punk_bunny_87"]'); ?>