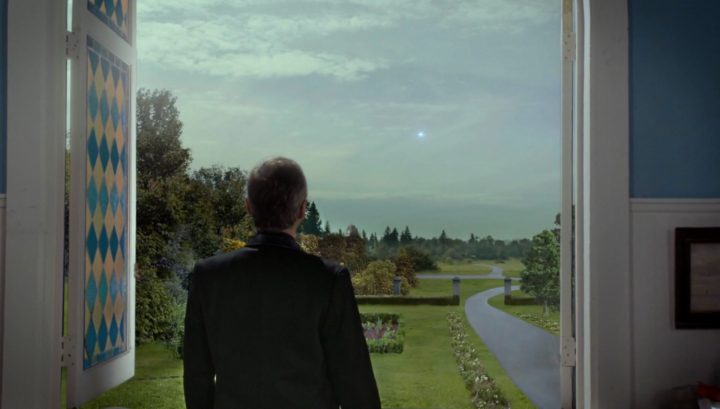 Hear us dig deep into the episode "Changelings" as we discuss the fairies' rank, forgiveness, Emma's vision, and baby Gideon to name a few. Plus, the question we forgot but that we put an answer to—why did Rumple hates fairies? And the used of squid ink: retcon or not?
Podcast: Play in new window | Download | Embed
Enchanted Forest (Past)
The main thrust of the past is the baby as a means for Rumplestiltskin to meet his mother. But when Rumple brings home the baby, the dialogue in this episode is lacking. Back in the episode 1×12 Skin Deep when Belle first arrived at Rumple's mansion, he mentioned something about skinning the children that he brings  for their pelts. Furthermore, many people seemed out of character in this episode, especially the flashback. Rumple, especially, felt like he wasn't written as Rumplestiltskin as much. The Rumplestiltskin in the flashback showed a lot of weakness and vulnerability. His Storybrooke counterpart, however, still did seem consistent. Needless to say, this episode was kind of a let down.
However, what is cool about this episode is that they bring in a new writer, Brian Ridings. He wasn't new to the show, since he has been a script coordinator since the beginning of the second season. This is also David H. Goodman's 24th episode.

When Blue Fairy rescued Belle from the library, she mentioned that the Black Fairy used to be good, but stopped defending children and started stealing them. Is the Black Fairy's name really "Black Fairy" before she turned bad? We did a little more research about the Black Fairy and found that we've actually first heard of The Black Fairy in 3×11 Going Home. Tinker Bell said the Black Fairy was the most powerful fairy ever, well versed in dark magic and banished by the Blue Fairy after she took Black Fairy's wand.
At what point did the Black Fairy turned bad? After all, Blue Fairy said that she was a good fairy once. Did Black Fairy become bad before or after Rumple's birth?
Played by Jaime Murray who previously played H.G. Wells in Warehouse 13. What's really cool about this is that H.G. Wells is one of the classic Sci-Fi writers who's also lumped in with Jules Verne, who wrote Twenty Thousand Leagues Under the Sea, which is a storyline that we've already seen on Once Upon a Time. H.G. Wells, known for classic Sci-Fi, like The Time Machine, The Invisible Man, The War of the Worlds, The Island of Doctor Moreau. Will we see her again and know more about the Black Fairy?
So why steal the baby? Rumple didn't actually need the baby, and it seems like it was more than a way to summon the Black Fairy. What does she do with the babies she steals? Does she supply the Lost Boys to Neverland, since it was said that fairies come from Neverland? Was the baby really in danger if Rumple simply wants to use the baby just to lure the Black Fairy in? How was Rumplestiltskin planning to use the dagger on the Black Fairy?
As to its connection to the episode title, "Changelings." We looked up on what "changeling" means and found out two meanings:
a child surreptitiously or unintentionally substituted for another.
(in folklore) an ugly, stupid, or strange child left by fairies in place of a pretty, charming child.
Is this why the Black Fairy steals children? Does she consider Rumplestiltskin the ugly, stupid, and strange child that she then left because she was a fairy and went on stealing a pretty, charming child, making Rumple the changeling? This could also mean that it's possible that  Rumple was actually born with magic.
Jumping back to the episode 1×19 "The Return," Blue Fairy said to Baelfire, "You're not untouched by magic. There's something dark in your life." Maybe Rumple's mother being the Black Fairy makes more sense because of this. Plus, Blue Fairy said, "his powers do not belong here," maybe because of the Black Fairy?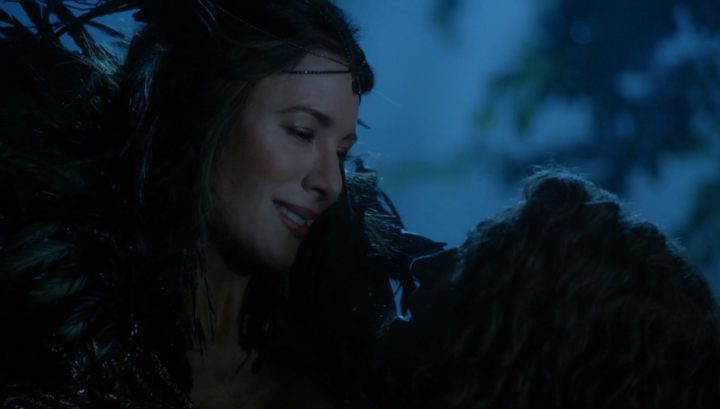 One of the most affecting moments in this episode was when she was choking Rumple, the way she mockingly acted like she was holding a baby and looking evil is terrific.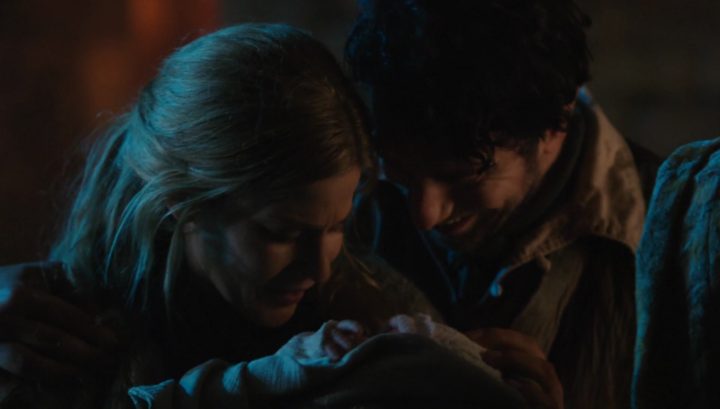 In our initial reactions of Changelings, we referred to the parents of the baby that Rumple stole as Jack and Jill. However, they were simply credited as "Peasant Wife" and "Peasant", as opposed to what was in IMDB, which was Jack and Jill. The Peasant Wife was played by Tammy Gillis, whom we also mentioned that we were going to interview. However, the day before the interview, her agent contacted us and said that, unfortunately, they would not be able to do the interview due to certain agreements with ABC. That being said, because they were simply credited as "Peasant" and "Peasant Wife", does this mean that Jack and Jill might come back in a future episode? They brought other back side characters several times before, anyway, like Gus.
Storybrooke (Present)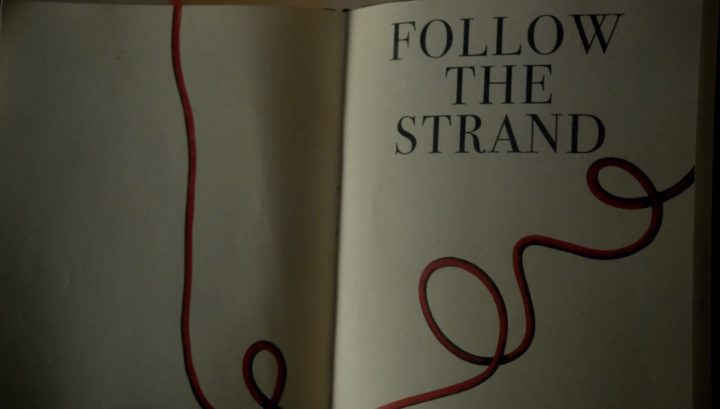 At the beginning of present day Storybrooke, we see a fleeing nun. When the Evil Queen appeared, she told Rumple, "You don't expect me to kill my own flesh and blood for you." Although the Evil Queen did kill her own father for her, he was still her own flesh and blood. She also was responsible for her husband's death.
In the library, Belle had a dream and there's the strand that her son said is his fate, and he almost makes it seem like it's worst than Rumple is planning. The way that he described the strand almost makes it sound like Rumple wants to kill his son. He also reminded Belle later on when she was giving birth not to forget about the book. Why is the book important?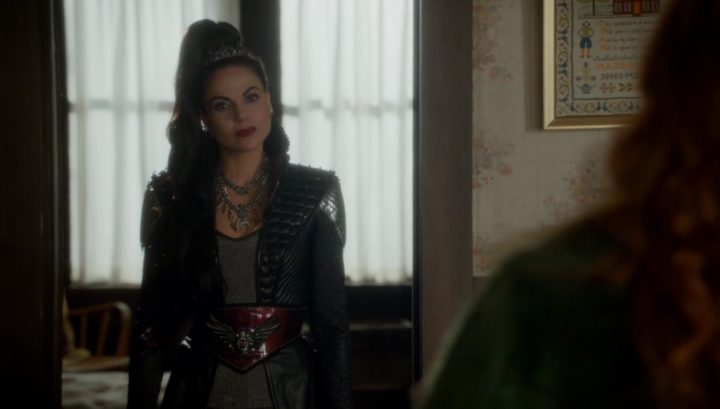 Snow White and Jasmine, meanwhile, meet up in the diner and confirms the story was about her. And when the Evil Queen visits Zelena to kill her, once again Zelena is being all evil and motherly in her home. Why didn't Zelena just magicked herself out, take the baby with her and go somewhere safe? That being said, one of the other things about the Evil Queen looking different is her looking so much motorcycle-gang-like. What with her wearing giant belt with an eagle in it like she was going to jump out on a Harley Davidson and drive off.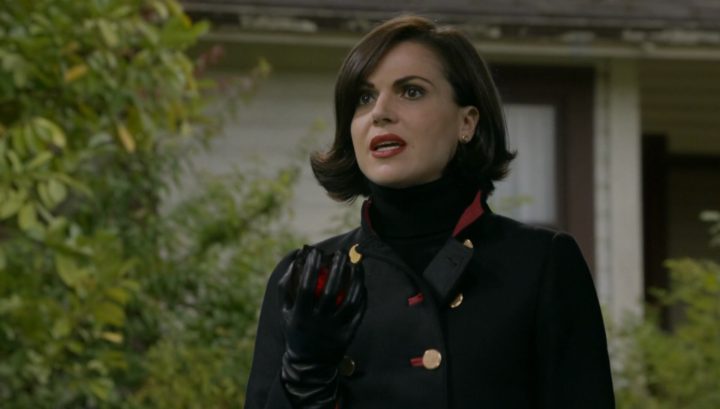 But what some dedication to wanting to defeat the Evil Queen when Regina started crushing her own heart. You could see that it's really effecting her and the Evil Queen. This also does establish the definite fact that one of the ways to defeat the Evil Queen is to crush Regina's heart. But even though Regina's heart is still pretty much black, she no longer has a hole in her heart. Probably the result of forgiveness, grace and love that she has received over the years; Regina has healed, moved on and no longer has a hole in her heart.
Later on, however, Regina said that she won't forgive Zelena. What is there to forgive? Why does anything about the Robin situation require forgiveness? Regina was the one who told Zelena to go after Hades. Thinking from Regina's perspective, however, it does make sense to blame Zelena and fits with what she's going through and feeling. It was also interesting how Zelena worded things and got the order right. Regina was forgiven first, grew and changed later. But what did Regina mean when she said, "you're not me?"
I would really like to see Regina forgiving Zelina being part of what allows Regina to defeat or re-integrate with the Evil Queen. It is really strange that Regina is displaying this level of unforgiveness, it makes me think they are setting up for something. In a way the common ground between Regina and Evil queen might be the holes in their respective hearts – Regina's hole in her heart was filled by Henry but there is a new hole following Robin Hood's death. Perhaps making peace with Zelena needs to happen before she can make peace with herself.

— Gareth
Can Regina forgive her sister?
Turns out, there was more squid ink in the library and that's the solution that was in front of  Belle all along; squid ink trapping Rumplestiltskin, which they have been pretty consistent with.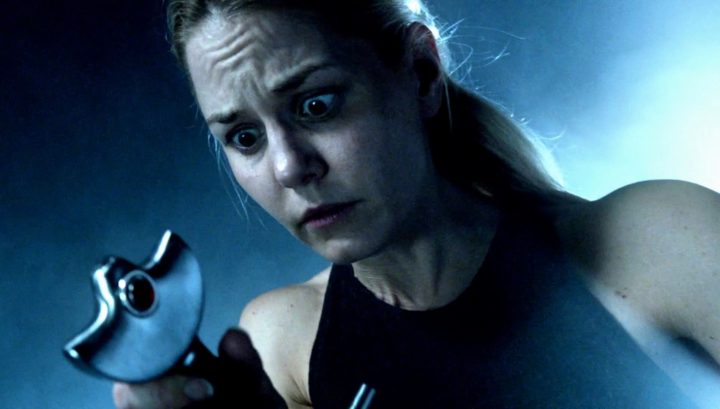 Shouldn't Emma be able to still track the dagger with the voices in her head? Are the Dark One remnants completely gone on her? We also get to see a little bit more of Emma's vision, and one of the interesting things added is that the vision shows the hooded figure twisting into Emma and leaving it there. Why does Rumple have the sword? What's so important about this sword? Who does it belong to?
I'm sure we'll find out that the sword is the sword of the first Savior or something like that. The Excalibur equivalent for Savior magic. I don't want that to be the case, but I wouldn't be surprised if it is. Maybe it is really what has the power to cut someone off from the Savior magic; the way Excalibur cuts off the original magic. It is even possible that Rumple turned the shears of Destiny into the sword. I think he was the last one to have the sheers. We saw Merlin turn the Holy Grail into Excalibur, so perhaps the shape of something doesn't matter as much as we sometimes think.

— Gareth
Could the sword be powerful enough to kill the Evil Queen without harming Regina?
Meanwhile, Rumplestiltskin confronts Belle in the library and acknowledges that his relationship with Belle is done, but at the of the scene backs off with the thought of losing Belle forever isn't a price he's willing to pay. It was also more of the Belle we know to tell Rumple not to give up, but her message to him hasn't been consistent. Not that it has to be, it's just sad that they kind of taken that relationship to that point. Rumple's sentiment that his baby is probably the only one who could love them sounded a lot like Zelena. He has been around for so long and has gone through so much, why would he think that?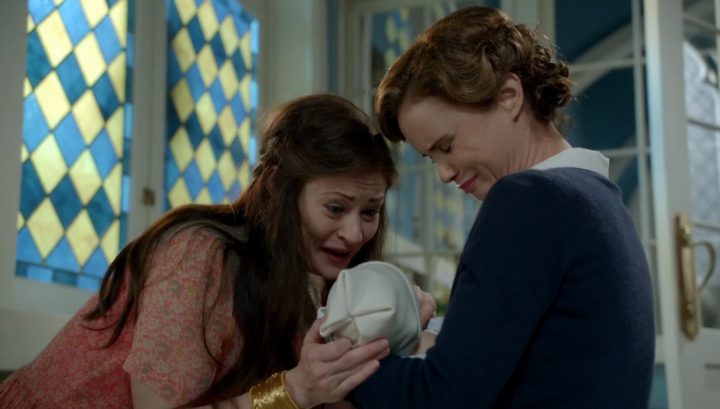 When Belle was giving birth, either she fell asleep during labor, or she's learned how to revisit the dream world without being asleep. In the dream world, her son said, "You'll always find me, when you need to." Maybe she can still find him even after she sent the Blue Fairy away with her son? Belle also named her name Gideon, who she said "a hero of all time." A hero of this season, perhaps? It is a nice recurring theme that they had Belle give her baby up to give him his best chance, and Blue helping with the transport. After the baby was gone, Rumple told Belle that he will never hurt her. Although there was no lasting physical damage, he has harm and hurt her before.
Rumple then returns to his shop, only to find the Evil Queen gloating and taunting over the fact of seeing Rumple tear his relationship apart. The last time we've seen a Rumple tantrum was in 1×12 Skin Deep, which was also inspired by what the Evil Queen said. He also told that the Evil Queen was just one of his pawns. More chess analogies, and it fits with what we previously pointed out about Rumple's interrupted chess game.
So with only one episode left next week in the Winter Finale, how will the Winter Finale go?
I think the winter finale will end with one of the following: a) Emma being killed and the figure in the hood being revealed as herself, b) Regina sacrificing herself to eliminate the Evil Queen – though I would prefer reunification, Rumple might kill Regina to get revenge on the Evil queen, but this would not be as satisfying as Regina becoming whole again, or c) Jasmine making a wish that goes horribly wrong. I think the Rumple and Belle story has been wrapped up enough for now that they won't focus too much on it in the finale.

— Gareth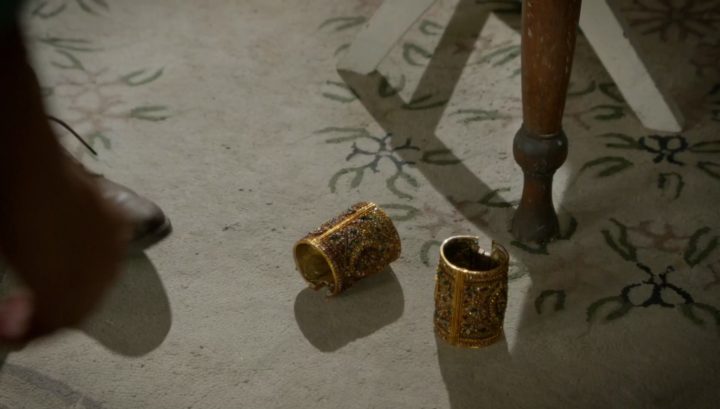 We also did some more research on the bracelets that came out of the genie lamp and found out that in 1×11 Fruit Of The Poisonous Tree Sidney was freed by King Leopold's first wish. The second wish was giving the third wish to Sidney, then Sidney used the wish to be with Regina forever, to always look upon her face, to never leave her side. We also re-watched Once Upon a Time in Wonderland and found that it was the very similar cuff when Jafar became the genie.
Twice now, Aladdin mentioned a genie to be their "old friend." Who was "the great genie" that Aladdin knew? That being said, it was quite heroic to put the cuff on himself and turning himself into a genie to help save Agrabah.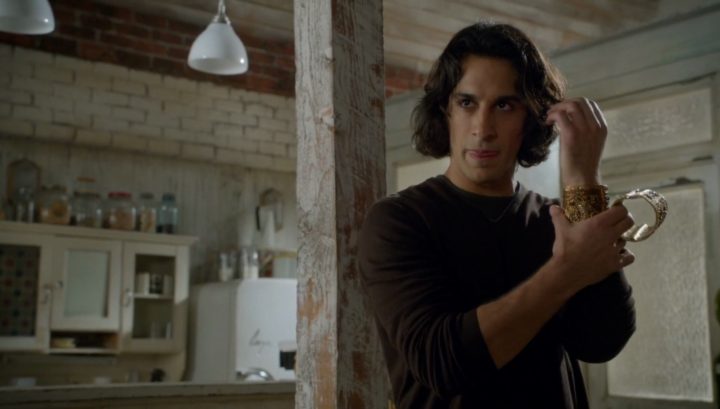 Since it is the winter finale I am expecting bad things to happen. As the lamp can only have one master at a time, I don't think it will affect the overall story very much at this point. However, in the future after Jasmine someone else might get their hands on it. Of course, if Daniel is right and Jasmine is Jafar in disguise things could go south in a hurry, but I don't think that is the case.

The thing Jasmine might do that leads to disaster is trying to help her friend Snow White break the sleeping curse; it could be Jasmine being super well intentioned but there might be a cost or unforeseen consequences. Later Aladdin will be freed from the lamp. Someone might be able to wish him free. The other genie got free, so perhaps Aladdin knows how to do it. However I wonder if being a genie would qualify as a curse. In Wonderland it was a punishment for stealing the waters. Alice's true love for Cyrus did not free him from his bottle, but perhaps Jasmine and Aladdin's true love kiss will some day release him.

— Gareth
Can a True Love's Kiss relieve him of breaking the curse of being a genie that Aladdin is now in? Do you have any theories about next week's Winter Finale? Did we miss anything from this episode? Share your thoughts using the comment section below!
What did you think?
Email Feedback@ONCEpodcast.com (audio files welcome)
Call (903) 231-2221
Comment on the shownotes
Visit any page on ONCEpodcast.com and click the "Send a voice message" link to record and send a message right from your computer.
Help us out!
Share this post in your social networks
Follow us
On Facebook:
On Twitter:  echo do_shortcode('[twitter follow="ONCEpodcast"]'); ?>
Daniel J. Lewis:  echo do_shortcode('[twitter follow="theDanielJLewis"]'); ?>
Jeremy Laughlin:  echo do_shortcode('[twitter follow="phlegon"]'); ?>
ErinJ:  echo do_shortcode('[twitter follow="erinjcruz"]'); ?>
Hunter Hathaway:  echo do_shortcode('[twitter follow="travelingpixie"]'); ?>
Jacquelyn / RumplesGirl:  echo do_shortcode('[twitter follow="punk_bunny_87"]'); ?>
Spoilers
In 6×10 "Wish You Were Here", the Evil Queen steals Aladdin's magic lamp from Jasmine and makes a wish
On the other hand, David works with Hook and Henry to hold the Evil Queen at bay, as Regina goes on a rogue rescue mission
Meanwhile, Gold and Belle face a surprising danger to their newborn son
"Wish You Were Here" was written by Edward Kitsis & Adam Horowitz and directed by Ron Underwood
Guest starring are Lee Arenberg as Leroy/Grumpy, Keegan Connor Tracy as Mother Superior/Blue Fairy, Beverley Elliott as Granny, Karen David as Princess Jasmine, Deniz Akdeniz as Aladdin, Gabe Khouth as Mr. Clark/Sneezy, David Avalon as Doc, Faustino Di Bauda as Sleepy, Mig Macario as Bashful, Geoff Gustafson as Stealthy and Giles Matthey as Gideon
No official announcement yet as to when the show will come back next year
Promo for "Wish You Were Here" shows Emma wishing she was never a Savior, then the Evil Queen taking the lamp with a big cut on her face and wishing for whatever Emma wishes to come true and Emma disappearing at Granny's
We also did see Emma wandering in the Enchanted Forest in full-on princess outfit
Promo also showed that you cannot undo wishes, ending with the Charming's saying "the Evil Queen's reign ends today"
Promo photos focused on the alternate universe where Emma was never the Savior, with the Charming's dressed as an older, full-on King and Queen with Emma dressed as fairy tale princess
Another photo shows Henry dressed as a knight and being knighted
There were also a couple of photos of the Evil Queen, donning an outfit very similar to the ones she wore in the Pilot episode
There were also an image with six of the dwarves in the same scene
Eddy Kitsis and Adam Horowitz did an interview with Entertainment Weekly lately and revealed, "In a season that's seen a returning Evil Queen, a Savior in crisis, and a renegade genie all facing a dire prophecy, hope returns to Storybrooke in the form of a magical wish." Kitsis and Horowitz continues, "But of course, like all magic, it comes with a price — and this price upends the world of all of our fairy tale heroes and villains as they are thrown into an adventure involving new worlds, old loves, and an impending destiny that can no longer be ignored."